Blog Headers For Free Download
This post presents the results of the contest — 45 beautiful blog header designs you can use for free. Below the designers have described their themes, intentions and shown us some examples of how header graphics can be used.
This post presents the results of a contest — 45 beautiful blog header designs you can use for free. Below the designers have described their themes, intentions and shown us some examples of how header graphics can be used.
Please notice that
often also the source image (.ai or .psd) can be downloaded,
all images are clickable and lead to the full-size image of the header,
full-size images have the resolution of 850×200 px,
and you can also download graphics together with source files using corresponding links in the description.
Further Reading

on SmashingMag:
Upgrade, Avto, Fireball, Nopolicy & Co.
full view | download (7× jpg + psd, 5.6 Mb) "Sending you our schedule. nopolitics means that the design of the laws, you can always open up a new direction, to develop the old, everything will change in its own way, freedom of expression is limited only in design technology." Designed by Sergej Gorodenskiy, Russia.







Cosmosource
full view | download (jpg, 65 Kb) This theme is based upon the cosmopolitan style of life. "I tried to show a cosmopolitan life full of style using modern colors (symbolizes fashion), a dynamic picture of a girl (symbolizes people) and buildings (means the the city work/style) in the background." Designed by Paulo Loreto from Portugal.

The Lighthouse Project
full view | download (jpg + psd, 1.3 Mb) "The Lighthouse Project" was brainchild of mine to do a daily blog of testimonies from the Christian walk to encourage others through life's trials. Though the blog is not up, I thought it best to start with an awesome header graphic for the artistic direction on how the rest of the site should be designed. I wanted to go with an "urban" theme using a lot of vector and photo combinations like what a lot of the graphic artists are doing today. Tracey Jackson, Miami, Florida, USA.

[R] Evolution
full view | download (jpg + psd, 6.6 Mb) "For this Design I wanted not just to create a banner that could be used in any kind of blog like music, personal thoughts, design, philosophy, science, history or any other, but also passing through a deep meaning. There are some questions about humanity that really intriguing me since my early days. Where do we come from? Where are we going? And what is our mission here.
The banner concept is not trying to give an answer for these questions, but is actually trying to reflect these questions on user's subconscious. So I developed the evolution idea to reflect our mission as humans. From left to right I try to show some steps of evolution process, since prehistoric history until these days.

All big changes in human history were produced by revolutions. For that fact I Use [R] incorporated in the title. So users can read evolution and at the same time also read revolution. Evolution-Revolution. Revolution can also be noted in the design with the revolutionary Flag contradicting with the peace symbol within, French soldiers and the atomic bomb. All evolution process is being pushed by an elephant, which is a strong animal that exists from a long time ago. This idea is to create movement and consequently reflect the questions where do we come from? And where are we going? The elephant baby is also there to represent the different generations along the evolution path.
On the right side of the banner there's a glimpse of what I believe will be the future. Human mind uses just 15% of his brain capacities, so when humans will use 100% I'm sure we can easily travelling around the universe 10 times or more the speed light, conquering new worlds… This fact is presented by the astronaut starting traveling to the universe (present) and the UFO on the top dropping small spaceships (future connections). For enhance mystery I used a blue light.
This banner is better viewed in a black background." Designed by João Filipe Cunha, Portugal.
Mindscape
full view | download (png + psd, 1.45 Mb) Designed by Michał Bronka from Mindscape interactive agency, Szczecin, Poland.

Retro Header
full view | download (jpg + psd, 2.1 Mb) "One day I drew an icon from a picture. This was a classic truck that is colorful and sweet. I want to use this icon in a design project. And I saw your contest. Then I designed a header that contains the classic truck icon. This was a cheery work for me." Designed by Cem Ozdogan, Turkey, Ankara.

Typography
full view | download (png, 65 Kb) "I think about a header graphic as a start of a page, like to start a conversation - so the idea was born. We all start a (good) talk with an easy greeting - so why don't use this for a website? after trying some stuff i decided to keep the design as simple as the idea - so I used lovely RNS Baruta Black. Simple and clean, but also interesting and playful.





The languages I used are just examples - of course it's possible to use all greetings of the world (as long as it fits 800px)." Designed by Robert Winkler, Dresden, Germany.
The Sexiest Dirty Underground Theme
full view | download (5×jpg, 0.3 Mb) "What inspired The Sexiest Dirty Underground theme was a chance to explore some new styles. I'm very pleased with the results and I'll be exploring these techniques even more. I'll be finishing The Sexiest Dirty Underground header theme on my blog to bring the total to 20 headers in the next two weeks. For Rich-Bitch-Fish, Co-op-Bone, and Woman-Confident I used the process of first sketching on paper, then working with illustrator, and finally finishing in Photoshop. I'll be explaining the process more indepth on my website coming soon.
My favorite headers from this theme are City-Under-Heat, New-Tech-Earth, and Woman-Confident-Fear." Designed by Jimmy R., Manitoba, Canada.





A New Day
full view | download (png + gif + jpg, 0.1 Mb) Designed by Jonathan M., Canada.

Fellowsisters
full view 1 | full view 2 | download The first image is a little tribute to Escher's "Drawing Hands". It is an adaptation of the big old theme of the boundaries of representation but with the Fellowsisters as main characters. It also contains a reference to the Plinian Myth of the origin of Painting.

In the second image the two cups of tea are associated with a moment of relax. Usually the Fellowsisters are represented by two female figures or by two analogue or complementary objects. Designed by María from Spain.

Inspiration Theme
full view | download (0.9 Mb) Designed by Daniela Mincheva from Sofia, Bulgaria.

Lucifix
full view | download (2.6 Mb) Designed by Nathaniel Heller, New York City, Manhattan, USA.

Rocket And Go
full view | download (65 Kb) This is what came out after more than an hour of mad photoshop and illustrator play-around, the whole themes were greatly influenced by my brother's ear candy crave on Mika's "Happy Ending" and my personal fave on young Youtube star Daniel Talevski's "Rocket and Go". Lots of stock images were used from across the Web, with massive blending, be it softlight, multiply, overlay in addition of some vector shapes, brush tools, photoshop patterns from deviantart.com. Designed by Mikel D.Lian a.k.a splashmilk from Kuala Lumpur, Malaysia.

Grunge Look
full view | download (0.4 Mb) Designed by Alex Frison from Germany.

This Is How It Feels
full view | download (0.9 Mb) The ideas are quite simple. Valentines soon, so I got this idea of making this header. Each of them represents feelings as it is presented in ways such as the graphics itself, colors etc. I made all the images my self. Just got them after compiling all my artworks from my artbag and then I just simply paint them using Photoshop.

Back to the feelings, I may make a list of definitions for it.
On the left side, the girl with plaster glued on her mouth means she cant say what she actually want to say. you know, sometimes people just cant spit the words out when someone likes this person.
Then, you can see these two couples, from this, I use colors to symbolize feelings. green is for envy and red is for desire. every couple fights — obviously. But in the end, they still love each other anyway. you can see it from the faces (the couple graphic).
And that sheep, it's symbolizes a female. You might laugh about this, but its true! Sheeps fur is soft, like girls, soft on the outside but then you see the real deal inside. The reason I place the sheep like that is to show how girls can just simply make the guy fall for her and be the queen in just one blink.
And for the background, its just some doodles I made at my science class last 2 years, I think it fits this whole thing don't you think?
Designed by Wirdy Hamidy from Brunei Darussalam.
Growing On You
full view | download (psd + jpg, 0.9 Mb) I have used different brushes from Aivult itself and symbols of vector from there as well. The brushes were used to create the flowers along with few splashes of paint. Then the sunburst effect in the background was used from one of its tutorials in order to come up with a creative vector header. Designed using Adobe Illustrator and Photoshop and was possible by hand and head co-ordination of one8edegree. Created by AiVault, One8edegree, Pakistan.

Sublog
full view | download (jpg, 65 Kb) It's the header graphic of my actual blog Sublog.ch. The design is a collage of pictures I took some time ago and some free city landscape pics I found on the net, combined with some graphic elements. I used some grungy photoshop brushes to destroy the edges. The Swiss mountains at the bottom reflect a typical element of my homeland.
The contrast to the clean Swiss image is the grungy design and the city landscapes which are overlayed with a hard blend mode. a connection to the web and the modern world is made with the typo elements. I used a very clean, technical font called eurostile. Designed by Pascal Greuter, Switzerland.

Elements, Transition
full view 1 | full view 2 | download (jpg, 150 Kb) I wanted to put accent on graphics (drawing, sketching) development through years. Therefore, its an old clock with overlayed Van Gogh's portrait (an axiom in art :) + painters brush….and it's "transforming" into mouse pointer with some binary code in background. Designed by Ratko Horvat (e-mail), Zabok, Croatia.


Graffiti Splatter
full view | download (jpg + html template, 0.5 Mb) Okay, here's my little horror show for your header contest. Yes, it's a little bit special, but I like horror movies, comics, books… Also like Graffitis (but not that stupid noob tags). Theme is free - so I splattered some this weekend. I included a "making-of"-screen in a .zip-file. Also as goodie a website-template with background images. Designed by Rainer Weber, Pfungstadt, Germany.

Designer's Canvas
full view | download (jpg + psd, 0.7 Mb) The colors have been inspired by Mother Earth and her best friend, Nature. I draw real intricate designs on books and I always wanted to include this talent of mine into my website. Though I am creative I do not have anybody to guide (I guess this is the case with most designers).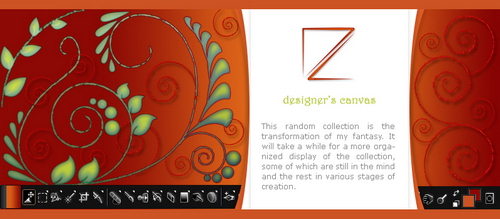 I was not sure of how to incorporate my talent into the web media, luckily I stumbled on your website where I found links to amazing designs and tutorials. Every time I look at the stunning designs I would open up my Photoshop and Illustrator. Since I work full time, my website is not complete as I get to work only during my free time. Photoshop has always been my canvas to my creative work hence I have included the Photoshop toolbar in my design. Designed by Savitha Shivaram, India.
Lion design, the creative king
full view | download (jpg + psd, 1.1 Mb) The Lionshead I used for this header is a drawing that I made earlier for a friend in Illustrator. I thought it would work great with a grungy theme. Designed by Didier Depraetere, Belgium.

Ephemeral
full view | download (5 jpg's, 0.25 Mb) The main idea with ephemeral is a graphic that seems constant and changing, with no form or whatsoever. The artwork was created in Adobe Illustrator. I wanted to share a visual header that can be easily customize, can provoke an emotion or tone without too much details. Designed by Nate Legaspi, Philippines.





Monsteck Variketch, The Invasion
full view | download (jpg + psd + ai, 7.3 Mb) Based on your Illustrator tutorial about how to create a blob monster I developed the idea of creating a monster family which I called the Monsteck Variketch Family. This family is just starting to invade the city. Their names, from left to right are: Vermistech, Vaitistech, Bilistech, Piriastitech and Kapastech. For the design concept I used a grunge and urban styles. This banner can be used in a big variety of blogs. Designed by João Filipe Cunha, Portugal.

The Magic Box
full view | download (jpg + psd + ai, 3.1 Mb) This banner was created under the idea of the surprise element and good feelings when someone opens a gift on their birthday or in Christmas time. The moment of opening and discovering the gift it's in my personal opinion a magic moment. That magic moment can be also translated to blogs, when we anxiously wait for a new post in some interesting blogs.

So I tried to show that magic moment in the design, creating a kid discovering the new toys, and from the open box is getting out the energy that creates that magic mood. A very soft pastels color palette was used to create a very soft moment of magic. Designed by João Filipe Cunha, Portugal.
Untitled Dream
full view | download (jpg + psd, 3.1 Mb) This banner was created for those dreamers out there. The idea was to create a dreaming environment, transforming the impossible possible. I came out with a sky landscape and in the top of a cloud there's the dream focus. A natural landscape with some animal's, flowers and ornaments. Mixing photography with illustration emphases the dreaming idea. Designed by João Filipe Cunha, Portugal.

Kultivating
full view | download (jpg + psd, 0.5 Mb) The main purpose of blogs is to share ideas, or 'cultivating' ideas in this big garden that we call the Web. So based on this idea I created this concept. I used an orchid which is my favorite flower; actually Orchids are my other passion. Is not just about the different shapes and colors that makes them another pretty flower, but yet what makes the reigning magic of the orchid is their invisible power of communication. I also used the tree and flower ornaments to reinforce the 'cultivating' idea. Some soul tech brushes were used to represent the Web as the main garden of ideas. Designed by João Filipe Cunha, Portugal.

Metamorphosis
full view | download (jpg + ai, 2.8 Mb) Metamorphosis is about a transformation of vector styles from simple lines to more complex line art. Seeing such different styles and moods being created with line and color, I also wanted to give a sense of relaxation that nature gives us. Designed by Carolyn Van Deursen.

Betsyness
full view | download (jpg, 60 Kb) "I'm in the process of creating a website to showcase some of my drawings and paintings. I wanted this header graphic to reflect on my personal style and although created in perhaps the hallmark of the digital art process, Photoshop, to still have a hand-drawn essence to it." Designed by Betsy Chang, USA.

Nuestra Señora
full view | download (jpg + psd, 1.7 Mb) "This is a header graphic for my friend's blog. This is how she initially described it to me: "I have decided on a name for the blog: Nuestra Señora. It is adapted from Los Angeles' original name: Pueblo de la Nuestra Señora Reina de los Angeles del Río de Porciúncula. Plus it is feminine. I think it suits the blog. I am not sure if other people use the same name on their blogs.

So the concept for the blog is: Los Angeles city politics infused with pop culture. I want to provide a counter-perspective to the city from a life-long Angelino and integrate art, culture, fashion, and more. But again, its all about how the city is changing, I want to be a cynic but also a resource. The blog should be an artifact. I need to write and be creative. The more I think about it, the more I want multiple blogs, but maybe we can do that later or make tabs on the blog page itself. I would like to talk about US politics, the world, pop culture, gossip, everything that encompasses my daily life." Designed by Betsy Chang, USA.
War of the Good & Evil
full view | download (jpg, 62 Kb) "Doing design that can affect people, with this theme to show that being good or bad is just a thin line of difference. So we should show others the angel side of us, letting the good triumph over the evil." Designed by Koh Maw Shin, Singapore.

Dragon
full view | download (png + example, 170 Kb) "Dragon.png is a layered Fireworks CS3 file containing all the design elements used in example.gif. The elements are all transparent and can be moved around and combined to easily create a custom header image for your blog. All elements were created by us and you are free to use and distribute as you feel fit. Come show us your work at Heavychef were keen to check it out."

Dream On
full view | download (gif, 60 Kb) "This design was inspired by my thought process. Whenever I need some ideas, I think, research & analyse and then I just let my thoughts go blank. This is when the ideas begin to flow. I tried to visualize this whole process & this is how I imagined it. I am sure a lot of people out there would relate to this process as well." Designed by Heavena Rayan, India.

Thanks to all participants!