For website owners who are evaluating e-commerce solutions, there are several good options for powering websites and shopping carts. Regardless of which option you chose, deciding on a design brings with it even more decisions to make. Of course, a custom design is always an option, but for those who want to keep costs down, templates are a popular choice. Premium e-commerce themes are easy to find, but they can be expensive. Free e-commerce templates are difficult to find, and quality free templates are even harder to find.
You may also want to check out the following Smashing Magazine articles:
We've done the research for you, and in this post we present 35 of the highest-quality free e-commerce templates available. There are templates specifically for WordPress, Prestashop, osCommerce, Magento, Zen Cart, CubeCart, and CRE Loaded, as well as a number of general e-commerce templates. Please notice that these templates aren't intended to be used 1:1, but should rather be used as a skeleton for your own shop and hence saves a lot of work, because otherwise you would have to start from scratch.
1. WordPress Templates
Crafty Wordpress Theme | Demo | Download
3. osCommerce Templates
4. Magento Templates
Electronics Store 3 | Download from eCommerce-Themes
5. Zen Cart Templates
Acadame | Download from ichoze.net
Clean Blue A collection of free CubeCart 3 Skins. More free Cubecart skins.
7. CRE Loaded Templates
8. General E-Commerce Templates
The following templates were created for the purpose e-commerce but not built for a specific system. If you plan to use one of them, it would need to be adapted to and integrated in the e-commerce solution of your choice. Templates with valid HTML code are marked.
Gadgets Template | Download (valid HTML)
Online Movie Store | Download (valid HTML)
Books Online | Download (valid HTML)
Beauty Company | Download (valid HTML)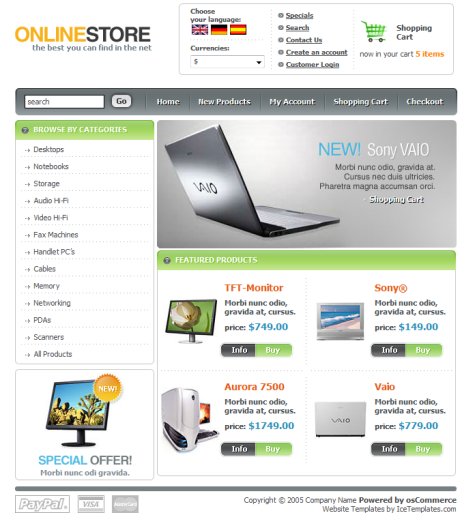 For more templates and related content:
(al)