65 Desktop Wallpaper Calendar: September 2010
Desktop wallpapers can serve as an excellent source of inspiration. However, if you use some specific wallpaper for a long period of time, it becomes harder to draw inspiration out of it. That's why we have decided to supply you with smashing wallpapers over 12 months. And to make them a little bit more distinctive from the usual crowd, we've decided to embed calendars for the upcoming month. So if you need to look up some date, isn't it better to show off a nice wallpaper with a nice calendar instead of launching some default time application.
This post features 65 free desktop wallpapers, created by designers across the globe. Both versions with a calendar and without a calendar can be downloaded for free.
Please notice:
So what wallpapers have we received for September 2010?
Tension9
"I made a 9 on the fence with nails and woolen to express the tension. It has come to the ninth month of 2010. Still working hardly and stressfully? Take it easy!" Designed by Ssu-Hua Chen from Australia.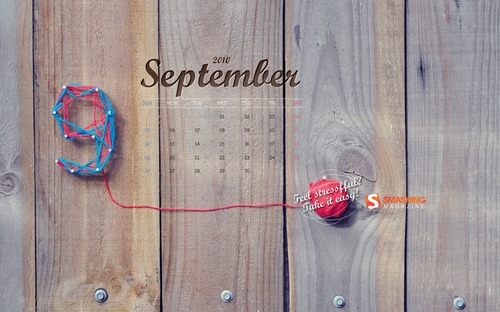 Autumn Skyview
"Laying on field watching the sky above, leaves are falling, autumn is coming." Designed by Jaro Mlkvy from Slovakia.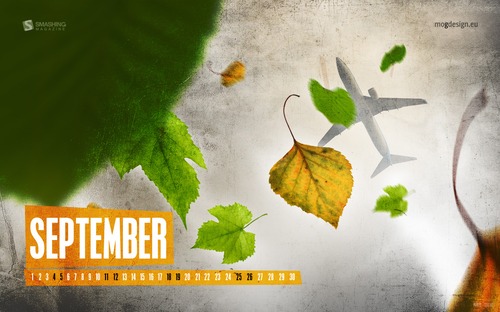 My Daisy
"Do not under estimated the beauty of a little daisy." Designed by Esther Lau from USA.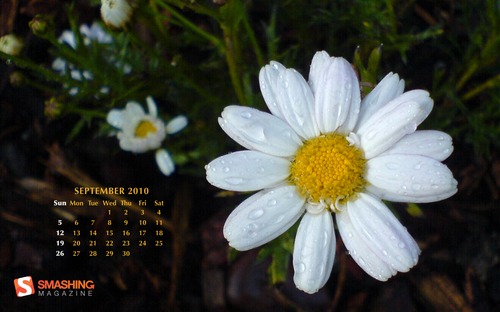 Gold autumn
"When the leaves begin to change it means that autumn comes and schoolyear begins." Designed by cheloveche.ru from Russia.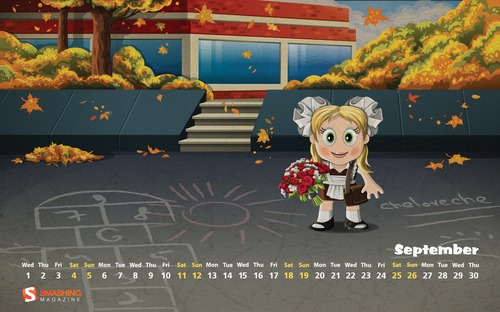 Memorial Tribute
"This wallpaper is a memorial tribute to the heroes of 9-11-2001,remembering the events of that September day and the innocent victims of the whole matter." Designed by Nishith from India.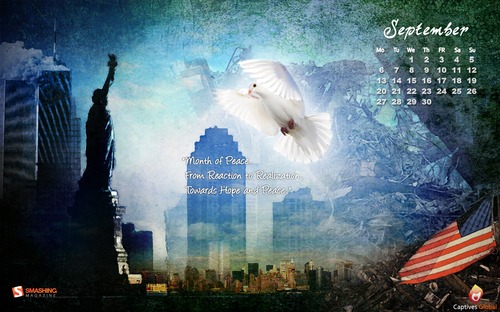 Summer's End
"The Month of Ramadan is a time for many in which we fast, worship, and evaluate ourselves in order to strive to become a better person. Summer came and now it is leaving, the month of Ramadan came and now it is also leaving us and so this design is to show the tranquility, beauty, and spirituality of this month but at the same time show the power of these last ten nights." Designed by Arif Huda (Ihsaan|Fusion) from USA.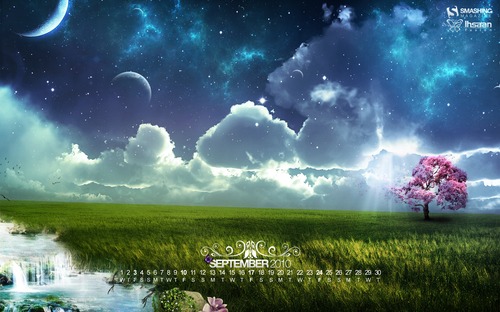 My Chilly Beach
"Although autumn is calling, the beach is still a gorgeous place - even if chilly. Just a little reminder of summer and the fun it has brought - I hope you all have had a lovely summer (or winter for those in Australia etc) and have a wonderful new season, whatever it may be! Happy September :)" Designed by Olivia Bell from England, UK.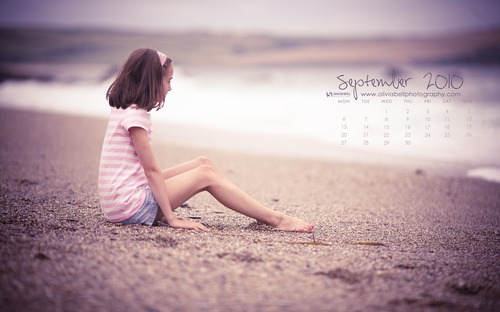 Origami flight
"Grab some paper, fold yourself a plane, and take flight!" Designed by Chris Alexander (Yipori) from England.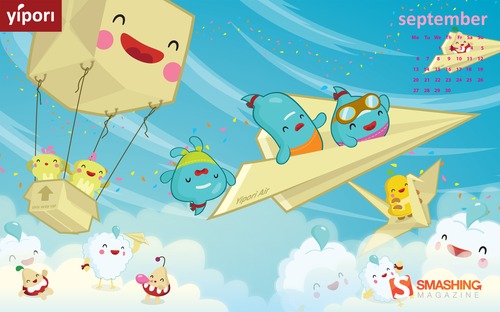 with calendar: 800×600, 1024×768, 1152×864, 1280×800, 1280×960, 1400×1050, 1440×900, 1600×1200, 1680×1050, 1920×1200, 1920×1440
Far Far Away
"Wherever you go, no matter what the weather, always bring your OWN sunshine. (Anthony J. D'Angelo, The College Blue Book)" Designed by Juanita Ooi from London, UK (Originally Malaysia).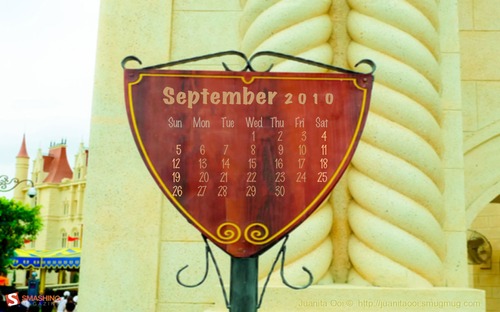 Ending of Summer
"Summer feels like it is truly finishing in the UK, we've gone from 20 degree weather to the 12⁄15's and have spent an entire week immersed in rain! This photograph was taken during a brief dry spell - I thought it was a good representation of what we're moving towards? even the grass looks sad!" Designed by Olivia Bell from England, UK.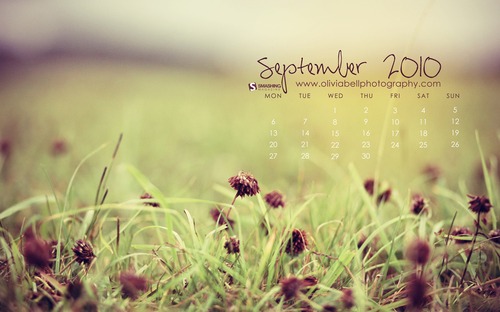 Wake Me Up
"This is how Green Day's "Wake Me Up When September Ends," makes me feel." Designed by Umer Tahir from Canada.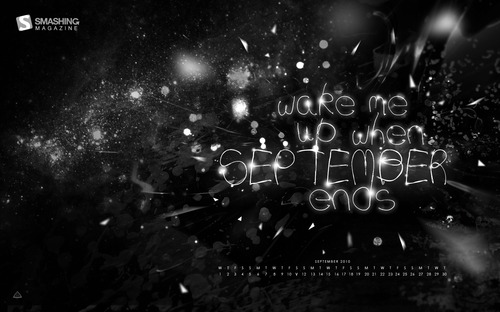 The Browser
"Meet the Browser-The Rockstar of the Internet. Preloaded with vibrant colors, he is all ea_rss to the happenings of the world wide web. Ask him about anything and you'll get a reply, so quick that will make you go-ogling at him. He is the happening cool dude with a goatee in all the chatrooms, forums and social networks. So Click Him! ;)" Designed by Pixel Pundits from India.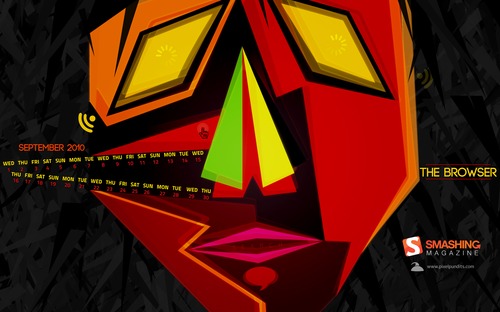 Back To School
Designed by Irene from Spain.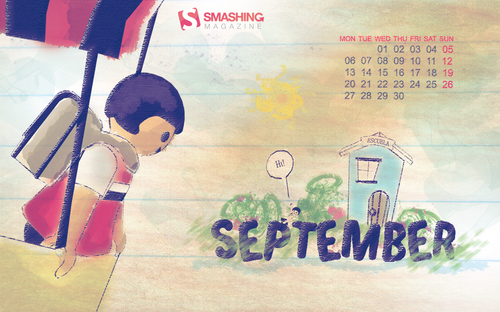 Wear & Tear
Designed by Christopher Lee from USA.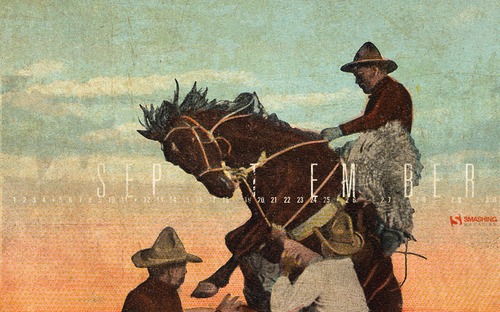 International Day of Peace
"The International Day of Peace, also known as the World Peace Day, occurs annually on September 21. It is dedicated to peace, or specifically the absence of war, such as might be occasioned by a temporary ceasefire in a combat zone. It is observed by many nations, political groups, military groups, and peoples. The first year this holiday was celebrated was 1981." Designed by Darshan Kore from India.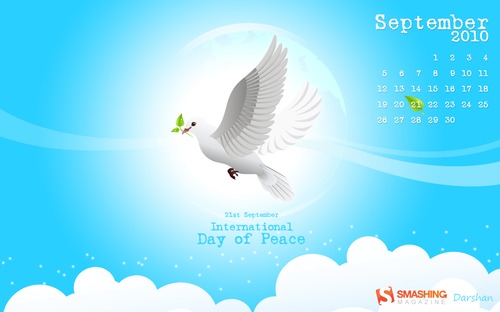 Colorado Wildflowers
Designed by Kari Andresen from USA.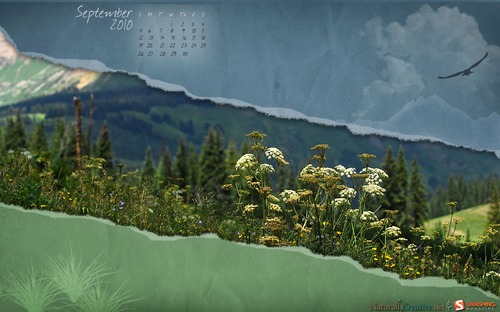 Earth Wind and Fire September
"I was born a hippie at heart and am completely in love with the old Fillmore posters from the 60s and 70s. Have a happy September with this Fillmore-style illustration featuring the lyrics to Earth Wind & Fire's song "September." Look closely into the disco lights for lyrics." Designed by Allison Doty from USA.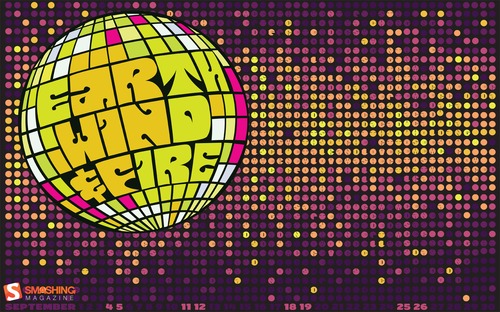 Mexico 1810-2010
"Commemorating Mexico's bicentennial." Designed by Alicia Ramirez from Canada/Mexico.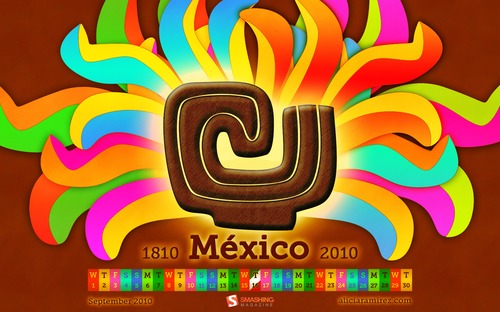 Talk like a pirate day
"Ahoy, semptember 19th be th' speak like a scurvy pirate day. Be a jolly scurvy pirate 'n on 19th o' Semptember speak like a scurvy pirate th' whole day. Gar, Where can I find a bottle o'rum?" Designed by Vladimir Remenar from Croatia.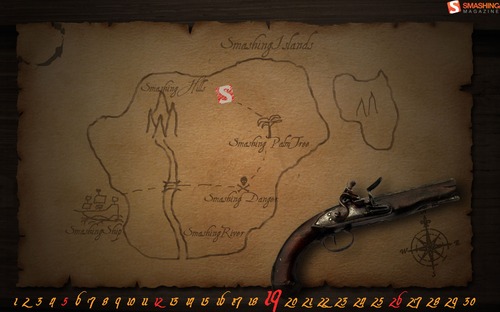 Summers End
"Take a look out of my little Forest." Designed by Christopher Krahlisch from Germany.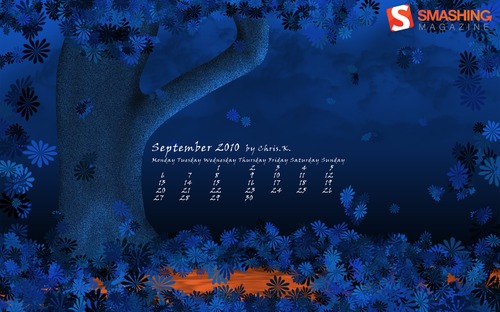 Mimimi
"It's September, the Summer will end nearly? Don't make Mimimi, and appreciate the last summer days." Designed by Sandra Heinzen from Germany.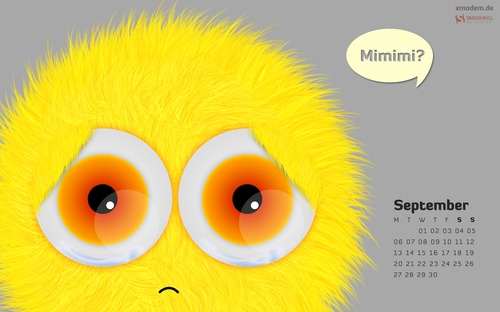 A Tale
"Un poco de fantas'a no le hace mal a nadie :)" Designed by Srpn from Spain.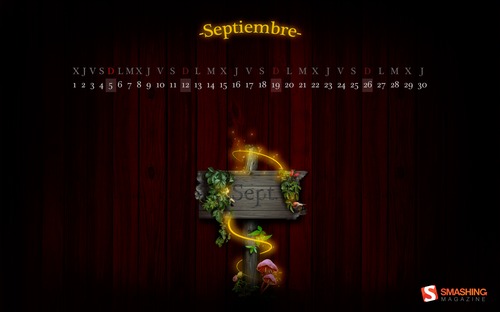 Parallel Universe
"The most tolerant ladybug ever :)" Designed by Bruna Šuligoj from Croatia.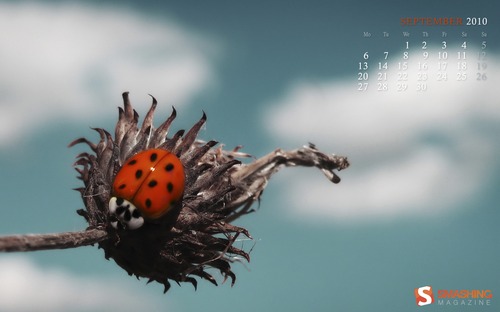 Spring Origami
"Flying origami birds in the spring." Designed by Paula Laneri from Argentina.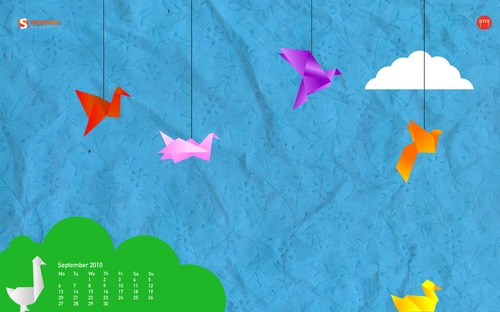 Ramadan Kareem
"I have design this wallpaper for the holy month of Ramadan Kareem." Designed by Waqas Khna from Pakistan.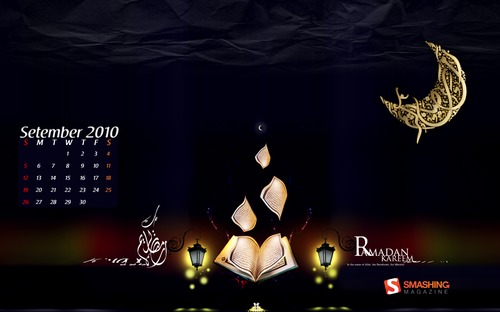 Oh Joy
Designed by Valerie Morgan from USA.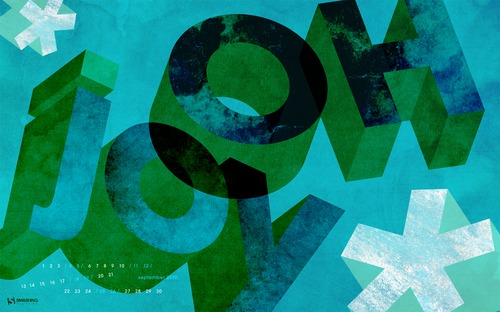 Wet
"Raindrops Keep Falling on My Leaves! Photo by Daniel Furtado." Designed by Wezen Design from Brazil.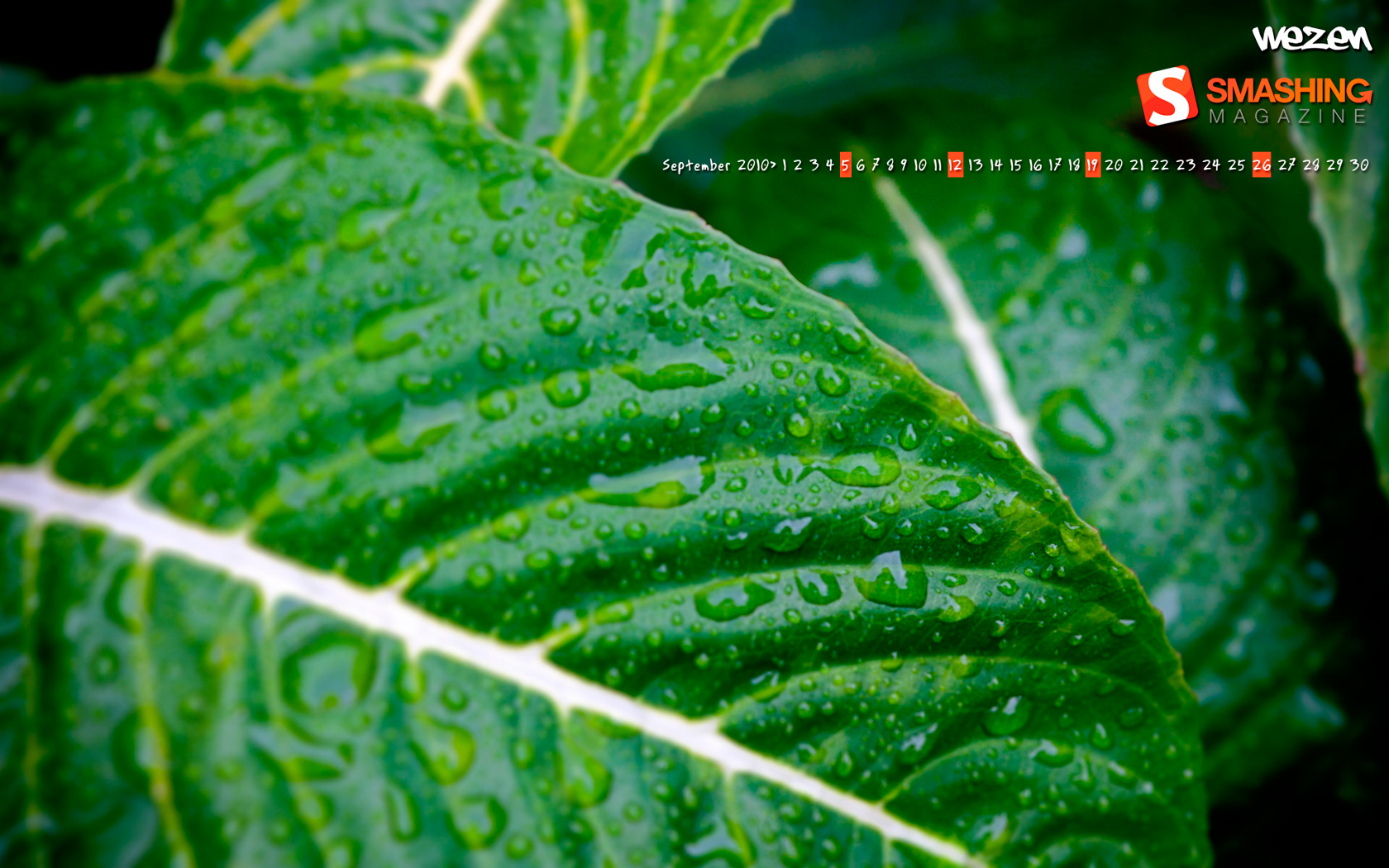 Iran Guilan
"Guilan, is one of the provinces of Iran that have very desirable weather with beautiful nature.It lies along the Caspian Sea. This photo shows one of the beauty of this region." Designed by Arash Zad from IRAN.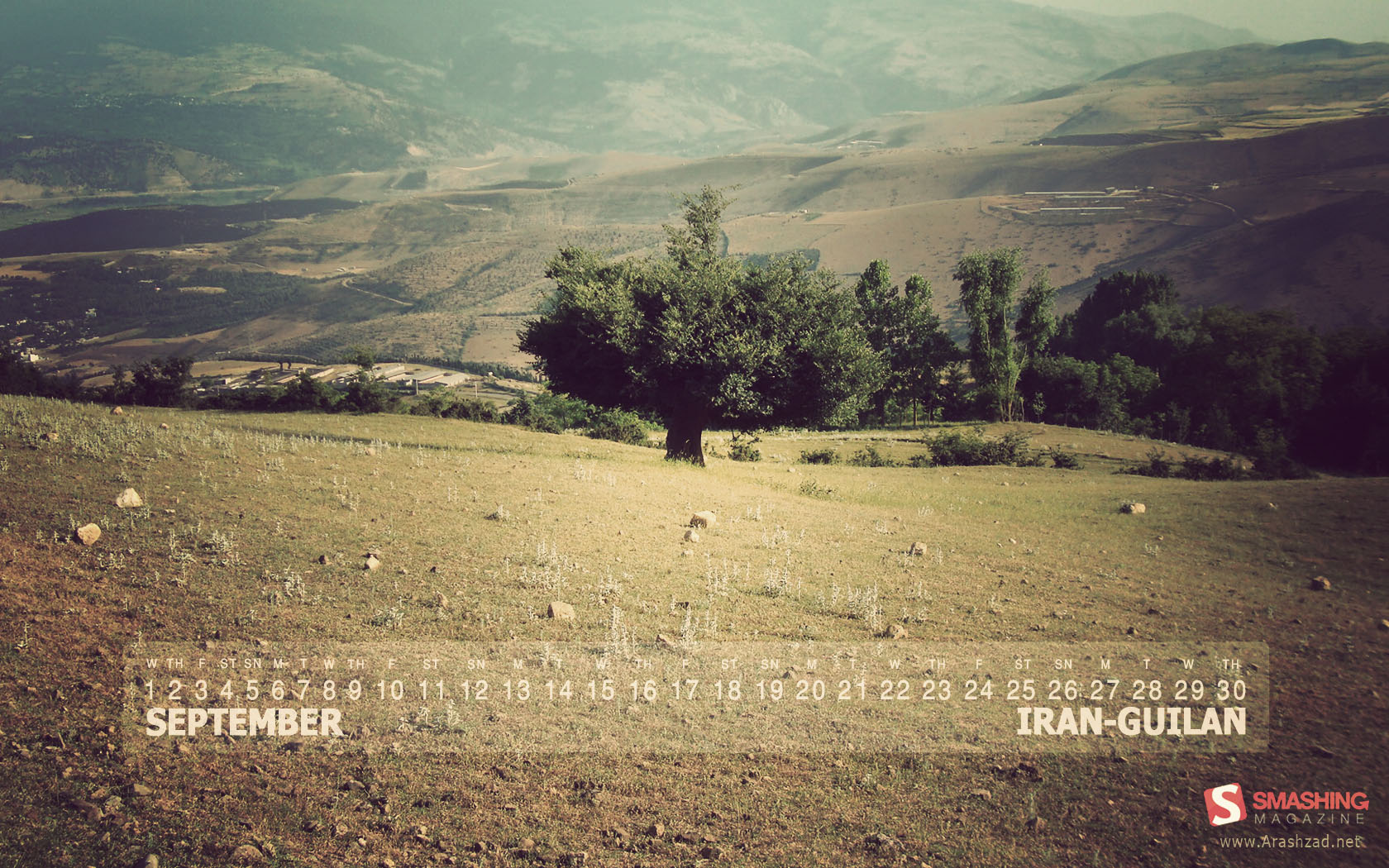 Bridge to reflections
"Autumn is that dreamy time when we remember all the good things happened through the summer." Designed by Jaro Mlkvy from Slovakia.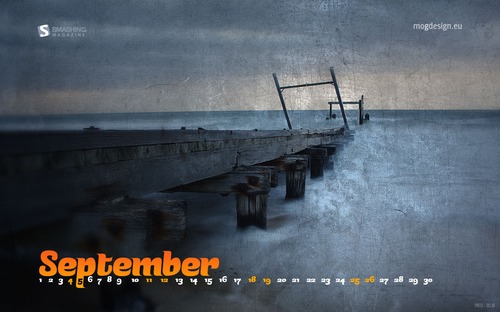 Meditation
"We just got back from a camping trip where we spent severaldays in a tent, surrounded by redwood trees. It's easy to forget there's aworld outside our computer monitor sometimes, a world with only the noise ofwater dripping onto leaves and gentle breezes, a world that isn't dividedinto pixels and margins. It's important, sometimes, to take a step away fromthe blue haze of our monitors and step into the real world just to keep ourown sanity." Designed by Arcane Palette Creative Design from USA.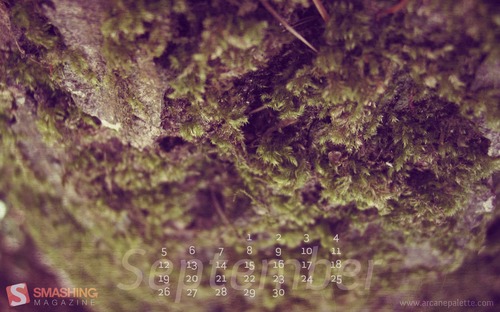 Back to School
"When I would get a little bored in class I would doodle these little characters on my notebooks. Now that I am no longer in school, I still find myself doodling whenever I'm brainstorming for a project or need a little break from what I'm working on." Designed by Amy Vitale from Gilbert, AZ USA.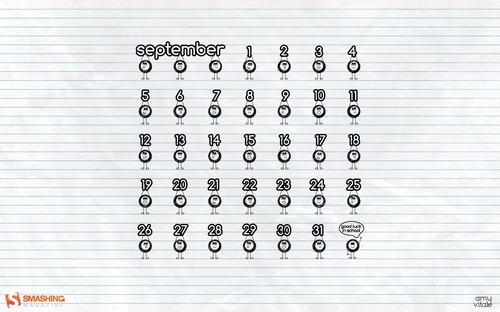 Wake me up when September… ends
"A little friend hibernating. When the right time comes, he will rise & shine again." Designed by Alecsandru Grigoriu from Romania.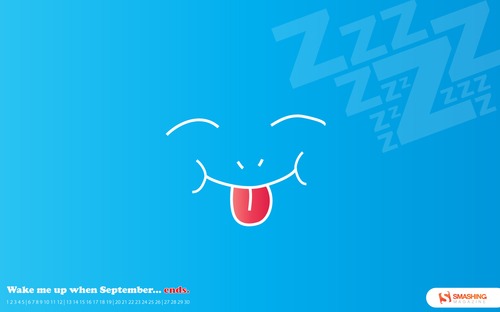 SeptembARR
"Just a little something for Talk Like a Pirate Day!" Designed by Carly Dybka from Canada.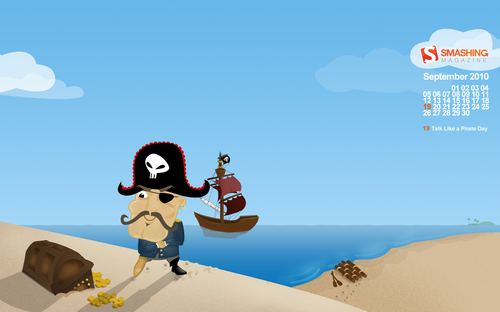 Sweet September
"My last September was so sweet with lots of memories with my best friend. So i decided to design a wallpaper for her. And here it is…" Designed by Aswani from India.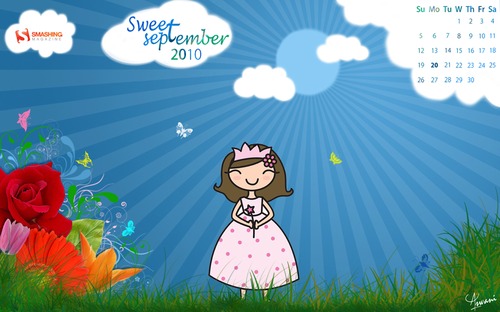 Cool Cat
"A literal wallpaper, this is an illustration of the coolest cat: the one and only, James Dean." Designed by 3 Roads Media from USA.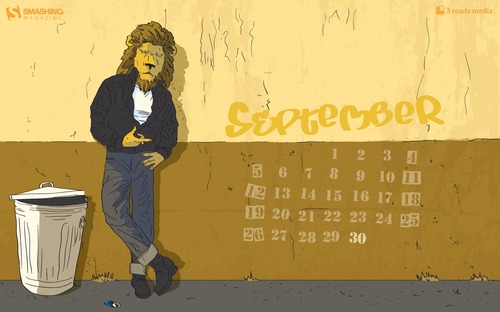 Domo At The Playground
"I Anca Varsandan from Romania.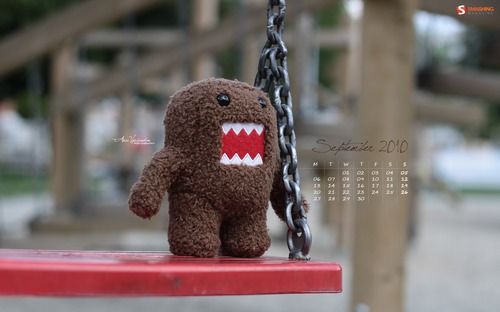 Sweet September
"This is one of my first shots on the new Canon EOS 500D DSLR.Actually, raspberries grown in my garden,so I decided to photographthem a little. I hope you enjoy it." Designed by Dominik Levytskyi from Ukraine.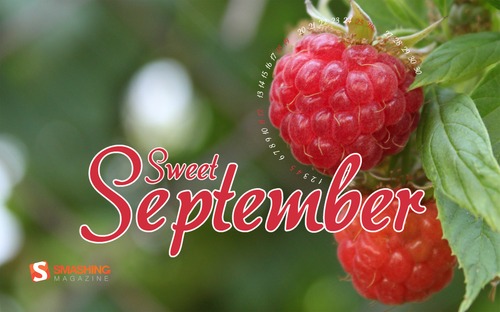 Why Autumn
"A little reason for Autumn, From morocco… with love !" Designed by Adil Fattoumy from Morocco.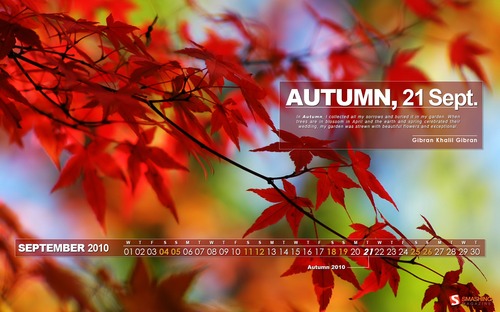 Landscape in Santa Catarina
"Winter in South America" Designed by Marco Aurelio Fevereiro from Brazil.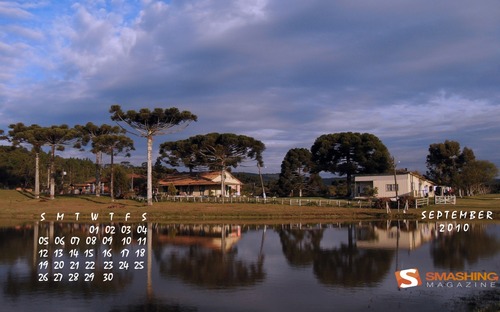 September Space
"Beautiful space wallpaper with desktop calendar of September 2010" Designed by Sagar from Bangladesh.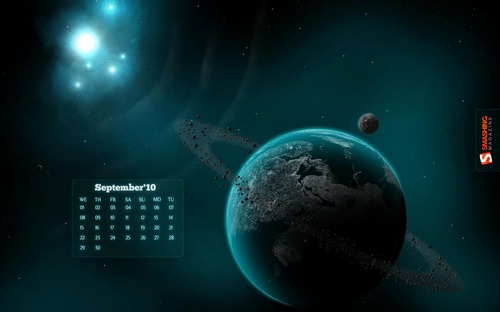 Hello September
"Say Bye to summer, September is here." Designed by Jaro Mlkvy from Slovakia.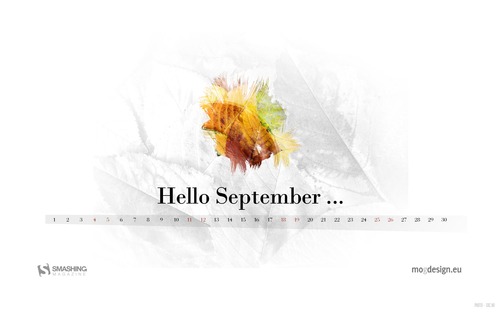 New Season
Designed by Eugenie Huard from California, USA.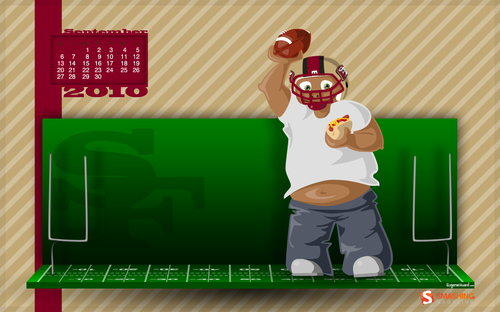 Going to seed
"September calendar celebrates Autumn and nature Going To Seed. "Autumn is a second spring when every leaf's a flower. - Albert Camus"" Designed by Kim Carney from USA.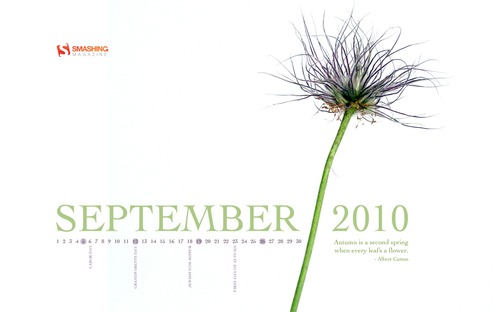 Hanging
"Random Idea…" Designed by Kris Koubaddy from United States.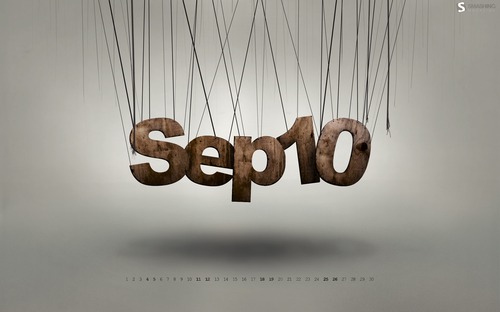 Welcome Autumn.
"Let's give a big welcome to Autumn that will begin in September!" Designed by Marco Palma from Germany.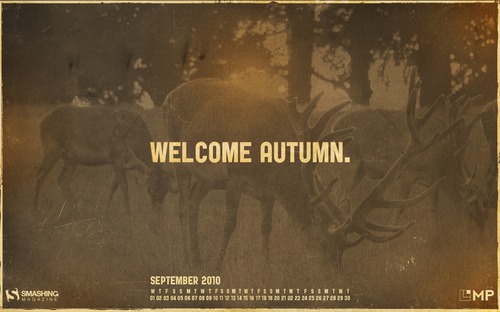 Umbrella
"Don't forget to take your umbrella with you in September. Actually this is more what August was like in Germany." Designed by Martin Kolb from Germany.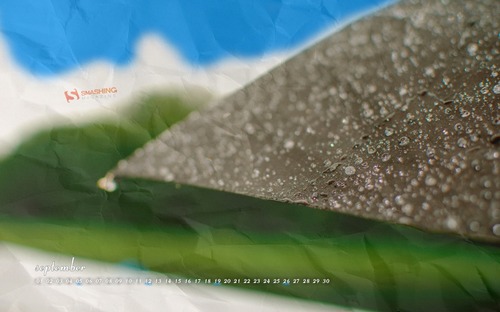 Happy Place
Designed by Kasper Nordkvist from Denmark.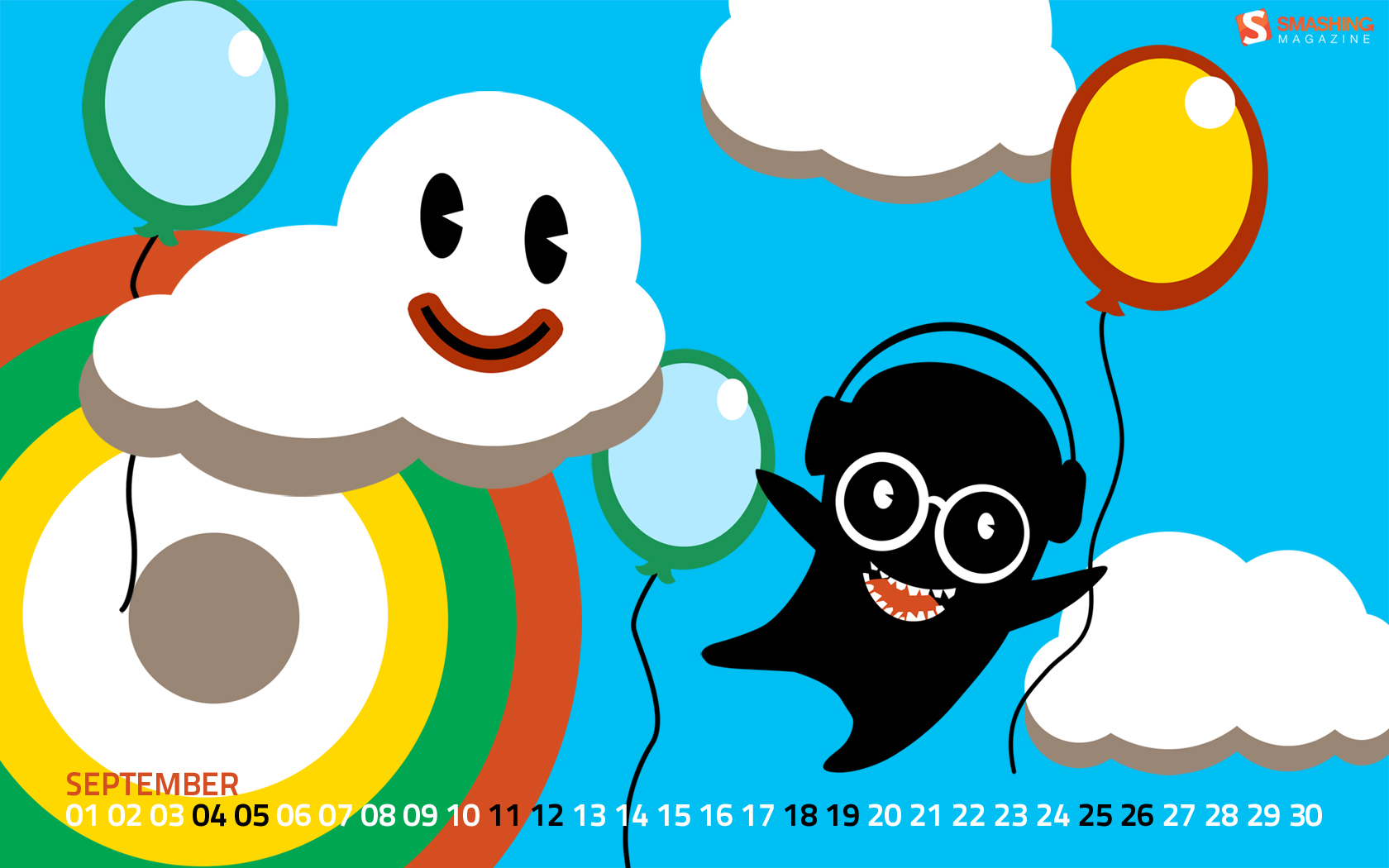 Time to Design
"The summer is ending, everyone is going back to school/work and the weather is starting to change. But this can be a good thing because now we have a good excuse to stay inside and start designing beautful things. Designed by: Robin de Jong from The Netherlands" Designed by Robin de Jong from Netherlands.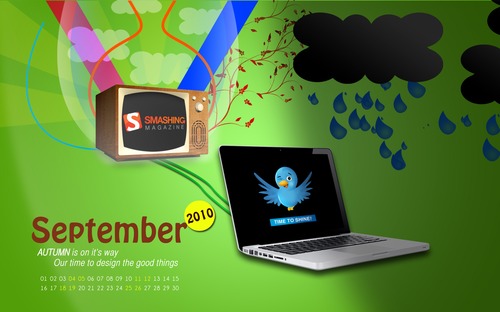 Back to School
"To grow up, meet new friends and learn life." Designed by Eugenie Huard from California, USA.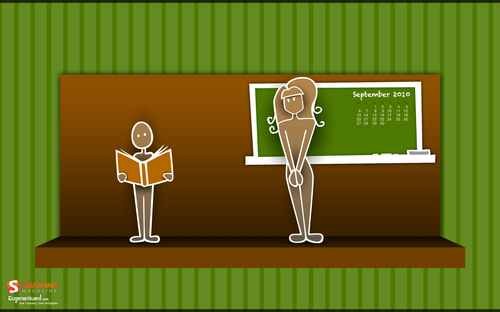 Star
"Never Forget." Designed by Eric Hooper from USA.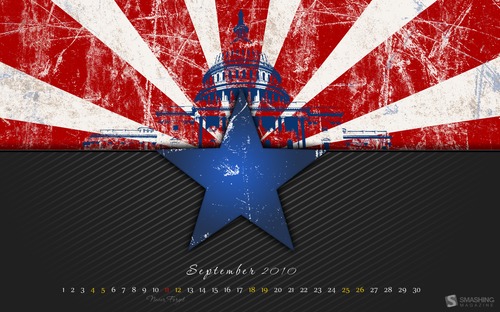 Kitchen Hymns
"During my time at NYSC, I was inspired abotu learning and observing a culture very new to me. Specifically was the body dimensions of ladies from the Southern part of Nigeria was something I want to hold dear to memory - not that I stare at them, but some things can not hide for long. This artwork shows a typical African lady having a swell time at the kitchen." Designed by Aroyewun Babajide from Nigeria.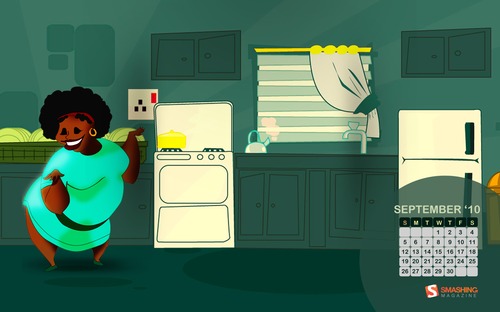 Falling Leaves
"As the air turns crisp and the leaves begin to change, use this desktop to give yourself a picturesque reminder of autumn." Designed by fifty2forty8 studios from USA.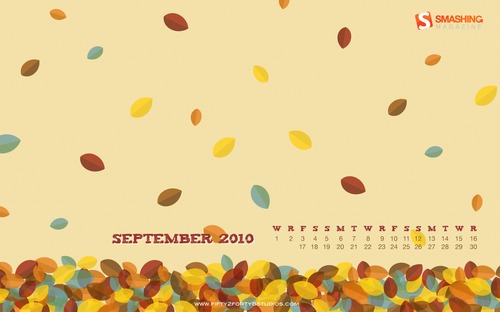 Note for Dad
"A simple reminder to all Dads to go home early :)" Designed by Aswani from India.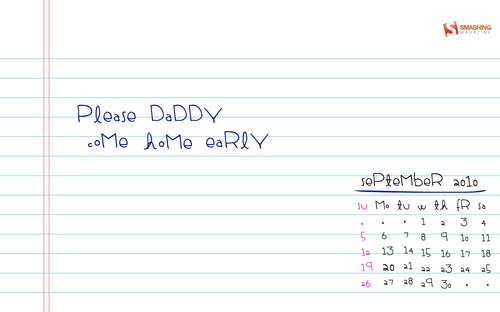 Afternoon Bike
"Afternoon Bike" Designed by emily shirley from USA.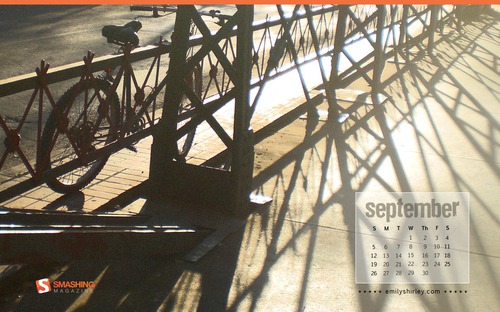 Sunshine
"Awesome autumn sunset, shoot in Norway just a few days ago.The photo was made at around 10 p.m. withvery little editing done to it, just to make the color pop a little more and remove a jet line." Designed by Nistor Mihai from Romania.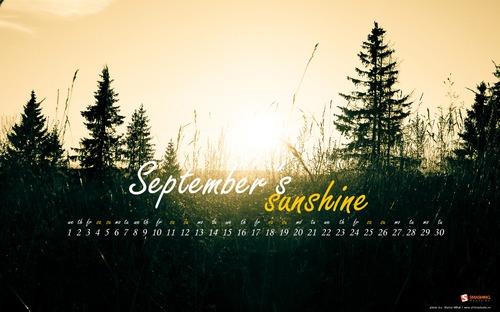 When leaves leave…
"September…when leaves leave…" Designed by Vy Phan from United Kingdom.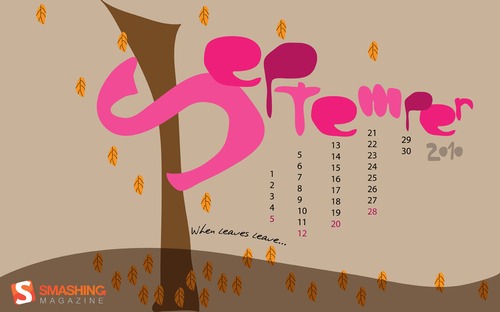 Inspirations
"A simple calendar hope you guys like it, i got the inspiration from a photo-manipulated imageIf you guys want to change anything or have any suggestions please let me know.Free to use but mention my name." Designed by Qayum Khan from Afghanistan.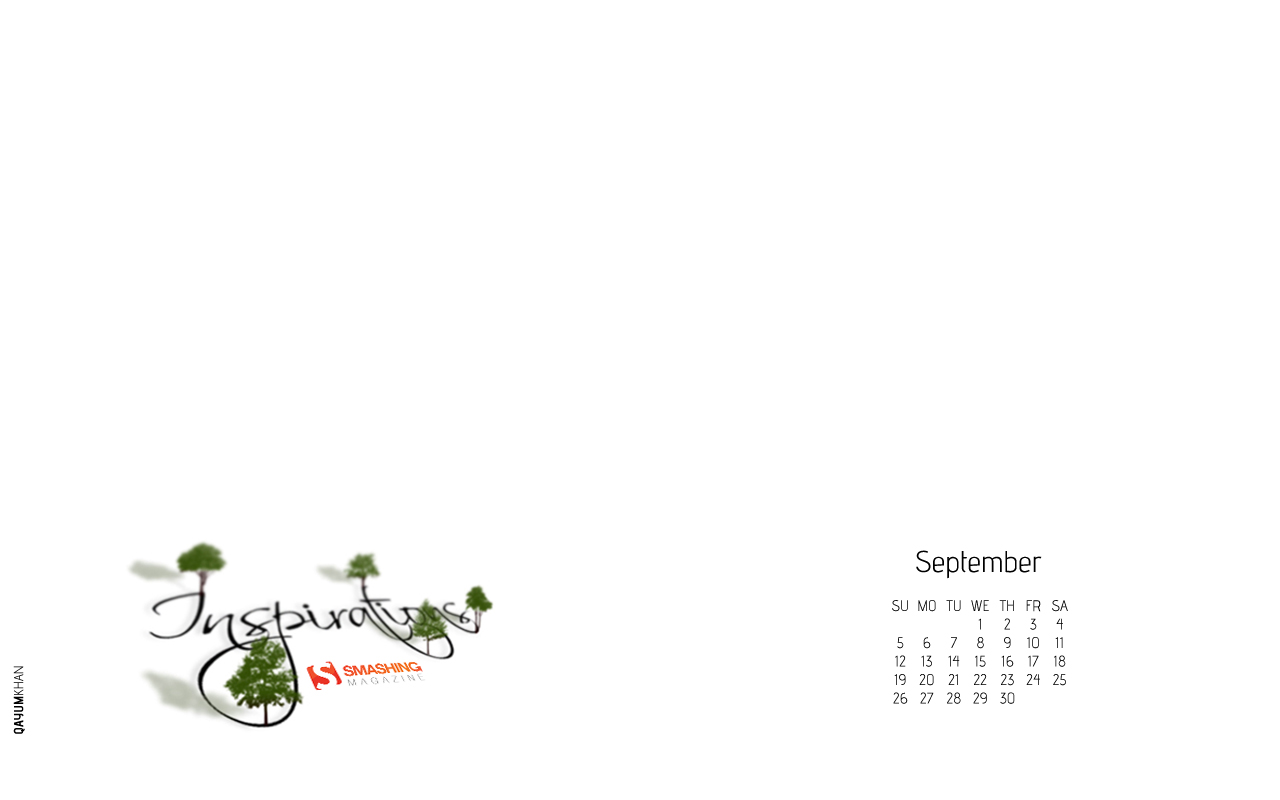 Seagull Days
"A view from the Head Island Causeway in Boston's South Shore. Photo-traced." Designed by Nate Green from USA.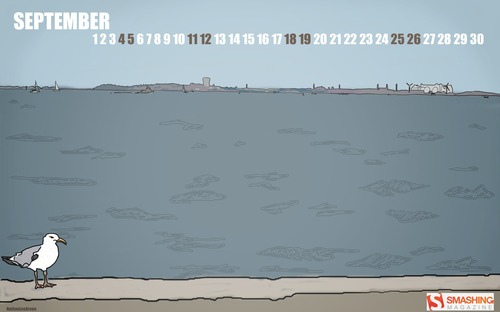 Zzzz..!
"The illustration was created as a booklet for A Nursery Center, so, I used the sameillustration on the cover for a wallpaper." Designed by Fatima Alghafli from Dubai, United Arab Emirates.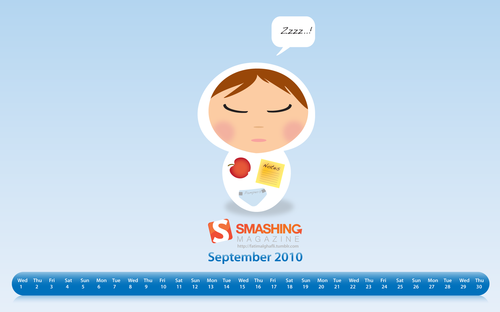 Through the window
"I always look up my windows when I am tired of starring the computer screen. It reminds me the weather outside at the moment or the time to eat dinner. I clipped off the word "September" from news paper and pasted it to my window, which notices me that it's already September." Designed by Ssu-Hua Chen from Australia.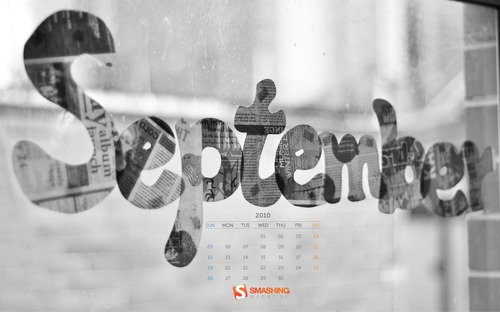 Layover
Designed by Megan Smith from USA.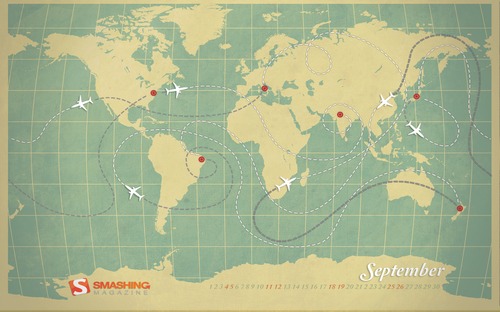 Join in next month!
Please notice that we respect the ideas and motivation behind artists' work which is why we've given artists full freedom to explore their creativity and express emotions and experience through their works. And this is also why the themes of the wallpapers weren't anyhow influenced by us, but designed from scratch by the artists themselves.
Thanks to all designers for participation. Join in next month!
What's your favorite?
What's your favourite theme or wallpaper for this month? Please let us know in the comments! And have a smashing September, folks!