Desktop Wallpaper Calendar: April 2011
We always try our best to challenge your artistic abilities and produce some interesting, beautiful and creative artwork. And as designers we usually turn to different sources of inspiration. As a matter of fact, we've discovered the best one — desktop wallpapers that are a little more distinctive than the usual crowd. This creativity mission has been going on for almost two years now, and we are very thankful to all designers who have contributed and are still diligently contributing each month.
We continue to nourish you with a monthly spoon of inspiration. This post features 35 free desktop wallpapers created by artists across the globe for April 2011. Both versions with a calendar and without a calendar can be downloaded for free. It's time to freshen up your wallpaper!
You may also want to take a look at the following related wallpaper posts:
Pablo Cesar
"Pablo Cesar — not exactly a lone ranger — yet here he is, to defend your right to publish." Designed by Inet-design from Denmark.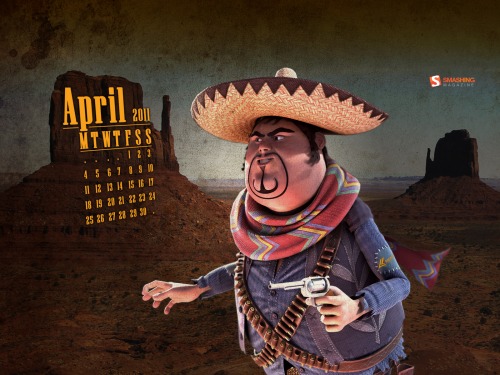 with calendar: 320×480, 640×480, 800×600, 1024×768, 1024×1024, 1152×864, 1280×720, 1280×960, 1600×1200, 1920×1080, 1920×1440, 2560×1440
Sakura
"Spring is finally here with its sweet Sakura's flowers, which reminds me of my trip in Japan last year. Pray and support Japan !" Designed by Laurence Vagner from France.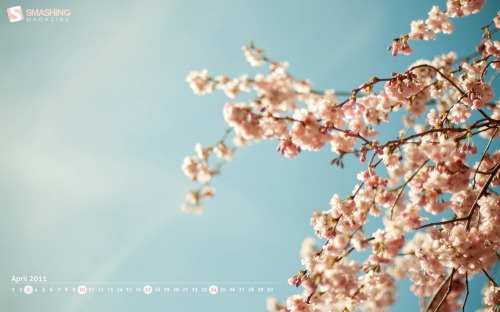 Glowing Subway
"Well, I am still learning Blender 2.5 and so I wanted to create a nice wallpaperwith this program. I tried to use different techniques to realise this picture, such asEnvironment and Indirect Lightning and I desired to experiment Depth of Field." Designed by Claudio Lione from Germany.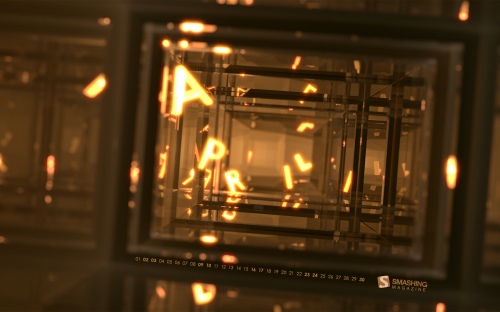 April Promise
Designed by Jonathan Carroll from Scotland.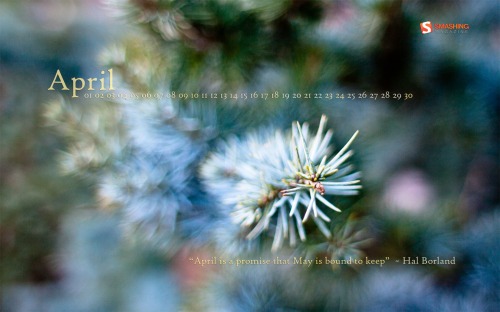 with calendar: 640×480, 800×600, 1024×768, 1152×864, 1280×720, 1280×800, 1280×960, 1280×1024, 1400×1050, 1440×900, 1600×1200, 1680×1050, 1680×1200, 1920×1080, 1920×1200, 1920×1440, 2560×1440
Blooming
"Blooming tulips- a sign that spring is truly here." Designed by Britt Wilcox from USA.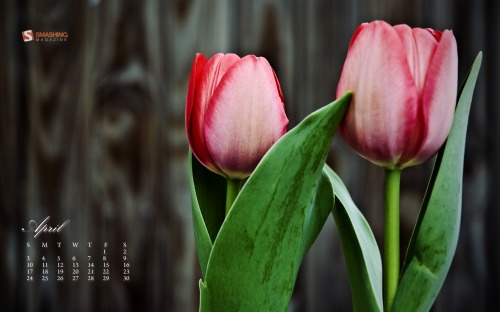 Championship
"Time for hockey!" Designed by Jaro Mlkvy from Slovakia.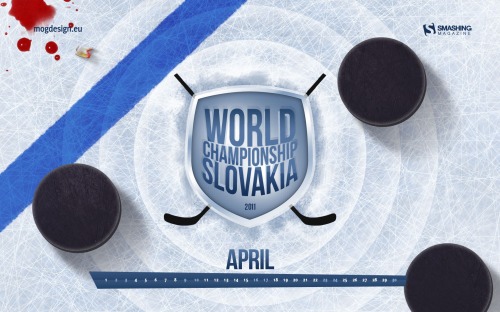 Sun/clouds
"Enjoy the first warm sunrays in April! (at least in Middle Europe)." Designed by Marco Palma from Italy/Germany.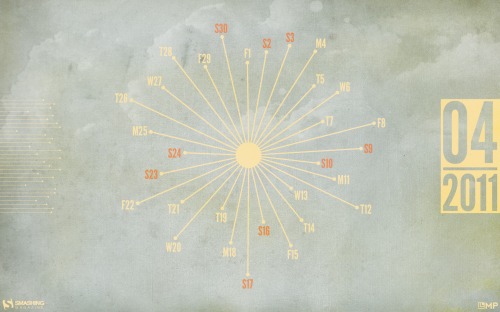 Typeholic
Designed by Knsqnt Interactive from Germany.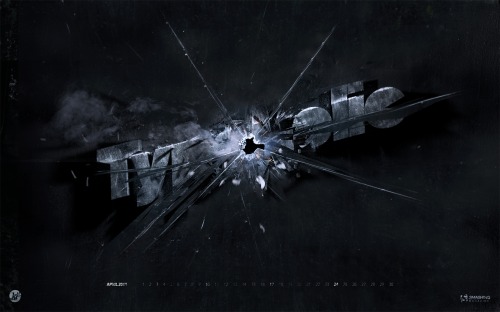 with calendar: 1024×768, 1280×720, 1280×800, 1280×960, 1280×1024, 1600×1200, 1680×1050, 1920×1080, 1920×1200, 2560×1440, 2560×1600
Two Birds
"Welcome, Spring! :)." Designed by Anca Varsandan from Romania.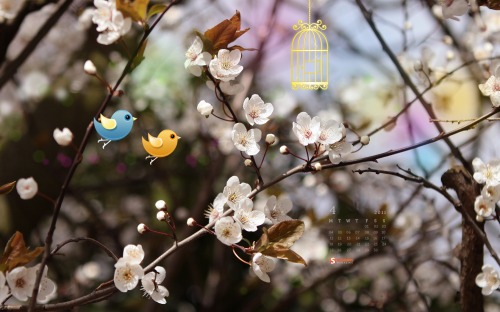 with calendar: 1024×1024, 1280×800, 1280×960, 1280×1024, 1400×1050, 1440×900, 1600×1200, 1680×1050, 1680×1200, 1920×1080, 1920×1200
April Showers
"April showers bring May flowers and umbrellas. This is my daughter posing under the greenery." Designed by Kerry Shellborn from Canada.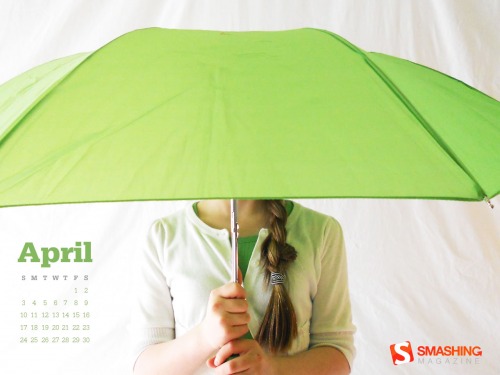 Spider Web
Designed by Sureshsathanur from India.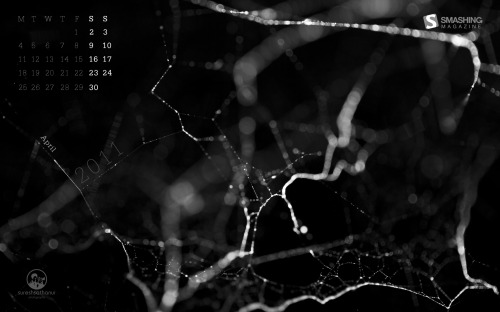 Usher In The Year Of The Rabbit
"Everyone gets a chance to play the fool this coming April's Fool." Designed by Siewhui from Singapore.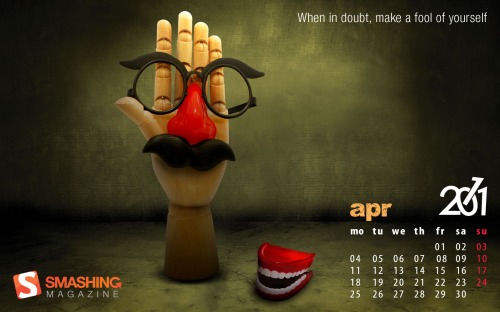 Help Japan
"Being Japanese Canadian and watching the devastation in Japan on television is heart breaking. I can only imagine how my friends and family living in Japan must feel. I admittedly avoided seeing images of the aftermath for at least a day or two, worried that I would start to cry. Instead I donated money and hoped that the reports I was hearing were exaggerated. Once I saw the scale of the destruction and finally saw images and video of what was happening in Japan, my heart started hurting. On the one hand I was happy to know my family was safe, however, on the other hand I knew this would be the start of even harder times for Japan, especially regarding their recent economic struggles. I could not just sit by and pray or hope, I needed to find a way to raise more funds.This is a wallpaper version of the second design in a Help Japan poster series representing the grace and calm that the Japanese people displayed when a tragic act of nature was struck upon them.All profits from the sale of the posters in the series will go to the Canadian Red Cross efforts for the victims affected by the recent tsunami and earthquakes." Designed by Linda Nakanishi from Canada.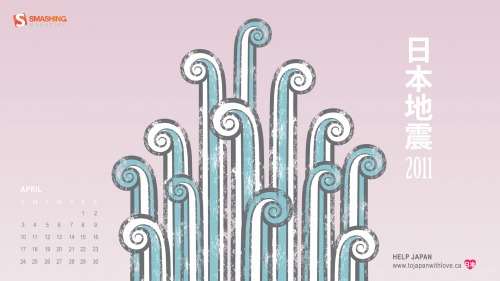 The Smashing Wall
"The Smashing Wall showcases a new concept of creating virtual shelves or menus so that one can place the desktop icons in the slots provided to create a beautiful virtual effect and a super neat desktop wallpaper with all icons sorted in one place." Designed by Chetan from India.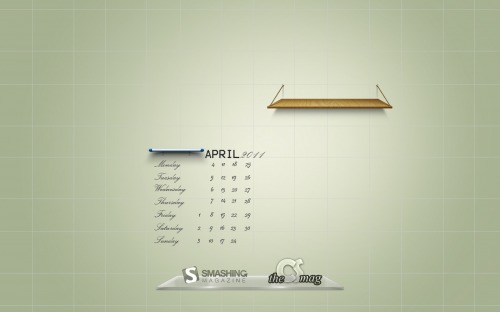 with calendar: 640×960, 1024×768, 1152×864, 1280×720, 1280×800, 1280×960, 1600×1200, 1680×1050, 1680×1200, 1920×1080, 1920×1200
Something Wrong
"We are a group of young Syrians, we create and publish CC licensed comics on our website. This wallpaper was created for our pilot series (Something Wrong)." Designed by Homeless from Syria.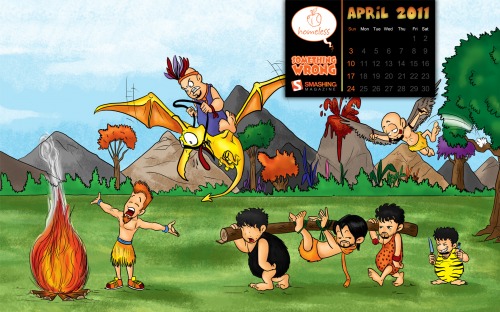 Springlight
"We love spring colors - from pastels to neutrals to bright colors!" Designed by Lotum from Germany.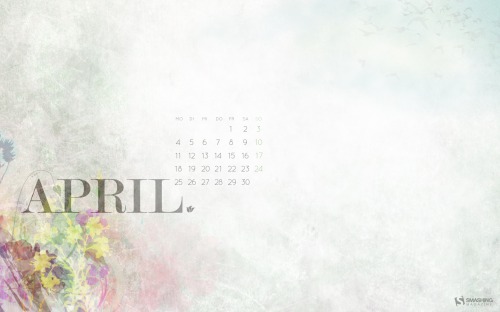 Psychedelic Spring Fairy
"The reference photo of the fairy was taken by Marcus Ranum." Designed by Andrei Verner from Russia.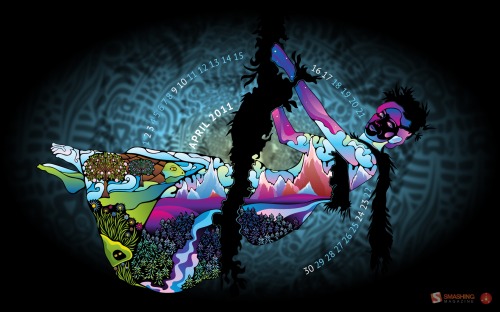 Fool's Day
"April 1st is Fool's Day. Don't be afraid of being fool on other days, too." Designed by Olivia Osik from Estonia.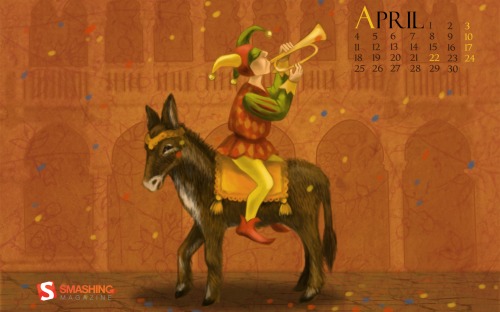 Silly Sheep
Designed by Pietje Precies from The Netherlands.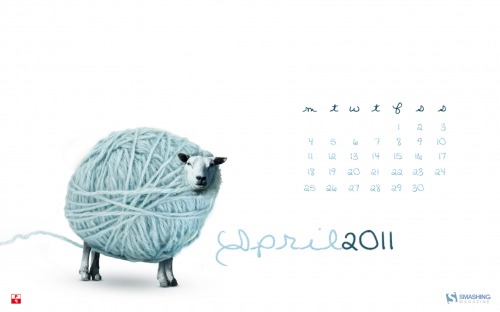 Spring Is Here
"Wishing all of you a colourful and cheerful spring!" Designed by Ron Gilad from Israel.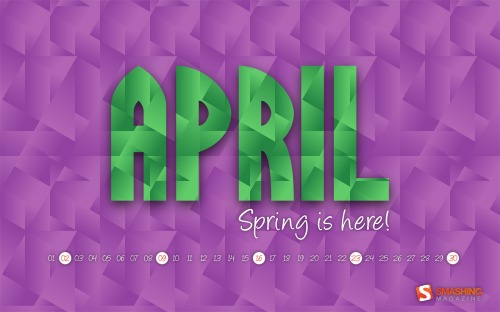 Alien
"he Fools' day is not the only holiday april is known for. Where is also april 12 - Cosmonautics Day in Russia. That day in 1961 the first man ever circled Earth in a spacecraft." Designed by Cheloveche.ru from Russia.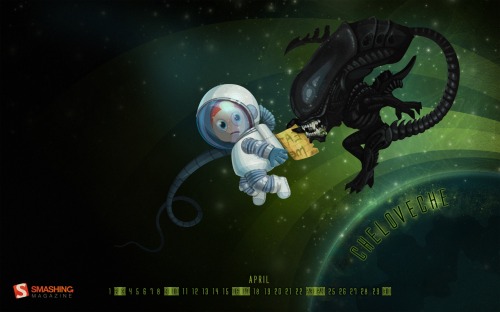 Calendar Mz
Designed by Mz from Poland.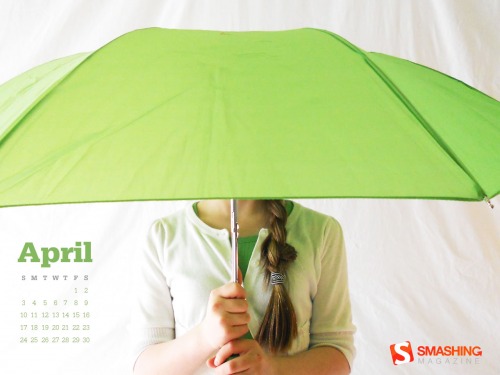 April Showers
"Artwork from QR Codes." Designed by Jason Smith - Layer One Graphics from USA.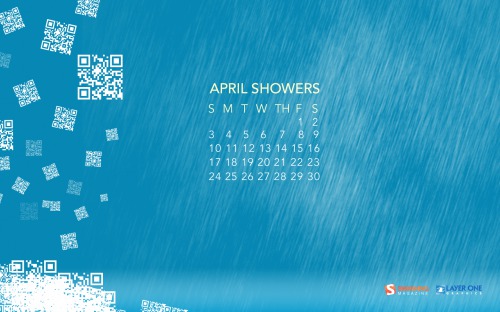 Illustration
"An Art Nouveau inspired piece to give warmth and happiness at the start of spring. One of the flowers associated with spring is the daffodil and I used this within my design so that the the girls long flowing hair and ballet-like stance created this beautiful flower." Designed by Heather Williams from United Kingdom.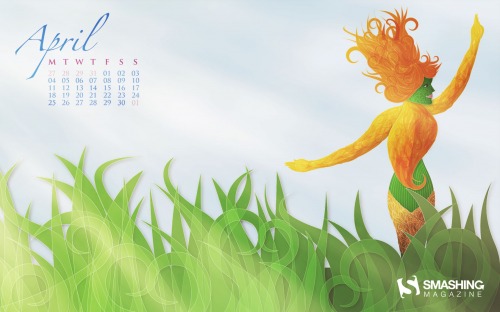 Temple Of Icons
"The story of the battle from the Temple of the Desktop Icons, fiercely guarded by the Dragon and the seven ninja warriors." Designed by Pal Ovidiu from Romania.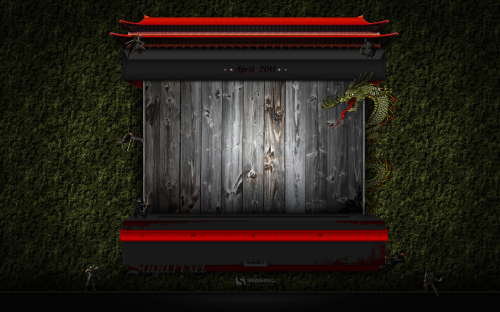 Scissors Trap
"These scissors have made a trap in a quite recursive manner. Its not supposed to blow your head out of laughing, but when it puts a smile on your face its just fine :)." Designed by Marek Chrenko from Slovakia.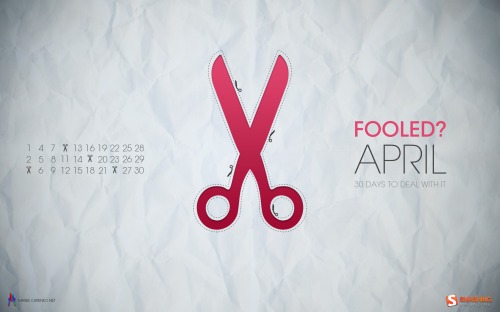 Vector Saraswathi
"Saraswathi - Goddess of Creativity (Indian Mythology) by Atma Studios." Designed by Atma Creative Team from India.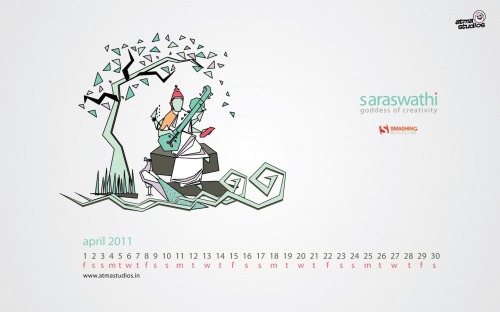 Spring Is Coming
"Go outside with Nerd !" Designed by Nerdart Team from Poland.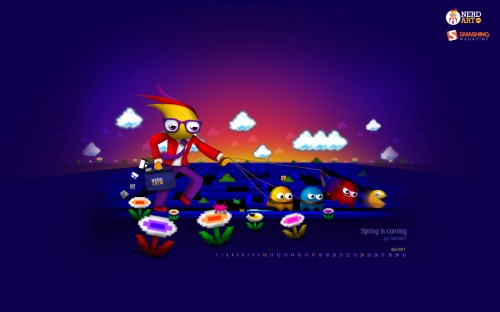 The Infanta
"A remake on the Infanta Margarita from Las Meninas by Velazquez." Designed by Cindy Zhang from USA.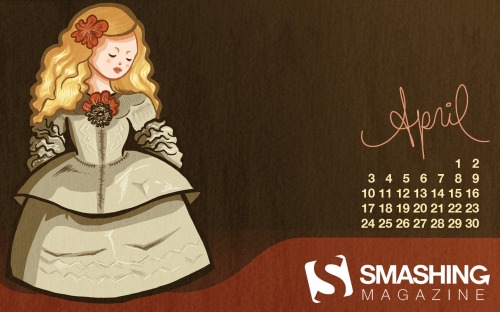 with calendar: 640×480, 800×600, 1024×768, 1280×800, 1280×1024, 1440×900, 1600×1200, 1680×1200, 1920×1080, 1920×1200, 2560×1440
April Showers Bring May Flowers
"This is based on the proverb "April showers bring May flowers"." Designed by Jusna Begum from UK.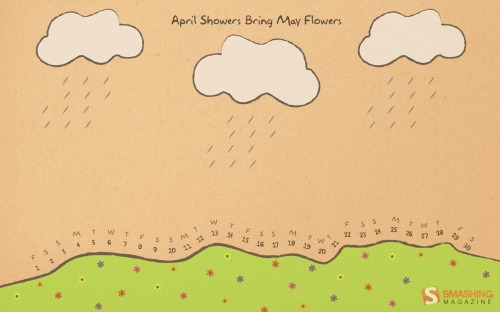 Ghilli Du
"This is a digital illustration made for giclee printing, inspired by the performancedone by Titi Dimak for my performance art video "The Inanimate." ; Designed by Riki K. from USA.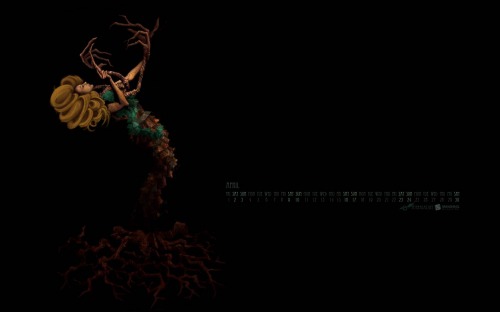 Steve In A Pit
"Here, Steve the dog is in a bit of trouble as he wakes up at the edge of a pit. It might be endless, but then againit might be ten foot deep. Either way, PERIL AND ADVENTURE ENSUES!" Designed by Michael Georgiou from United Kingdom.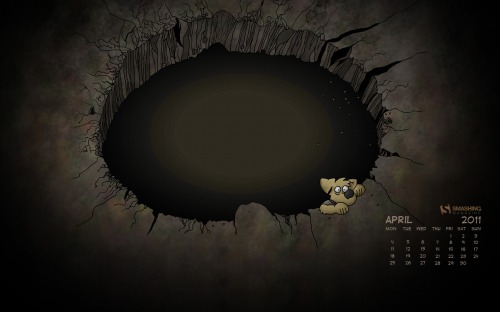 Bonus: Smashing Twitter Icons
"The wallpapers consist of about 5000 genuine, original, most beautiful twitter icons harvested over a period of time on twitter. The wallpaper sized 2000x2000 consists of all 5000, the rest fit less." Designed by Agnieszka Anna from USA.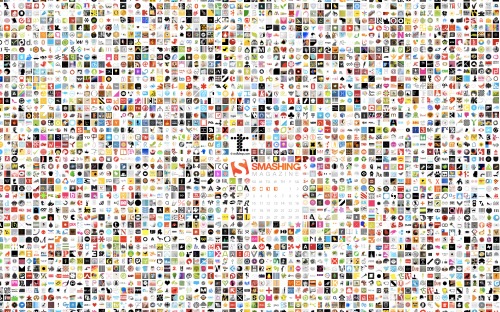 Join in next month!
Please note that we respect and carefully consider the ideas and motivation behind each and every artist's work. This is why we give all artists the full freedom to explore their creativity and express emotions and experience throughout their works. This is also why the themes of the wallpapers weren't anyhow influenced by us, but rather designed from scratch by the artists themselves.
A big thank you to all designers for their participation. Join in next month!
What's your favorite?
What's your favorite theme or wallpaper for this month? Please let us know in the comment section below.
(ik) (vf)