Desktop Wallpaper Calendar: October 2011
Find some inspiration with this free desktop and creative wallpapers for October 2011. Created by artists from all around the world!
We always try our best to challenge your artistic abilities and produce some interesting, beautiful and creative artwork. And as designers we usually turn to different sources of inspiration. As a matter of fact, we've discovered the best one — desktop wallpapers that are a little more distinctive than the usual crowd. This creativity mission has been going on for over two years now, and we are very thankful to all designers who have contributed and are still diligently contributing each month.
We continue to nourish you with a monthly spoon of inspiration. This post features 28 free desktop wallpapers created by artists across the globe for October 2011. Both versions with a calendar and without a calendar can be downloaded for free. It's time to freshen up your wallpaper!
Please note that:
All images can be clicked on and lead to the preview of the wallpaper,
You can feature your work in our magazine by taking part in our Desktop Wallpaper Calendar series. We are regularly looking for creative designers and artists to be featured on Smashing Magazine. Are you one of them?
Oct Deco
"Inspired by the granite work at Grand Central Station. I imagine this being an engraved tile on the floor as the sun sheds its last gleaming moments." Designed by Frank Candamil from USA.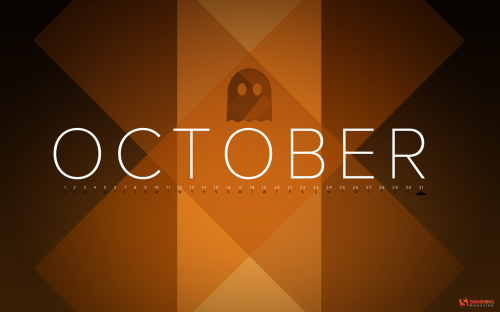 Tribute To Lennon
"I decided to make a tribute to a great singer and peace keeper because my dad was a fan of John Lennon and the Beatles, and while I was a child I've consumed the art of music more then any other art! This work is also for school, and I expect to have a good final average and become a graduate graphic designer! Peace." Designed by Daniel Faria from Portugal.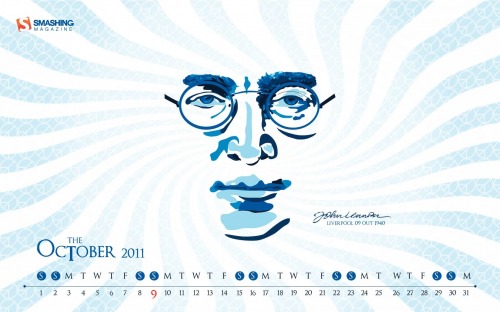 Autumn Grunge
"Autumn Grunge is a simple wallpaper that is heavily textured and helps you to embrace the fall." Designed by Colin Whitehurst from Philippines.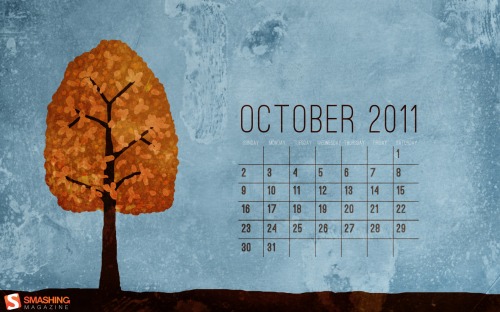 October Faces
"In a nice Sunday morning excursion I collected the most cute and fun natures presents of Autumn — chestnuts! With a spare pen drew faces on them for fun… and then, my idea was born! They are my October faces ;)." Designed by Alkminnie Nestoridou from Greece.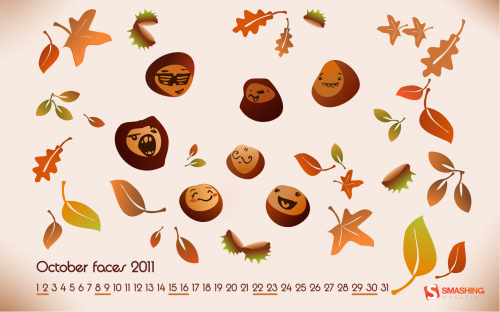 Singing Masters
"I found this passage long ago in a very old book of poetry. It brings to my mind the images of October — haunted graves, rusty iron gates, ravens, and bonfires." Designed by Heather St. Marie from USA.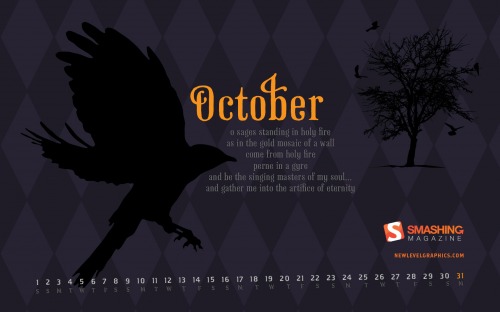 Save Water Drink Rain
Designed by Marika Smirnova from Russia.
October Apples
"A simple beautiful photo for an elegant country-inspired desktop." Designed by Greyarea Snc from Italy.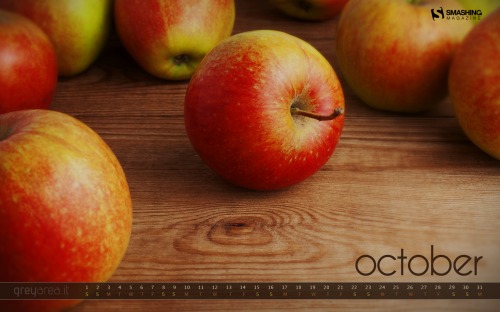 Crystal Nature
"This October you can let your imagination guide you through places that never existed — or maybe they do exist behind our screens!" Designed by Isaac Zakar from Greece.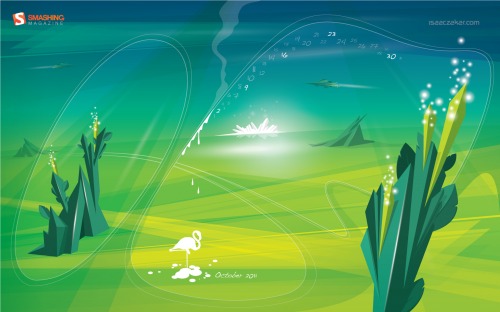 Frisbee Tribute
"I love frisbee. Spending time outdoors, on a sunny day, throwing the disk with a couple of good friends makes me very happy. This wallpaper is my tribute to the disk! :)." Designed by Danijel Gajan from Serbia.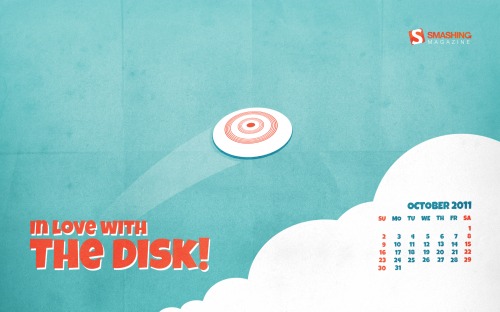 Dark River
Designed by Michal Loboz from Poland.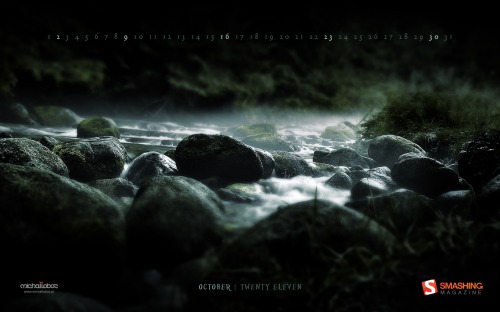 Sweet Monster
"Happy sweet monster special for Smashing Magazine's readers." Designed by Ryumina Elena from Russia.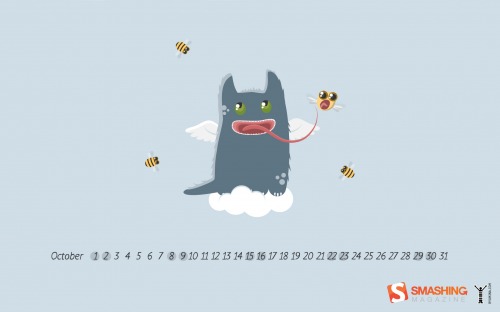 Colours Of Dream
"October for ComoYoDsg is a month of changes. Just this month my Web site is changing colours and layout. I want to share it with you with these wallpapers that form a part of my new design. Enjoy it!" Designed by Comoyodsg By Dovi Vausk from Spain.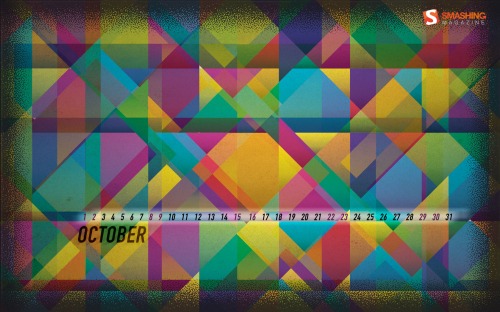 Design Is Life
"Design is Life with all its Patches & Shades in it. Design is so closely attached to everybody's life with nature, lifestyle, fashion, trends and so many things around." Designed by Lucky from India.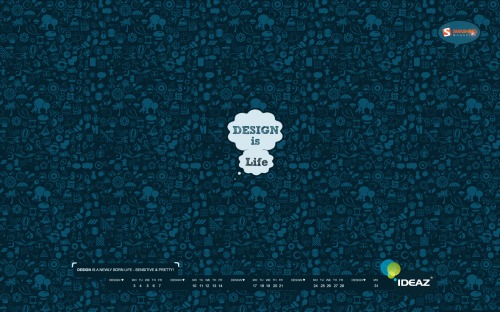 Mushrooms
"Autumn is the mushroom season. Be vigilant. Do not abuse." Designed by Cheloveche.ru from Russia.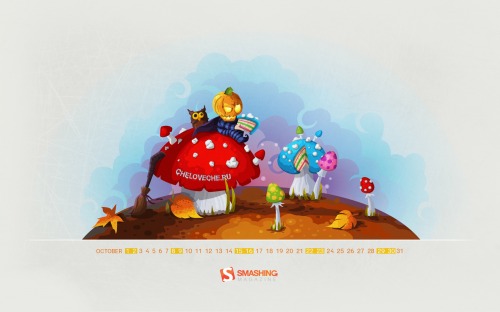 Spectral Splendor
"A wide array of spectral colors break open, this October!" Designed by Sureshsathanur from India.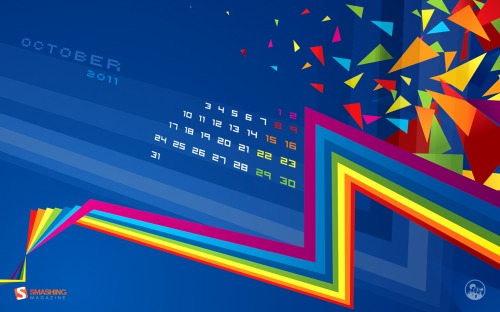 Fallen Gold
"Elegant typography gracefully sits interlocked within a pile of golden autumnal leaves." Designed by Dave Hewer from UK.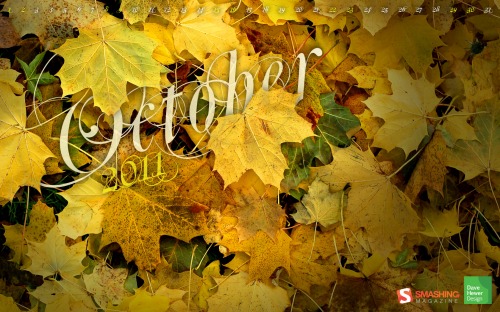 Pale Docktober
Designed by Andreas Sofantzis from Greece.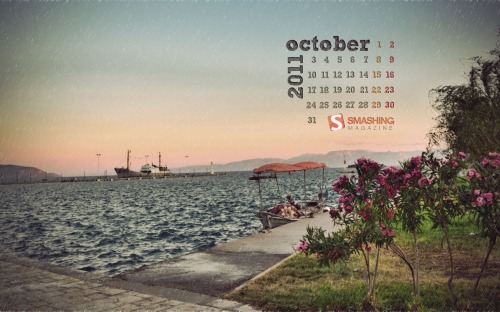 Celebration
"The celebration wallpaper has flowers, sprinkles of vibrant colors and sparkles of fire crackers depicting Diwali on the 26th, the biggest festival of indians in the month of October brings in joy and happiness, peace and harmony." Designed by Hiren Rawal from India.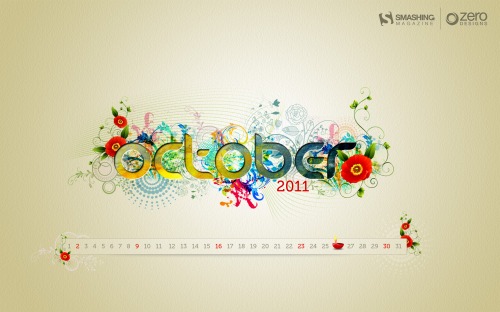 Autumn Retreat
"A simple autumn we'd all like to enjoy." Designed by Allen from USA.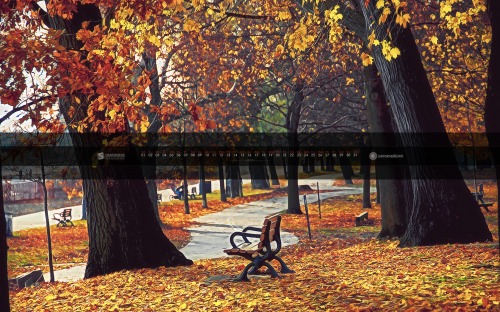 Pretty Autumn
"I cannot endure to waste anything as precious as autumn sunshine by staying in the house. So I spend almost all the daylight hours in the open air."- Nathaniel Hawthorne. Designed by Barney from Hungary.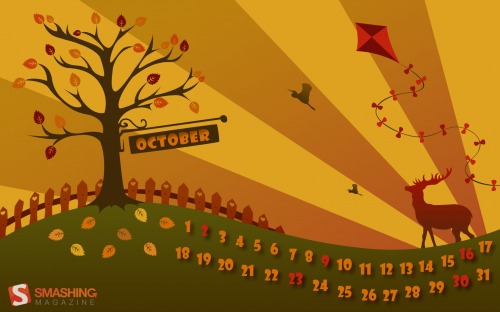 The Undertaker
"This is a photograph a 'Felt Creature' that my sister made. I took this photo for her website and I thought it would make an excellent Halloween themed calendar for October!" Designed by Stuart Hamilton from Northern Ireland.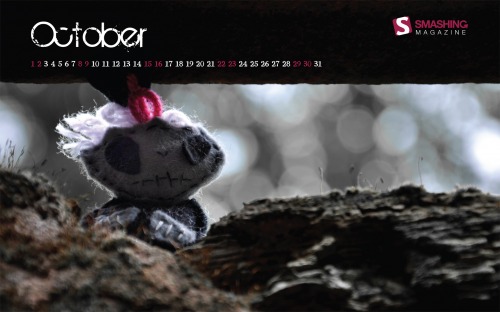 Chorapo's Famous Stew And Tacos
"A typographic treat from your favourite October slashers!" Designed by Ryan From Embarkr from USA.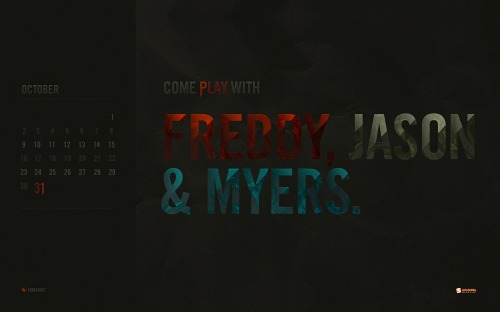 King Sorrow
Designed by Ladell Bryson from USA.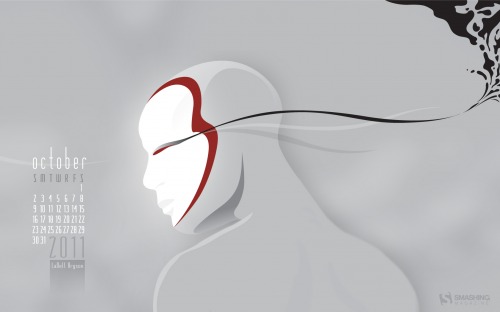 Limbostyle
"This is my tribute to the awesome and beautiful designed videogame 'Limbo'. Enjoy and share if you like this drawing." Designed by Jonas Duri.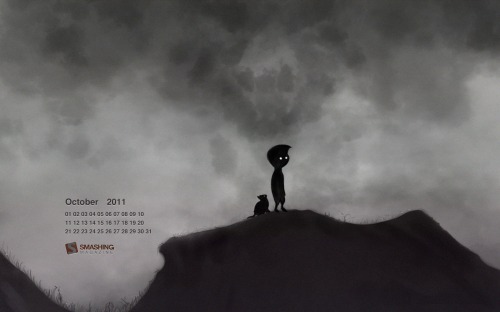 Join In Next Month!
Please note that we respect and carefully consider the ideas and motivation behind each and every artist's work. This is why we give all artists the full freedom to explore their creativity and express emotions and experience throughout their works. This is also why the themes of the wallpapers weren't anyhow influenced by us, but rather designed from scratch by the artists themselves.
A big thank you to all designers for their participation. Join in next month!
What's Your Favourite?
What's your favorite theme or wallpaper for this month? Please let us know in the comment section below!
Further Reading
(il, vf, mrn)