We always try our best to challenge your artistic abilities and produce some interesting, beautiful and creative artwork. And as designers we usually turn to different sources of inspiration. As a matter of fact, we've discovered the best one—desktop wallpapers that are a little more distinctive than the usual crowd. This creativity mission has been going on for over four years now1, and we are very thankful to all designers who have contributed and are still diligently contributing each month.
We continue to nourish you with a monthly spoon of inspiration. This post features free desktop wallpapers created by artists across the globe for August 2012. Both versions with a calendar and without a calendar can be downloaded for free. It's time to freshen up your wallpaper!
You may also want to take a look at the following related wallpaper posts:
The Lady With Red Coat Link
Designed by Viktor Mazhlekov6 from Bulgaria.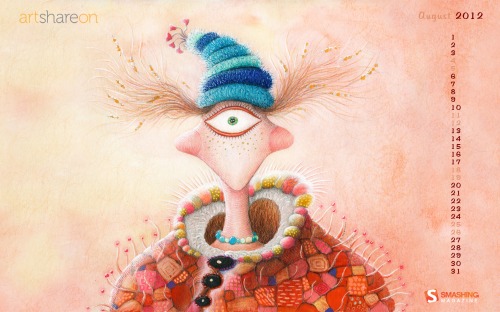 August Cat Link
Designed by Soodabeh Amirakbari19 from Iran.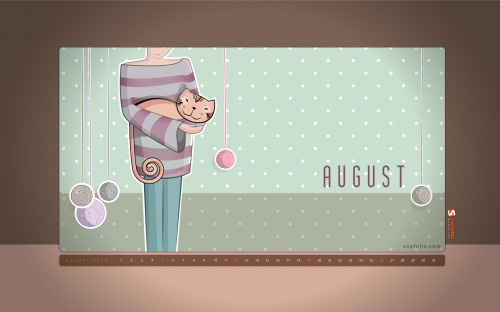 "Colors!!" Designed by Lotum42 from Germany.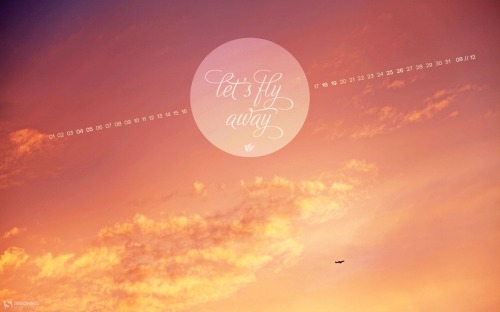 Searching for Higgs Boson Link
Designed by Vlad Gerasimov59 from Russia.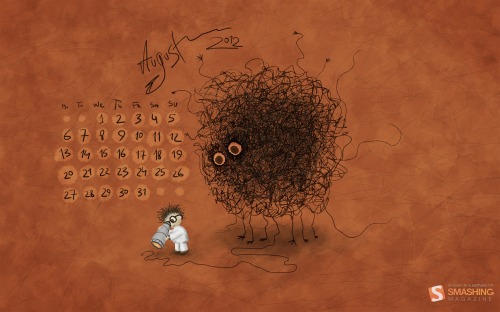 with calendar: 800×60062, 960×60063, 1024×76864, 1152×86465, 1229×76866, 1280×80067, 1280×96068, 1280×102469, 1400×105070, 1440×9007271, 1440×9007271, 1440×96073, 1600×12007574, 1600×12007574, 1680×105076, 1728×108077, 1920×120078, 1920×144079, 2304×144080, 2560×160081
Designed by Webshift 2.0102 from South Africa.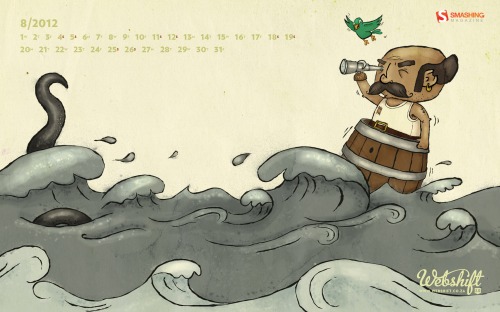 Through Happy Shades Link
Designed by Mihai Fischer117 from Romania.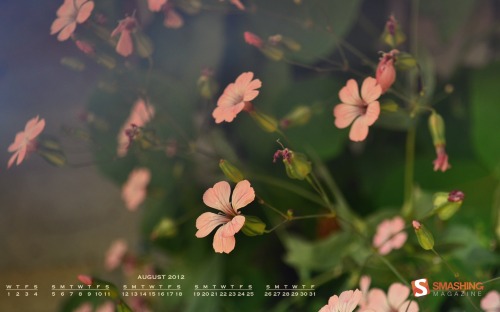 Colorstrike Link
Designed by AndrР№ Presser from Germany.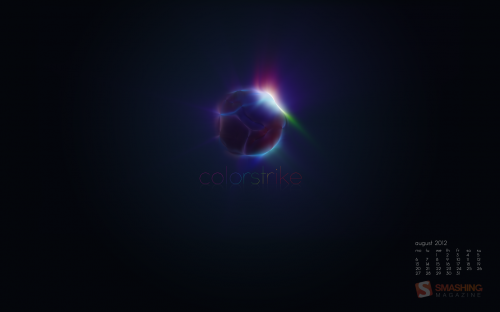 Let's Go Great Britain Link
""Let's go Great Britain!" typographic wallpaper to cheer at the 2012 London Olympic games." Designed by Paula RГєpolo For Garment Printing142 from United Kingdom.
with calendar: 320×480145, 1024×768146, 1024×1024147, 1280×800148, 1280×1024149, 1366×768150, 1440×900151, 1680×1050152, 1920×1080153, 1920×1200154, 1920×1440155, 2560×1440156
Childhood Memories Link
Designed by Francesco Paratici169 from Australia.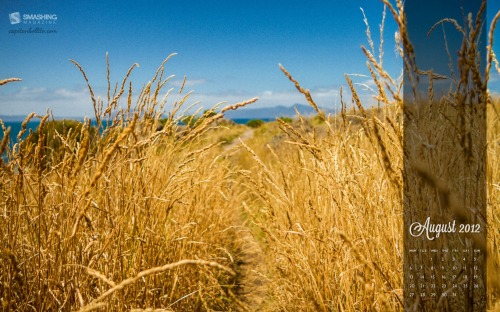 with calendar: 320×480172, 1024×768173, 1024×1024174, 1280×800175, 1280×1024176, 1366×768177, 1440×900178, 1680×1050179, 1920×1080180, 1920×1200181, 2560×1440182
Olympic Games Link
Designed by Cortando Pixeles194 from Argentina.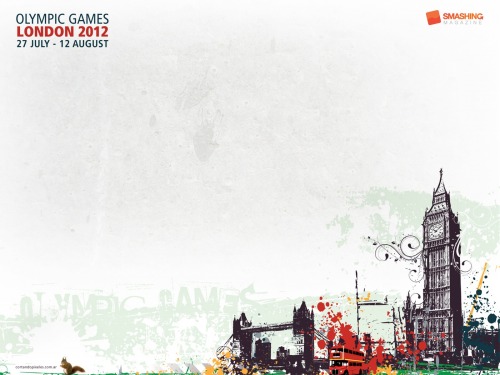 London Olympics Link
Designed by Meenal Jain211 from India.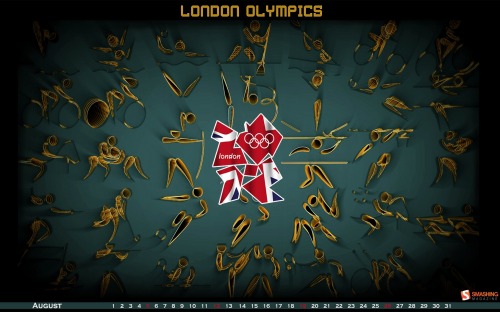 Late Summer Link
"Butter yellow daisies for the last of summer days!" Designed by Karen Keung224 from Canada.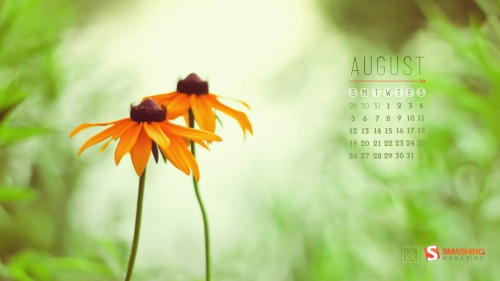 Frederique's Summer Link
"Frederique is a satiric comic strip about hanging around at beaches, getting rejected by hot chicks and enjoying life with full blown optimism." Designed by Richard Dancsi241 from Hungary/Germany.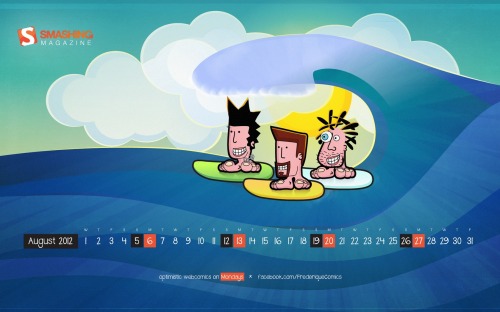 with calendar: 320×480244, 640×480245, 800×480246, 800×600247, 1024×768248, 1024×1024249, 1152×864250, 1280×720251, 1280×800252, 1280×960253, 1280×1024254, 1400×1050255, 1440×900256, 1600×1200257, 1680×1050258, 1680×1200259, 1920×1080260, 1920×1200261, 1920×1440262, 2560×1440263
"A trip into the woods. August 2012." Designed by Timothy J. Reynolds284 from USA.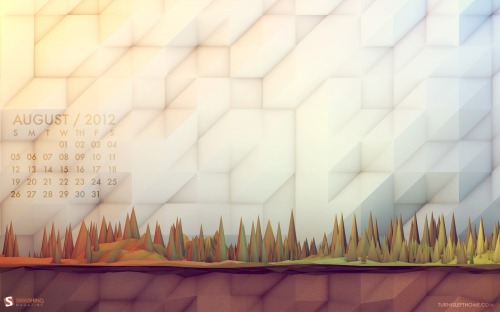 "August 2012 is here which means it is time for the Olympic Games! This calendar incorporates various aspects of London, the UK and the Olympics." Designed by Donna Hall And Loren Grosvenor305 from United Kingdom.
Infinite Imagination Link
"The Power of Imagination makes us Infinite." Designed by Roland Szabo318 from Hungary.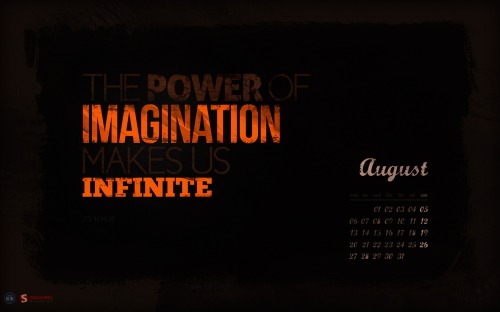 World Traffic Lights Day Link
Designed by Cheloveche.ru341 from Russia.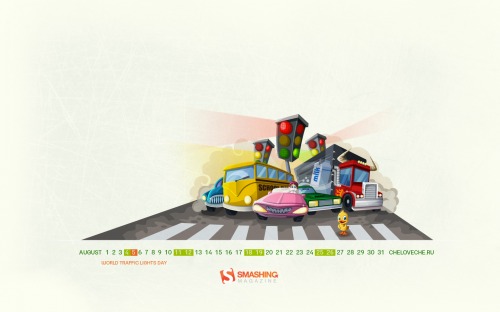 Cycling Holidays Link
""Nothing compares with the simple pleasure of a bike ride." – President John F. Kennedy." Designed by Simona Gosu357 from Romania.
Lucky August Link
"Life is a game. Are you feeling lucky in August?" Designed by Marina-art374 from Russia.
Augmented August Link
"In summer things may seem different then they really are. Which is not necessarily a bad thing." Designed by Sanja Vukasinovic395 from Serbia.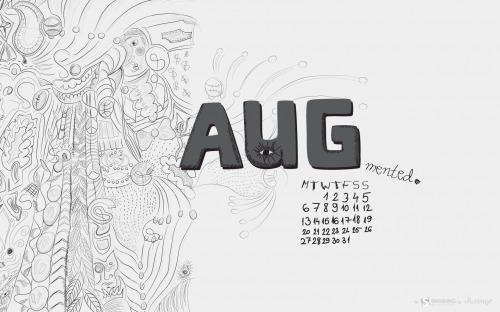 Summertime Link
"It's summertime so enjoy the weather!" Designed by Christina Mokry (allaci Gmbh) from Germany.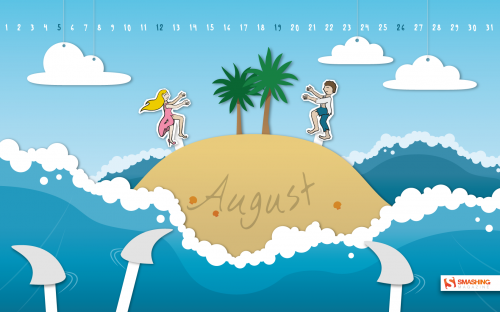 Your Title Holed Link
Designed by Agata Maciљgowska422 from Poland.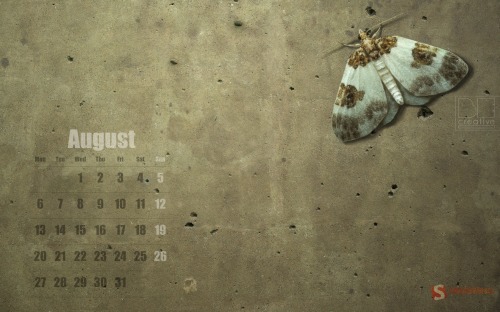 with calendar: 320×480425, 640×480426, 800×480427, 800×600428, 1024×768429, 1152×864430, 1280×720431, 1280×800432, 1280×960433, 1280×1024434, 1400×1050435, 1440×900436, 1600×1200437, 1680×1050438, 1680×1200439, 1920×1080440, 1920×1200441, 1920×1440442, 2560×1440443
Summer Rain Link
Designed by Virginia Saint463 from USA.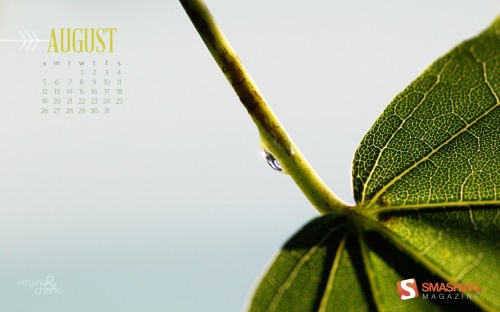 Responsive Wallpaper Link
"I was thinking to make the wallpaper as a responsive design, i'd add more interaction next month." Designed by Mondedesign.net from France.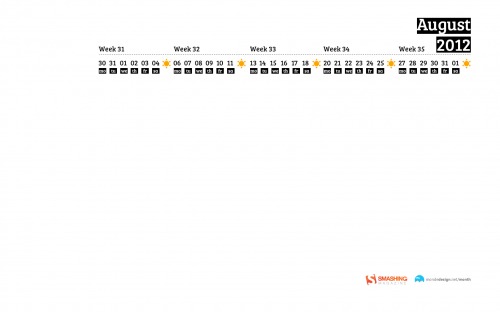 Join In Next Month! Link
Please note that we respect and carefully consider the ideas and motivation behind each and every artist's work. This is why we give all artists the full freedom to explore their creativity and express emotions and experience throughout their works. This is also why the themes of the wallpapers weren't anyhow influenced by us, but rather designed from scratch by the artists themselves.
A big thank you to all designers for their participation. Join in next month487!
What's Your Favorite? Link
What's your favorite theme or wallpaper for this month? Please let us know in the comment section below.
Stay creative and keep on smashing!
(vf)
Footnotes Link
9 http://files.smashingmagazine.com/wallpapers/august-12/august-12-the_lady_with_red_coat__51-calendar-1024x768.jpg
10 http://files.smashingmagazine.com/wallpapers/august-12/august-12-the_lady_with_red_coat__51-calendar-1280x800.jpg
11 http://files.smashingmagazine.com/wallpapers/august-12/august-12-the_lady_with_red_coat__51-calendar-1680x1050.jpg
12 http://files.smashingmagazine.com/wallpapers/august-12/august-12-the_lady_with_red_coat__51-calendar-1920x1080.jpg
13 http://files.smashingmagazine.com/wallpapers/august-12/august-12-the_lady_with_red_coat__51-calendar-2560x1440.jpg
14 http://files.smashingmagazine.com/wallpapers/august-12/august-12-the_lady_with_red_coat__51-nocal-1024x768.jpg
15 http://files.smashingmagazine.com/wallpapers/august-12/august-12-the_lady_with_red_coat__51-nocal-1280x800.jpg
16 http://files.smashingmagazine.com/wallpapers/august-12/august-12-the_lady_with_red_coat__51-nocal-1680x1050.jpg
17 http://files.smashingmagazine.com/wallpapers/august-12/august-12-the_lady_with_red_coat__51-nocal-1920x1080.jpg
18 http://files.smashingmagazine.com/wallpapers/august-12/august-12-the_lady_with_red_coat__51-nocal-2560x1440.jpg
22 http://files.smashingmagazine.com/wallpapers/august-12/august-12-august_cat__82-calendar-1024x768.jpg
23 http://files.smashingmagazine.com/wallpapers/august-12/august-12-august_cat__82-calendar-1024x1024.jpg
24 http://files.smashingmagazine.com/wallpapers/august-12/august-12-august_cat__82-calendar-1280x1024.jpg
25 http://files.smashingmagazine.com/wallpapers/august-12/august-12-august_cat__82-calendar-1366x768.jpg
26 http://files.smashingmagazine.com/wallpapers/august-12/august-12-august_cat__82-calendar-1440x900.jpg
27 http://files.smashingmagazine.com/wallpapers/august-12/august-12-august_cat__82-calendar-1680x1050.jpg
28 http://files.smashingmagazine.com/wallpapers/august-12/august-12-august_cat__82-calendar-1920x1080.jpg
29 http://files.smashingmagazine.com/wallpapers/august-12/august-12-august_cat__82-calendar-1920x1200.jpg
30 http://files.smashingmagazine.com/wallpapers/august-12/august-12-august_cat__82-calendar-2560x1440.jpg
31 http://files.smashingmagazine.com/wallpapers/august-12/august-12-august_cat__82-nocal-320x480.jpg
32 http://files.smashingmagazine.com/wallpapers/august-12/august-12-august_cat__82-nocal-640x960.jpg
33 http://files.smashingmagazine.com/wallpapers/august-12/august-12-august_cat__82-nocal-1024x768.jpg
34 http://files.smashingmagazine.com/wallpapers/august-12/august-12-august_cat__82-nocal-1024x1024.jpg
35 http://files.smashingmagazine.com/wallpapers/august-12/august-12-august_cat__82-nocal-1280x1024.jpg
36 http://files.smashingmagazine.com/wallpapers/august-12/august-12-august_cat__82-nocal-1366x768.jpg
37 http://files.smashingmagazine.com/wallpapers/august-12/august-12-august_cat__82-nocal-1440x900.jpg
38 http://files.smashingmagazine.com/wallpapers/august-12/august-12-august_cat__82-nocal-1680x1050.jpg
39 http://files.smashingmagazine.com/wallpapers/august-12/august-12-august_cat__82-nocal-1920x1080.jpg
40 http://files.smashingmagazine.com/wallpapers/august-12/august-12-august_cat__82-nocal-1920x1200.jpg
41 http://files.smashingmagazine.com/wallpapers/august-12/august-12-august_cat__82-nocal-2560x1440.jpg
62 http://files.smashingmagazine.com/wallpapers/august-12/august-12-2012_08__92-calendar-800x600.jpg
63 http://files.smashingmagazine.com/wallpapers/august-12/august-12-2012_08__92-calendar-960x600.jpg
64 http://files.smashingmagazine.com/wallpapers/august-12/august-12-2012_08__92-calendar-1024x768.jpg
65 http://files.smashingmagazine.com/wallpapers/august-12/august-12-2012_08__92-calendar-1152x864.jpg
66 http://files.smashingmagazine.com/wallpapers/august-12/august-12-2012_08__92-calendar-1229x768.jpg
67 http://files.smashingmagazine.com/wallpapers/august-12/august-12-2012_08__92-calendar-1280x800.jpg
68 http://files.smashingmagazine.com/wallpapers/august-12/august-12-2012_08__92-calendar-1280x960.jpg
69 http://files.smashingmagazine.com/wallpapers/august-12/august-12-2012_08__92-calendar-1280x1024.jpg
70 http://files.smashingmagazine.com/wallpapers/august-12/august-12-2012_08__92-calendar-1400x1050.jpg
71 http://files.smashingmagazine.com/wallpapers/august-12/august-12-2012_08__92-calendar-1440x900.jpg
72 http://files.smashingmagazine.com/wallpapers/august-12/august-12-2012_08__92-calendar-1440x900.jpg
73 http://files.smashingmagazine.com/wallpapers/august-12/august-12-2012_08__92-calendar-1440x960.jpg
74 http://files.smashingmagazine.com/wallpapers/august-12/august-12-2012_08__92-calendar-1600x1200.jpg
75 http://files.smashingmagazine.com/wallpapers/august-12/august-12-2012_08__92-calendar-1600x1200.jpg
76 http://files.smashingmagazine.com/wallpapers/august-12/august-12-2012_08__92-calendar-1680x1050.jpg
77 http://files.smashingmagazine.com/wallpapers/august-12/august-12-2012_08__92-calendar-1728x1080.jpg
78 http://files.smashingmagazine.com/wallpapers/august-12/august-12-2012_08__92-calendar-1920x1200.jpg
79 http://files.smashingmagazine.com/wallpapers/august-12/august-12-2012_08__92-calendar-1920x1440.jpg
80 http://files.smashingmagazine.com/wallpapers/august-12/august-12-2012_08__92-calendar-2304x1440.jpg
81 http://files.smashingmagazine.com/wallpapers/august-12/august-12-2012_08__92-calendar-2560x1600.jpg
100 http://files.smashingmagazine.com/wallpapers/august-12/august-12-2012_08__92-nocal-2304x1440.jpg
101 http://files.smashingmagazine.com/wallpapers/august-12/august-12-2012_08__92-nocal-2560x1600.jpg
107 http://files.smashingmagazine.com/wallpapers/august-12/august-12-ahoy__16-calendar-1680x1050.jpg
108 http://files.smashingmagazine.com/wallpapers/august-12/august-12-ahoy__16-calendar-1920x1080.jpg
109 http://files.smashingmagazine.com/wallpapers/august-12/august-12-ahoy__16-calendar-1920x1200.jpg
110 http://files.smashingmagazine.com/wallpapers/august-12/august-12-ahoy__16-calendar-2560x1440.jpg
120 http://files.smashingmagazine.com/wallpapers/august-12/august-12-through_happy_shades__66-calendar-320x480.jpg
121 http://files.smashingmagazine.com/wallpapers/august-12/august-12-through_happy_shades__66-calendar-1024x768.jpg
122 http://files.smashingmagazine.com/wallpapers/august-12/august-12-through_happy_shades__66-calendar-1280x800.jpg
123 http://files.smashingmagazine.com/wallpapers/august-12/august-12-through_happy_shades__66-calendar-1680x1050.jpg
124 http://files.smashingmagazine.com/wallpapers/august-12/august-12-through_happy_shades__66-calendar-1920x1200.jpg
125 http://files.smashingmagazine.com/wallpapers/august-12/august-12-through_happy_shades__66-nocal-320x480.jpg
126 http://files.smashingmagazine.com/wallpapers/august-12/august-12-through_happy_shades__66-nocal-1024x768.jpg
127 http://files.smashingmagazine.com/wallpapers/august-12/august-12-through_happy_shades__66-nocal-1280x800.jpg
128 http://files.smashingmagazine.com/wallpapers/august-12/august-12-through_happy_shades__66-nocal-1680x1050.jpg
129 http://files.smashingmagazine.com/wallpapers/august-12/august-12-through_happy_shades__66-nocal-1920x1200.jpg
132 http://files.smashingmagazine.com/wallpapers/august-12/august-12-colorstrike__96-calendar-1280x720.png
133 http://files.smashingmagazine.com/wallpapers/august-12/august-12-colorstrike__96-calendar-1440x900.png
134 http://files.smashingmagazine.com/wallpapers/august-12/august-12-colorstrike__96-calendar-1920x1080.png
135 http://files.smashingmagazine.com/wallpapers/august-12/august-12-colorstrike__96-calendar-1920x1200.png
136 http://files.smashingmagazine.com/wallpapers/august-12/august-12-colorstrike__96-calendar-2560x1440.png
137 http://files.smashingmagazine.com/wallpapers/august-12/august-12-colorstrike__96-nocal-1280x720.png
138 http://files.smashingmagazine.com/wallpapers/august-12/august-12-colorstrike__96-nocal-1440x900.png
139 http://files.smashingmagazine.com/wallpapers/august-12/august-12-colorstrike__96-nocal-1920x1080.png
140 http://files.smashingmagazine.com/wallpapers/august-12/august-12-colorstrike__96-nocal-1920x1200.png
141 http://files.smashingmagazine.com/wallpapers/august-12/august-12-colorstrike__96-nocal-2560x1440.png
145 http://files.smashingmagazine.com/wallpapers/august-12/august-12-letsgo_gb__38-calendar-320x480.jpg
146 http://files.smashingmagazine.com/wallpapers/august-12/august-12-letsgo_gb__38-calendar-1024x768.jpg
147 http://files.smashingmagazine.com/wallpapers/august-12/august-12-letsgo_gb__38-calendar-1024x1024.jpg
148 http://files.smashingmagazine.com/wallpapers/august-12/august-12-letsgo_gb__38-calendar-1280x800.jpg
149 http://files.smashingmagazine.com/wallpapers/august-12/august-12-letsgo_gb__38-calendar-1280x1024.jpg
150 http://files.smashingmagazine.com/wallpapers/august-12/august-12-letsgo_gb__38-calendar-1366x768.jpg
151 http://files.smashingmagazine.com/wallpapers/august-12/august-12-letsgo_gb__38-calendar-1440x900.jpg
152 http://files.smashingmagazine.com/wallpapers/august-12/august-12-letsgo_gb__38-calendar-1680x1050.jpg
153 http://files.smashingmagazine.com/wallpapers/august-12/august-12-letsgo_gb__38-calendar-1920x1080.jpg
154 http://files.smashingmagazine.com/wallpapers/august-12/august-12-letsgo_gb__38-calendar-1920x1200.jpg
155 http://files.smashingmagazine.com/wallpapers/august-12/august-12-letsgo_gb__38-calendar-1920x1440.jpg
156 http://files.smashingmagazine.com/wallpapers/august-12/august-12-letsgo_gb__38-calendar-2560x1440.jpg
157 http://files.smashingmagazine.com/wallpapers/august-12/august-12-letsgo_gb__38-nocal-320x480.jpg
158 http://files.smashingmagazine.com/wallpapers/august-12/august-12-letsgo_gb__38-nocal-1024x768.jpg
159 http://files.smashingmagazine.com/wallpapers/august-12/august-12-letsgo_gb__38-nocal-1024x1024.jpg
160 http://files.smashingmagazine.com/wallpapers/august-12/august-12-letsgo_gb__38-nocal-1280x800.jpg
161 http://files.smashingmagazine.com/wallpapers/august-12/august-12-letsgo_gb__38-nocal-1280x1024.jpg
162 http://files.smashingmagazine.com/wallpapers/august-12/august-12-letsgo_gb__38-nocal-1366x768.jpg
163 http://files.smashingmagazine.com/wallpapers/august-12/august-12-letsgo_gb__38-nocal-1440x900.jpg
164 http://files.smashingmagazine.com/wallpapers/august-12/august-12-letsgo_gb__38-nocal-1680x1050.jpg
165 http://files.smashingmagazine.com/wallpapers/august-12/august-12-letsgo_gb__38-nocal-1920x1080.jpg
166 http://files.smashingmagazine.com/wallpapers/august-12/august-12-letsgo_gb__38-nocal-1920x1200.jpg
167 http://files.smashingmagazine.com/wallpapers/august-12/august-12-letsgo_gb__38-nocal-1920x1440.jpg
168 http://files.smashingmagazine.com/wallpapers/august-12/august-12-letsgo_gb__38-nocal-2560x1440.jpg
172 http://files.smashingmagazine.com/wallpapers/august-12/august-12-childhood_memories__4-calendar-320x480.jpg
173 http://files.smashingmagazine.com/wallpapers/august-12/august-12-childhood_memories__4-calendar-1024x768.jpg
174 http://files.smashingmagazine.com/wallpapers/august-12/august-12-childhood_memories__4-calendar-1024x1024.jpg
175 http://files.smashingmagazine.com/wallpapers/august-12/august-12-childhood_memories__4-calendar-1280x800.jpg
176 http://files.smashingmagazine.com/wallpapers/august-12/august-12-childhood_memories__4-calendar-1280x1024.jpg
177 http://files.smashingmagazine.com/wallpapers/august-12/august-12-childhood_memories__4-calendar-1366x768.jpg
178 http://files.smashingmagazine.com/wallpapers/august-12/august-12-childhood_memories__4-calendar-1440x900.jpg
179 http://files.smashingmagazine.com/wallpapers/august-12/august-12-childhood_memories__4-calendar-1680x1050.jpg
180 http://files.smashingmagazine.com/wallpapers/august-12/august-12-childhood_memories__4-calendar-1920x1080.jpg
181 http://files.smashingmagazine.com/wallpapers/august-12/august-12-childhood_memories__4-calendar-1920x1200.jpg
182 http://files.smashingmagazine.com/wallpapers/august-12/august-12-childhood_memories__4-calendar-2560x1440.jpg
183 http://files.smashingmagazine.com/wallpapers/august-12/august-12-childhood_memories__4-nocal-320x480.jpg
184 http://files.smashingmagazine.com/wallpapers/august-12/august-12-childhood_memories__4-nocal-1024x768.jpg
185 http://files.smashingmagazine.com/wallpapers/august-12/august-12-childhood_memories__4-nocal-1024x1024.jpg
186 http://files.smashingmagazine.com/wallpapers/august-12/august-12-childhood_memories__4-nocal-1280x800.jpg
187 http://files.smashingmagazine.com/wallpapers/august-12/august-12-childhood_memories__4-nocal-1280x1024.jpg
188 http://files.smashingmagazine.com/wallpapers/august-12/august-12-childhood_memories__4-nocal-1366x768.jpg
189 http://files.smashingmagazine.com/wallpapers/august-12/august-12-childhood_memories__4-nocal-1440x900.jpg
190 http://files.smashingmagazine.com/wallpapers/august-12/august-12-childhood_memories__4-nocal-1680x1050.jpg
191 http://files.smashingmagazine.com/wallpapers/august-12/august-12-childhood_memories__4-nocal-1920x1080.jpg
192 http://files.smashingmagazine.com/wallpapers/august-12/august-12-childhood_memories__4-nocal-1920x1200.jpg
193 http://files.smashingmagazine.com/wallpapers/august-12/august-12-childhood_memories__4-nocal-2560x1440.jpg
197 http://files.smashingmagazine.com/wallpapers/august-12/august-12-olympic_games__24-calendar-1024x768.jpg
198 http://files.smashingmagazine.com/wallpapers/august-12/august-12-olympic_games__24-calendar-1024x1024.jpg
199 http://files.smashingmagazine.com/wallpapers/august-12/august-12-olympic_games__24-calendar-1152x864.jpg
200 http://files.smashingmagazine.com/wallpapers/august-12/august-12-olympic_games__24-calendar-1280x960.jpg
201 http://files.smashingmagazine.com/wallpapers/august-12/august-12-olympic_games__24-calendar-1400x1050.jpg
202 http://files.smashingmagazine.com/wallpapers/august-12/august-12-olympic_games__24-calendar-1600x1200.jpg
203 http://files.smashingmagazine.com/wallpapers/august-12/august-12-olympic_games__24-calendar-1920x1440.jpg
204 http://files.smashingmagazine.com/wallpapers/august-12/august-12-olympic_games__24-nocal-1024x768.jpg
205 http://files.smashingmagazine.com/wallpapers/august-12/august-12-olympic_games__24-nocal-1024x1024.jpg
206 http://files.smashingmagazine.com/wallpapers/august-12/august-12-olympic_games__24-nocal-1152x864.jpg
207 http://files.smashingmagazine.com/wallpapers/august-12/august-12-olympic_games__24-nocal-1280x960.jpg
208 http://files.smashingmagazine.com/wallpapers/august-12/august-12-olympic_games__24-nocal-1400x1050.jpg
209 http://files.smashingmagazine.com/wallpapers/august-12/august-12-olympic_games__24-nocal-1600x1200.jpg
210 http://files.smashingmagazine.com/wallpapers/august-12/august-12-olympic_games__24-nocal-1920x1440.jpg
214 http://files.smashingmagazine.com/wallpapers/august-12/august-12-london_olympics__69-calendar-1280x800.jpg
215 http://files.smashingmagazine.com/wallpapers/august-12/august-12-london_olympics__69-calendar-1440x900.jpg
216 http://files.smashingmagazine.com/wallpapers/august-12/august-12-london_olympics__69-calendar-1680x1050.jpg
217 http://files.smashingmagazine.com/wallpapers/august-12/august-12-london_olympics__69-calendar-1920x1080.jpg
218 http://files.smashingmagazine.com/wallpapers/august-12/august-12-london_olympics__69-calendar-2560x1440.jpg
219 http://files.smashingmagazine.com/wallpapers/august-12/august-12-london_olympics__69-nocal-1280x800.jpg
220 http://files.smashingmagazine.com/wallpapers/august-12/august-12-london_olympics__69-nocal-1440x900.jpg
221 http://files.smashingmagazine.com/wallpapers/august-12/august-12-london_olympics__69-nocal-1680x1050.jpg
222 http://files.smashingmagazine.com/wallpapers/august-12/august-12-london_olympics__69-nocal-1920x1080.jpg
223 http://files.smashingmagazine.com/wallpapers/august-12/august-12-london_olympics__69-nocal-2560x1440.jpg
227 http://files.smashingmagazine.com/wallpapers/august-12/august-12-late_summer__94-calendar-320x480.jpg
228 http://files.smashingmagazine.com/wallpapers/august-12/august-12-late_summer__94-calendar-1024x768.jpg
229 http://files.smashingmagazine.com/wallpapers/august-12/august-12-late_summer__94-calendar-1280x720.jpg
230 http://files.smashingmagazine.com/wallpapers/august-12/august-12-late_summer__94-calendar-1280x800.jpg
231 http://files.smashingmagazine.com/wallpapers/august-12/august-12-late_summer__94-calendar-1600x1200.jpg
232 http://files.smashingmagazine.com/wallpapers/august-12/august-12-late_summer__94-calendar-1920x1080.jpg
233 http://files.smashingmagazine.com/wallpapers/august-12/august-12-late_summer__94-calendar-1920x1200.jpg
234 http://files.smashingmagazine.com/wallpapers/august-12/august-12-late_summer__94-nocal-320x480.jpg
235 http://files.smashingmagazine.com/wallpapers/august-12/august-12-late_summer__94-nocal-1024x768.jpg
236 http://files.smashingmagazine.com/wallpapers/august-12/august-12-late_summer__94-nocal-1280x720.jpg
237 http://files.smashingmagazine.com/wallpapers/august-12/august-12-late_summer__94-nocal-1280x800.jpg
238 http://files.smashingmagazine.com/wallpapers/august-12/august-12-late_summer__94-nocal-1600x1200.jpg
239 http://files.smashingmagazine.com/wallpapers/august-12/august-12-late_summer__94-nocal-1920x1080.jpg
240 http://files.smashingmagazine.com/wallpapers/august-12/august-12-late_summer__94-nocal-1920x1200.jpg
244 http://files.smashingmagazine.com/wallpapers/august-12/august-12-frederique__12-calendar-320x480.jpg
245 http://files.smashingmagazine.com/wallpapers/august-12/august-12-frederique__12-calendar-640x480.jpg
246 http://files.smashingmagazine.com/wallpapers/august-12/august-12-frederique__12-calendar-800x480.jpg
247 http://files.smashingmagazine.com/wallpapers/august-12/august-12-frederique__12-calendar-800x600.jpg
248 http://files.smashingmagazine.com/wallpapers/august-12/august-12-frederique__12-calendar-1024x768.jpg
249 http://files.smashingmagazine.com/wallpapers/august-12/august-12-frederique__12-calendar-1024x1024.jpg
250 http://files.smashingmagazine.com/wallpapers/august-12/august-12-frederique__12-calendar-1152x864.jpg
251 http://files.smashingmagazine.com/wallpapers/august-12/august-12-frederique__12-calendar-1280x720.jpg
252 http://files.smashingmagazine.com/wallpapers/august-12/august-12-frederique__12-calendar-1280x800.jpg
253 http://files.smashingmagazine.com/wallpapers/august-12/august-12-frederique__12-calendar-1280x960.jpg
254 http://files.smashingmagazine.com/wallpapers/august-12/august-12-frederique__12-calendar-1280x1024.jpg
255 http://files.smashingmagazine.com/wallpapers/august-12/august-12-frederique__12-calendar-1400x1050.jpg
256 http://files.smashingmagazine.com/wallpapers/august-12/august-12-frederique__12-calendar-1440x900.jpg
257 http://files.smashingmagazine.com/wallpapers/august-12/august-12-frederique__12-calendar-1600x1200.jpg
258 http://files.smashingmagazine.com/wallpapers/august-12/august-12-frederique__12-calendar-1680x1050.jpg
259 http://files.smashingmagazine.com/wallpapers/august-12/august-12-frederique__12-calendar-1680x1200.jpg
260 http://files.smashingmagazine.com/wallpapers/august-12/august-12-frederique__12-calendar-1920x1080.jpg
261 http://files.smashingmagazine.com/wallpapers/august-12/august-12-frederique__12-calendar-1920x1200.jpg
262 http://files.smashingmagazine.com/wallpapers/august-12/august-12-frederique__12-calendar-1920x1440.jpg
263 http://files.smashingmagazine.com/wallpapers/august-12/august-12-frederique__12-calendar-2560x1440.jpg
264 http://files.smashingmagazine.com/wallpapers/august-12/august-12-frederique__12-nocal-320x480.jpg
265 http://files.smashingmagazine.com/wallpapers/august-12/august-12-frederique__12-nocal-640x480.jpg
266 http://files.smashingmagazine.com/wallpapers/august-12/august-12-frederique__12-nocal-800x480.jpg
267 http://files.smashingmagazine.com/wallpapers/august-12/august-12-frederique__12-nocal-800x600.jpg
268 http://files.smashingmagazine.com/wallpapers/august-12/august-12-frederique__12-nocal-1024x768.jpg
269 http://files.smashingmagazine.com/wallpapers/august-12/august-12-frederique__12-nocal-1024x1024.jpg
270 http://files.smashingmagazine.com/wallpapers/august-12/august-12-frederique__12-nocal-1152x864.jpg
271 http://files.smashingmagazine.com/wallpapers/august-12/august-12-frederique__12-nocal-1280x720.jpg
272 http://files.smashingmagazine.com/wallpapers/august-12/august-12-frederique__12-nocal-1280x800.jpg
273 http://files.smashingmagazine.com/wallpapers/august-12/august-12-frederique__12-nocal-1280x960.jpg
274 http://files.smashingmagazine.com/wallpapers/august-12/august-12-frederique__12-nocal-1280x1024.jpg
275 http://files.smashingmagazine.com/wallpapers/august-12/august-12-frederique__12-nocal-1400x1050.jpg
276 http://files.smashingmagazine.com/wallpapers/august-12/august-12-frederique__12-nocal-1440x900.jpg
277 http://files.smashingmagazine.com/wallpapers/august-12/august-12-frederique__12-nocal-1600x1200.jpg
278 http://files.smashingmagazine.com/wallpapers/august-12/august-12-frederique__12-nocal-1680x1050.jpg
279 http://files.smashingmagazine.com/wallpapers/august-12/august-12-frederique__12-nocal-1680x1200.jpg
280 http://files.smashingmagazine.com/wallpapers/august-12/august-12-frederique__12-nocal-1920x1080.jpg
281 http://files.smashingmagazine.com/wallpapers/august-12/august-12-frederique__12-nocal-1920x1200.jpg
282 http://files.smashingmagazine.com/wallpapers/august-12/august-12-frederique__12-nocal-1920x1440.jpg
283 http://files.smashingmagazine.com/wallpapers/august-12/august-12-frederique__12-nocal-2560x1440.jpg
288 http://files.smashingmagazine.com/wallpapers/august-12/august-12-forest__5-calendar-1024x1024.jpg
289 http://files.smashingmagazine.com/wallpapers/august-12/august-12-forest__5-calendar-1280x800.jpg
290 http://files.smashingmagazine.com/wallpapers/august-12/august-12-forest__5-calendar-1280x1024.jpg
291 http://files.smashingmagazine.com/wallpapers/august-12/august-12-forest__5-calendar-1440x900.jpg
292 http://files.smashingmagazine.com/wallpapers/august-12/august-12-forest__5-calendar-1600x1200.jpg
293 http://files.smashingmagazine.com/wallpapers/august-12/august-12-forest__5-calendar-1920x1080.jpg
294 http://files.smashingmagazine.com/wallpapers/august-12/august-12-forest__5-calendar-1920x1200.jpg
295 http://files.smashingmagazine.com/wallpapers/august-12/august-12-forest__5-calendar-2560x1440.jpg
308 http://files.smashingmagazine.com/wallpapers/august-12/august-12-team_gb__24-calendar-1280x800.jpg
309 http://files.smashingmagazine.com/wallpapers/august-12/august-12-team_gb__24-calendar-1280x1024.jpg
310 http://files.smashingmagazine.com/wallpapers/august-12/august-12-team_gb__24-calendar-1366x768.jpg
311 http://files.smashingmagazine.com/wallpapers/august-12/august-12-team_gb__24-calendar-1440x900.jpg
312 http://files.smashingmagazine.com/wallpapers/august-12/august-12-team_gb__24-calendar-1680x1050.jpg
314 http://files.smashingmagazine.com/wallpapers/august-12/august-12-team_gb__24-nocal-1280x1024.jpg
317 http://files.smashingmagazine.com/wallpapers/august-12/august-12-team_gb__24-nocal-1680x1050.jpg
321 http://files.smashingmagazine.com/wallpapers/august-12/august-12-infinite_imagination__20-calendar-1280x720.jpg
322 http://files.smashingmagazine.com/wallpapers/august-12/august-12-infinite_imagination__20-calendar-1280x800.jpg
323 http://files.smashingmagazine.com/wallpapers/august-12/august-12-infinite_imagination__20-calendar-1366x768.jpg
324 http://files.smashingmagazine.com/wallpapers/august-12/august-12-infinite_imagination__20-calendar-1440x900.jpg
325 http://files.smashingmagazine.com/wallpapers/august-12/august-12-infinite_imagination__20-calendar-1600x900.jpg
326 http://files.smashingmagazine.com/wallpapers/august-12/august-12-infinite_imagination__20-calendar-1680x1050.jpg
327 http://files.smashingmagazine.com/wallpapers/august-12/august-12-infinite_imagination__20-calendar-1920x1080.jpg
328 http://files.smashingmagazine.com/wallpapers/august-12/august-12-infinite_imagination__20-calendar-1920x1200.jpg
329 http://files.smashingmagazine.com/wallpapers/august-12/august-12-infinite_imagination__20-calendar-2560x1440.jpg
330 http://files.smashingmagazine.com/wallpapers/august-12/august-12-infinite_imagination__20-calendar-2560x1600.jpg
331 http://files.smashingmagazine.com/wallpapers/august-12/august-12-infinite_imagination__20-nocal-1280x720.jpg
332 http://files.smashingmagazine.com/wallpapers/august-12/august-12-infinite_imagination__20-nocal-1280x800.jpg
333 http://files.smashingmagazine.com/wallpapers/august-12/august-12-infinite_imagination__20-nocal-1366x768.jpg
334 http://files.smashingmagazine.com/wallpapers/august-12/august-12-infinite_imagination__20-nocal-1440x900.jpg
335 http://files.smashingmagazine.com/wallpapers/august-12/august-12-infinite_imagination__20-nocal-1600x900.jpg
336 http://files.smashingmagazine.com/wallpapers/august-12/august-12-infinite_imagination__20-nocal-1680x1050.jpg
337 http://files.smashingmagazine.com/wallpapers/august-12/august-12-infinite_imagination__20-nocal-1920x1080.jpg
338 http://files.smashingmagazine.com/wallpapers/august-12/august-12-infinite_imagination__20-nocal-1920x1200.jpg
339 http://files.smashingmagazine.com/wallpapers/august-12/august-12-infinite_imagination__20-nocal-2560x1440.jpg
340 http://files.smashingmagazine.com/wallpapers/august-12/august-12-infinite_imagination__20-nocal-2560x1600.jpg
342 http://files.smashingmagazine.com/wallpapers/august-12/images/full/world_traffic_lights_day__73.jpg
343 http://files.smashingmagazine.com/wallpapers/august-12/images/full/world_traffic_lights_day__73.jpg
344 http://files.smashingmagazine.com/wallpapers/august-12/august-12-world_traffic_lights_day__73-calendar-1024x768.jpg
345 http://files.smashingmagazine.com/wallpapers/august-12/august-12-world_traffic_lights_day__73-calendar-1280x800.jpg
346 http://files.smashingmagazine.com/wallpapers/august-12/august-12-world_traffic_lights_day__73-calendar-1280x1024.jpg
347 http://files.smashingmagazine.com/wallpapers/august-12/august-12-world_traffic_lights_day__73-calendar-1440x900.jpg
348 http://files.smashingmagazine.com/wallpapers/august-12/august-12-world_traffic_lights_day__73-calendar-1680x1050.jpg
349 http://files.smashingmagazine.com/wallpapers/august-12/august-12-world_traffic_lights_day__73-calendar-1920x1200.jpg
350 http://files.smashingmagazine.com/wallpapers/august-12/august-12-world_traffic_lights_day__73-nocal-395x512.jpg
351 http://files.smashingmagazine.com/wallpapers/august-12/august-12-world_traffic_lights_day__73-nocal-1024x768.jpg
352 http://files.smashingmagazine.com/wallpapers/august-12/august-12-world_traffic_lights_day__73-nocal-1280x800.jpg
353 http://files.smashingmagazine.com/wallpapers/august-12/august-12-world_traffic_lights_day__73-nocal-1280x1024.jpg
354 http://files.smashingmagazine.com/wallpapers/august-12/august-12-world_traffic_lights_day__73-nocal-1440x900.jpg
355 http://files.smashingmagazine.com/wallpapers/august-12/august-12-world_traffic_lights_day__73-nocal-1680x1050.jpg
356 http://files.smashingmagazine.com/wallpapers/august-12/august-12-world_traffic_lights_day__73-nocal-1920x1200.jpg
360 http://files.smashingmagazine.com/wallpapers/august-12/august-12-cycling_holidays__39-calendar-1280x720.jpg
361 http://files.smashingmagazine.com/wallpapers/august-12/august-12-cycling_holidays__39-calendar-1280x800.jpg
362 http://files.smashingmagazine.com/wallpapers/august-12/august-12-cycling_holidays__39-calendar-1440x900.jpg
363 http://files.smashingmagazine.com/wallpapers/august-12/august-12-cycling_holidays__39-calendar-1600x900.jpg
364 http://files.smashingmagazine.com/wallpapers/august-12/august-12-cycling_holidays__39-calendar-1920x1080.jpg
365 http://files.smashingmagazine.com/wallpapers/august-12/august-12-cycling_holidays__39-calendar-1920x1200.jpg
366 http://files.smashingmagazine.com/wallpapers/august-12/august-12-cycling_holidays__39-calendar-2560x1440.jpg
367 http://files.smashingmagazine.com/wallpapers/august-12/august-12-cycling_holidays__39-nocal-1280x720.jpg
368 http://files.smashingmagazine.com/wallpapers/august-12/august-12-cycling_holidays__39-nocal-1280x800.jpg
369 http://files.smashingmagazine.com/wallpapers/august-12/august-12-cycling_holidays__39-nocal-1440x900.jpg
370 http://files.smashingmagazine.com/wallpapers/august-12/august-12-cycling_holidays__39-nocal-1600x900.jpg
371 http://files.smashingmagazine.com/wallpapers/august-12/august-12-cycling_holidays__39-nocal-1920x1080.jpg
372 http://files.smashingmagazine.com/wallpapers/august-12/august-12-cycling_holidays__39-nocal-1920x1200.jpg
373 http://files.smashingmagazine.com/wallpapers/august-12/august-12-cycling_holidays__39-nocal-2560x1440.jpg
377 http://files.smashingmagazine.com/wallpapers/august-12/august-12-lucky_august__62-calendar-320x480.jpg
378 http://files.smashingmagazine.com/wallpapers/august-12/august-12-lucky_august__62-calendar-1024x768.jpg
379 http://files.smashingmagazine.com/wallpapers/august-12/august-12-lucky_august__62-calendar-1024x1024.jpg
380 http://files.smashingmagazine.com/wallpapers/august-12/august-12-lucky_august__62-calendar-1280x800.jpg
381 http://files.smashingmagazine.com/wallpapers/august-12/august-12-lucky_august__62-calendar-1440x900.jpg
382 http://files.smashingmagazine.com/wallpapers/august-12/august-12-lucky_august__62-calendar-1600x1200.jpg
383 http://files.smashingmagazine.com/wallpapers/august-12/august-12-lucky_august__62-calendar-1680x1050.jpg
384 http://files.smashingmagazine.com/wallpapers/august-12/august-12-lucky_august__62-calendar-1920x1080.jpg
385 http://files.smashingmagazine.com/wallpapers/august-12/august-12-lucky_august__62-calendar-1920x1200.jpg
386 http://files.smashingmagazine.com/wallpapers/august-12/august-12-lucky_august__62-nocal-320x480.jpg
387 http://files.smashingmagazine.com/wallpapers/august-12/august-12-lucky_august__62-nocal-1024x768.jpg
388 http://files.smashingmagazine.com/wallpapers/august-12/august-12-lucky_august__62-nocal-1024x1024.jpg
389 http://files.smashingmagazine.com/wallpapers/august-12/august-12-lucky_august__62-nocal-1280x800.jpg
390 http://files.smashingmagazine.com/wallpapers/august-12/august-12-lucky_august__62-nocal-1440x900.jpg
391 http://files.smashingmagazine.com/wallpapers/august-12/august-12-lucky_august__62-nocal-1600x1200.jpg
392 http://files.smashingmagazine.com/wallpapers/august-12/august-12-lucky_august__62-nocal-1680x1050.jpg
393 http://files.smashingmagazine.com/wallpapers/august-12/august-12-lucky_august__62-nocal-1920x1080.jpg
394 http://files.smashingmagazine.com/wallpapers/august-12/august-12-lucky_august__62-nocal-1920x1200.jpg
398 http://files.smashingmagazine.com/wallpapers/august-12/august-12-augmented_august__40-calendar-1024x768.jpg
399 http://files.smashingmagazine.com/wallpapers/august-12/august-12-augmented_august__40-calendar-1280x800.jpg
400 http://files.smashingmagazine.com/wallpapers/august-12/august-12-augmented_august__40-calendar-1440x900.jpg
401 http://files.smashingmagazine.com/wallpapers/august-12/august-12-augmented_august__40-calendar-1680x1050.jpg
402 http://files.smashingmagazine.com/wallpapers/august-12/august-12-augmented_august__40-calendar-2560x1440.jpg
403 http://files.smashingmagazine.com/wallpapers/august-12/august-12-augmented_august__40-nocal-1024x768.jpg
404 http://files.smashingmagazine.com/wallpapers/august-12/august-12-augmented_august__40-nocal-1280x800.jpg
405 http://files.smashingmagazine.com/wallpapers/august-12/august-12-augmented_august__40-nocal-1440x900.jpg
406 http://files.smashingmagazine.com/wallpapers/august-12/august-12-augmented_august__40-nocal-1680x1050.jpg
407 http://files.smashingmagazine.com/wallpapers/august-12/august-12-augmented_august__40-nocal-2560x1440.jpg
410 http://files.smashingmagazine.com/wallpapers/august-12/august-12-summertime__20-calendar-1280x800.png
411 http://files.smashingmagazine.com/wallpapers/august-12/august-12-summertime__20-calendar-1280x1024.png
412 http://files.smashingmagazine.com/wallpapers/august-12/august-12-summertime__20-calendar-1680x1050.png
413 http://files.smashingmagazine.com/wallpapers/august-12/august-12-summertime__20-calendar-1920x1080.png
414 http://files.smashingmagazine.com/wallpapers/august-12/august-12-summertime__20-calendar-1920x1200.png
415 http://files.smashingmagazine.com/wallpapers/august-12/august-12-summertime__20-calendar-2560x1440.png
416 http://files.smashingmagazine.com/wallpapers/august-12/august-12-summertime__20-nocal-1280x800.png
417 http://files.smashingmagazine.com/wallpapers/august-12/august-12-summertime__20-nocal-1280x1024.png
418 http://files.smashingmagazine.com/wallpapers/august-12/august-12-summertime__20-nocal-1680x1050.png
419 http://files.smashingmagazine.com/wallpapers/august-12/august-12-summertime__20-nocal-1920x1080.png
420 http://files.smashingmagazine.com/wallpapers/august-12/august-12-summertime__20-nocal-1920x1200.png
421 http://files.smashingmagazine.com/wallpapers/august-12/august-12-summertime__20-nocal-2560x1440.png
429 http://files.smashingmagazine.com/wallpapers/august-12/august-12-holed__10-calendar-1024x768.jpg
430 http://files.smashingmagazine.com/wallpapers/august-12/august-12-holed__10-calendar-1152x864.jpg
431 http://files.smashingmagazine.com/wallpapers/august-12/august-12-holed__10-calendar-1280x720.jpg
432 http://files.smashingmagazine.com/wallpapers/august-12/august-12-holed__10-calendar-1280x800.jpg
433 http://files.smashingmagazine.com/wallpapers/august-12/august-12-holed__10-calendar-1280x960.jpg
434 http://files.smashingmagazine.com/wallpapers/august-12/august-12-holed__10-calendar-1280x1024.jpg
435 http://files.smashingmagazine.com/wallpapers/august-12/august-12-holed__10-calendar-1400x1050.jpg
436 http://files.smashingmagazine.com/wallpapers/august-12/august-12-holed__10-calendar-1440x900.jpg
437 http://files.smashingmagazine.com/wallpapers/august-12/august-12-holed__10-calendar-1600x1200.jpg
438 http://files.smashingmagazine.com/wallpapers/august-12/august-12-holed__10-calendar-1680x1050.jpg
439 http://files.smashingmagazine.com/wallpapers/august-12/august-12-holed__10-calendar-1680x1200.jpg
440 http://files.smashingmagazine.com/wallpapers/august-12/august-12-holed__10-calendar-1920x1080.jpg
441 http://files.smashingmagazine.com/wallpapers/august-12/august-12-holed__10-calendar-1920x1200.jpg
442 http://files.smashingmagazine.com/wallpapers/august-12/august-12-holed__10-calendar-1920x1440.jpg
443 http://files.smashingmagazine.com/wallpapers/august-12/august-12-holed__10-calendar-2560x1440.jpg
466 http://files.smashingmagazine.com/wallpapers/august-12/august-12-raindrop__45-calendar-1280x1024.jpg
467 http://files.smashingmagazine.com/wallpapers/august-12/august-12-raindrop__45-calendar-1680x1050.jpg
468 http://files.smashingmagazine.com/wallpapers/august-12/august-12-raindrop__45-calendar-1920x1080.jpg
469 http://files.smashingmagazine.com/wallpapers/august-12/august-12-raindrop__45-calendar-1920x1200.jpg
470 http://files.smashingmagazine.com/wallpapers/august-12/august-12-raindrop__45-calendar-2560x1440.jpg
471 http://files.smashingmagazine.com/wallpapers/august-12/august-12-raindrop__45-nocal-1280x1024.jpg
472 http://files.smashingmagazine.com/wallpapers/august-12/august-12-raindrop__45-nocal-1680x1050.jpg
473 http://files.smashingmagazine.com/wallpapers/august-12/august-12-raindrop__45-nocal-1920x1080.jpg
474 http://files.smashingmagazine.com/wallpapers/august-12/august-12-raindrop__45-nocal-1920x1200.jpg
475 http://files.smashingmagazine.com/wallpapers/august-12/august-12-raindrop__45-nocal-2560x1440.jpg
478 http://files.smashingmagazine.com/wallpapers/august-12/august-12-responsive_bg__93-calendar-768x1024.jpg
479 http://files.smashingmagazine.com/wallpapers/august-12/august-12-responsive_bg__93-calendar-1024x768.jpg
480 http://files.smashingmagazine.com/wallpapers/august-12/august-12-responsive_bg__93-calendar-1280x800.jpg
481 http://files.smashingmagazine.com/wallpapers/august-12/august-12-responsive_bg__93-calendar-1280x1024.jpg
482 http://files.smashingmagazine.com/wallpapers/august-12/august-12-responsive_bg__93-calendar-1366x768.jpg
483 http://files.smashingmagazine.com/wallpapers/august-12/august-12-responsive_bg__93-calendar-1440x900.jpg
484 http://files.smashingmagazine.com/wallpapers/august-12/august-12-responsive_bg__93-calendar-1680x1050.jpg
485 http://files.smashingmagazine.com/wallpapers/august-12/august-12-responsive_bg__93-calendar-1920x1080.jpg
486 http://files.smashingmagazine.com/wallpapers/august-12/august-12-responsive_bg__93-calendar-2560x1440.jpg