We always try our best to challenge your artistic abilities and produce some interesting, beautiful and creative artwork. And as designers we usually turn to different sources of inspiration. As a matter of fact, we've discovered the best one—desktop wallpapers that are a little more distinctive than the usual crowd. This creativity mission has been going on for over five years now1, and we are very thankful to all the designers who have contributed and are still diligently contributing each month.
This post features free desktop wallpapers created by artists across the globe for April 2013. Both versions with a calendar and without a calendar can be downloaded for free. It's time to freshen up your wallpaper!
Further Reading

on SmashingMag: Link
Sky Lanterns
Designed by Vlad Gerasimov5 from Russia.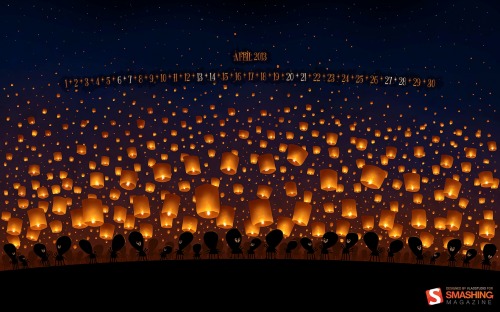 Stupid But Happy
Designed by Elise Vanoorbeek26 from Belgium.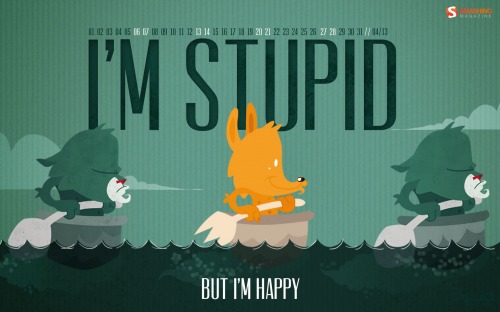 It's Not Done Until It Ships
"Steve Jobs pushed the boundaries of creative tension. He demanded the best, but on incredibly tight deadlines. And the process is never over. There's always room for improvement, by constantly working, up until the very last minute, you push the limits of your product and reach a new level of innovation." Designed by Gustavs Cirulis47 from Latvia.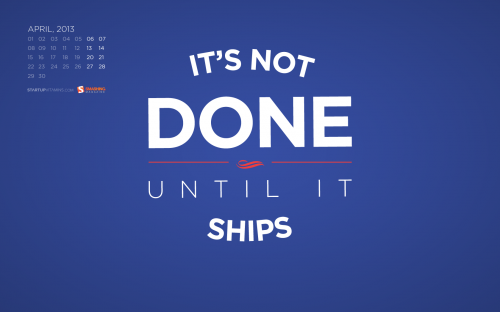 with calendar: 320×48050, 640×48051, 800×48052, 800×60053, 1024×76854, 1024×102455, 1152×86456, 1280×72057, 1280×80058, 1280×96059, 1280×102460, 1400×105061, 1400×90062, 1600×120063, 1680×105064, 1680×120065, 1920×108066, 1920×120067, 1920×144068, 2560×144069
Trianglify
Designed by Maarten Van Loock90 from Belgium.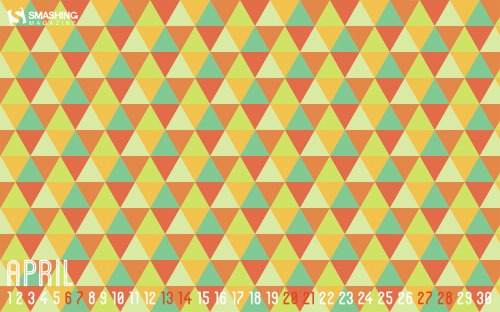 Spring April
Designed by Ricardo Gimenes107 from Brazil.
Stained Glass
Designed by Rachel L from USA.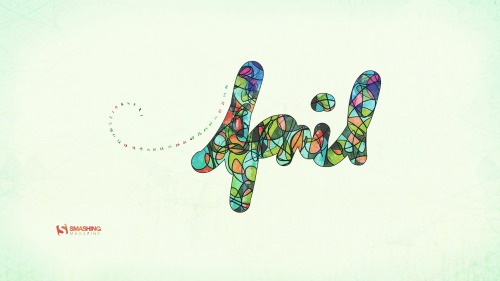 with calendar: 640×960124, 640×1136125, 1280×800126, 1280×960127, 1280×1024128, 1366×768129, 1600×900130, 1920×1080131, 1920×1440132, 2048×2048133, 2560×1440134
April Garden
"It's April, time to get outside and grow something." Designed by Dangerbrain146 from USA.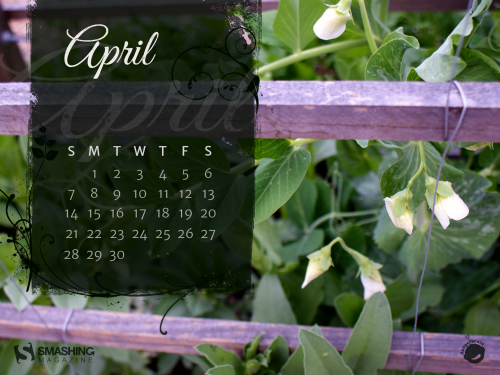 Sunset Lake
"Perhaps one of the most beautiful sunsets I had seen in ages ! I walked away telling myself this – "I'm willing to take that risk" : )." Designed by Nagmani Kamath159 from India.
Little April Showers
Designed by Karolien Vanherp from Belgium.
8vo Showers
Designed by Octavo Designs184 from USA.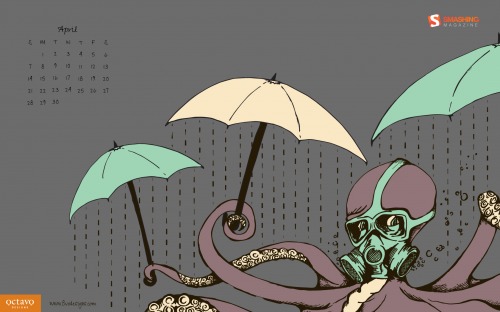 Cherry Blossom Magic
Designed by Sasha Endoh205 from Canada.
with calendar: 360×480208, 1024×768209, 1152×864210, 1280×800211, 1280×960212, 1400×1050213, 1440×900214, 1600×1200215, 1680×1050216, 1920×1080217, 1920×1200218, 2560×1440219
April Showers
Designed by Brennan Pringle from Canada.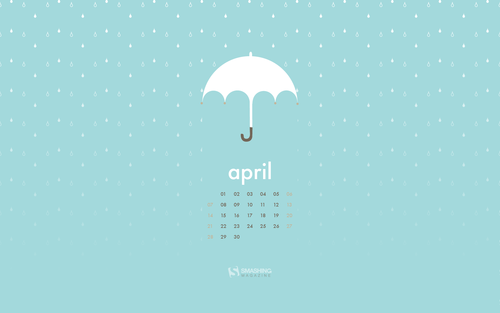 Paint Your April
""With the hope of love, joy, cheers and rain, here comes April again..!!"." Designed by Binita Tamang246 from India.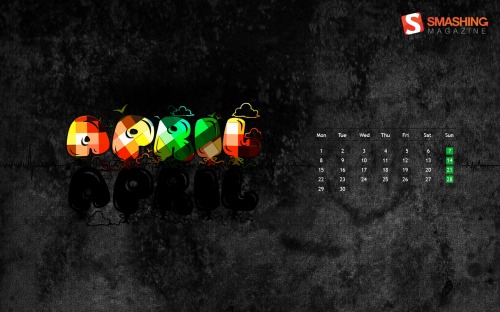 Adorable Brat
Designed by Dieter Van Den Brande from Belgium.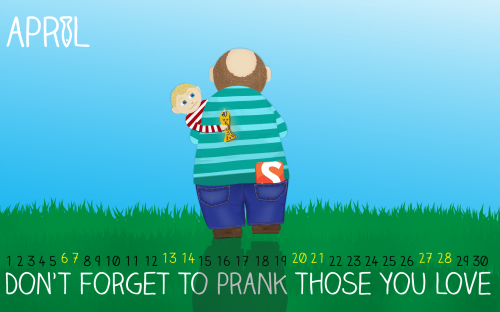 Loading Sunny Weather
"In April we have final rainy days and sun slowly but surely comes more and more in the forecast, that's the idea i want to spread around through this wallpaper." Designed by Igor "commie" Ristovski from Macedonia.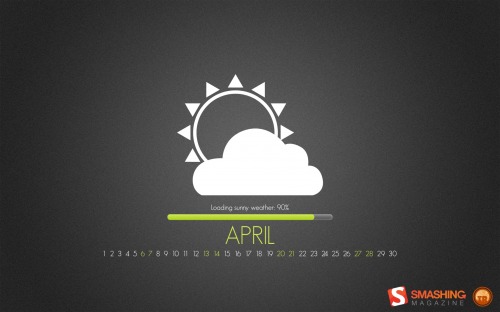 Good Girls
Designed by Pietje Precies297 from The Netherlands.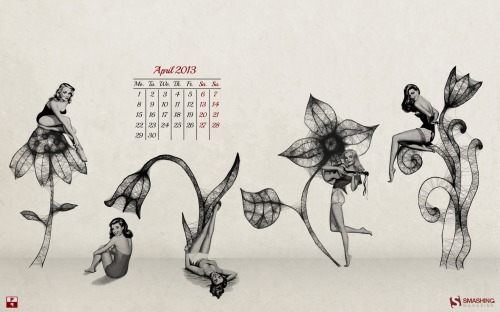 April Showers
"Designed by Greentree Graphics designer, Amy Coons, from the USA." Designed by Amy Coons314 from USA.
Penguin Beach
"Penguin on the beach, enjoying his longdrink!" Designed by Mike Henderyckx331 from Belgium.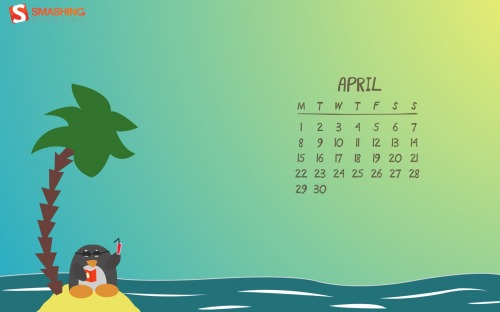 with calendar: 320×480334, 640×480335, 800×480336, 800×600337, 1024×768338, 1024×1024339, 1152×864340, 1280×720341, 1280×800342, 1280×960343, 1280×1024344, 1400×1050345, 1440×900346, 1600×1200347, 1680×1050348, 1680×1200349, 1920×1080350, 1920×1200351, 1920×1440352, 2560×1440353, 2880×1800354
Umbrella In The Rain
Designed by Jong S. Kim376 from USA.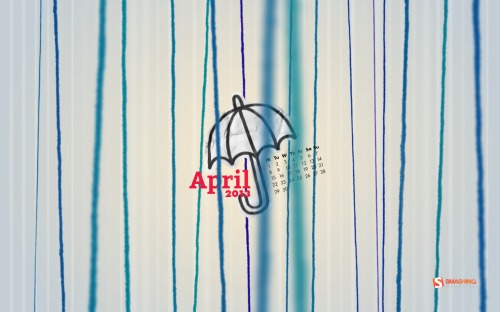 Silent Morning
Designed by Tetyana Kovyrina389 from Canada.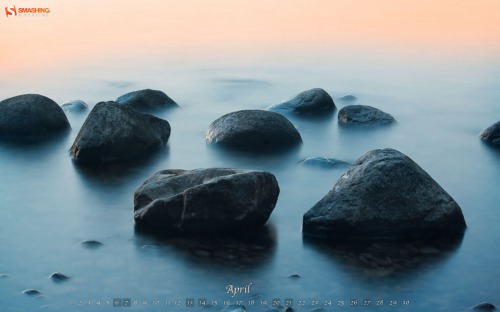 Rock N Roll Day
Designed by Cheloveche.ru412 from Russia.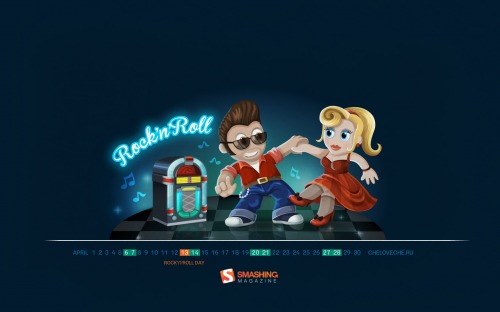 Spring Grass
"Spring grass not only smells nice, it's gorgeous!" Designed by Janssens Joeri from Belgium.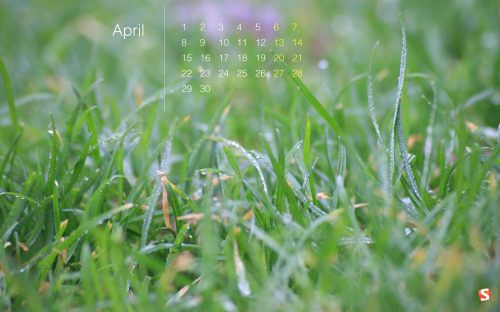 April Showers
"May Flowers love April Showers." Designed by Barýþ Mancar436 from Turkey.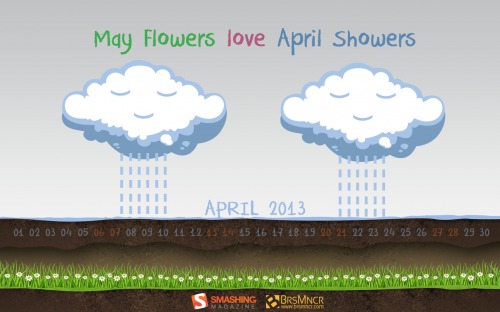 with calendar: 320×480439, 640×480440, 800×480441, 800×600442, 1024×768443, 1024×1024444, 1152×864445, 1280×720446, 1280×800447, 1280×960448, 1280×1024449, 1366×768450, 1400×1050451, 1440×900452, 1600×1200453, 1680×1050454, 1680×1200455, 1920×1080456, 1920×1200457, 1920×1440458, 2560×1440459
Abstract Earth
"April 22 is Earth day. It's important to think about our little planet, we should do it every day of the year but one day is a start. :)." Designed by Rias Van Der Veken481 from Belgium.
Window On Spring
Designed by Alessio Meola494 from Italy.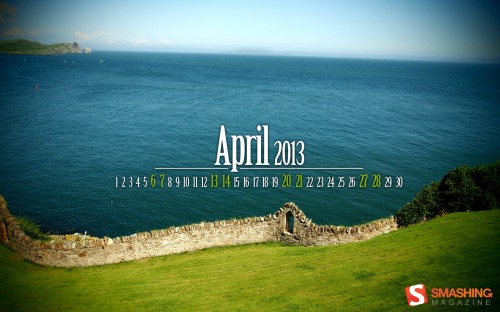 Color Of Spring
"Pink means happiness. Sometime The happiness come from your garden. Wellcome to april with happiness in your heart." Designed by Anh Nguyet Tran from Viet Nam.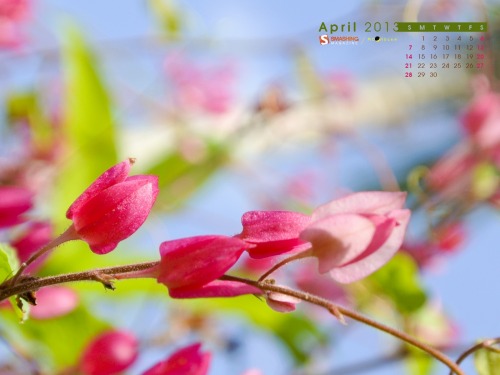 with calendar: 320×480511, 640×480512, 800×480513, 1024×768514, 1024×1024515, 1280×720516, 1280×800517, 1280×960518, 1280×1024519, 1600×1200520, 1680×1200521, 1920×1200522, 1920×1440523, 2560×1440524
Light Trails
Designed by Laurent Constant from Belgium.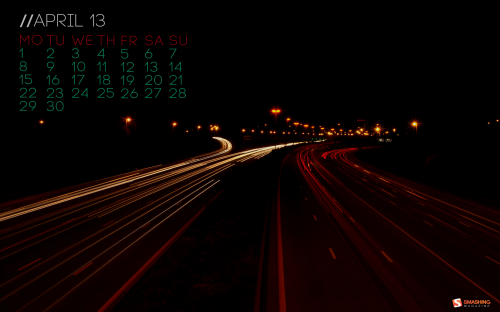 Illustration
"A summer owl." Designed by Pat Buenaobra553 from Philippines.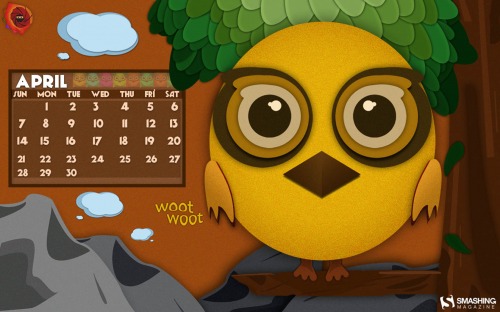 I Shine In Tears
"I shine in tears, like the sun in April." Designed by Zohaib Usman from Pakistan.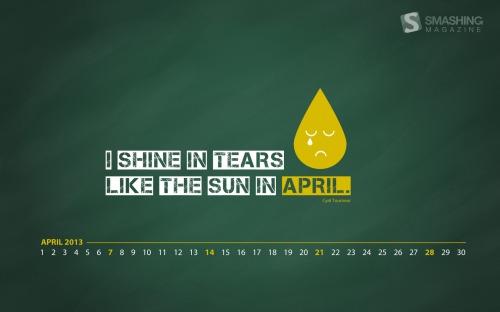 Spring Bee
Designed by Tommy Digiovanni580 from USA.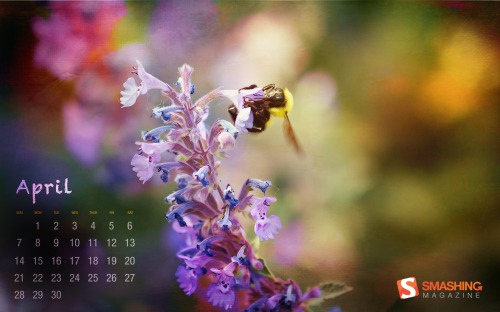 Abstract Scratch
Designed by Desktop Backgrounds from Estonia.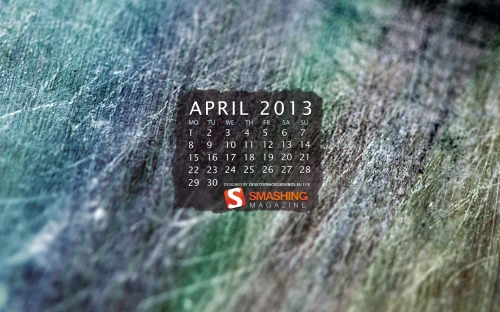 with calendar: 320×480599, 640×480600, 800×480601, 800×600602, 1024×768603, 1024×1024604, 1152×864605, 1280×720606, 1280×800607, 1280×960608, 1280×1024609, 1366×768610, 1400×1050611, 1440×900612, 1600×1200613, 1680×1050614, 1680×1200615, 1920×1080616, 1920×1200617, 1920×1440618, 2560×1440619, 2880×1800620
without calendar: 320×480621, 640×480622, 800×480623, 800×600624, 1024×768625, 1024×1024626, 1152×864627, 1280×720628, 1280×800629, 1280×960630, 1280×1024631, 1366×768632, 1400×1050633, 1440×900634, 1600×1200635, 1680×1050636, 1680×1200637, 1920×1080638, 1920×1200639, 1920×1440640, 2560×1440641, 2880×1800642
Sneakers Time
"Spring is coming, time for sneakers." Designed by Radoslaw Rzepecki643 from Poland.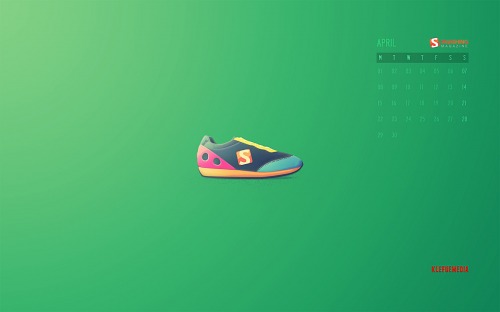 Web Design
Designed by Hilda Rytteke658 from Sweden.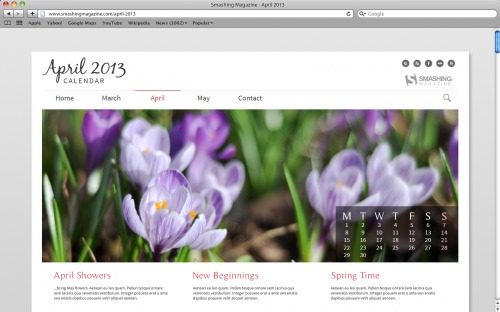 2 Face Clown
"I started from the fact that easter and april fools' day is on the same day. The second element I added the is the cold side versus the warm side of april. And here is the result!" Designed by Stijn Schets from Belgium.
Spring
Designed by Kelly Krijnen from Netherlands.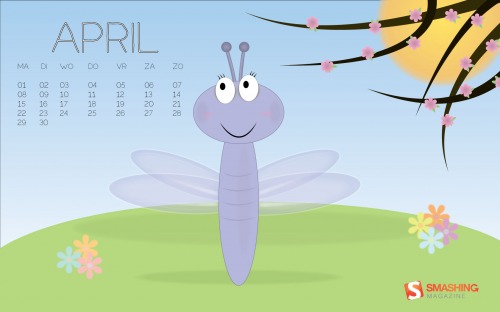 When You Play
"Part of the series of wallpapers about the "Joy of Music"." Designed by Yiannis Kranidiotis699 from Greece.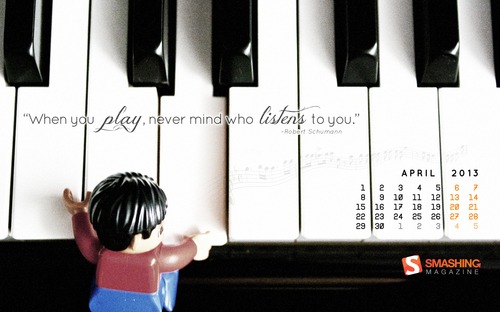 with calendar: 320×480702, 640×480703, 800×480704, 800×600705, 1024×768706, 1024×1024707, 1152×864708, 1280×720709, 1280×800710, 1280×960711, 1280×1024712, 1400×1050713, 1440×900714, 1600×1200715, 1680×1050716, 1680×1200717, 1920×1080718, 1920×1200719, 1920×1440720, 2560×1440721
Scrabble Day
"April-13-'13: Happy Scrabble day!" Designed by Siemon Donvil from Belgium.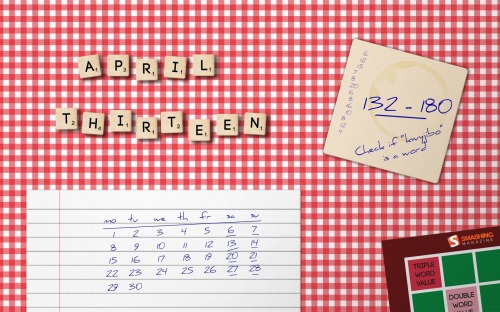 The Pegasus Book
Designed by Księgarnia Katolicka Xlm758 from Poland.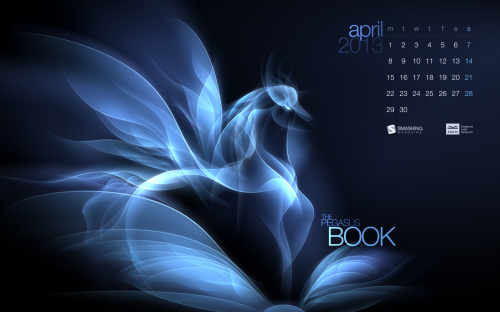 World Health Day
Designed by Tom Dirix from Belgium.
Arena
Designed by Katerina Bobkova789 from Ukraine.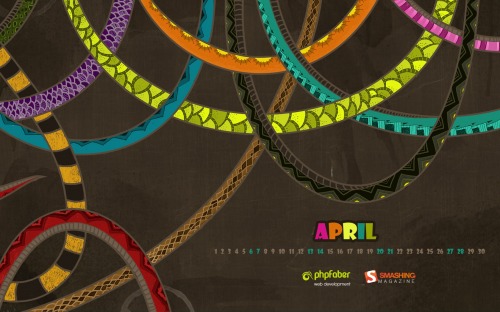 Mousse And Stache
"I introduce you: Mousse and Stache!" Designed by Cédric Bloem806 from Belgium.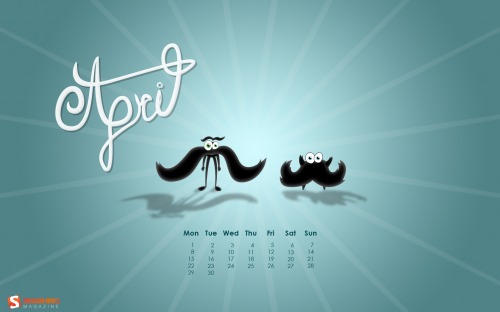 with calendar: 320×480809, 640×480810, 800×480811, 800×600812, 1024×768813, 1024×1024814, 1152×864815, 1280×720816, 1280×800817, 1280×960818, 1280×1024819, 1400×1050820, 1440×900821, 1600×1200822, 1680×1050823, 1680×1200824, 1920×1080825, 1920×1200826, 1920×1440827, 2560×1440828
April Fools
Designed by Janssens Joeri from Belgium.
Don't Worry Be Happy
Designed by Lex Speijer from The Netherlands.
Join In Next Month! Link
Please note that we respect and carefully consider the ideas and motivation behind each and every artist's work. This is why we give all artists the full freedom to explore their creativity and express emotions and experience throughout their works. This is also why the themes of the wallpapers weren't anyhow influenced by us, but rather designed from scratch by the artists themselves.
A big thank you to all the designers for their participation. Join in next month867!
What's Your Favorite? Link
What's your favorite theme or wallpaper for this month? Please let us know in the comment section below.
Footnotes Link
29 http://files.smashingmagazine.com/wallpapers/april-13/april-13-stupid_but_happy__70-calendar-1024x768.jpg
30 http://files.smashingmagazine.com/wallpapers/april-13/april-13-stupid_but_happy__70-calendar-1280x800.jpg
31 http://files.smashingmagazine.com/wallpapers/april-13/april-13-stupid_but_happy__70-calendar-1280x1024.jpg
32 http://files.smashingmagazine.com/wallpapers/april-13/april-13-stupid_but_happy__70-calendar-1366x768.jpg
33 http://files.smashingmagazine.com/wallpapers/april-13/april-13-stupid_but_happy__70-calendar-1440x900.jpg
34 http://files.smashingmagazine.com/wallpapers/april-13/april-13-stupid_but_happy__70-calendar-1680x1050.jpg
35 http://files.smashingmagazine.com/wallpapers/april-13/april-13-stupid_but_happy__70-calendar-1920x1200.jpg
36 http://files.smashingmagazine.com/wallpapers/april-13/april-13-stupid_but_happy__70-calendar-2560x1440.jpg
37 http://files.smashingmagazine.com/wallpapers/april-13/april-13-stupid_but_happy__70-calendar-2880x1800.jpg
38 http://files.smashingmagazine.com/wallpapers/april-13/april-13-stupid_but_happy__70-nocal-1024x768.jpg
39 http://files.smashingmagazine.com/wallpapers/april-13/april-13-stupid_but_happy__70-nocal-1280x800.jpg
40 http://files.smashingmagazine.com/wallpapers/april-13/april-13-stupid_but_happy__70-nocal-1280x1024.jpg
41 http://files.smashingmagazine.com/wallpapers/april-13/april-13-stupid_but_happy__70-nocal-1366x768.jpg
42 http://files.smashingmagazine.com/wallpapers/april-13/april-13-stupid_but_happy__70-nocal-1440x900.jpg
43 http://files.smashingmagazine.com/wallpapers/april-13/april-13-stupid_but_happy__70-nocal-1680x1050.jpg
44 http://files.smashingmagazine.com/wallpapers/april-13/april-13-stupid_but_happy__70-nocal-1920x1200.jpg
45 http://files.smashingmagazine.com/wallpapers/april-13/april-13-stupid_but_happy__70-nocal-2560x1440.jpg
46 http://files.smashingmagazine.com/wallpapers/april-13/april-13-stupid_but_happy__70-nocal-2880x1800.jpg
48 http://files.smashingmagazine.com/wallpapers/april-13/images/full/its_not_done_until_it_ships__15.png
49 http://files.smashingmagazine.com/wallpapers/april-13/images/full/its_not_done_until_it_ships__15.png
50 http://files.smashingmagazine.com/wallpapers/april-13/april-13-its_not_done_until_it_ships__15-calendar-320x480.png
51 http://files.smashingmagazine.com/wallpapers/april-13/april-13-its_not_done_until_it_ships__15-calendar-640x480.png
52 http://files.smashingmagazine.com/wallpapers/april-13/april-13-its_not_done_until_it_ships__15-calendar-800x480.png
53 http://files.smashingmagazine.com/wallpapers/april-13/april-13-its_not_done_until_it_ships__15-calendar-800x600.png
54 http://files.smashingmagazine.com/wallpapers/april-13/april-13-its_not_done_until_it_ships__15-calendar-1024x768.png
55 http://files.smashingmagazine.com/wallpapers/april-13/april-13-its_not_done_until_it_ships__15-calendar-1024x1024.png
56 http://files.smashingmagazine.com/wallpapers/april-13/april-13-its_not_done_until_it_ships__15-calendar-1152x864.png
57 http://files.smashingmagazine.com/wallpapers/april-13/april-13-its_not_done_until_it_ships__15-calendar-1280x720.png
58 http://files.smashingmagazine.com/wallpapers/april-13/april-13-its_not_done_until_it_ships__15-calendar-1280x800.png
59 http://files.smashingmagazine.com/wallpapers/april-13/april-13-its_not_done_until_it_ships__15-calendar-1280x960.png
60 http://files.smashingmagazine.com/wallpapers/april-13/april-13-its_not_done_until_it_ships__15-calendar-1280x1024.png
61 http://files.smashingmagazine.com/wallpapers/april-13/april-13-its_not_done_until_it_ships__15-calendar-1400x1050.png
62 http://files.smashingmagazine.com/wallpapers/april-13/april-13-its_not_done_until_it_ships__15-calendar-1400x900.png
63 http://files.smashingmagazine.com/wallpapers/april-13/april-13-its_not_done_until_it_ships__15-calendar-1600x1200.png
64 http://files.smashingmagazine.com/wallpapers/april-13/april-13-its_not_done_until_it_ships__15-calendar-1680x1050.png
65 http://files.smashingmagazine.com/wallpapers/april-13/april-13-its_not_done_until_it_ships__15-calendar-1680x1200.png
66 http://files.smashingmagazine.com/wallpapers/april-13/april-13-its_not_done_until_it_ships__15-calendar-1920x1080.png
67 http://files.smashingmagazine.com/wallpapers/april-13/april-13-its_not_done_until_it_ships__15-calendar-1920x1200.png
68 http://files.smashingmagazine.com/wallpapers/april-13/april-13-its_not_done_until_it_ships__15-calendar-1920x1440.png
69 http://files.smashingmagazine.com/wallpapers/april-13/april-13-its_not_done_until_it_ships__15-calendar-2560x1440.png
70 http://files.smashingmagazine.com/wallpapers/april-13/april-13-its_not_done_until_it_ships__15-nocal-320x480.png
71 http://files.smashingmagazine.com/wallpapers/april-13/april-13-its_not_done_until_it_ships__15-nocal-640x480.png
72 http://files.smashingmagazine.com/wallpapers/april-13/april-13-its_not_done_until_it_ships__15-nocal-800x480.png
73 http://files.smashingmagazine.com/wallpapers/april-13/april-13-its_not_done_until_it_ships__15-nocal-800x600.png
74 http://files.smashingmagazine.com/wallpapers/april-13/april-13-its_not_done_until_it_ships__15-nocal-1024x768.png
75 http://files.smashingmagazine.com/wallpapers/april-13/april-13-its_not_done_until_it_ships__15-nocal-1024x1024.png
76 http://files.smashingmagazine.com/wallpapers/april-13/april-13-its_not_done_until_it_ships__15-nocal-1152x864.png
77 http://files.smashingmagazine.com/wallpapers/april-13/april-13-its_not_done_until_it_ships__15-nocal-1280x720.png
78 http://files.smashingmagazine.com/wallpapers/april-13/april-13-its_not_done_until_it_ships__15-nocal-1280x800.png
79 http://files.smashingmagazine.com/wallpapers/april-13/april-13-its_not_done_until_it_ships__15-nocal-1280x960.png
80 http://files.smashingmagazine.com/wallpapers/april-13/april-13-its_not_done_until_it_ships__15-nocal-1280x1024.png
81 http://files.smashingmagazine.com/wallpapers/april-13/april-13-its_not_done_until_it_ships__15-nocal-1400x1050.png
82 http://files.smashingmagazine.com/wallpapers/april-13/april-13-its_not_done_until_it_ships__15-nocal-1400x900.png
83 http://files.smashingmagazine.com/wallpapers/april-13/april-13-its_not_done_until_it_ships__15-nocal-1600x1200.png
84 http://files.smashingmagazine.com/wallpapers/april-13/april-13-its_not_done_until_it_ships__15-nocal-1680x1050.png
85 http://files.smashingmagazine.com/wallpapers/april-13/april-13-its_not_done_until_it_ships__15-nocal-1680x1200.png
86 http://files.smashingmagazine.com/wallpapers/april-13/april-13-its_not_done_until_it_ships__15-nocal-1920x1080.png
87 http://files.smashingmagazine.com/wallpapers/april-13/april-13-its_not_done_until_it_ships__15-nocal-1920x1200.png
88 http://files.smashingmagazine.com/wallpapers/april-13/april-13-its_not_done_until_it_ships__15-nocal-1920x1440.png
89 http://files.smashingmagazine.com/wallpapers/april-13/april-13-its_not_done_until_it_ships__15-nocal-2560x1440.png
93 http://files.smashingmagazine.com/wallpapers/april-13/april-13-trianglify__67-calendar-1280x720.jpg
94 http://files.smashingmagazine.com/wallpapers/april-13/april-13-trianglify__67-calendar-1280x800.jpg
95 http://files.smashingmagazine.com/wallpapers/april-13/april-13-trianglify__67-calendar-1366x768.jpg
96 http://files.smashingmagazine.com/wallpapers/april-13/april-13-trianglify__67-calendar-1440x900.jpg
97 http://files.smashingmagazine.com/wallpapers/april-13/april-13-trianglify__67-calendar-1680x1050.jpg
98 http://files.smashingmagazine.com/wallpapers/april-13/april-13-trianglify__67-calendar-1920x1080.jpg
99 http://files.smashingmagazine.com/wallpapers/april-13/april-13-trianglify__67-calendar-2560x1440.jpg
100 http://files.smashingmagazine.com/wallpapers/april-13/april-13-trianglify__67-nocal-1280x720.jpg
101 http://files.smashingmagazine.com/wallpapers/april-13/april-13-trianglify__67-nocal-1280x800.jpg
102 http://files.smashingmagazine.com/wallpapers/april-13/april-13-trianglify__67-nocal-1366x768.jpg
103 http://files.smashingmagazine.com/wallpapers/april-13/april-13-trianglify__67-nocal-1440x900.jpg
104 http://files.smashingmagazine.com/wallpapers/april-13/april-13-trianglify__67-nocal-1680x1050.jpg
105 http://files.smashingmagazine.com/wallpapers/april-13/april-13-trianglify__67-nocal-1920x1080.jpg
106 http://files.smashingmagazine.com/wallpapers/april-13/april-13-trianglify__67-nocal-2560x1440.jpg
110 http://files.smashingmagazine.com/wallpapers/april-13/april-13-spring_april__12-calendar-320x480.png
111 http://files.smashingmagazine.com/wallpapers/april-13/april-13-spring_april__12-calendar-1024x768.png
112 http://files.smashingmagazine.com/wallpapers/april-13/april-13-spring_april__12-calendar-1024x1024.png
113 http://files.smashingmagazine.com/wallpapers/april-13/april-13-spring_april__12-calendar-1280x800.png
114 http://files.smashingmagazine.com/wallpapers/april-13/april-13-spring_april__12-calendar-1280x1024.png
115 http://files.smashingmagazine.com/wallpapers/april-13/april-13-spring_april__12-calendar-1366x768.png
116 http://files.smashingmagazine.com/wallpapers/april-13/april-13-spring_april__12-calendar-1440x900.png
117 http://files.smashingmagazine.com/wallpapers/april-13/april-13-spring_april__12-calendar-1680x1050.png
118 http://files.smashingmagazine.com/wallpapers/april-13/april-13-spring_april__12-calendar-1920x1080.png
119 http://files.smashingmagazine.com/wallpapers/april-13/april-13-spring_april__12-calendar-1920x1200.png
120 http://files.smashingmagazine.com/wallpapers/april-13/april-13-spring_april__12-calendar-2560x1440.png
121 http://files.smashingmagazine.com/wallpapers/april-13/april-13-spring_april__12-calendar-2880x1800.png
124 http://files.smashingmagazine.com/wallpapers/april-13/april-13-stained_glass__85-calendar-640x960.jpg
125 http://files.smashingmagazine.com/wallpapers/april-13/april-13-stained_glass__85-calendar-640x1136.jpg
126 http://files.smashingmagazine.com/wallpapers/april-13/april-13-stained_glass__85-calendar-1280x800.jpg
127 http://files.smashingmagazine.com/wallpapers/april-13/april-13-stained_glass__85-calendar-1280x960.jpg
128 http://files.smashingmagazine.com/wallpapers/april-13/april-13-stained_glass__85-calendar-1280x1024.jpg
129 http://files.smashingmagazine.com/wallpapers/april-13/april-13-stained_glass__85-calendar-1366x768.jpg
130 http://files.smashingmagazine.com/wallpapers/april-13/april-13-stained_glass__85-calendar-1600x900.jpg
131 http://files.smashingmagazine.com/wallpapers/april-13/april-13-stained_glass__85-calendar-1920x1080.jpg
132 http://files.smashingmagazine.com/wallpapers/april-13/april-13-stained_glass__85-calendar-1920x1440.jpg
133 http://files.smashingmagazine.com/wallpapers/april-13/april-13-stained_glass__85-calendar-2048x2048.jpg
134 http://files.smashingmagazine.com/wallpapers/april-13/april-13-stained_glass__85-calendar-2560x1440.jpg
135 http://files.smashingmagazine.com/wallpapers/april-13/april-13-stained_glass__85-nocal-640x960.jpg
136 http://files.smashingmagazine.com/wallpapers/april-13/april-13-stained_glass__85-nocal-640x1136.jpg
137 http://files.smashingmagazine.com/wallpapers/april-13/april-13-stained_glass__85-nocal-1280x800.jpg
138 http://files.smashingmagazine.com/wallpapers/april-13/april-13-stained_glass__85-nocal-1280x960.jpg
139 http://files.smashingmagazine.com/wallpapers/april-13/april-13-stained_glass__85-nocal-1280x1024.jpg
140 http://files.smashingmagazine.com/wallpapers/april-13/april-13-stained_glass__85-nocal-1366x768.jpg
141 http://files.smashingmagazine.com/wallpapers/april-13/april-13-stained_glass__85-nocal-1600x900.jpg
142 http://files.smashingmagazine.com/wallpapers/april-13/april-13-stained_glass__85-nocal-1920x1080.jpg
143 http://files.smashingmagazine.com/wallpapers/april-13/april-13-stained_glass__85-nocal-1920x1440.jpg
144 http://files.smashingmagazine.com/wallpapers/april-13/april-13-stained_glass__85-nocal-2048x2048.jpg
145 http://files.smashingmagazine.com/wallpapers/april-13/april-13-stained_glass__85-nocal-2560x1440.jpg
149 http://files.smashingmagazine.com/wallpapers/april-13/april-13-april_garden__15-calendar-320x480.png
150 http://files.smashingmagazine.com/wallpapers/april-13/april-13-april_garden__15-calendar-1920x1080.png
151 http://files.smashingmagazine.com/wallpapers/april-13/april-13-april_garden__15-calendar-1920x1200.png
152 http://files.smashingmagazine.com/wallpapers/april-13/april-13-april_garden__15-calendar-1920x1440.png
153 http://files.smashingmagazine.com/wallpapers/april-13/april-13-april_garden__15-calendar-2560x1440.png
154 http://files.smashingmagazine.com/wallpapers/april-13/april-13-april_garden__15-nocal-320x480.png
155 http://files.smashingmagazine.com/wallpapers/april-13/april-13-april_garden__15-nocal-1920x1080.png
156 http://files.smashingmagazine.com/wallpapers/april-13/april-13-april_garden__15-nocal-1920x1200.png
157 http://files.smashingmagazine.com/wallpapers/april-13/april-13-april_garden__15-nocal-1920x1440.png
158 http://files.smashingmagazine.com/wallpapers/april-13/april-13-april_garden__15-nocal-2560x1440.png
162 http://files.smashingmagazine.com/wallpapers/april-13/april-13-sunset_lake__12-calendar-320x480.jpg
163 http://files.smashingmagazine.com/wallpapers/april-13/april-13-sunset_lake__12-calendar-1024x768.jpg
164 http://files.smashingmagazine.com/wallpapers/april-13/april-13-sunset_lake__12-calendar-1024x1024.jpg
165 http://files.smashingmagazine.com/wallpapers/april-13/april-13-sunset_lake__12-calendar-1280x800.jpg
166 http://files.smashingmagazine.com/wallpapers/april-13/april-13-sunset_lake__12-calendar-1920x1080.jpg
167 http://files.smashingmagazine.com/wallpapers/april-13/april-13-sunset_lake__12-nocal-320x480.jpg
168 http://files.smashingmagazine.com/wallpapers/april-13/april-13-sunset_lake__12-nocal-1024x768.jpg
169 http://files.smashingmagazine.com/wallpapers/april-13/april-13-sunset_lake__12-nocal-1024x1024.jpg
170 http://files.smashingmagazine.com/wallpapers/april-13/april-13-sunset_lake__12-nocal-1280x800.jpg
171 http://files.smashingmagazine.com/wallpapers/april-13/april-13-sunset_lake__12-nocal-1920x1080.jpg
174 http://files.smashingmagazine.com/wallpapers/april-13/april-13-little_april_showers__51-calendar-320x480.jpg
175 http://files.smashingmagazine.com/wallpapers/april-13/april-13-little_april_showers__51-calendar-1024x768.jpg
176 http://files.smashingmagazine.com/wallpapers/april-13/april-13-little_april_showers__51-calendar-1024x1024.jpg
177 http://files.smashingmagazine.com/wallpapers/april-13/april-13-little_april_showers__51-calendar-1440x900.jpg
178 http://files.smashingmagazine.com/wallpapers/april-13/april-13-little_april_showers__51-calendar-1440x1050.jpg
179 http://files.smashingmagazine.com/wallpapers/april-13/april-13-little_april_showers__51-nocal-320x480.jpg
180 http://files.smashingmagazine.com/wallpapers/april-13/april-13-little_april_showers__51-nocal-1024x768.jpg
181 http://files.smashingmagazine.com/wallpapers/april-13/april-13-little_april_showers__51-nocal-1024x1024.jpg
182 http://files.smashingmagazine.com/wallpapers/april-13/april-13-little_april_showers__51-nocal-1440x900.jpg
183 http://files.smashingmagazine.com/wallpapers/april-13/april-13-little_april_showers__51-nocal-1440x1050.jpg
187 http://files.smashingmagazine.com/wallpapers/april-13/april-13-8vo_showers__35-calendar-1024x768.jpg
188 http://files.smashingmagazine.com/wallpapers/april-13/april-13-8vo_showers__35-calendar-1280x720.jpg
189 http://files.smashingmagazine.com/wallpapers/april-13/april-13-8vo_showers__35-calendar-1280x800.jpg
190 http://files.smashingmagazine.com/wallpapers/april-13/april-13-8vo_showers__35-calendar-1280x1024.jpg
191 http://files.smashingmagazine.com/wallpapers/april-13/april-13-8vo_showers__35-calendar-1440x900.jpg
192 http://files.smashingmagazine.com/wallpapers/april-13/april-13-8vo_showers__35-calendar-1680x1050.jpg
193 http://files.smashingmagazine.com/wallpapers/april-13/april-13-8vo_showers__35-calendar-1920x1080.jpg
194 http://files.smashingmagazine.com/wallpapers/april-13/april-13-8vo_showers__35-calendar-1920x1200.jpg
195 http://files.smashingmagazine.com/wallpapers/april-13/april-13-8vo_showers__35-calendar-2560x1440.jpg
196 http://files.smashingmagazine.com/wallpapers/april-13/april-13-8vo_showers__35-nocal-1024x768.jpg
197 http://files.smashingmagazine.com/wallpapers/april-13/april-13-8vo_showers__35-nocal-1280x720.jpg
198 http://files.smashingmagazine.com/wallpapers/april-13/april-13-8vo_showers__35-nocal-1280x800.jpg
199 http://files.smashingmagazine.com/wallpapers/april-13/april-13-8vo_showers__35-nocal-1280x1024.jpg
200 http://files.smashingmagazine.com/wallpapers/april-13/april-13-8vo_showers__35-nocal-1440x900.jpg
201 http://files.smashingmagazine.com/wallpapers/april-13/april-13-8vo_showers__35-nocal-1680x1050.jpg
202 http://files.smashingmagazine.com/wallpapers/april-13/april-13-8vo_showers__35-nocal-1920x1080.jpg
203 http://files.smashingmagazine.com/wallpapers/april-13/april-13-8vo_showers__35-nocal-1920x1200.jpg
204 http://files.smashingmagazine.com/wallpapers/april-13/april-13-8vo_showers__35-nocal-2560x1440.jpg
208 http://files.smashingmagazine.com/wallpapers/april-13/april-13-cherry_blossom_magic__52-calendar-360x480.jpg
209 http://files.smashingmagazine.com/wallpapers/april-13/april-13-cherry_blossom_magic__52-calendar-1024x768.jpg
210 http://files.smashingmagazine.com/wallpapers/april-13/april-13-cherry_blossom_magic__52-calendar-1152x864.jpg
211 http://files.smashingmagazine.com/wallpapers/april-13/april-13-cherry_blossom_magic__52-calendar-1280x800.jpg
212 http://files.smashingmagazine.com/wallpapers/april-13/april-13-cherry_blossom_magic__52-calendar-1280x960.jpg
213 http://files.smashingmagazine.com/wallpapers/april-13/april-13-cherry_blossom_magic__52-calendar-1400x1050.jpg
214 http://files.smashingmagazine.com/wallpapers/april-13/april-13-cherry_blossom_magic__52-calendar-1440x900.jpg
215 http://files.smashingmagazine.com/wallpapers/april-13/april-13-cherry_blossom_magic__52-calendar-1600x1200.jpg
216 http://files.smashingmagazine.com/wallpapers/april-13/april-13-cherry_blossom_magic__52-calendar-1680x1050.jpg
217 http://files.smashingmagazine.com/wallpapers/april-13/april-13-cherry_blossom_magic__52-calendar-1920x1080.jpg
218 http://files.smashingmagazine.com/wallpapers/april-13/april-13-cherry_blossom_magic__52-calendar-1920x1200.jpg
219 http://files.smashingmagazine.com/wallpapers/april-13/april-13-cherry_blossom_magic__52-calendar-2560x1440.jpg
220 http://files.smashingmagazine.com/wallpapers/april-13/april-13-cherry_blossom_magic__52-nocal-320x480.jpg
221 http://files.smashingmagazine.com/wallpapers/april-13/april-13-cherry_blossom_magic__52-nocal-1024x768.jpg
222 http://files.smashingmagazine.com/wallpapers/april-13/april-13-cherry_blossom_magic__52-nocal-1152x864.jpg
223 http://files.smashingmagazine.com/wallpapers/april-13/april-13-cherry_blossom_magic__52-nocal-1280x800.jpg
224 http://files.smashingmagazine.com/wallpapers/april-13/april-13-cherry_blossom_magic__52-nocal-1280x960.jpg
225 http://files.smashingmagazine.com/wallpapers/april-13/april-13-cherry_blossom_magic__52-nocal-1400x1050.jpg
226 http://files.smashingmagazine.com/wallpapers/april-13/april-13-cherry_blossom_magic__52-nocal-1440x900.jpg
227 http://files.smashingmagazine.com/wallpapers/april-13/april-13-cherry_blossom_magic__52-nocal-1600x1200.jpg
228 http://files.smashingmagazine.com/wallpapers/april-13/april-13-cherry_blossom_magic__52-nocal-1680x1050.jpg
229 http://files.smashingmagazine.com/wallpapers/april-13/april-13-cherry_blossom_magic__52-nocal-1920x1080.jpg
230 http://files.smashingmagazine.com/wallpapers/april-13/april-13-cherry_blossom_magic__52-nocal-1920x1200.jpg
231 http://files.smashingmagazine.com/wallpapers/april-13/april-13-cherry_blossom_magic__52-nocal-2560x1440.jpg
234 http://files.smashingmagazine.com/wallpapers/april-13/april-13-april_showers__53-calendar-1281x801.png
235 http://files.smashingmagazine.com/wallpapers/april-13/april-13-april_showers__53-calendar-1367x769.png
236 http://files.smashingmagazine.com/wallpapers/april-13/april-13-april_showers__53-calendar-1441x901.png
237 http://files.smashingmagazine.com/wallpapers/april-13/april-13-april_showers__53-calendar-1680x1052.png
238 http://files.smashingmagazine.com/wallpapers/april-13/april-13-april_showers__53-calendar-1921x1081.png
239 http://files.smashingmagazine.com/wallpapers/april-13/april-13-april_showers__53-calendar-1921x1201.png
240 http://files.smashingmagazine.com/wallpapers/april-13/april-13-april_showers__53-nocal-1281x801.png
241 http://files.smashingmagazine.com/wallpapers/april-13/april-13-april_showers__53-nocal-1367x769.png
242 http://files.smashingmagazine.com/wallpapers/april-13/april-13-april_showers__53-nocal-1441x901.png
243 http://files.smashingmagazine.com/wallpapers/april-13/april-13-april_showers__53-nocal-1680x1052.png
244 http://files.smashingmagazine.com/wallpapers/april-13/april-13-april_showers__53-nocal-1921x1081.png
245 http://files.smashingmagazine.com/wallpapers/april-13/april-13-april_showers__53-nocal-1921x1201.png
249 http://files.smashingmagazine.com/wallpapers/april-13/april-13-paint_your_april__28-calendar-1024x768.jpg
250 http://files.smashingmagazine.com/wallpapers/april-13/april-13-paint_your_april__28-calendar-1280x720.jpg
251 http://files.smashingmagazine.com/wallpapers/april-13/april-13-paint_your_april__28-calendar-1440x900.jpg
252 http://files.smashingmagazine.com/wallpapers/april-13/april-13-paint_your_april__28-calendar-1680x1050.jpg
253 http://files.smashingmagazine.com/wallpapers/april-13/april-13-paint_your_april__28-calendar-1920x1080.jpg
254 http://files.smashingmagazine.com/wallpapers/april-13/april-13-paint_your_april__28-calendar-2560x1440.jpg
255 http://files.smashingmagazine.com/wallpapers/april-13/april-13-paint_your_april__28-nocal-1024x768.jpg
256 http://files.smashingmagazine.com/wallpapers/april-13/april-13-paint_your_april__28-nocal-1280x720.jpg
257 http://files.smashingmagazine.com/wallpapers/april-13/april-13-paint_your_april__28-nocal-1440x900.jpg
258 http://files.smashingmagazine.com/wallpapers/april-13/april-13-paint_your_april__28-nocal-1680x1050.jpg
259 http://files.smashingmagazine.com/wallpapers/april-13/april-13-paint_your_april__28-nocal-1920x1080.jpg
260 http://files.smashingmagazine.com/wallpapers/april-13/april-13-paint_your_april__28-nocal-2560x1440.jpg
263 http://files.smashingmagazine.com/wallpapers/april-13/april-13-adorable_brat__50-calendar-1280x1024.png
264 http://files.smashingmagazine.com/wallpapers/april-13/april-13-adorable_brat__50-calendar-1440x900.png
265 http://files.smashingmagazine.com/wallpapers/april-13/april-13-adorable_brat__50-calendar-1680x1050.png
266 http://files.smashingmagazine.com/wallpapers/april-13/april-13-adorable_brat__50-calendar-1920x1080.png
267 http://files.smashingmagazine.com/wallpapers/april-13/april-13-adorable_brat__50-calendar-1920x1200.png
268 http://files.smashingmagazine.com/wallpapers/april-13/april-13-adorable_brat__50-calendar-2560x1440.png
269 http://files.smashingmagazine.com/wallpapers/april-13/april-13-adorable_brat__50-calendar-2880x1800.png
270 http://files.smashingmagazine.com/wallpapers/april-13/april-13-adorable_brat__50-nocal-1280x1024.png
271 http://files.smashingmagazine.com/wallpapers/april-13/april-13-adorable_brat__50-nocal-1440x900.png
272 http://files.smashingmagazine.com/wallpapers/april-13/april-13-adorable_brat__50-nocal-1680x1050.png
273 http://files.smashingmagazine.com/wallpapers/april-13/april-13-adorable_brat__50-nocal-1920x1080.png
274 http://files.smashingmagazine.com/wallpapers/april-13/april-13-adorable_brat__50-nocal-1920x1200.png
275 http://files.smashingmagazine.com/wallpapers/april-13/april-13-adorable_brat__50-nocal-2560x1440.png
276 http://files.smashingmagazine.com/wallpapers/april-13/april-13-adorable_brat__50-nocal-2880x1800.png
279 http://files.smashingmagazine.com/wallpapers/april-13/april-13-loading_sunny_weather__67-calendar-1024x768.jpg
280 http://files.smashingmagazine.com/wallpapers/april-13/april-13-loading_sunny_weather__67-calendar-1152x864.jpg
281 http://files.smashingmagazine.com/wallpapers/april-13/april-13-loading_sunny_weather__67-calendar-1280x800.jpg
282 http://files.smashingmagazine.com/wallpapers/april-13/april-13-loading_sunny_weather__67-calendar-1280x960.jpg
283 http://files.smashingmagazine.com/wallpapers/april-13/april-13-loading_sunny_weather__67-calendar-1440x900.jpg
284 http://files.smashingmagazine.com/wallpapers/april-13/april-13-loading_sunny_weather__67-calendar-1600x1200.jpg
285 http://files.smashingmagazine.com/wallpapers/april-13/april-13-loading_sunny_weather__67-calendar-1680x1050.jpg
286 http://files.smashingmagazine.com/wallpapers/april-13/april-13-loading_sunny_weather__67-calendar-1920x1080.jpg
287 http://files.smashingmagazine.com/wallpapers/april-13/april-13-loading_sunny_weather__67-calendar-1920x1200.jpg
288 http://files.smashingmagazine.com/wallpapers/april-13/april-13-loading_sunny_weather__67-nocal-1024x768.jpg
289 http://files.smashingmagazine.com/wallpapers/april-13/april-13-loading_sunny_weather__67-nocal-1152x864.jpg
290 http://files.smashingmagazine.com/wallpapers/april-13/april-13-loading_sunny_weather__67-nocal-1280x800.jpg
291 http://files.smashingmagazine.com/wallpapers/april-13/april-13-loading_sunny_weather__67-nocal-1280x960.jpg
292 http://files.smashingmagazine.com/wallpapers/april-13/april-13-loading_sunny_weather__67-nocal-1440x900.jpg
293 http://files.smashingmagazine.com/wallpapers/april-13/april-13-loading_sunny_weather__67-nocal-1600x1200.jpg
294 http://files.smashingmagazine.com/wallpapers/april-13/april-13-loading_sunny_weather__67-nocal-1680x1050.jpg
295 http://files.smashingmagazine.com/wallpapers/april-13/april-13-loading_sunny_weather__67-nocal-1920x1080.jpg
296 http://files.smashingmagazine.com/wallpapers/april-13/april-13-loading_sunny_weather__67-nocal-1920x1200.jpg
300 http://files.smashingmagazine.com/wallpapers/april-13/april-13-good_girls__89-calendar-320x480.jpg
301 http://files.smashingmagazine.com/wallpapers/april-13/april-13-good_girls__89-calendar-1024x768.jpg
302 http://files.smashingmagazine.com/wallpapers/april-13/april-13-good_girls__89-calendar-1280x800.jpg
303 http://files.smashingmagazine.com/wallpapers/april-13/april-13-good_girls__89-calendar-1280x1024.jpg
304 http://files.smashingmagazine.com/wallpapers/april-13/april-13-good_girls__89-calendar-1440x900.jpg
305 http://files.smashingmagazine.com/wallpapers/april-13/april-13-good_girls__89-calendar-1680x1050.jpg
306 http://files.smashingmagazine.com/wallpapers/april-13/april-13-good_girls__89-calendar-1920x1200.jpg
308 http://files.smashingmagazine.com/wallpapers/april-13/april-13-good_girls__89-nocal-1024x768.jpg
309 http://files.smashingmagazine.com/wallpapers/april-13/april-13-good_girls__89-nocal-1280x800.jpg
310 http://files.smashingmagazine.com/wallpapers/april-13/april-13-good_girls__89-nocal-1280x1024.jpg
311 http://files.smashingmagazine.com/wallpapers/april-13/april-13-good_girls__89-nocal-1440x900.jpg
312 http://files.smashingmagazine.com/wallpapers/april-13/april-13-good_girls__89-nocal-1680x1050.jpg
313 http://files.smashingmagazine.com/wallpapers/april-13/april-13-good_girls__89-nocal-1920x1200.jpg
317 http://files.smashingmagazine.com/wallpapers/april-13/april-13-april_showers__82-calendar-1024x768.jpg
318 http://files.smashingmagazine.com/wallpapers/april-13/april-13-april_showers__82-calendar-1280x800.jpg
319 http://files.smashingmagazine.com/wallpapers/april-13/april-13-april_showers__82-calendar-1280x1024.jpg
320 http://files.smashingmagazine.com/wallpapers/april-13/april-13-april_showers__82-calendar-1366x768.jpg
321 http://files.smashingmagazine.com/wallpapers/april-13/april-13-april_showers__82-calendar-1440x900.jpg
322 http://files.smashingmagazine.com/wallpapers/april-13/april-13-april_showers__82-calendar-1680x1050.jpg
323 http://files.smashingmagazine.com/wallpapers/april-13/april-13-april_showers__82-calendar-1920x1080.jpg
324 http://files.smashingmagazine.com/wallpapers/april-13/april-13-april_showers__82-nocal-1024x768.jpg
325 http://files.smashingmagazine.com/wallpapers/april-13/april-13-april_showers__82-nocal-1280x800.jpg
326 http://files.smashingmagazine.com/wallpapers/april-13/april-13-april_showers__82-nocal-1280x1024.jpg
327 http://files.smashingmagazine.com/wallpapers/april-13/april-13-april_showers__82-nocal-1366x768.jpg
328 http://files.smashingmagazine.com/wallpapers/april-13/april-13-april_showers__82-nocal-1440x900.jpg
329 http://files.smashingmagazine.com/wallpapers/april-13/april-13-april_showers__82-nocal-1680x1050.jpg
330 http://files.smashingmagazine.com/wallpapers/april-13/april-13-april_showers__82-nocal-1920x1080.jpg
334 http://files.smashingmagazine.com/wallpapers/april-13/april-13-penguin_beach__11-calendar-320x480.jpg
335 http://files.smashingmagazine.com/wallpapers/april-13/april-13-penguin_beach__11-calendar-640x480.jpg
336 http://files.smashingmagazine.com/wallpapers/april-13/april-13-penguin_beach__11-calendar-800x480.jpg
337 http://files.smashingmagazine.com/wallpapers/april-13/april-13-penguin_beach__11-calendar-800x600.jpg
338 http://files.smashingmagazine.com/wallpapers/april-13/april-13-penguin_beach__11-calendar-1024x768.jpg
339 http://files.smashingmagazine.com/wallpapers/april-13/april-13-penguin_beach__11-calendar-1024x1024.jpg
340 http://files.smashingmagazine.com/wallpapers/april-13/april-13-penguin_beach__11-calendar-1152x864.jpg
341 http://files.smashingmagazine.com/wallpapers/april-13/april-13-penguin_beach__11-calendar-1280x720.jpg
342 http://files.smashingmagazine.com/wallpapers/april-13/april-13-penguin_beach__11-calendar-1280x800.jpg
343 http://files.smashingmagazine.com/wallpapers/april-13/april-13-penguin_beach__11-calendar-1280x960.jpg
344 http://files.smashingmagazine.com/wallpapers/april-13/april-13-penguin_beach__11-calendar-1280x1024.jpg
345 http://files.smashingmagazine.com/wallpapers/april-13/april-13-penguin_beach__11-calendar-1400x1050.jpg
346 http://files.smashingmagazine.com/wallpapers/april-13/april-13-penguin_beach__11-calendar-1440x900.jpg
347 http://files.smashingmagazine.com/wallpapers/april-13/april-13-penguin_beach__11-calendar-1600x1200.jpg
348 http://files.smashingmagazine.com/wallpapers/april-13/april-13-penguin_beach__11-calendar-1680x1050.jpg
349 http://files.smashingmagazine.com/wallpapers/april-13/april-13-penguin_beach__11-calendar-1680x1200.jpg
350 http://files.smashingmagazine.com/wallpapers/april-13/april-13-penguin_beach__11-calendar-1920x1080.jpg
351 http://files.smashingmagazine.com/wallpapers/april-13/april-13-penguin_beach__11-calendar-1920x1200.jpg
352 http://files.smashingmagazine.com/wallpapers/april-13/april-13-penguin_beach__11-calendar-1920x1440.jpg
353 http://files.smashingmagazine.com/wallpapers/april-13/april-13-penguin_beach__11-calendar-2560x1440.jpg
354 http://files.smashingmagazine.com/wallpapers/april-13/april-13-penguin_beach__11-calendar-2880x1800.jpg
355 http://files.smashingmagazine.com/wallpapers/april-13/april-13-penguin_beach__11-nocal-320x480.jpg
356 http://files.smashingmagazine.com/wallpapers/april-13/april-13-penguin_beach__11-nocal-640x480.jpg
357 http://files.smashingmagazine.com/wallpapers/april-13/april-13-penguin_beach__11-nocal-800x480.jpg
358 http://files.smashingmagazine.com/wallpapers/april-13/april-13-penguin_beach__11-nocal-800x600.jpg
359 http://files.smashingmagazine.com/wallpapers/april-13/april-13-penguin_beach__11-nocal-1024x768.jpg
360 http://files.smashingmagazine.com/wallpapers/april-13/april-13-penguin_beach__11-nocal-1024x1024.jpg
361 http://files.smashingmagazine.com/wallpapers/april-13/april-13-penguin_beach__11-nocal-1152x864.jpg
362 http://files.smashingmagazine.com/wallpapers/april-13/april-13-penguin_beach__11-nocal-1280x720.jpg
363 http://files.smashingmagazine.com/wallpapers/april-13/april-13-penguin_beach__11-nocal-1280x800.jpg
364 http://files.smashingmagazine.com/wallpapers/april-13/april-13-penguin_beach__11-nocal-1280x960.jpg
365 http://files.smashingmagazine.com/wallpapers/april-13/april-13-penguin_beach__11-nocal-1280x1024.jpg
366 http://files.smashingmagazine.com/wallpapers/april-13/april-13-penguin_beach__11-nocal-1400x1050.jpg
367 http://files.smashingmagazine.com/wallpapers/april-13/april-13-penguin_beach__11-nocal-1440x900.jpg
368 http://files.smashingmagazine.com/wallpapers/april-13/april-13-penguin_beach__11-nocal-1600x1200.jpg
369 http://files.smashingmagazine.com/wallpapers/april-13/april-13-penguin_beach__11-nocal-1680x1050.jpg
370 http://files.smashingmagazine.com/wallpapers/april-13/april-13-penguin_beach__11-nocal-1680x1200.jpg
371 http://files.smashingmagazine.com/wallpapers/april-13/april-13-penguin_beach__11-nocal-1920x1080.jpg
372 http://files.smashingmagazine.com/wallpapers/april-13/april-13-penguin_beach__11-nocal-1920x1200.jpg
373 http://files.smashingmagazine.com/wallpapers/april-13/april-13-penguin_beach__11-nocal-1920x1440.jpg
374 http://files.smashingmagazine.com/wallpapers/april-13/april-13-penguin_beach__11-nocal-2560x1440.jpg
375 http://files.smashingmagazine.com/wallpapers/april-13/april-13-penguin_beach__11-nocal-2880x1800.jpg
379 http://files.smashingmagazine.com/wallpapers/april-13/april-13-umbrella_rain__56-calendar-1600x1200.jpg
380 http://files.smashingmagazine.com/wallpapers/april-13/april-13-umbrella_rain__56-calendar-1680x1050.jpg
381 http://files.smashingmagazine.com/wallpapers/april-13/april-13-umbrella_rain__56-calendar-1920x1080.jpg
382 http://files.smashingmagazine.com/wallpapers/april-13/april-13-umbrella_rain__56-calendar-1920x1200.jpg
383 http://files.smashingmagazine.com/wallpapers/april-13/april-13-umbrella_rain__56-calendar-1920x1440.jpg
384 http://files.smashingmagazine.com/wallpapers/april-13/april-13-umbrella_rain__56-nocal-1600x1200.jpg
385 http://files.smashingmagazine.com/wallpapers/april-13/april-13-umbrella_rain__56-nocal-1680x1050.jpg
386 http://files.smashingmagazine.com/wallpapers/april-13/april-13-umbrella_rain__56-nocal-1920x1080.jpg
387 http://files.smashingmagazine.com/wallpapers/april-13/april-13-umbrella_rain__56-nocal-1920x1200.jpg
388 http://files.smashingmagazine.com/wallpapers/april-13/april-13-umbrella_rain__56-nocal-1920x1440.jpg
392 http://files.smashingmagazine.com/wallpapers/april-13/april-13-silent_morning__76-calendar-1024x768.jpg
393 http://files.smashingmagazine.com/wallpapers/april-13/april-13-silent_morning__76-calendar-1280x720.jpg
394 http://files.smashingmagazine.com/wallpapers/april-13/april-13-silent_morning__76-calendar-1280x800.jpg
395 http://files.smashingmagazine.com/wallpapers/april-13/april-13-silent_morning__76-calendar-1280x960.jpg
396 http://files.smashingmagazine.com/wallpapers/april-13/april-13-silent_morning__76-calendar-1280x1024.jpg
397 http://files.smashingmagazine.com/wallpapers/april-13/april-13-silent_morning__76-calendar-1440x900.jpg
398 http://files.smashingmagazine.com/wallpapers/april-13/april-13-silent_morning__76-calendar-1680x1050.jpg
399 http://files.smashingmagazine.com/wallpapers/april-13/april-13-silent_morning__76-calendar-1920x1080.jpg
400 http://files.smashingmagazine.com/wallpapers/april-13/april-13-silent_morning__76-calendar-1920x1200.jpg
401 http://files.smashingmagazine.com/wallpapers/april-13/april-13-silent_morning__76-calendar-2560x1440.jpg
402 http://files.smashingmagazine.com/wallpapers/april-13/april-13-silent_morning__76-nocal-1024x768.jpg
403 http://files.smashingmagazine.com/wallpapers/april-13/april-13-silent_morning__76-nocal-1280x720.jpg
404 http://files.smashingmagazine.com/wallpapers/april-13/april-13-silent_morning__76-nocal-1280x800.jpg
405 http://files.smashingmagazine.com/wallpapers/april-13/april-13-silent_morning__76-nocal-1280x960.jpg
406 http://files.smashingmagazine.com/wallpapers/april-13/april-13-silent_morning__76-nocal-1280x1024.jpg
407 http://files.smashingmagazine.com/wallpapers/april-13/april-13-silent_morning__76-nocal-1440x900.jpg
408 http://files.smashingmagazine.com/wallpapers/april-13/april-13-silent_morning__76-nocal-1680x1050.jpg
409 http://files.smashingmagazine.com/wallpapers/april-13/april-13-silent_morning__76-nocal-1920x1080.jpg
410 http://files.smashingmagazine.com/wallpapers/april-13/april-13-silent_morning__76-nocal-1920x1200.jpg
411 http://files.smashingmagazine.com/wallpapers/april-13/april-13-silent_morning__76-nocal-2560x1440.jpg
415 http://files.smashingmagazine.com/wallpapers/april-13/april-13-rock_n_roll_day__53-calendar-1024x768.jpg
416 http://files.smashingmagazine.com/wallpapers/april-13/april-13-rock_n_roll_day__53-calendar-1280x800.jpg
417 http://files.smashingmagazine.com/wallpapers/april-13/april-13-rock_n_roll_day__53-calendar-1280x1024.jpg
418 http://files.smashingmagazine.com/wallpapers/april-13/april-13-rock_n_roll_day__53-calendar-1440x900.jpg
419 http://files.smashingmagazine.com/wallpapers/april-13/april-13-rock_n_roll_day__53-calendar-1680x1050.jpg
420 http://files.smashingmagazine.com/wallpapers/april-13/april-13-rock_n_roll_day__53-calendar-1920x1200.jpg
421 http://files.smashingmagazine.com/wallpapers/april-13/april-13-rock_n_roll_day__53-nocal-395x512.jpg
422 http://files.smashingmagazine.com/wallpapers/april-13/april-13-rock_n_roll_day__53-nocal-1024x768.jpg
423 http://files.smashingmagazine.com/wallpapers/april-13/april-13-rock_n_roll_day__53-nocal-1280x800.jpg
424 http://files.smashingmagazine.com/wallpapers/april-13/april-13-rock_n_roll_day__53-nocal-1280x1024.jpg
425 http://files.smashingmagazine.com/wallpapers/april-13/april-13-rock_n_roll_day__53-nocal-1440x900.jpg
426 http://files.smashingmagazine.com/wallpapers/april-13/april-13-rock_n_roll_day__53-nocal-1680x1050.jpg
427 http://files.smashingmagazine.com/wallpapers/april-13/april-13-rock_n_roll_day__53-nocal-1920x1200.jpg
430 http://files.smashingmagazine.com/wallpapers/april-13/april-13-spring_grass__92-calendar-1024x768.png
431 http://files.smashingmagazine.com/wallpapers/april-13/april-13-spring_grass__92-calendar-1280x800.png
432 http://files.smashingmagazine.com/wallpapers/april-13/april-13-spring_grass__92-calendar-1440x900.png
433 http://files.smashingmagazine.com/wallpapers/april-13/april-13-spring_grass__92-calendar-1680x1050.png
434 http://files.smashingmagazine.com/wallpapers/april-13/april-13-spring_grass__92-calendar-1920x1200.png
435 http://files.smashingmagazine.com/wallpapers/april-13/april-13-spring_grass__92-calendar-2880x1800.png
439 http://files.smashingmagazine.com/wallpapers/april-13/april-13-april_showers__97-calendar-320x480.jpg
440 http://files.smashingmagazine.com/wallpapers/april-13/april-13-april_showers__97-calendar-640x480.jpg
441 http://files.smashingmagazine.com/wallpapers/april-13/april-13-april_showers__97-calendar-800x480.jpg
442 http://files.smashingmagazine.com/wallpapers/april-13/april-13-april_showers__97-calendar-800x600.jpg
443 http://files.smashingmagazine.com/wallpapers/april-13/april-13-april_showers__97-calendar-1024x768.jpg
444 http://files.smashingmagazine.com/wallpapers/april-13/april-13-april_showers__97-calendar-1024x1024.jpg
445 http://files.smashingmagazine.com/wallpapers/april-13/april-13-april_showers__97-calendar-1152x864.jpg
446 http://files.smashingmagazine.com/wallpapers/april-13/april-13-april_showers__97-calendar-1280x720.jpg
447 http://files.smashingmagazine.com/wallpapers/april-13/april-13-april_showers__97-calendar-1280x800.jpg
448 http://files.smashingmagazine.com/wallpapers/april-13/april-13-april_showers__97-calendar-1280x960.jpg
449 http://files.smashingmagazine.com/wallpapers/april-13/april-13-april_showers__97-calendar-1280x1024.jpg
450 http://files.smashingmagazine.com/wallpapers/april-13/april-13-april_showers__97-calendar-1366x768.jpg
451 http://files.smashingmagazine.com/wallpapers/april-13/april-13-april_showers__97-calendar-1400x1050.jpg
452 http://files.smashingmagazine.com/wallpapers/april-13/april-13-april_showers__97-calendar-1440x900.jpg
453 http://files.smashingmagazine.com/wallpapers/april-13/april-13-april_showers__97-calendar-1600x1200.jpg
454 http://files.smashingmagazine.com/wallpapers/april-13/april-13-april_showers__97-calendar-1680x1050.jpg
455 http://files.smashingmagazine.com/wallpapers/april-13/april-13-april_showers__97-calendar-1680x1200.jpg
456 http://files.smashingmagazine.com/wallpapers/april-13/april-13-april_showers__97-calendar-1920x1080.jpg
457 http://files.smashingmagazine.com/wallpapers/april-13/april-13-april_showers__97-calendar-1920x1200.jpg
458 http://files.smashingmagazine.com/wallpapers/april-13/april-13-april_showers__97-calendar-1920x1440.jpg
459 http://files.smashingmagazine.com/wallpapers/april-13/april-13-april_showers__97-calendar-2560x1440.jpg
460 http://files.smashingmagazine.com/wallpapers/april-13/april-13-april_showers__97-nocal-320x480.jpg
461 http://files.smashingmagazine.com/wallpapers/april-13/april-13-april_showers__97-nocal-640x480.jpg
462 http://files.smashingmagazine.com/wallpapers/april-13/april-13-april_showers__97-nocal-800x480.jpg
463 http://files.smashingmagazine.com/wallpapers/april-13/april-13-april_showers__97-nocal-800x600.jpg
464 http://files.smashingmagazine.com/wallpapers/april-13/april-13-april_showers__97-nocal-1024x768.jpg
465 http://files.smashingmagazine.com/wallpapers/april-13/april-13-april_showers__97-nocal-1024x1024.jpg
466 http://files.smashingmagazine.com/wallpapers/april-13/april-13-april_showers__97-nocal-1152x864.jpg
467 http://files.smashingmagazine.com/wallpapers/april-13/april-13-april_showers__97-nocal-1280x720.jpg
468 http://files.smashingmagazine.com/wallpapers/april-13/april-13-april_showers__97-nocal-1280x800.jpg
469 http://files.smashingmagazine.com/wallpapers/april-13/april-13-april_showers__97-nocal-1280x960.jpg
470 http://files.smashingmagazine.com/wallpapers/april-13/april-13-april_showers__97-nocal-1280x1024.jpg
471 http://files.smashingmagazine.com/wallpapers/april-13/april-13-april_showers__97-nocal-1366x768.jpg
472 http://files.smashingmagazine.com/wallpapers/april-13/april-13-april_showers__97-nocal-1400x1050.jpg
473 http://files.smashingmagazine.com/wallpapers/april-13/april-13-april_showers__97-nocal-1440x900.jpg
474 http://files.smashingmagazine.com/wallpapers/april-13/april-13-april_showers__97-nocal-1600x1200.jpg
475 http://files.smashingmagazine.com/wallpapers/april-13/april-13-april_showers__97-nocal-1680x1050.jpg
476 http://files.smashingmagazine.com/wallpapers/april-13/april-13-april_showers__97-nocal-1680x1200.jpg
477 http://files.smashingmagazine.com/wallpapers/april-13/april-13-april_showers__97-nocal-1920x1080.jpg
478 http://files.smashingmagazine.com/wallpapers/april-13/april-13-april_showers__97-nocal-1920x1200.jpg
479 http://files.smashingmagazine.com/wallpapers/april-13/april-13-april_showers__97-nocal-1920x1440.jpg
480 http://files.smashingmagazine.com/wallpapers/april-13/april-13-april_showers__97-nocal-2560x1440.jpg
484 http://files.smashingmagazine.com/wallpapers/april-13/april-13-abstract_earth__12-calendar-1680x1200.jpg
485 http://files.smashingmagazine.com/wallpapers/april-13/april-13-abstract_earth__12-calendar-1920x1080.jpg
486 http://files.smashingmagazine.com/wallpapers/april-13/april-13-abstract_earth__12-calendar-1920x1200.jpg
487 http://files.smashingmagazine.com/wallpapers/april-13/april-13-abstract_earth__12-calendar-1920x1440.jpg
488 http://files.smashingmagazine.com/wallpapers/april-13/april-13-abstract_earth__12-calendar-2560x1440.jpg
489 http://files.smashingmagazine.com/wallpapers/april-13/april-13-abstract_earth__12-nocal-1680x1200.jpg
490 http://files.smashingmagazine.com/wallpapers/april-13/april-13-abstract_earth__12-nocal-1920x1080.jpg
491 http://files.smashingmagazine.com/wallpapers/april-13/april-13-abstract_earth__12-nocal-1920x1200.jpg
492 http://files.smashingmagazine.com/wallpapers/april-13/april-13-abstract_earth__12-nocal-1920x1440.jpg
493 http://files.smashingmagazine.com/wallpapers/april-13/april-13-abstract_earth__12-nocal-2560x1440.jpg
497 http://files.smashingmagazine.com/wallpapers/april-13/april-13-window_on_spring__25-calendar-1280x960.jpg
498 http://files.smashingmagazine.com/wallpapers/april-13/april-13-window_on_spring__25-calendar-1440x900.jpg
499 http://files.smashingmagazine.com/wallpapers/april-13/april-13-window_on_spring__25-calendar-1600x1200.jpg
500 http://files.smashingmagazine.com/wallpapers/april-13/april-13-window_on_spring__25-calendar-1680x1050.jpg
501 http://files.smashingmagazine.com/wallpapers/april-13/april-13-window_on_spring__25-calendar-1920x1080.jpg
502 http://files.smashingmagazine.com/wallpapers/april-13/april-13-window_on_spring__25-calendar-2560x1440.jpg
503 http://files.smashingmagazine.com/wallpapers/april-13/april-13-window_on_spring__25-nocal-1280x960.jpg
504 http://files.smashingmagazine.com/wallpapers/april-13/april-13-window_on_spring__25-nocal-1440x900.jpg
505 http://files.smashingmagazine.com/wallpapers/april-13/april-13-window_on_spring__25-nocal-1600x1200.jpg
506 http://files.smashingmagazine.com/wallpapers/april-13/april-13-window_on_spring__25-nocal-1680x1050.jpg
507 http://files.smashingmagazine.com/wallpapers/april-13/april-13-window_on_spring__25-nocal-1920x1080.jpg
508 http://files.smashingmagazine.com/wallpapers/april-13/april-13-window_on_spring__25-nocal-2560x1440.jpg
511 http://files.smashingmagazine.com/wallpapers/april-13/april-13-color_of_spring__67-calendar-320x480.jpg
512 http://files.smashingmagazine.com/wallpapers/april-13/april-13-color_of_spring__67-calendar-640x480.jpg
513 http://files.smashingmagazine.com/wallpapers/april-13/april-13-color_of_spring__67-calendar-800x480.jpg
514 http://files.smashingmagazine.com/wallpapers/april-13/april-13-color_of_spring__67-calendar-1024x768.jpg
515 http://files.smashingmagazine.com/wallpapers/april-13/april-13-color_of_spring__67-calendar-1024x1024.jpg
516 http://files.smashingmagazine.com/wallpapers/april-13/april-13-color_of_spring__67-calendar-1280x720.jpg
517 http://files.smashingmagazine.com/wallpapers/april-13/april-13-color_of_spring__67-calendar-1280x800.jpg
518 http://files.smashingmagazine.com/wallpapers/april-13/april-13-color_of_spring__67-calendar-1280x960.jpg
519 http://files.smashingmagazine.com/wallpapers/april-13/april-13-color_of_spring__67-calendar-1280x1024.jpg
520 http://files.smashingmagazine.com/wallpapers/april-13/april-13-color_of_spring__67-calendar-1600x1200.jpg
521 http://files.smashingmagazine.com/wallpapers/april-13/april-13-color_of_spring__67-calendar-1680x1200.jpg
522 http://files.smashingmagazine.com/wallpapers/april-13/april-13-color_of_spring__67-calendar-1920x1200.jpg
523 http://files.smashingmagazine.com/wallpapers/april-13/april-13-color_of_spring__67-calendar-1920x1440.jpg
524 http://files.smashingmagazine.com/wallpapers/april-13/april-13-color_of_spring__67-calendar-2560x1440.jpg
525 http://files.smashingmagazine.com/wallpapers/april-13/april-13-color_of_spring__67-nocal-320x480.jpg
526 http://files.smashingmagazine.com/wallpapers/april-13/april-13-color_of_spring__67-nocal-640x480.jpg
527 http://files.smashingmagazine.com/wallpapers/april-13/april-13-color_of_spring__67-nocal-800x480.jpg
528 http://files.smashingmagazine.com/wallpapers/april-13/april-13-color_of_spring__67-nocal-1024x768.jpg
529 http://files.smashingmagazine.com/wallpapers/april-13/april-13-color_of_spring__67-nocal-1024x1024.jpg
530 http://files.smashingmagazine.com/wallpapers/april-13/april-13-color_of_spring__67-nocal-1280x720.jpg
531 http://files.smashingmagazine.com/wallpapers/april-13/april-13-color_of_spring__67-nocal-1280x800.jpg
532 http://files.smashingmagazine.com/wallpapers/april-13/april-13-color_of_spring__67-nocal-1280x960.jpg
533 http://files.smashingmagazine.com/wallpapers/april-13/april-13-color_of_spring__67-nocal-1280x1024.jpg
534 http://files.smashingmagazine.com/wallpapers/april-13/april-13-color_of_spring__67-nocal-1600x1200.jpg
535 http://files.smashingmagazine.com/wallpapers/april-13/april-13-color_of_spring__67-nocal-1680x1200.jpg
536 http://files.smashingmagazine.com/wallpapers/april-13/april-13-color_of_spring__67-nocal-1920x1200.jpg
537 http://files.smashingmagazine.com/wallpapers/april-13/april-13-color_of_spring__67-nocal-1920x1440.jpg
538 http://files.smashingmagazine.com/wallpapers/april-13/april-13-color_of_spring__67-nocal-2560x1440.jpg
541 http://files.smashingmagazine.com/wallpapers/april-13/april-13-light_trails__95-calendar-1280x800.png
542 http://files.smashingmagazine.com/wallpapers/april-13/april-13-light_trails__95-calendar-1440x900.png
543 http://files.smashingmagazine.com/wallpapers/april-13/april-13-light_trails__95-calendar-1680x1050.png
544 http://files.smashingmagazine.com/wallpapers/april-13/april-13-light_trails__95-calendar-1920x1080.png
545 http://files.smashingmagazine.com/wallpapers/april-13/april-13-light_trails__95-calendar-1920x1200.png
546 http://files.smashingmagazine.com/wallpapers/april-13/april-13-light_trails__95-calendar-2560x1440.png
547 http://files.smashingmagazine.com/wallpapers/april-13/april-13-light_trails__95-nocal-1280x800.png
548 http://files.smashingmagazine.com/wallpapers/april-13/april-13-light_trails__95-nocal-1440x900.png
549 http://files.smashingmagazine.com/wallpapers/april-13/april-13-light_trails__95-nocal-1680x1050.png
550 http://files.smashingmagazine.com/wallpapers/april-13/april-13-light_trails__95-nocal-1920x1080.png
551 http://files.smashingmagazine.com/wallpapers/april-13/april-13-light_trails__95-nocal-1920x1200.png
552 http://files.smashingmagazine.com/wallpapers/april-13/april-13-light_trails__95-nocal-2560x1440.png
556 http://files.smashingmagazine.com/wallpapers/april-13/april-13-woot_woot__76-calendar-1280x800.jpg
557 http://files.smashingmagazine.com/wallpapers/april-13/april-13-woot_woot__76-calendar-1440x900.jpg
558 http://files.smashingmagazine.com/wallpapers/april-13/april-13-woot_woot__76-calendar-1680x1050.jpg
559 http://files.smashingmagazine.com/wallpapers/april-13/april-13-woot_woot__76-calendar-1920x1200.jpg
560 http://files.smashingmagazine.com/wallpapers/april-13/april-13-woot_woot__76-calendar-2560x1440.jpg
563 http://files.smashingmagazine.com/wallpapers/april-13/april-13-woot_woot__76-nocal-1680x1050.jpg
564 http://files.smashingmagazine.com/wallpapers/april-13/april-13-woot_woot__76-nocal-1920x1200.jpg
565 http://files.smashingmagazine.com/wallpapers/april-13/april-13-woot_woot__76-nocal-2560x1440.jpg
568 http://files.smashingmagazine.com/wallpapers/april-13/april-13-shine_in_tears__75-calendar-1024x1024.jpg
569 http://files.smashingmagazine.com/wallpapers/april-13/april-13-shine_in_tears__75-calendar-1440x900.jpg
570 http://files.smashingmagazine.com/wallpapers/april-13/april-13-shine_in_tears__75-calendar-1680x1050.jpg
571 http://files.smashingmagazine.com/wallpapers/april-13/april-13-shine_in_tears__75-calendar-1920x1080.jpg
572 http://files.smashingmagazine.com/wallpapers/april-13/april-13-shine_in_tears__75-calendar-1920x1200.jpg
573 http://files.smashingmagazine.com/wallpapers/april-13/april-13-shine_in_tears__75-calendar-2560x1440.jpg
574 http://files.smashingmagazine.com/wallpapers/april-13/april-13-shine_in_tears__75-nocal-1024x1024.jpg
575 http://files.smashingmagazine.com/wallpapers/april-13/april-13-shine_in_tears__75-nocal-1440x900.jpg
576 http://files.smashingmagazine.com/wallpapers/april-13/april-13-shine_in_tears__75-nocal-1680x1050.jpg
577 http://files.smashingmagazine.com/wallpapers/april-13/april-13-shine_in_tears__75-nocal-1920x1080.jpg
578 http://files.smashingmagazine.com/wallpapers/april-13/april-13-shine_in_tears__75-nocal-1920x1200.jpg
579 http://files.smashingmagazine.com/wallpapers/april-13/april-13-shine_in_tears__75-nocal-2560x1440.jpg
599 http://files.smashingmagazine.com/wallpapers/april-13/april-13-abstract_scratch__36-calendar-320x480.jpg
600 http://files.smashingmagazine.com/wallpapers/april-13/april-13-abstract_scratch__36-calendar-640x480.jpg
601 http://files.smashingmagazine.com/wallpapers/april-13/april-13-abstract_scratch__36-calendar-800x480.jpg
602 http://files.smashingmagazine.com/wallpapers/april-13/april-13-abstract_scratch__36-calendar-800x600.jpg
603 http://files.smashingmagazine.com/wallpapers/april-13/april-13-abstract_scratch__36-calendar-1024x768.jpg
604 http://files.smashingmagazine.com/wallpapers/april-13/april-13-abstract_scratch__36-calendar-1024x1024.jpg
605 http://files.smashingmagazine.com/wallpapers/april-13/april-13-abstract_scratch__36-calendar-1152x864.jpg
606 http://files.smashingmagazine.com/wallpapers/april-13/april-13-abstract_scratch__36-calendar-1280x720.jpg
607 http://files.smashingmagazine.com/wallpapers/april-13/april-13-abstract_scratch__36-calendar-1280x800.jpg
608 http://files.smashingmagazine.com/wallpapers/april-13/april-13-abstract_scratch__36-calendar-1280x960.jpg
609 http://files.smashingmagazine.com/wallpapers/april-13/april-13-abstract_scratch__36-calendar-1280x1024.jpg
610 http://files.smashingmagazine.com/wallpapers/april-13/april-13-abstract_scratch__36-calendar-1366x768.jpg
611 http://files.smashingmagazine.com/wallpapers/april-13/april-13-abstract_scratch__36-calendar-1400x1050.jpg
612 http://files.smashingmagazine.com/wallpapers/april-13/april-13-abstract_scratch__36-calendar-1440x900.jpg
613 http://files.smashingmagazine.com/wallpapers/april-13/april-13-abstract_scratch__36-calendar-1600x1200.jpg
614 http://files.smashingmagazine.com/wallpapers/april-13/april-13-abstract_scratch__36-calendar-1680x1050.jpg
615 http://files.smashingmagazine.com/wallpapers/april-13/april-13-abstract_scratch__36-calendar-1680x1200.jpg
616 http://files.smashingmagazine.com/wallpapers/april-13/april-13-abstract_scratch__36-calendar-1920x1080.jpg
617 http://files.smashingmagazine.com/wallpapers/april-13/april-13-abstract_scratch__36-calendar-1920x1200.jpg
618 http://files.smashingmagazine.com/wallpapers/april-13/april-13-abstract_scratch__36-calendar-1920x1440.jpg
619 http://files.smashingmagazine.com/wallpapers/april-13/april-13-abstract_scratch__36-calendar-2560x1440.jpg
620 http://files.smashingmagazine.com/wallpapers/april-13/april-13-abstract_scratch__36-calendar-2880x1800.jpg
621 http://files.smashingmagazine.com/wallpapers/april-13/april-13-abstract_scratch__36-nocal-320x480.jpg
622 http://files.smashingmagazine.com/wallpapers/april-13/april-13-abstract_scratch__36-nocal-640x480.jpg
623 http://files.smashingmagazine.com/wallpapers/april-13/april-13-abstract_scratch__36-nocal-800x480.jpg
624 http://files.smashingmagazine.com/wallpapers/april-13/april-13-abstract_scratch__36-nocal-800x600.jpg
625 http://files.smashingmagazine.com/wallpapers/april-13/april-13-abstract_scratch__36-nocal-1024x768.jpg
626 http://files.smashingmagazine.com/wallpapers/april-13/april-13-abstract_scratch__36-nocal-1024x1024.jpg
627 http://files.smashingmagazine.com/wallpapers/april-13/april-13-abstract_scratch__36-nocal-1152x864.jpg
628 http://files.smashingmagazine.com/wallpapers/april-13/april-13-abstract_scratch__36-nocal-1280x720.jpg
629 http://files.smashingmagazine.com/wallpapers/april-13/april-13-abstract_scratch__36-nocal-1280x800.jpg
630 http://files.smashingmagazine.com/wallpapers/april-13/april-13-abstract_scratch__36-nocal-1280x960.jpg
631 http://files.smashingmagazine.com/wallpapers/april-13/april-13-abstract_scratch__36-nocal-1280x1024.jpg
632 http://files.smashingmagazine.com/wallpapers/april-13/april-13-abstract_scratch__36-nocal-1366x768.jpg
633 http://files.smashingmagazine.com/wallpapers/april-13/april-13-abstract_scratch__36-nocal-1400x1050.jpg
634 http://files.smashingmagazine.com/wallpapers/april-13/april-13-abstract_scratch__36-nocal-1440x900.jpg
635 http://files.smashingmagazine.com/wallpapers/april-13/april-13-abstract_scratch__36-nocal-1600x1200.jpg
636 http://files.smashingmagazine.com/wallpapers/april-13/april-13-abstract_scratch__36-nocal-1680x1050.jpg
637 http://files.smashingmagazine.com/wallpapers/april-13/april-13-abstract_scratch__36-nocal-1680x1200.jpg
638 http://files.smashingmagazine.com/wallpapers/april-13/april-13-abstract_scratch__36-nocal-1920x1080.jpg
639 http://files.smashingmagazine.com/wallpapers/april-13/april-13-abstract_scratch__36-nocal-1920x1200.jpg
640 http://files.smashingmagazine.com/wallpapers/april-13/april-13-abstract_scratch__36-nocal-1920x1440.jpg
641 http://files.smashingmagazine.com/wallpapers/april-13/april-13-abstract_scratch__36-nocal-2560x1440.jpg
642 http://files.smashingmagazine.com/wallpapers/april-13/april-13-abstract_scratch__36-nocal-2880x1800.jpg
646 http://files.smashingmagazine.com/wallpapers/april-13/april-13-sneakers_time__52-calendar-1280x800.jpg
647 http://files.smashingmagazine.com/wallpapers/april-13/april-13-sneakers_time__52-calendar-1440x900.jpg
648 http://files.smashingmagazine.com/wallpapers/april-13/april-13-sneakers_time__52-calendar-1680x1050.jpg
649 http://files.smashingmagazine.com/wallpapers/april-13/april-13-sneakers_time__52-calendar-1920x1080.jpg
650 http://files.smashingmagazine.com/wallpapers/april-13/april-13-sneakers_time__52-calendar-1920x1200.jpg
651 http://files.smashingmagazine.com/wallpapers/april-13/april-13-sneakers_time__52-calendar-2560x1440.jpg
652 http://files.smashingmagazine.com/wallpapers/april-13/april-13-sneakers_time__52-nocal-1280x800.jpg
653 http://files.smashingmagazine.com/wallpapers/april-13/april-13-sneakers_time__52-nocal-1440x900.jpg
654 http://files.smashingmagazine.com/wallpapers/april-13/april-13-sneakers_time__52-nocal-1680x1050.jpg
655 http://files.smashingmagazine.com/wallpapers/april-13/april-13-sneakers_time__52-nocal-1920x1080.jpg
656 http://files.smashingmagazine.com/wallpapers/april-13/april-13-sneakers_time__52-nocal-1920x1200.jpg
657 http://files.smashingmagazine.com/wallpapers/april-13/april-13-sneakers_time__52-nocal-2560x1440.jpg
661 http://files.smashingmagazine.com/wallpapers/april-13/april-13-web_design__12-calendar-1280x800.jpg
662 http://files.smashingmagazine.com/wallpapers/april-13/april-13-web_design__12-calendar-1280x1024.jpg
663 http://files.smashingmagazine.com/wallpapers/april-13/april-13-web_design__12-calendar-1440x900.jpg
664 http://files.smashingmagazine.com/wallpapers/april-13/april-13-web_design__12-calendar-1680x1050.jpg
665 http://files.smashingmagazine.com/wallpapers/april-13/april-13-web_design__12-calendar-1920x1080.jpg
666 http://files.smashingmagazine.com/wallpapers/april-13/april-13-web_design__12-calendar-1920x1200.jpg
667 http://files.smashingmagazine.com/wallpapers/april-13/april-13-web_design__12-calendar-2560x1440.jpg
668 http://files.smashingmagazine.com/wallpapers/april-13/april-13-web_design__12-nocal-1280x800.jpg
669 http://files.smashingmagazine.com/wallpapers/april-13/april-13-web_design__12-nocal-1280x1024.jpg
670 http://files.smashingmagazine.com/wallpapers/april-13/april-13-web_design__12-nocal-1440x900.jpg
671 http://files.smashingmagazine.com/wallpapers/april-13/april-13-web_design__12-nocal-1680x1050.jpg
672 http://files.smashingmagazine.com/wallpapers/april-13/april-13-web_design__12-nocal-1920x1080.jpg
673 http://files.smashingmagazine.com/wallpapers/april-13/april-13-web_design__12-nocal-1920x1200.jpg
674 http://files.smashingmagazine.com/wallpapers/april-13/april-13-web_design__12-nocal-2560x1440.jpg
677 http://files.smashingmagazine.com/wallpapers/april-13/april-13-2_face_clown__88-calendar-1024x768.jpg
678 http://files.smashingmagazine.com/wallpapers/april-13/april-13-2_face_clown__88-calendar-1024x1024.jpg
679 http://files.smashingmagazine.com/wallpapers/april-13/april-13-2_face_clown__88-calendar-1280x800.jpg
680 http://files.smashingmagazine.com/wallpapers/april-13/april-13-2_face_clown__88-calendar-1280x1024.jpg
681 http://files.smashingmagazine.com/wallpapers/april-13/april-13-2_face_clown__88-calendar-1440x900.jpg
682 http://files.smashingmagazine.com/wallpapers/april-13/april-13-2_face_clown__88-nocal-1024x768.jpg
683 http://files.smashingmagazine.com/wallpapers/april-13/april-13-2_face_clown__88-nocal-1024x1024.jpg
684 http://files.smashingmagazine.com/wallpapers/april-13/april-13-2_face_clown__88-nocal-1280x800.jpg
685 http://files.smashingmagazine.com/wallpapers/april-13/april-13-2_face_clown__88-nocal-1280x1024.jpg
686 http://files.smashingmagazine.com/wallpapers/april-13/april-13-2_face_clown__88-nocal-1440x900.jpg
690 http://files.smashingmagazine.com/wallpapers/april-13/april-13-spring__21-calendar-1280x1024.jpg
692 http://files.smashingmagazine.com/wallpapers/april-13/april-13-spring__21-calendar-1680x1050.jpg
693 http://files.smashingmagazine.com/wallpapers/april-13/april-13-spring__21-calendar-1920x1200.jpg
702 http://files.smashingmagazine.com/wallpapers/april-13/april-13-when_you_play__88-calendar-320x480.jpg
703 http://files.smashingmagazine.com/wallpapers/april-13/april-13-when_you_play__88-calendar-640x480.jpg
704 http://files.smashingmagazine.com/wallpapers/april-13/april-13-when_you_play__88-calendar-800x480.jpg
705 http://files.smashingmagazine.com/wallpapers/april-13/april-13-when_you_play__88-calendar-800x600.jpg
706 http://files.smashingmagazine.com/wallpapers/april-13/april-13-when_you_play__88-calendar-1024x768.jpg
707 http://files.smashingmagazine.com/wallpapers/april-13/april-13-when_you_play__88-calendar-1024x1024.jpg
708 http://files.smashingmagazine.com/wallpapers/april-13/april-13-when_you_play__88-calendar-1152x864.jpg
709 http://files.smashingmagazine.com/wallpapers/april-13/april-13-when_you_play__88-calendar-1280x720.jpg
710 http://files.smashingmagazine.com/wallpapers/april-13/april-13-when_you_play__88-calendar-1280x800.jpg
711 http://files.smashingmagazine.com/wallpapers/april-13/april-13-when_you_play__88-calendar-1280x960.jpg
712 http://files.smashingmagazine.com/wallpapers/april-13/april-13-when_you_play__88-calendar-1280x1024.jpg
713 http://files.smashingmagazine.com/wallpapers/april-13/april-13-when_you_play__88-calendar-1400x1050.jpg
714 http://files.smashingmagazine.com/wallpapers/april-13/april-13-when_you_play__88-calendar-1440x900.jpg
715 http://files.smashingmagazine.com/wallpapers/april-13/april-13-when_you_play__88-calendar-1600x1200.jpg
716 http://files.smashingmagazine.com/wallpapers/april-13/april-13-when_you_play__88-calendar-1680x1050.jpg
717 http://files.smashingmagazine.com/wallpapers/april-13/april-13-when_you_play__88-calendar-1680x1200.jpg
718 http://files.smashingmagazine.com/wallpapers/april-13/april-13-when_you_play__88-calendar-1920x1080.jpg
719 http://files.smashingmagazine.com/wallpapers/april-13/april-13-when_you_play__88-calendar-1920x1200.jpg
720 http://files.smashingmagazine.com/wallpapers/april-13/april-13-when_you_play__88-calendar-1920x1440.jpg
721 http://files.smashingmagazine.com/wallpapers/april-13/april-13-when_you_play__88-calendar-2560x1440.jpg
722 http://files.smashingmagazine.com/wallpapers/april-13/april-13-when_you_play__88-nocal-320x480.jpg
723 http://files.smashingmagazine.com/wallpapers/april-13/april-13-when_you_play__88-nocal-640x480.jpg
724 http://files.smashingmagazine.com/wallpapers/april-13/april-13-when_you_play__88-nocal-800x480.jpg
725 http://files.smashingmagazine.com/wallpapers/april-13/april-13-when_you_play__88-nocal-800x600.jpg
726 http://files.smashingmagazine.com/wallpapers/april-13/april-13-when_you_play__88-nocal-1024x768.jpg
727 http://files.smashingmagazine.com/wallpapers/april-13/april-13-when_you_play__88-nocal-1024x1024.jpg
728 http://files.smashingmagazine.com/wallpapers/april-13/april-13-when_you_play__88-nocal-1152x864.jpg
729 http://files.smashingmagazine.com/wallpapers/april-13/april-13-when_you_play__88-nocal-1280x720.jpg
730 http://files.smashingmagazine.com/wallpapers/april-13/april-13-when_you_play__88-nocal-1280x800.jpg
731 http://files.smashingmagazine.com/wallpapers/april-13/april-13-when_you_play__88-nocal-1280x960.jpg
732 http://files.smashingmagazine.com/wallpapers/april-13/april-13-when_you_play__88-nocal-1280x1024.jpg
733 http://files.smashingmagazine.com/wallpapers/april-13/april-13-when_you_play__88-nocal-1400x1050.jpg
734 http://files.smashingmagazine.com/wallpapers/april-13/april-13-when_you_play__88-nocal-1440x900.jpg
735 http://files.smashingmagazine.com/wallpapers/april-13/april-13-when_you_play__88-nocal-1600x1200.jpg
736 http://files.smashingmagazine.com/wallpapers/april-13/april-13-when_you_play__88-nocal-1680x1050.jpg
737 http://files.smashingmagazine.com/wallpapers/april-13/april-13-when_you_play__88-nocal-1680x1200.jpg
738 http://files.smashingmagazine.com/wallpapers/april-13/april-13-when_you_play__88-nocal-1920x1080.jpg
739 http://files.smashingmagazine.com/wallpapers/april-13/april-13-when_you_play__88-nocal-1920x1200.jpg
740 http://files.smashingmagazine.com/wallpapers/april-13/april-13-when_you_play__88-nocal-1920x1440.jpg
741 http://files.smashingmagazine.com/wallpapers/april-13/april-13-when_you_play__88-nocal-2560x1440.jpg
744 http://files.smashingmagazine.com/wallpapers/april-13/april-13-scrabble__61-calendar-1280x800.jpg
745 http://files.smashingmagazine.com/wallpapers/april-13/april-13-scrabble__61-calendar-1440x900.jpg
746 http://files.smashingmagazine.com/wallpapers/april-13/april-13-scrabble__61-calendar-1680x1050.jpg
747 http://files.smashingmagazine.com/wallpapers/april-13/april-13-scrabble__61-calendar-1920x1080.jpg
748 http://files.smashingmagazine.com/wallpapers/april-13/april-13-scrabble__61-calendar-1920x1200.jpg
749 http://files.smashingmagazine.com/wallpapers/april-13/april-13-scrabble__61-calendar-2560x1440.jpg
750 http://files.smashingmagazine.com/wallpapers/april-13/april-13-scrabble__61-calendar-2880x1800.jpg
773 http://files.smashingmagazine.com/wallpapers/april-13/april-13-a_day_to_care__53-calendar-640x480.jpg
774 http://files.smashingmagazine.com/wallpapers/april-13/april-13-a_day_to_care__53-calendar-800x600.jpg
775 http://files.smashingmagazine.com/wallpapers/april-13/april-13-a_day_to_care__53-calendar-1024x768.jpg
776 http://files.smashingmagazine.com/wallpapers/april-13/april-13-a_day_to_care__53-calendar-1152x864.jpg
777 http://files.smashingmagazine.com/wallpapers/april-13/april-13-a_day_to_care__53-calendar-1280x960.jpg
778 http://files.smashingmagazine.com/wallpapers/april-13/april-13-a_day_to_care__53-calendar-1400x1050.jpg
779 http://files.smashingmagazine.com/wallpapers/april-13/april-13-a_day_to_care__53-calendar-1600x1200.jpg
780 http://files.smashingmagazine.com/wallpapers/april-13/april-13-a_day_to_care__53-calendar-1920x1440.jpg
781 http://files.smashingmagazine.com/wallpapers/april-13/april-13-a_day_to_care__53-nocal-640x480.jpg
782 http://files.smashingmagazine.com/wallpapers/april-13/april-13-a_day_to_care__53-nocal-800x600.jpg
783 http://files.smashingmagazine.com/wallpapers/april-13/april-13-a_day_to_care__53-nocal-1024x768.jpg
784 http://files.smashingmagazine.com/wallpapers/april-13/april-13-a_day_to_care__53-nocal-1152x864.jpg
785 http://files.smashingmagazine.com/wallpapers/april-13/april-13-a_day_to_care__53-nocal-1280x960.jpg
786 http://files.smashingmagazine.com/wallpapers/april-13/april-13-a_day_to_care__53-nocal-1440x1080.jpg
787 http://files.smashingmagazine.com/wallpapers/april-13/april-13-a_day_to_care__53-nocal-1600x1200.jpg
788 http://files.smashingmagazine.com/wallpapers/april-13/april-13-a_day_to_care__53-nocal-1920x1440.jpg
809 http://files.smashingmagazine.com/wallpapers/april-13/april-13-mousse_and_stache__57-calendar-320x480.jpg
810 http://files.smashingmagazine.com/wallpapers/april-13/april-13-mousse_and_stache__57-calendar-640x480.jpg
811 http://files.smashingmagazine.com/wallpapers/april-13/april-13-mousse_and_stache__57-calendar-800x480.jpg
812 http://files.smashingmagazine.com/wallpapers/april-13/april-13-mousse_and_stache__57-calendar-800x600.jpg
813 http://files.smashingmagazine.com/wallpapers/april-13/april-13-mousse_and_stache__57-calendar-1024x768.jpg
814 http://files.smashingmagazine.com/wallpapers/april-13/april-13-mousse_and_stache__57-calendar-1024x1024.jpg
815 http://files.smashingmagazine.com/wallpapers/april-13/april-13-mousse_and_stache__57-calendar-1152x864.jpg
816 http://files.smashingmagazine.com/wallpapers/april-13/april-13-mousse_and_stache__57-calendar-1280x720.jpg
817 http://files.smashingmagazine.com/wallpapers/april-13/april-13-mousse_and_stache__57-calendar-1280x800.jpg
818 http://files.smashingmagazine.com/wallpapers/april-13/april-13-mousse_and_stache__57-calendar-1280x960.jpg
819 http://files.smashingmagazine.com/wallpapers/april-13/april-13-mousse_and_stache__57-calendar-1280x1024.jpg
820 http://files.smashingmagazine.com/wallpapers/april-13/april-13-mousse_and_stache__57-calendar-1400x1050.jpg
821 http://files.smashingmagazine.com/wallpapers/april-13/april-13-mousse_and_stache__57-calendar-1440x900.jpg
822 http://files.smashingmagazine.com/wallpapers/april-13/april-13-mousse_and_stache__57-calendar-1600x1200.jpg
823 http://files.smashingmagazine.com/wallpapers/april-13/april-13-mousse_and_stache__57-calendar-1680x1050.jpg
824 http://files.smashingmagazine.com/wallpapers/april-13/april-13-mousse_and_stache__57-calendar-1680x1200.jpg
825 http://files.smashingmagazine.com/wallpapers/april-13/april-13-mousse_and_stache__57-calendar-1920x1080.jpg
826 http://files.smashingmagazine.com/wallpapers/april-13/april-13-mousse_and_stache__57-calendar-1920x1200.jpg
827 http://files.smashingmagazine.com/wallpapers/april-13/april-13-mousse_and_stache__57-calendar-1920x1440.jpg
828 http://files.smashingmagazine.com/wallpapers/april-13/april-13-mousse_and_stache__57-calendar-2560x1440.jpg
829 http://files.smashingmagazine.com/wallpapers/april-13/april-13-mousse_and_stache__57-nocal-320x480.jpg
830 http://files.smashingmagazine.com/wallpapers/april-13/april-13-mousse_and_stache__57-nocal-640x480.jpg
831 http://files.smashingmagazine.com/wallpapers/april-13/april-13-mousse_and_stache__57-nocal-800x480.jpg
832 http://files.smashingmagazine.com/wallpapers/april-13/april-13-mousse_and_stache__57-nocal-800x600.jpg
833 http://files.smashingmagazine.com/wallpapers/april-13/april-13-mousse_and_stache__57-nocal-1024x768.jpg
834 http://files.smashingmagazine.com/wallpapers/april-13/april-13-mousse_and_stache__57-nocal-1024x1024.jpg
835 http://files.smashingmagazine.com/wallpapers/april-13/april-13-mousse_and_stache__57-nocal-1152x864.jpg
836 http://files.smashingmagazine.com/wallpapers/april-13/april-13-mousse_and_stache__57-nocal-1280x720.jpg
837 http://files.smashingmagazine.com/wallpapers/april-13/april-13-mousse_and_stache__57-nocal-1280x800.jpg
838 http://files.smashingmagazine.com/wallpapers/april-13/april-13-mousse_and_stache__57-nocal-1280x960.jpg
839 http://files.smashingmagazine.com/wallpapers/april-13/april-13-mousse_and_stache__57-nocal-1280x1024.jpg
840 http://files.smashingmagazine.com/wallpapers/april-13/april-13-mousse_and_stache__57-nocal-1400x1050.jpg
841 http://files.smashingmagazine.com/wallpapers/april-13/april-13-mousse_and_stache__57-nocal-1440x900.jpg
842 http://files.smashingmagazine.com/wallpapers/april-13/april-13-mousse_and_stache__57-nocal-1600x1200.jpg
843 http://files.smashingmagazine.com/wallpapers/april-13/april-13-mousse_and_stache__57-nocal-1680x1050.jpg
844 http://files.smashingmagazine.com/wallpapers/april-13/april-13-mousse_and_stache__57-nocal-1680x1200.jpg
845 http://files.smashingmagazine.com/wallpapers/april-13/april-13-mousse_and_stache__57-nocal-1920x1080.jpg
846 http://files.smashingmagazine.com/wallpapers/april-13/april-13-mousse_and_stache__57-nocal-1920x1200.jpg
847 http://files.smashingmagazine.com/wallpapers/april-13/april-13-mousse_and_stache__57-nocal-1920x1440.jpg
848 http://files.smashingmagazine.com/wallpapers/april-13/april-13-mousse_and_stache__57-nocal-2560x1440.jpg
851 http://files.smashingmagazine.com/wallpapers/april-13/april-13-april_fools__80-calendar-1280x800.png
852 http://files.smashingmagazine.com/wallpapers/april-13/april-13-april_fools__80-calendar-1440x900.png
853 http://files.smashingmagazine.com/wallpapers/april-13/april-13-april_fools__80-calendar-1536x960.png
854 http://files.smashingmagazine.com/wallpapers/april-13/april-13-april_fools__80-calendar-1680x1050.png
855 http://files.smashingmagazine.com/wallpapers/april-13/april-13-april_fools__80-calendar-1920x1200.png
858 http://files.smashingmagazine.com/wallpapers/april-13/april-13-dontworrybehappy_dwbh__11-calendar-1280x720.png
859 http://files.smashingmagazine.com/wallpapers/april-13/april-13-dontworrybehappy_dwbh__11-calendar-1728x1080.png
860 http://files.smashingmagazine.com/wallpapers/april-13/april-13-dontworrybehappy_dwbh__11-calendar-1920x1080.png
861 http://files.smashingmagazine.com/wallpapers/april-13/april-13-dontworrybehappy_dwbh__11-calendar-2304x1440.png
862 http://files.smashingmagazine.com/wallpapers/april-13/april-13-dontworrybehappy_dwbh__11-calendar-2560x1440.png
863 http://files.smashingmagazine.com/wallpapers/april-13/april-13-dontworrybehappy_dwbh__11-nocal-1280x720.png
864 http://files.smashingmagazine.com/wallpapers/april-13/april-13-dontworrybehappy_dwbh__11-nocal-1728x1080.png
865 http://files.smashingmagazine.com/wallpapers/april-13/april-13-dontworrybehappy_dwbh__11-nocal-1920x1080.png
866 http://files.smashingmagazine.com/wallpapers/april-13/april-13-dontworrybehappy_dwbh__11-nocal-2561x1440.png