We always try our best to challenge your artistic abilities and produce some interesting, beautiful and creative artwork. And as designers we usually turn to different sources of inspiration. As a matter of fact, we've discovered the best one—desktop wallpapers that are a little more distinctive than the usual crowd. This creativity mission has been going on for six years now1, and we are very thankful to all designers who have contributed and are still diligently contributing each month.
This post features free desktop wallpapers created by artists across the globe for April 2014. Both versions with a calendar and without a calendar can be downloaded for free. It's time to freshen up your wallpaper!
You may also want to take a look at the following related wallpaper posts:
Sweet April Showers Do Bring May Flowers
"Discover the seasonal fruits and vegetables in April: artichoke and beans walking in the rain!" — Designed by Vitaminas Design6 from Spain.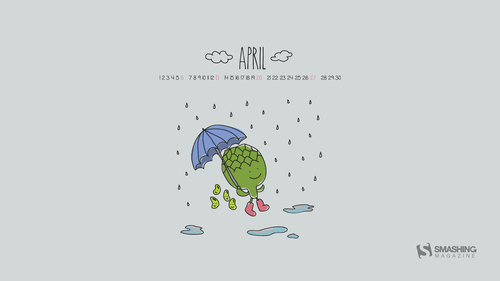 Good Day
"Some pretty flowers and spring time always make for a good day." — Designed by Amalia Van Bloom21 from the United States.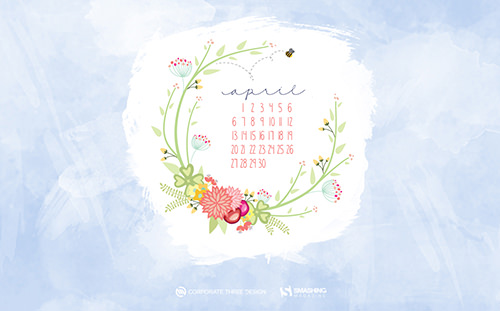 Relax!
"…and enjoy your Easter holidays with some good chocolate." — Designed by Ricardo Gimenes38 from Brazil.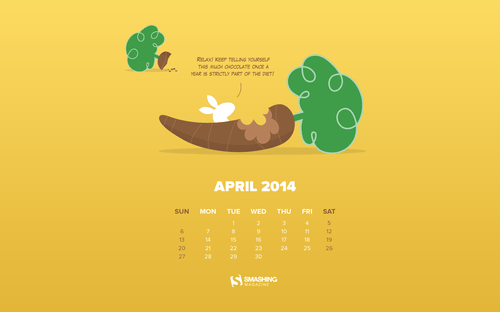 with calendar: 320×48041, 1024×76842, 1024×102443, 1280×80044, 1280×96045, 1280×102446, 1400×105047, 1440×90048, 1600×120049, 1680×105050, 1680×120051, 1920×108052, 1920×120053, 1920×144054, 2560×144055, 640×96056, 1366×76857, 1600×105058, 2880×180059
April Cosmos
"I was inspired by a non-fiction book The Living Cosmos written by University of Arizona professor of astronomy Chris Impey. It's a research of scientists trying to address the questions we ask about nature. Is there life in the universe beyond the Earth?" — Designed by Paul Ranosa79 from the Philippines.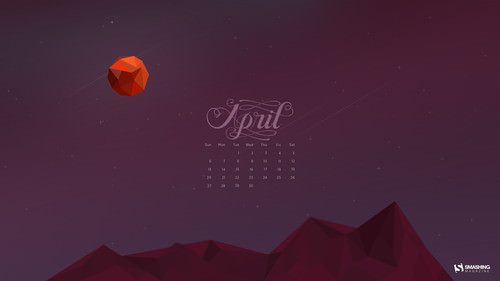 April Fool's Day
"April Fool's Day is harmless fun and a great way to get a new month kick started. The spring colors welcome the new season, while the pranks steal the stage. Our favorite is the Whoopie Cushion. It gets a laugh every time." — Designed by Clarity Creative Group92 from Orlando, FL.
with calendar: 320×48095, 640×48096, 800×48097, 800×60098, 1024×76899, 1024×1024100, 1152×864101, 1280×720102, 1280×800103, 1280×960104, 1280×1024105, 1400×1050106, 1440×900107, 1600×1200108, 1680×1050109, 1680×1200110, 1920×1080111, 1920×1200112, 1920×1440113, 2560×1440114
The Pablo Neruda' s Spring
"I love this phrase that is referred to when we have a dream, nothing can stop us." — Designed by Verónica Valenzuela135 from Spain.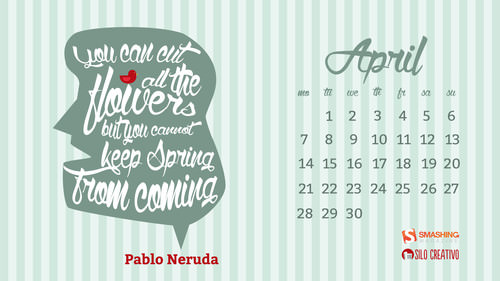 Dark Pastel
"A combination of gloomy spring showers and Easter." — Designed by Matt Noa156 from the United States.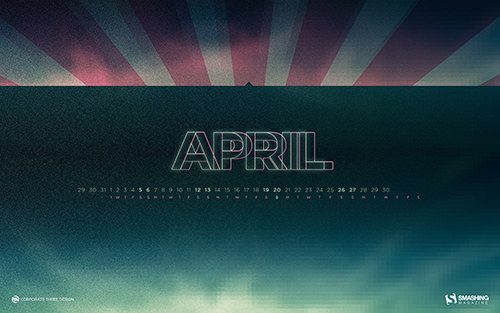 Earth Day!
Designed by Brandi Redd177 from the United States.
Flying On A Rainy day!
"April is the month of spring or autumn depending where you live on the globe! It's also the second rainiest month of the year. I was inspired by one simple motif to illustrate rain, birds and flowers. So either you witness rainy days or colorful ones … Enjoy April!" — Designed by Rana Kadry190 from Egypt.
with calendar: 320×480193, 640×480194, 800×600195, 1024×768196, 1280×720197, 1280×960198, 1280×1024199, 1400×1050200, 1680×1200201, 1920×1440202, 2560×1440203, 1366×768204, 640×960205
April Showers
"April showers bring May flowers." — Designed by Travis Bellinghausen219 from the United States.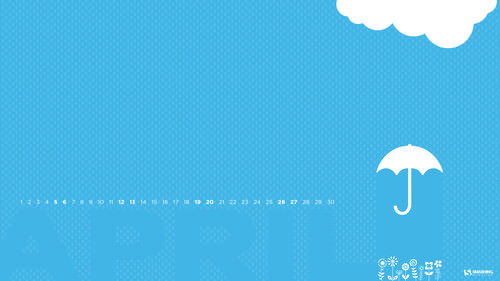 Cleanse
Designed by Dylan Baumann236 from the United States.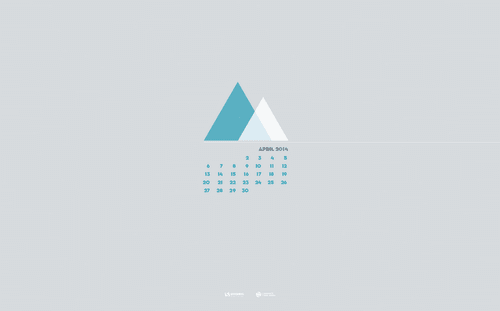 Ipoh Hor Fun
"Missing my hometown's delicious "Kai See Hor Fun" (in Cantonese), that literally translates to "Shredded Chicken Flat Rice Noodles". It is served in a clear chicken and prawn soup with chicken shreds, prawns, spring onions and noodles." — Designed by Lew Su Ann257 from Brunei.
with calendar: 640×480260, 800×600261, 1024×768262, 1152×864263, 1280×720264, 1280×800265, 1280×960266, 1400×1050267, 1440×900268, 1600×1200269, 1680×1050270, 1920×1080271, 1920×1200272, 1920×1440273, 1366×768274
Two Mountains
"This wallpaper was created to remind you to climb your mountain of challenges each day." — Designed by Randal Baker Jr.290 from Evansville, Indiana.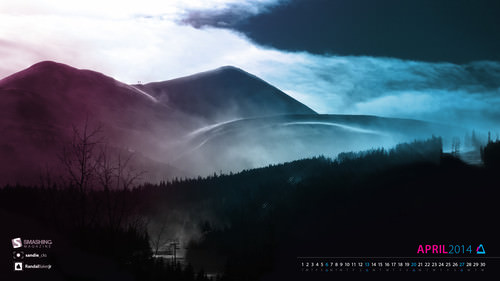 with calendar: 640×480293, 800×480294, 800×600295, 1152×864296, 1280×720297, 1280×800298, 1280×960299, 1400×1050300, 1440×900301, 1600×1200302, 1680×1050303, 1680×1200304, 1920×1080305, 1920×1200306, 2560×1440307
April X Tribeca Film Festival
"With April comes spring, flowers and a fresh breathe of warmth and creativity. April also brings one of the most creative and innovative events of the year, the Tribeca Film Festival." — Designed by Zack Aronson322 from New York, US.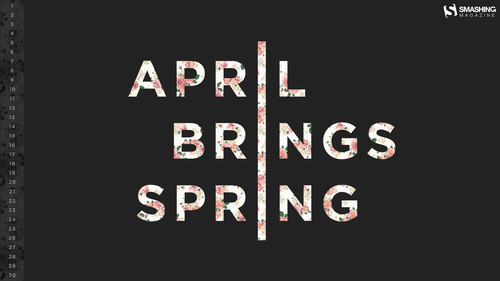 Moon Mozzarella
"Well, I was walking down the street one evening and the moon was shining brightly. I wondered what sort of cheese the moon could be made of and the first thing that came to mind was mozzarella! I also enjoy eating mozzarella." — Designed by Christie Hill339 from South Africa.
with calendar: 320×480342, 640×480343, 800×480344, 800×600345, 1024×768346, 1024×1024347, 1152×864348, 1280×720349, 1280×960350, 1280×1024351, 1440×1050352, 1440×900353, 1600×1200354, 1680×1050355, 1680×1200356, 1920×1080357, 1920×1200358, 2560×1440359
Red April
"My plant that keeps me company everyday on by desk in the studio and from time to time gives me inspiration." — Designed by Alexandru Nastase378 from Romania.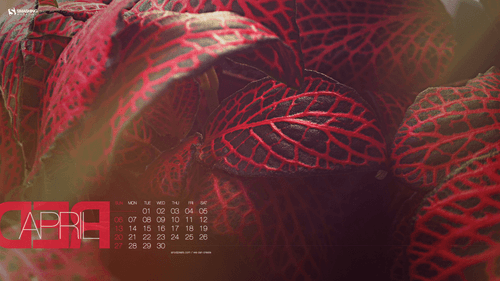 A Little Drop Of Rain
"April is a month associated with rainy days. I enjoy photographing how the weather can change the perspective of everyday things. On this rainy day, I captured the rain drops as they clung to my blue and pink polka dot umbrella." — Designed by Claire Scoufis391 from Tampa, FL.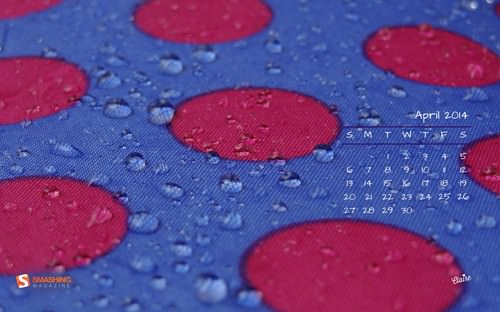 The Collection Of Birds
"The collection of birds are my travels. At each destination I buy a wood, bronze, stone bird, anything the local bazaars sell. I have all gathered at a modest vitrine in my house. I have so much loved my collection, that, after taking pictures of them I then designed each one, then created a wallpaper and overdressed a wall of my living room. Now my thought is making them as a desktop wallpaper and give them to you as a gift" — Designed by Natasha Kamou412 from Greece.
with calendar: 320×480415, 640×480416, 800×480417, 800×600418, 1024×768419, 1024×1024420, 1152×864421, 1280×720422, 1280×800423, 1280×960424, 1280×1024425, 1400×1050426, 1440×900427, 1600×1200428, 1680×1050429, 1680×1200430, 1920×1080431, 1920×1200432, 1920×1440433, 2560×1440434, 2560×1600435, 2880×1800436
without calendar: 320×480437, 640×480438, 800×480439, 800×600440, 1024×768441, 1024×1024442, 1152×864443, 1280×720444, 1280×800445, 1280×960446, 1280×1024447, 1400×1050448, 1440×900449, 1600×1200450, 1680×1050451, 1680×1200452, 1920×1080453, 1920×1200454, 1920×1440455, 2560×1440456, 2560×1600457, 2880×1800458
Not To Be A Patient In Love
"Have patience in love, not to be a patient." — Designed by Zanetine Web Design459 from India.
with calendar: 320×480462, 800×800463, 1024×768464, 1152×864465, 1200×1200466, 1366×768467, 1440×900468, 1680×1050469, 1680×1200470, 1920×1080471, 1920×1200472, 2560×1440473, 2880×1080474
Join In Next Month! Link
Please note that we respect and carefully consider the ideas and motivation behind each and every artist's work. This is why we give all artists the full freedom to explore their creativity and express emotions and experience throughout their works. This is also why the themes of the wallpapers weren't anyhow influenced by us, but rather designed from scratch by the artists themselves.
A big thank you to all designers for their participation. Join in next month488!
What's Your Favorite? Link
What's your favorite theme or wallpaper for this month? Please let us know in the comment section below.
(il)
Footnotes Link
7 http://files.smashingmagazine.com/wallpapers/april-14/sweet-april-showers-do-bring-may-flowers/apr-14-sweet-april-showers-do-bring-may-flowers-full.png
8 http://files.smashingmagazine.com/wallpapers/april-14/sweet-april-showers-do-bring-may-flowers/apr-14-sweet-april-showers-do-bring-may-flowers-preview.png
9 http://files.smashingmagazine.com/wallpapers/april-14/sweet-april-showers-do-bring-may-flowers/cal/apr-14-sweet-april-showers-do-bring-may-flowers-cal-320x480.png
10 http://files.smashingmagazine.com/wallpapers/april-14/sweet-april-showers-do-bring-may-flowers/cal/apr-14-sweet-april-showers-do-bring-may-flowers-cal-1280x800.png
11 http://files.smashingmagazine.com/wallpapers/april-14/sweet-april-showers-do-bring-may-flowers/cal/apr-14-sweet-april-showers-do-bring-may-flowers-cal-1280x1024.png
12 http://files.smashingmagazine.com/wallpapers/april-14/sweet-april-showers-do-bring-may-flowers/cal/apr-14-sweet-april-showers-do-bring-may-flowers-cal-1440x900.png
13 http://files.smashingmagazine.com/wallpapers/april-14/sweet-april-showers-do-bring-may-flowers/cal/apr-14-sweet-april-showers-do-bring-may-flowers-cal-1920x1080.png
14 http://files.smashingmagazine.com/wallpapers/april-14/sweet-april-showers-do-bring-may-flowers/cal/apr-14-sweet-april-showers-do-bring-may-flowers-cal-2560x1440.png
15 http://files.smashingmagazine.com/wallpapers/april-14/sweet-april-showers-do-bring-may-flowers/nocal/apr-14-sweet-april-showers-do-bring-may-flowers-nocal-320x480.png
16 http://files.smashingmagazine.com/wallpapers/april-14/sweet-april-showers-do-bring-may-flowers/nocal/apr-14-sweet-april-showers-do-bring-may-flowers-nocal-1280x800.png
17 http://files.smashingmagazine.com/wallpapers/april-14/sweet-april-showers-do-bring-may-flowers/nocal/apr-14-sweet-april-showers-do-bring-may-flowers-nocal-1280x1024.png
18 http://files.smashingmagazine.com/wallpapers/april-14/sweet-april-showers-do-bring-may-flowers/nocal/apr-14-sweet-april-showers-do-bring-may-flowers-nocal-1440x900.png
19 http://files.smashingmagazine.com/wallpapers/april-14/sweet-april-showers-do-bring-may-flowers/nocal/apr-14-sweet-april-showers-do-bring-may-flowers-nocal-1920x1080.png
20 http://files.smashingmagazine.com/wallpapers/april-14/sweet-april-showers-do-bring-may-flowers/nocal/apr-14-sweet-april-showers-do-bring-may-flowers-nocal-2560x1440.png
24 http://files.smashingmagazine.com/wallpapers/april-14/good-day/cal/apr-14-good-day-cal-1024x768.jpg
25 http://files.smashingmagazine.com/wallpapers/april-14/good-day/cal/apr-14-good-day-cal-1280x800.jpg
26 http://files.smashingmagazine.com/wallpapers/april-14/good-day/cal/apr-14-good-day-cal-1280x1024.jpg
27 http://files.smashingmagazine.com/wallpapers/april-14/good-day/cal/apr-14-good-day-cal-1440x900.jpg
28 http://files.smashingmagazine.com/wallpapers/april-14/good-day/cal/apr-14-good-day-cal-1920x1200.jpg
29 http://files.smashingmagazine.com/wallpapers/april-14/good-day/cal/apr-14-good-day-cal-2560x1440.jpg
30 http://files.smashingmagazine.com/wallpapers/april-14/good-day/cal/apr-14-good-day-cal-640x1136.jpg
31 http://files.smashingmagazine.com/wallpapers/april-14/good-day/nocal/apr-14-good-day-nocal-1024x768.jpg
32 http://files.smashingmagazine.com/wallpapers/april-14/good-day/nocal/apr-14-good-day-nocal-1280x800.jpg
33 http://files.smashingmagazine.com/wallpapers/april-14/good-day/nocal/apr-14-good-day-nocal-1280x1024.jpg
34 http://files.smashingmagazine.com/wallpapers/april-14/good-day/nocal/apr-14-good-day-nocal-1440x900.jpg
35 http://files.smashingmagazine.com/wallpapers/april-14/good-day/nocal/apr-14-good-day-nocal-1920x1200.jpg
36 http://files.smashingmagazine.com/wallpapers/april-14/good-day/nocal/apr-14-good-day-nocal-2560x1440.jpg
37 http://files.smashingmagazine.com/wallpapers/april-14/good-day/nocal/apr-14-good-day-nocal-640x1136.jpg
61 http://files.smashingmagazine.com/wallpapers/april-14/relax/nocal/apr-14-relax-nocal-1024x768.png
62 http://files.smashingmagazine.com/wallpapers/april-14/relax/nocal/apr-14-relax-nocal-1024x1024.png
63 http://files.smashingmagazine.com/wallpapers/april-14/relax/nocal/apr-14-relax-nocal-1280x800.png
64 http://files.smashingmagazine.com/wallpapers/april-14/relax/nocal/apr-14-relax-nocal-1280x960.png
65 http://files.smashingmagazine.com/wallpapers/april-14/relax/nocal/apr-14-relax-nocal-1280x1024.png
66 http://files.smashingmagazine.com/wallpapers/april-14/relax/nocal/apr-14-relax-nocal-1400x1050.png
67 http://files.smashingmagazine.com/wallpapers/april-14/relax/nocal/apr-14-relax-nocal-1440x900.png
68 http://files.smashingmagazine.com/wallpapers/april-14/relax/nocal/apr-14-relax-nocal-1600x1200.png
69 http://files.smashingmagazine.com/wallpapers/april-14/relax/nocal/apr-14-relax-nocal-1680x1050.png
70 http://files.smashingmagazine.com/wallpapers/april-14/relax/nocal/apr-14-relax-nocal-1680x1200.png
71 http://files.smashingmagazine.com/wallpapers/april-14/relax/nocal/apr-14-relax-nocal-1920x1080.png
72 http://files.smashingmagazine.com/wallpapers/april-14/relax/nocal/apr-14-relax-nocal-1920x1200.png
73 http://files.smashingmagazine.com/wallpapers/april-14/relax/nocal/apr-14-relax-nocal-1920x1440.png
74 http://files.smashingmagazine.com/wallpapers/april-14/relax/nocal/apr-14-relax-nocal-2560x1440.png
76 http://files.smashingmagazine.com/wallpapers/april-14/relax/nocal/apr-14-relax-nocal-1366x768.png
77 http://files.smashingmagazine.com/wallpapers/april-14/relax/nocal/apr-14-relax-nocal-1600x1050.png
78 http://files.smashingmagazine.com/wallpapers/april-14/relax/nocal/apr-14-relax-nocal-2880x1800.png
81 http://files.smashingmagazine.com/wallpapers/april-14/april-cosmos/apr-14-april-cosmos-preview.jpg
82 http://files.smashingmagazine.com/wallpapers/april-14/april-cosmos/cal/apr-14-april-cosmos-cal-1024x768.jpg
83 http://files.smashingmagazine.com/wallpapers/april-14/april-cosmos/cal/apr-14-april-cosmos-cal-1280x960.jpg
84 http://files.smashingmagazine.com/wallpapers/april-14/april-cosmos/cal/apr-14-april-cosmos-cal-1400x1050.jpg
85 http://files.smashingmagazine.com/wallpapers/april-14/april-cosmos/cal/apr-14-april-cosmos-cal-1680x1050.jpg
86 http://files.smashingmagazine.com/wallpapers/april-14/april-cosmos/cal/apr-14-april-cosmos-cal-1920x1080.jpg
87 http://files.smashingmagazine.com/wallpapers/april-14/april-cosmos/nocal/apr-14-april-cosmos-nocal-1024x768.jpg
88 http://files.smashingmagazine.com/wallpapers/april-14/april-cosmos/nocal/apr-14-april-cosmos-nocal-1280x960.jpg
89 http://files.smashingmagazine.com/wallpapers/april-14/april-cosmos/nocal/apr-14-april-cosmos-nocal-1400x1050.jpg
90 http://files.smashingmagazine.com/wallpapers/april-14/april-cosmos/nocal/apr-14-april-cosmos-nocal-1680x1050.jpg
91 http://files.smashingmagazine.com/wallpapers/april-14/april-cosmos/nocal/apr-14-april-cosmos-nocal-1920x1080.jpg
93 http://files.smashingmagazine.com/wallpapers/april-14/april-fools-day/apr-14-april-fools-day-full.png
94 http://files.smashingmagazine.com/wallpapers/april-14/april-fools-day/apr-14-april-fools-day-preview.png
95 http://files.smashingmagazine.com/wallpapers/april-14/april-fools-day/cal/apr-14-april-fools-day-cal-320x480.png
96 http://files.smashingmagazine.com/wallpapers/april-14/april-fools-day/cal/apr-14-april-fools-day-cal-640x480.png
97 http://files.smashingmagazine.com/wallpapers/april-14/april-fools-day/cal/apr-14-april-fools-day-cal-800x480.png
98 http://files.smashingmagazine.com/wallpapers/april-14/april-fools-day/cal/apr-14-april-fools-day-cal-800x600.png
99 http://files.smashingmagazine.com/wallpapers/april-14/april-fools-day/cal/apr-14-april-fools-day-cal-1024x768.png
100 http://files.smashingmagazine.com/wallpapers/april-14/april-fools-day/cal/apr-14-april-fools-day-cal-1024x1024.png
101 http://files.smashingmagazine.com/wallpapers/april-14/april-fools-day/cal/apr-14-april-fools-day-cal-1152x864.png
102 http://files.smashingmagazine.com/wallpapers/april-14/april-fools-day/cal/apr-14-april-fools-day-cal-1280x720.png
103 http://files.smashingmagazine.com/wallpapers/april-14/april-fools-day/cal/apr-14-april-fools-day-cal-1280x800.png
104 http://files.smashingmagazine.com/wallpapers/april-14/april-fools-day/cal/apr-14-april-fools-day-cal-1280x960.png
105 http://files.smashingmagazine.com/wallpapers/april-14/april-fools-day/cal/apr-14-april-fools-day-cal-1280x1024.png
106 http://files.smashingmagazine.com/wallpapers/april-14/april-fools-day/cal/apr-14-april-fools-day-cal-1400x1050.png
107 http://files.smashingmagazine.com/wallpapers/april-14/april-fools-day/cal/apr-14-april-fools-day-cal-1440x900.png
108 http://files.smashingmagazine.com/wallpapers/april-14/april-fools-day/cal/apr-14-april-fools-day-cal-1600x1200.png
109 http://files.smashingmagazine.com/wallpapers/april-14/april-fools-day/cal/apr-14-april-fools-day-cal-1680x1050.png
110 http://files.smashingmagazine.com/wallpapers/april-14/april-fools-day/cal/apr-14-april-fools-day-cal-1680x1200.png
111 http://files.smashingmagazine.com/wallpapers/april-14/april-fools-day/cal/apr-14-april-fools-day-cal-1920x1080.png
112 http://files.smashingmagazine.com/wallpapers/april-14/april-fools-day/cal/apr-14-april-fools-day-cal-1920x1200.png
113 http://files.smashingmagazine.com/wallpapers/april-14/april-fools-day/cal/apr-14-april-fools-day-cal-1920x1440.png
114 http://files.smashingmagazine.com/wallpapers/april-14/april-fools-day/cal/apr-14-april-fools-day-cal-2560x1440.png
115 http://files.smashingmagazine.com/wallpapers/april-14/april-fools-day/nocal/apr-14-april-fools-day-nocal-320x480.png
116 http://files.smashingmagazine.com/wallpapers/april-14/april-fools-day/nocal/apr-14-april-fools-day-nocal-640x480.png
117 http://files.smashingmagazine.com/wallpapers/april-14/april-fools-day/nocal/apr-14-april-fools-day-nocal-800x480.png
118 http://files.smashingmagazine.com/wallpapers/april-14/april-fools-day/nocal/apr-14-april-fools-day-nocal-800x600.png
119 http://files.smashingmagazine.com/wallpapers/april-14/april-fools-day/nocal/apr-14-april-fools-day-nocal-1024x768.png
120 http://files.smashingmagazine.com/wallpapers/april-14/april-fools-day/nocal/apr-14-april-fools-day-nocal-1024x1024.png
121 http://files.smashingmagazine.com/wallpapers/april-14/april-fools-day/nocal/apr-14-april-fools-day-nocal-1152x864.png
122 http://files.smashingmagazine.com/wallpapers/april-14/april-fools-day/nocal/apr-14-april-fools-day-nocal-1280x720.png
123 http://files.smashingmagazine.com/wallpapers/april-14/april-fools-day/nocal/apr-14-april-fools-day-nocal-1280x800.png
124 http://files.smashingmagazine.com/wallpapers/april-14/april-fools-day/nocal/apr-14-april-fools-day-nocal-1280x960.png
125 http://files.smashingmagazine.com/wallpapers/april-14/april-fools-day/nocal/apr-14-april-fools-day-nocal-1280x1024.png
126 http://files.smashingmagazine.com/wallpapers/april-14/april-fools-day/nocal/apr-14-april-fools-day-nocal-1400x1050.png
127 http://files.smashingmagazine.com/wallpapers/april-14/april-fools-day/nocal/apr-14-april-fools-day-nocal-1440x900.png
128 http://files.smashingmagazine.com/wallpapers/april-14/april-fools-day/nocal/apr-14-april-fools-day-nocal-1600x1200.png
129 http://files.smashingmagazine.com/wallpapers/april-14/april-fools-day/nocal/apr-14-april-fools-day-nocal-1680x1050.png
130 http://files.smashingmagazine.com/wallpapers/april-14/april-fools-day/nocal/apr-14-april-fools-day-nocal-1680x1200.png
131 http://files.smashingmagazine.com/wallpapers/april-14/april-fools-day/nocal/apr-14-april-fools-day-nocal-1920x1080.png
132 http://files.smashingmagazine.com/wallpapers/april-14/april-fools-day/nocal/apr-14-april-fools-day-nocal-1920x1200.png
133 http://files.smashingmagazine.com/wallpapers/april-14/april-fools-day/nocal/apr-14-april-fools-day-nocal-1920x1440.png
134 http://files.smashingmagazine.com/wallpapers/april-14/april-fools-day/nocal/apr-14-april-fools-day-nocal-2560x1440.png
136 http://files.smashingmagazine.com/wallpapers/april-14/the-pablo-neruda-s-spring/apr-14-the-pablo-neruda-s-spring-full.jpg
137 http://files.smashingmagazine.com/wallpapers/april-14/the-pablo-neruda-s-spring/apr-14-the-pablo-neruda-s-spring-preview.jpg
138 http://files.smashingmagazine.com/wallpapers/april-14/the-pablo-neruda-s-spring/cal/apr-14-the-pablo-neruda-s-spring-cal-800x480.jpg
139 http://files.smashingmagazine.com/wallpapers/april-14/the-pablo-neruda-s-spring/cal/apr-14-the-pablo-neruda-s-spring-cal-1024x768.jpg
140 http://files.smashingmagazine.com/wallpapers/april-14/the-pablo-neruda-s-spring/cal/apr-14-the-pablo-neruda-s-spring-cal-1152x864.jpg
141 http://files.smashingmagazine.com/wallpapers/april-14/the-pablo-neruda-s-spring/cal/apr-14-the-pablo-neruda-s-spring-cal-1280x800.jpg
142 http://files.smashingmagazine.com/wallpapers/april-14/the-pablo-neruda-s-spring/cal/apr-14-the-pablo-neruda-s-spring-cal-1280x960.jpg
143 http://files.smashingmagazine.com/wallpapers/april-14/the-pablo-neruda-s-spring/cal/apr-14-the-pablo-neruda-s-spring-cal-1440x900.jpg
144 http://files.smashingmagazine.com/wallpapers/april-14/the-pablo-neruda-s-spring/cal/apr-14-the-pablo-neruda-s-spring-cal-1680x1200.jpg
145 http://files.smashingmagazine.com/wallpapers/april-14/the-pablo-neruda-s-spring/cal/apr-14-the-pablo-neruda-s-spring-cal-1920x1080.jpg
146 http://files.smashingmagazine.com/wallpapers/april-14/the-pablo-neruda-s-spring/cal/apr-14-the-pablo-neruda-s-spring-cal-2560x1440.jpg
147 http://files.smashingmagazine.com/wallpapers/april-14/the-pablo-neruda-s-spring/nocal/apr-14-the-pablo-neruda-s-spring-nocal-800x480.jpg
148 http://files.smashingmagazine.com/wallpapers/april-14/the-pablo-neruda-s-spring/nocal/apr-14-the-pablo-neruda-s-spring-nocal-1024x768.jpg
149 http://files.smashingmagazine.com/wallpapers/april-14/the-pablo-neruda-s-spring/nocal/apr-14-the-pablo-neruda-s-spring-nocal-1152x864.jpg
150 http://files.smashingmagazine.com/wallpapers/april-14/the-pablo-neruda-s-spring/nocal/apr-14-the-pablo-neruda-s-spring-nocal-1280x800.jpg
151 http://files.smashingmagazine.com/wallpapers/april-14/the-pablo-neruda-s-spring/nocal/apr-14-the-pablo-neruda-s-spring-nocal-1280x960.jpg
152 http://files.smashingmagazine.com/wallpapers/april-14/the-pablo-neruda-s-spring/nocal/apr-14-the-pablo-neruda-s-spring-nocal-1440x900.jpg
153 http://files.smashingmagazine.com/wallpapers/april-14/the-pablo-neruda-s-spring/nocal/apr-14-the-pablo-neruda-s-spring-nocal-1680x1200.jpg
154 http://files.smashingmagazine.com/wallpapers/april-14/the-pablo-neruda-s-spring/nocal/apr-14-the-pablo-neruda-s-spring-nocal-1920x1080.jpg
155 http://files.smashingmagazine.com/wallpapers/april-14/the-pablo-neruda-s-spring/nocal/apr-14-the-pablo-neruda-s-spring-nocal-2560x1440.jpg
158 http://files.smashingmagazine.com/wallpapers/april-14/dark-pastel/apr-14-dark-pastel-preview.jpg
159 http://files.smashingmagazine.com/wallpapers/april-14/dark-pastel/cal/apr-14-dark-pastel-cal-1024x768.jpg
160 http://files.smashingmagazine.com/wallpapers/april-14/dark-pastel/cal/apr-14-dark-pastel-cal-1280x800.jpg
161 http://files.smashingmagazine.com/wallpapers/april-14/dark-pastel/cal/apr-14-dark-pastel-cal-1280x1024.jpg
162 http://files.smashingmagazine.com/wallpapers/april-14/dark-pastel/cal/apr-14-dark-pastel-cal-1440x900.jpg
163 http://files.smashingmagazine.com/wallpapers/april-14/dark-pastel/cal/apr-14-dark-pastel-cal-1920x1080.jpg
164 http://files.smashingmagazine.com/wallpapers/april-14/dark-pastel/cal/apr-14-dark-pastel-cal-1920x1200.jpg
165 http://files.smashingmagazine.com/wallpapers/april-14/dark-pastel/cal/apr-14-dark-pastel-cal-2560x1440.jpg
166 http://files.smashingmagazine.com/wallpapers/april-14/dark-pastel/cal/apr-14-dark-pastel-cal-2880x1800.jpg
167 http://files.smashingmagazine.com/wallpapers/april-14/dark-pastel/cal/apr-14-dark-pastel-cal-640x960.jpg
168 http://files.smashingmagazine.com/wallpapers/april-14/dark-pastel/nocal/apr-14-dark-pastel-nocal-1024x768.jpg
169 http://files.smashingmagazine.com/wallpapers/april-14/dark-pastel/nocal/apr-14-dark-pastel-nocal-1280x800.jpg
170 http://files.smashingmagazine.com/wallpapers/april-14/dark-pastel/nocal/apr-14-dark-pastel-nocal-1280x1024.jpg
171 http://files.smashingmagazine.com/wallpapers/april-14/dark-pastel/nocal/apr-14-dark-pastel-nocal-1440x900.jpg
172 http://files.smashingmagazine.com/wallpapers/april-14/dark-pastel/nocal/apr-14-dark-pastel-nocal-1920x1080.jpg
173 http://files.smashingmagazine.com/wallpapers/april-14/dark-pastel/nocal/apr-14-dark-pastel-nocal-1920x1200.jpg
174 http://files.smashingmagazine.com/wallpapers/april-14/dark-pastel/nocal/apr-14-dark-pastel-nocal-2560x1440.jpg
175 http://files.smashingmagazine.com/wallpapers/april-14/dark-pastel/nocal/apr-14-dark-pastel-nocal-2880x1800.jpg
176 http://files.smashingmagazine.com/wallpapers/april-14/dark-pastel/nocal/apr-14-dark-pastel-nocal-640x960.jpg
180 http://files.smashingmagazine.com/wallpapers/april-14/earth-day/cal/apr-14-earth-day-cal-1280x720.jpg
181 http://files.smashingmagazine.com/wallpapers/april-14/earth-day/cal/apr-14-earth-day-cal-1280x800.jpg
182 http://files.smashingmagazine.com/wallpapers/april-14/earth-day/cal/apr-14-earth-day-cal-1440x900.jpg
183 http://files.smashingmagazine.com/wallpapers/april-14/earth-day/cal/apr-14-earth-day-cal-1920x1080.jpg
184 http://files.smashingmagazine.com/wallpapers/april-14/earth-day/cal/apr-14-earth-day-cal-2560x1440.jpg
185 http://files.smashingmagazine.com/wallpapers/april-14/earth-day/nocal/apr-14-earth-day-nocal-1280x720.jpg
186 http://files.smashingmagazine.com/wallpapers/april-14/earth-day/nocal/apr-14-earth-day-nocal-1280x800.jpg
187 http://files.smashingmagazine.com/wallpapers/april-14/earth-day/nocal/apr-14-earth-day-nocal-1440x900.jpg
188 http://files.smashingmagazine.com/wallpapers/april-14/earth-day/nocal/apr-14-earth-day-nocal-1920x1080.jpg
189 http://files.smashingmagazine.com/wallpapers/april-14/earth-day/nocal/apr-14-earth-day-nocal-2560x1440.jpg
191 http://files.smashingmagazine.com/wallpapers/april-14/flying-on-a-rainy-day/apr-14-flying-on-a-rainy-day-full.jpg
192 http://files.smashingmagazine.com/wallpapers/april-14/flying-on-a-rainy-day/apr-14-flying-on-a-rainy-day-preview.jpg
193 http://files.smashingmagazine.com/wallpapers/april-14/flying-on-a-rainy-day/cal/apr-14-flying-on-a-rainy-day-cal-320x480.jpg
194 http://files.smashingmagazine.com/wallpapers/april-14/flying-on-a-rainy-day/cal/apr-14-flying-on-a-rainy-day-cal-640x480.jpg
195 http://files.smashingmagazine.com/wallpapers/april-14/flying-on-a-rainy-day/cal/apr-14-flying-on-a-rainy-day-cal-800x600.jpg
196 http://files.smashingmagazine.com/wallpapers/april-14/flying-on-a-rainy-day/cal/apr-14-flying-on-a-rainy-day-cal-1024x768.jpg
197 http://files.smashingmagazine.com/wallpapers/april-14/flying-on-a-rainy-day/cal/apr-14-flying-on-a-rainy-day-cal-1280x720.jpg
198 http://files.smashingmagazine.com/wallpapers/april-14/flying-on-a-rainy-day/cal/apr-14-flying-on-a-rainy-day-cal-1280x960.jpg
199 http://files.smashingmagazine.com/wallpapers/april-14/flying-on-a-rainy-day/cal/apr-14-flying-on-a-rainy-day-cal-1280x1024.jpg
200 http://files.smashingmagazine.com/wallpapers/april-14/flying-on-a-rainy-day/cal/apr-14-flying-on-a-rainy-day-cal-1400x1050.jpg
201 http://files.smashingmagazine.com/wallpapers/april-14/flying-on-a-rainy-day/cal/apr-14-flying-on-a-rainy-day-cal-1680x1200.jpg
202 http://files.smashingmagazine.com/wallpapers/april-14/flying-on-a-rainy-day/cal/apr-14-flying-on-a-rainy-day-cal-1920x1440.jpg
203 http://files.smashingmagazine.com/wallpapers/april-14/flying-on-a-rainy-day/cal/apr-14-flying-on-a-rainy-day-cal-2560x1440.jpg
204 http://files.smashingmagazine.com/wallpapers/april-14/flying-on-a-rainy-day/cal/apr-14-flying-on-a-rainy-day-cal-1366x768.jpg
205 http://files.smashingmagazine.com/wallpapers/april-14/flying-on-a-rainy-day/cal/apr-14-flying-on-a-rainy-day-cal-640x960.jpg
206 http://files.smashingmagazine.com/wallpapers/april-14/flying-on-a-rainy-day/nocal/apr-14-flying-on-a-rainy-day-nocal-320x480.jpg
207 http://files.smashingmagazine.com/wallpapers/april-14/flying-on-a-rainy-day/nocal/apr-14-flying-on-a-rainy-day-nocal-640x480.jpg
208 http://files.smashingmagazine.com/wallpapers/april-14/flying-on-a-rainy-day/nocal/apr-14-flying-on-a-rainy-day-nocal-800x600.jpg
209 http://files.smashingmagazine.com/wallpapers/april-14/flying-on-a-rainy-day/nocal/apr-14-flying-on-a-rainy-day-nocal-1024x768.jpg
210 http://files.smashingmagazine.com/wallpapers/april-14/flying-on-a-rainy-day/nocal/apr-14-flying-on-a-rainy-day-nocal-1280x720.jpg
211 http://files.smashingmagazine.com/wallpapers/april-14/flying-on-a-rainy-day/nocal/apr-14-flying-on-a-rainy-day-nocal-1280x960.jpg
212 http://files.smashingmagazine.com/wallpapers/april-14/flying-on-a-rainy-day/nocal/apr-14-flying-on-a-rainy-day-nocal-1280x1024.jpg
213 http://files.smashingmagazine.com/wallpapers/april-14/flying-on-a-rainy-day/nocal/apr-14-flying-on-a-rainy-day-nocal-1400x1050.jpg
214 http://files.smashingmagazine.com/wallpapers/april-14/flying-on-a-rainy-day/nocal/apr-14-flying-on-a-rainy-day-nocal-1680x1200.jpg
215 http://files.smashingmagazine.com/wallpapers/april-14/flying-on-a-rainy-day/nocal/apr-14-flying-on-a-rainy-day-nocal-1920x1440.jpg
216 http://files.smashingmagazine.com/wallpapers/april-14/flying-on-a-rainy-day/nocal/apr-14-flying-on-a-rainy-day-nocal-2560x1440.jpg
217 http://files.smashingmagazine.com/wallpapers/april-14/flying-on-a-rainy-day/nocal/apr-14-flying-on-a-rainy-day-nocal-1366x768.jpg
218 http://files.smashingmagazine.com/wallpapers/april-14/flying-on-a-rainy-day/nocal/apr-14-flying-on-a-rainy-day-nocal-640x960.jpg
220 http://files.smashingmagazine.com/wallpapers/april-14/april-showers/apr-14-april-showers-full.jpg
221 http://files.smashingmagazine.com/wallpapers/april-14/april-showers/apr-14-april-showers-preview.jpg
222 http://files.smashingmagazine.com/wallpapers/april-14/april-showers/cal/apr-14-april-showers-cal-640x960.jpg
223 http://files.smashingmagazine.com/wallpapers/april-14/april-showers/cal/apr-14-april-showers-cal-1024x768.jpg
224 http://files.smashingmagazine.com/wallpapers/april-14/april-showers/cal/apr-14-april-showers-cal-1280x800.jpg
225 http://files.smashingmagazine.com/wallpapers/april-14/april-showers/cal/apr-14-april-showers-cal-1280x1024.jpg
226 http://files.smashingmagazine.com/wallpapers/april-14/april-showers/cal/apr-14-april-showers-cal-1440x900.jpg
227 http://files.smashingmagazine.com/wallpapers/april-14/april-showers/cal/apr-14-april-showers-cal-1920x1200.jpg
228 http://files.smashingmagazine.com/wallpapers/april-14/april-showers/cal/apr-14-april-showers-cal-2560x1440.jpg
229 http://files.smashingmagazine.com/wallpapers/april-14/april-showers/nocal/apr-14-april-showers-nocal-640x960.jpg
230 http://files.smashingmagazine.com/wallpapers/april-14/april-showers/nocal/apr-14-april-showers-nocal-1024x768.jpg
231 http://files.smashingmagazine.com/wallpapers/april-14/april-showers/nocal/apr-14-april-showers-nocal-1280x800.jpg
232 http://files.smashingmagazine.com/wallpapers/april-14/april-showers/nocal/apr-14-april-showers-nocal-1280x1024.jpg
233 http://files.smashingmagazine.com/wallpapers/april-14/april-showers/nocal/apr-14-april-showers-nocal-1440x900.jpg
234 http://files.smashingmagazine.com/wallpapers/april-14/april-showers/nocal/apr-14-april-showers-nocal-1920x1200.jpg
235 http://files.smashingmagazine.com/wallpapers/april-14/april-showers/nocal/apr-14-april-showers-nocal-2560x1440.jpg
239 http://files.smashingmagazine.com/wallpapers/april-14/cleanse/cal/apr-14-cleanse-cal-320x480.png
240 http://files.smashingmagazine.com/wallpapers/april-14/cleanse/cal/apr-14-cleanse-cal-640x480.png
241 http://files.smashingmagazine.com/wallpapers/april-14/cleanse/cal/apr-14-cleanse-cal-800x600.png
242 http://files.smashingmagazine.com/wallpapers/april-14/cleanse/cal/apr-14-cleanse-cal-1024x1024.png
243 http://files.smashingmagazine.com/wallpapers/april-14/cleanse/cal/apr-14-cleanse-cal-1280x1024.png
244 http://files.smashingmagazine.com/wallpapers/april-14/cleanse/cal/apr-14-cleanse-cal-1600x1200.png
245 http://files.smashingmagazine.com/wallpapers/april-14/cleanse/cal/apr-14-cleanse-cal-1680x1200.png
246 http://files.smashingmagazine.com/wallpapers/april-14/cleanse/cal/apr-14-cleanse-cal-1920x1080.png
247 http://files.smashingmagazine.com/wallpapers/april-14/cleanse/cal/apr-14-cleanse-cal-1920x1440.png
248 http://files.smashingmagazine.com/wallpapers/april-14/cleanse/nocal/apr-14-cleanse-nocal-320x480.png
249 http://files.smashingmagazine.com/wallpapers/april-14/cleanse/nocal/apr-14-cleanse-nocal-640x480.png
250 http://files.smashingmagazine.com/wallpapers/april-14/cleanse/nocal/apr-14-cleanse-nocal-800x600.png
251 http://files.smashingmagazine.com/wallpapers/april-14/cleanse/nocal/apr-14-cleanse-nocal-1024x1024.png
252 http://files.smashingmagazine.com/wallpapers/april-14/cleanse/nocal/apr-14-cleanse-nocal-1280x1024.png
253 http://files.smashingmagazine.com/wallpapers/april-14/cleanse/nocal/apr-14-cleanse-nocal-1600x1200.png
254 http://files.smashingmagazine.com/wallpapers/april-14/cleanse/nocal/apr-14-cleanse-nocal-1680x1200.png
255 http://files.smashingmagazine.com/wallpapers/april-14/cleanse/nocal/apr-14-cleanse-nocal-1920x1080.png
256 http://files.smashingmagazine.com/wallpapers/april-14/cleanse/nocal/apr-14-cleanse-nocal-1920x1440.png
259 http://files.smashingmagazine.com/wallpapers/april-14/ipoh-hor-fun/apr-14-ipoh-hor-fun-preview.jpg
260 http://files.smashingmagazine.com/wallpapers/april-14/ipoh-hor-fun/cal/apr-14-ipoh-hor-fun-cal-640x480.jpg
261 http://files.smashingmagazine.com/wallpapers/april-14/ipoh-hor-fun/cal/apr-14-ipoh-hor-fun-cal-800x600.jpg
262 http://files.smashingmagazine.com/wallpapers/april-14/ipoh-hor-fun/cal/apr-14-ipoh-hor-fun-cal-1024x768.jpg
263 http://files.smashingmagazine.com/wallpapers/april-14/ipoh-hor-fun/cal/apr-14-ipoh-hor-fun-cal-1152x864.jpg
264 http://files.smashingmagazine.com/wallpapers/april-14/ipoh-hor-fun/cal/apr-14-ipoh-hor-fun-cal-1280x720.jpg
265 http://files.smashingmagazine.com/wallpapers/april-14/ipoh-hor-fun/cal/apr-14-ipoh-hor-fun-cal-1280x800.jpg
266 http://files.smashingmagazine.com/wallpapers/april-14/ipoh-hor-fun/cal/apr-14-ipoh-hor-fun-cal-1280x960.jpg
267 http://files.smashingmagazine.com/wallpapers/april-14/ipoh-hor-fun/cal/apr-14-ipoh-hor-fun-cal-1400x1050.jpg
268 http://files.smashingmagazine.com/wallpapers/april-14/ipoh-hor-fun/cal/apr-14-ipoh-hor-fun-cal-1440x900.jpg
269 http://files.smashingmagazine.com/wallpapers/april-14/ipoh-hor-fun/cal/apr-14-ipoh-hor-fun-cal-1600x1200.jpg
270 http://files.smashingmagazine.com/wallpapers/april-14/ipoh-hor-fun/cal/apr-14-ipoh-hor-fun-cal-1680x1050.jpg
271 http://files.smashingmagazine.com/wallpapers/april-14/ipoh-hor-fun/cal/apr-14-ipoh-hor-fun-cal-1920x1080.jpg
272 http://files.smashingmagazine.com/wallpapers/april-14/ipoh-hor-fun/cal/apr-14-ipoh-hor-fun-cal-1920x1200.jpg
273 http://files.smashingmagazine.com/wallpapers/april-14/ipoh-hor-fun/cal/apr-14-ipoh-hor-fun-cal-1920x1440.jpg
274 http://files.smashingmagazine.com/wallpapers/april-14/ipoh-hor-fun/cal/apr-14-ipoh-hor-fun-cal-1366x768.jpg
275 http://files.smashingmagazine.com/wallpapers/april-14/ipoh-hor-fun/nocal/apr-14-ipoh-hor-fun-nocal-640x480.jpg
276 http://files.smashingmagazine.com/wallpapers/april-14/ipoh-hor-fun/nocal/apr-14-ipoh-hor-fun-nocal-800x600.jpg
277 http://files.smashingmagazine.com/wallpapers/april-14/ipoh-hor-fun/nocal/apr-14-ipoh-hor-fun-nocal-1024x768.jpg
278 http://files.smashingmagazine.com/wallpapers/april-14/ipoh-hor-fun/nocal/apr-14-ipoh-hor-fun-nocal-1152x864.jpg
279 http://files.smashingmagazine.com/wallpapers/april-14/ipoh-hor-fun/nocal/apr-14-ipoh-hor-fun-nocal-1280x720.jpg
280 http://files.smashingmagazine.com/wallpapers/april-14/ipoh-hor-fun/nocal/apr-14-ipoh-hor-fun-nocal-1280x800.jpg
281 http://files.smashingmagazine.com/wallpapers/april-14/ipoh-hor-fun/nocal/apr-14-ipoh-hor-fun-nocal-1280x960.jpg
282 http://files.smashingmagazine.com/wallpapers/april-14/ipoh-hor-fun/nocal/apr-14-ipoh-hor-fun-nocal-1400x1050.jpg
283 http://files.smashingmagazine.com/wallpapers/april-14/ipoh-hor-fun/nocal/apr-14-ipoh-hor-fun-nocal-1440x900.jpg
284 http://files.smashingmagazine.com/wallpapers/april-14/ipoh-hor-fun/nocal/apr-14-ipoh-hor-fun-nocal-1600x1200.jpg
285 http://files.smashingmagazine.com/wallpapers/april-14/ipoh-hor-fun/nocal/apr-14-ipoh-hor-fun-nocal-1680x1050.jpg
286 http://files.smashingmagazine.com/wallpapers/april-14/ipoh-hor-fun/nocal/apr-14-ipoh-hor-fun-nocal-1920x1080.jpg
287 http://files.smashingmagazine.com/wallpapers/april-14/ipoh-hor-fun/nocal/apr-14-ipoh-hor-fun-nocal-1920x1200.jpg
288 http://files.smashingmagazine.com/wallpapers/april-14/ipoh-hor-fun/nocal/apr-14-ipoh-hor-fun-nocal-1920x1440.jpg
289 http://files.smashingmagazine.com/wallpapers/april-14/ipoh-hor-fun/nocal/apr-14-ipoh-hor-fun-nocal-1366x768.jpg
291 http://files.smashingmagazine.com/wallpapers/april-14/two-mountains/apr-14-two-mountains-full.jpg
292 http://files.smashingmagazine.com/wallpapers/april-14/two-mountains/apr-14-two-mountains-preview.jpg
293 http://files.smashingmagazine.com/wallpapers/april-14/two-mountains/cal/apr-14-two-mountains-cal-640x480.jpg
294 http://files.smashingmagazine.com/wallpapers/april-14/two-mountains/cal/apr-14-two-mountains-cal-800x480.jpg
295 http://files.smashingmagazine.com/wallpapers/april-14/two-mountains/cal/apr-14-two-mountains-cal-800x600.jpg
296 http://files.smashingmagazine.com/wallpapers/april-14/two-mountains/cal/apr-14-two-mountains-cal-1152x864.jpg
297 http://files.smashingmagazine.com/wallpapers/april-14/two-mountains/cal/apr-14-two-mountains-cal-1280x720.jpg
298 http://files.smashingmagazine.com/wallpapers/april-14/two-mountains/cal/apr-14-two-mountains-cal-1280x800.jpg
299 http://files.smashingmagazine.com/wallpapers/april-14/two-mountains/cal/apr-14-two-mountains-cal-1280x960.jpg
300 http://files.smashingmagazine.com/wallpapers/april-14/two-mountains/cal/apr-14-two-mountains-cal-1400x1050.jpg
301 http://files.smashingmagazine.com/wallpapers/april-14/two-mountains/cal/apr-14-two-mountains-cal-1440x900.jpg
302 http://files.smashingmagazine.com/wallpapers/april-14/two-mountains/cal/apr-14-two-mountains-cal-1600x1200.jpg
303 http://files.smashingmagazine.com/wallpapers/april-14/two-mountains/cal/apr-14-two-mountains-cal-1680x1050.jpg
304 http://files.smashingmagazine.com/wallpapers/april-14/two-mountains/cal/apr-14-two-mountains-cal-1680x1200.jpg
305 http://files.smashingmagazine.com/wallpapers/april-14/two-mountains/cal/apr-14-two-mountains-cal-1920x1080.jpg
306 http://files.smashingmagazine.com/wallpapers/april-14/two-mountains/cal/apr-14-two-mountains-cal-1920x1200.jpg
307 http://files.smashingmagazine.com/wallpapers/april-14/two-mountains/cal/apr-14-two-mountains-cal-2560x1440.jpg
308 http://files.smashingmagazine.com/wallpapers/april-14/two-mountains/nocal/apr-14-two-mountains-nocal-640x480.jpg
309 http://files.smashingmagazine.com/wallpapers/april-14/two-mountains/nocal/apr-14-two-mountains-nocal-800x480.jpg
310 http://files.smashingmagazine.com/wallpapers/april-14/two-mountains/nocal/apr-14-two-mountains-nocal-800x600.jpg
311 http://files.smashingmagazine.com/wallpapers/april-14/two-mountains/nocal/apr-14-two-mountains-nocal-1152x864.jpg
312 http://files.smashingmagazine.com/wallpapers/april-14/two-mountains/nocal/apr-14-two-mountains-nocal-1280x720.jpg
313 http://files.smashingmagazine.com/wallpapers/april-14/two-mountains/nocal/apr-14-two-mountains-nocal-1280x800.jpg
314 http://files.smashingmagazine.com/wallpapers/april-14/two-mountains/nocal/apr-14-two-mountains-nocal-1280x960.jpg
315 http://files.smashingmagazine.com/wallpapers/april-14/two-mountains/nocal/apr-14-two-mountains-nocal-1400x1050.jpg
316 http://files.smashingmagazine.com/wallpapers/april-14/two-mountains/nocal/apr-14-two-mountains-nocal-1440x900.jpg
317 http://files.smashingmagazine.com/wallpapers/april-14/two-mountains/nocal/apr-14-two-mountains-nocal-1600x1200.jpg
318 http://files.smashingmagazine.com/wallpapers/april-14/two-mountains/nocal/apr-14-two-mountains-nocal-1680x1050.jpg
319 http://files.smashingmagazine.com/wallpapers/april-14/two-mountains/nocal/apr-14-two-mountains-nocal-1680x1200.jpg
320 http://files.smashingmagazine.com/wallpapers/april-14/two-mountains/nocal/apr-14-two-mountains-nocal-1920x1080.jpg
321 http://files.smashingmagazine.com/wallpapers/april-14/two-mountains/nocal/apr-14-two-mountains-nocal-1920x1200.jpg
323 http://files.smashingmagazine.com/wallpapers/april-14/april-x-tribeca-film-festival/apr-14-april-x-tribeca-film-festival-full.png
324 http://files.smashingmagazine.com/wallpapers/april-14/april-x-tribeca-film-festival/apr-14-april-x-tribeca-film-festival-preview.png
325 http://files.smashingmagazine.com/wallpapers/april-14/april-x-tribeca-film-festival/cal/apr-14-april-x-tribeca-film-festival-cal-1280x720.png
326 http://files.smashingmagazine.com/wallpapers/april-14/april-x-tribeca-film-festival/cal/apr-14-april-x-tribeca-film-festival-cal-1280x800.png
327 http://files.smashingmagazine.com/wallpapers/april-14/april-x-tribeca-film-festival/cal/apr-14-april-x-tribeca-film-festival-cal-1440x900.png
328 http://files.smashingmagazine.com/wallpapers/april-14/april-x-tribeca-film-festival/cal/apr-14-april-x-tribeca-film-festival-cal-1680x1050.png
329 http://files.smashingmagazine.com/wallpapers/april-14/april-x-tribeca-film-festival/cal/apr-14-april-x-tribeca-film-festival-cal-1920x1080.png
330 http://files.smashingmagazine.com/wallpapers/april-14/april-x-tribeca-film-festival/cal/apr-14-april-x-tribeca-film-festival-cal-1920x1200.png
331 http://files.smashingmagazine.com/wallpapers/april-14/april-x-tribeca-film-festival/cal/apr-14-april-x-tribeca-film-festival-cal-2560x1440.png
332 http://files.smashingmagazine.com/wallpapers/april-14/april-x-tribeca-film-festival/nocal/apr-14-april-x-tribeca-film-festival-nocal-1280x720.png
333 http://files.smashingmagazine.com/wallpapers/april-14/april-x-tribeca-film-festival/nocal/apr-14-april-x-tribeca-film-festival-nocal-1280x800.png
334 http://files.smashingmagazine.com/wallpapers/april-14/april-x-tribeca-film-festival/nocal/apr-14-april-x-tribeca-film-festival-nocal-1440x900.png
335 http://files.smashingmagazine.com/wallpapers/april-14/april-x-tribeca-film-festival/nocal/apr-14-april-x-tribeca-film-festival-nocal-1680x1050.png
336 http://files.smashingmagazine.com/wallpapers/april-14/april-x-tribeca-film-festival/nocal/apr-14-april-x-tribeca-film-festival-nocal-1920x1080.png
337 http://files.smashingmagazine.com/wallpapers/april-14/april-x-tribeca-film-festival/nocal/apr-14-april-x-tribeca-film-festival-nocal-1920x1200.png
338 http://files.smashingmagazine.com/wallpapers/april-14/april-x-tribeca-film-festival/nocal/apr-14-april-x-tribeca-film-festival-nocal-2560x1440.png
340 http://files.smashingmagazine.com/wallpapers/april-14/moon-mozzarella/apr-14-moon-mozzarella-full.jpg
341 http://files.smashingmagazine.com/wallpapers/april-14/moon-mozzarella/apr-14-moon-mozzarella-preview.jpg
342 http://files.smashingmagazine.com/wallpapers/april-14/moon-mozzarella/cal/apr-14-moon-mozzarella-cal-320x480.jpg
343 http://files.smashingmagazine.com/wallpapers/april-14/moon-mozzarella/cal/apr-14-moon-mozzarella-cal-640x480.jpg
344 http://files.smashingmagazine.com/wallpapers/april-14/moon-mozzarella/cal/apr-14-moon-mozzarella-cal-800x480.jpg
345 http://files.smashingmagazine.com/wallpapers/april-14/moon-mozzarella/cal/apr-14-moon-mozzarella-cal-800x600.jpg
346 http://files.smashingmagazine.com/wallpapers/april-14/moon-mozzarella/cal/apr-14-moon-mozzarella-cal-1024x768.jpg
347 http://files.smashingmagazine.com/wallpapers/april-14/moon-mozzarella/cal/apr-14-moon-mozzarella-cal-1024x1024.jpg
348 http://files.smashingmagazine.com/wallpapers/april-14/moon-mozzarella/cal/apr-14-moon-mozzarella-cal-1152x864.jpg
349 http://files.smashingmagazine.com/wallpapers/april-14/moon-mozzarella/cal/apr-14-moon-mozzarella-cal-1280x720.jpg
350 http://files.smashingmagazine.com/wallpapers/april-14/moon-mozzarella/cal/apr-14-moon-mozzarella-cal-1280x960.jpg
351 http://files.smashingmagazine.com/wallpapers/april-14/moon-mozzarella/cal/apr-14-moon-mozzarella-cal-1280x1024.jpg
352 http://files.smashingmagazine.com/wallpapers/april-14/moon-mozzarella/cal/apr-14-moon-mozzarella-cal-1440x1050.jpg
353 http://files.smashingmagazine.com/wallpapers/april-14/moon-mozzarella/cal/apr-14-moon-mozzarella-cal-1440x900.jpg
354 http://files.smashingmagazine.com/wallpapers/april-14/moon-mozzarella/cal/apr-14-moon-mozzarella-cal-1600x1200.jpg
355 http://files.smashingmagazine.com/wallpapers/april-14/moon-mozzarella/cal/apr-14-moon-mozzarella-cal-1680x1050.jpg
356 http://files.smashingmagazine.com/wallpapers/april-14/moon-mozzarella/cal/apr-14-moon-mozzarella-cal-1680x1200.jpg
357 http://files.smashingmagazine.com/wallpapers/april-14/moon-mozzarella/cal/apr-14-moon-mozzarella-cal-1920x1080.jpg
358 http://files.smashingmagazine.com/wallpapers/april-14/moon-mozzarella/cal/apr-14-moon-mozzarella-cal-1920x1200.jpg
359 http://files.smashingmagazine.com/wallpapers/april-14/moon-mozzarella/cal/apr-14-moon-mozzarella-cal-2560x1440.jpg
360 http://files.smashingmagazine.com/wallpapers/april-14/moon-mozzarella/nocal/apr-14-moon-mozzarella-nocal-320x480.jpg
361 http://files.smashingmagazine.com/wallpapers/april-14/moon-mozzarella/nocal/apr-14-moon-mozzarella-nocal-640x480.jpg
362 http://files.smashingmagazine.com/wallpapers/april-14/moon-mozzarella/nocal/apr-14-moon-mozzarella-nocal-800x480.jpg
363 http://files.smashingmagazine.com/wallpapers/april-14/moon-mozzarella/nocal/apr-14-moon-mozzarella-nocal-800x600.jpg
364 http://files.smashingmagazine.com/wallpapers/april-14/moon-mozzarella/nocal/apr-14-moon-mozzarella-nocal-1024x768.jpg
365 http://files.smashingmagazine.com/wallpapers/april-14/moon-mozzarella/nocal/apr-14-moon-mozzarella-nocal-1024x1024.jpg
366 http://files.smashingmagazine.com/wallpapers/april-14/moon-mozzarella/nocal/apr-14-moon-mozzarella-nocal-1152x864.jpg
367 http://files.smashingmagazine.com/wallpapers/april-14/moon-mozzarella/nocal/apr-14-moon-mozzarella-nocal-1280x720.jpg
368 http://files.smashingmagazine.com/wallpapers/april-14/moon-mozzarella/nocal/apr-14-moon-mozzarella-nocal-1280x960.jpg
369 http://files.smashingmagazine.com/wallpapers/april-14/moon-mozzarella/nocal/apr-14-moon-mozzarella-nocal-1280x1024.jpg
370 http://files.smashingmagazine.com/wallpapers/april-14/moon-mozzarella/nocal/apr-14-moon-mozzarella-nocal-1440x1050.jpg
371 http://files.smashingmagazine.com/wallpapers/april-14/moon-mozzarella/nocal/apr-14-moon-mozzarella-nocal-1440x900.jpg
372 http://files.smashingmagazine.com/wallpapers/april-14/moon-mozzarella/nocal/apr-14-moon-mozzarella-nocal-1600x1200.jpg
373 http://files.smashingmagazine.com/wallpapers/april-14/moon-mozzarella/nocal/apr-14-moon-mozzarella-nocal-1680x1050.jpg
374 http://files.smashingmagazine.com/wallpapers/april-14/moon-mozzarella/nocal/apr-14-moon-mozzarella-nocal-1680x1200.jpg
375 http://files.smashingmagazine.com/wallpapers/april-14/moon-mozzarella/nocal/apr-14-moon-mozzarella-nocal-1920x1080.jpg
376 http://files.smashingmagazine.com/wallpapers/april-14/moon-mozzarella/nocal/apr-14-moon-mozzarella-nocal-1920x1200.jpg
377 http://files.smashingmagazine.com/wallpapers/april-14/moon-mozzarella/nocal/apr-14-moon-mozzarella-nocal-2560x1440.jpg
381 http://files.smashingmagazine.com/wallpapers/april-14/red-april/cal/apr-14-red-april-cal-1440x900.png
382 http://files.smashingmagazine.com/wallpapers/april-14/red-april/cal/apr-14-red-april-cal-1680x1050.png
383 http://files.smashingmagazine.com/wallpapers/april-14/red-april/cal/apr-14-red-april-cal-1920x1080.png
384 http://files.smashingmagazine.com/wallpapers/april-14/red-april/cal/apr-14-red-april-cal-1920x1200.png
385 http://files.smashingmagazine.com/wallpapers/april-14/red-april/cal/apr-14-red-april-cal-2560x1440.png
386 http://files.smashingmagazine.com/wallpapers/april-14/red-april/nocal/apr-14-red-april-nocal-1440x900.png
387 http://files.smashingmagazine.com/wallpapers/april-14/red-april/nocal/apr-14-red-april-nocal-1680x1050.png
388 http://files.smashingmagazine.com/wallpapers/april-14/red-april/nocal/apr-14-red-april-nocal-1920x1080.png
389 http://files.smashingmagazine.com/wallpapers/april-14/red-april/nocal/apr-14-red-april-nocal-1920x1200.png
390 http://files.smashingmagazine.com/wallpapers/april-14/red-april/nocal/apr-14-red-april-nocal-2560x1440.png
392 http://files.smashingmagazine.com/wallpapers/april-14/a-little-drop-of-rain/apr-14-a-little-drop-of-rain-full.jpg
393 http://files.smashingmagazine.com/wallpapers/april-14/a-little-drop-of-rain/apr-14-a-little-drop-of-rain-preview.jpg
394 http://files.smashingmagazine.com/wallpapers/april-14/a-little-drop-of-rain/cal/apr-14-a-little-drop-of-rain-cal-640x960.jpg
395 http://files.smashingmagazine.com/wallpapers/april-14/a-little-drop-of-rain/cal/apr-14-a-little-drop-of-rain-cal-1024x768.jpg
396 http://files.smashingmagazine.com/wallpapers/april-14/a-little-drop-of-rain/cal/apr-14-a-little-drop-of-rain-cal-1280x800.jpg
397 http://files.smashingmagazine.com/wallpapers/april-14/a-little-drop-of-rain/cal/apr-14-a-little-drop-of-rain-cal-1280x1024.jpg
398 http://files.smashingmagazine.com/wallpapers/april-14/a-little-drop-of-rain/cal/apr-14-a-little-drop-of-rain-cal-1440x900.jpg
399 http://files.smashingmagazine.com/wallpapers/april-14/a-little-drop-of-rain/cal/apr-14-a-little-drop-of-rain-cal-1920x1080.jpg
400 http://files.smashingmagazine.com/wallpapers/april-14/a-little-drop-of-rain/cal/apr-14-a-little-drop-of-rain-cal-1920x1200.jpg
401 http://files.smashingmagazine.com/wallpapers/april-14/a-little-drop-of-rain/cal/apr-14-a-little-drop-of-rain-cal-2560x1440.jpg
402 http://files.smashingmagazine.com/wallpapers/april-14/a-little-drop-of-rain/cal/apr-14-a-little-drop-of-rain-cal-2880x1800.jpg
403 http://files.smashingmagazine.com/wallpapers/april-14/a-little-drop-of-rain/nocal/apr-14-a-little-drop-of-rain-nocal-640x960.jpg
404 http://files.smashingmagazine.com/wallpapers/april-14/a-little-drop-of-rain/nocal/apr-14-a-little-drop-of-rain-nocal-1024x768.jpg
405 http://files.smashingmagazine.com/wallpapers/april-14/a-little-drop-of-rain/nocal/apr-14-a-little-drop-of-rain-nocal-1280x800.jpg
406 http://files.smashingmagazine.com/wallpapers/april-14/a-little-drop-of-rain/nocal/apr-14-a-little-drop-of-rain-nocal-1280x1024.jpg
407 http://files.smashingmagazine.com/wallpapers/april-14/a-little-drop-of-rain/nocal/apr-14-a-little-drop-of-rain-nocal-1440x900.jpg
408 http://files.smashingmagazine.com/wallpapers/april-14/a-little-drop-of-rain/nocal/apr-14-a-little-drop-of-rain-nocal-1920x1080.jpg
409 http://files.smashingmagazine.com/wallpapers/april-14/a-little-drop-of-rain/nocal/apr-14-a-little-drop-of-rain-nocal-1920x1200.jpg
410 http://files.smashingmagazine.com/wallpapers/april-14/a-little-drop-of-rain/nocal/apr-14-a-little-drop-of-rain-nocal-2560x1440.jpg
411 http://files.smashingmagazine.com/wallpapers/april-14/a-little-drop-of-rain/nocal/apr-14-a-little-drop-of-rain-nocal-2880x1800.jpg
413 http://files.smashingmagazine.com/wallpapers/april-14/the-collection-of-birds/apr-14-the-collection-of-birds-full.jpg
414 http://files.smashingmagazine.com/wallpapers/april-14/the-collection-of-birds/apr-14-the-collection-of-birds-preview.jpg
415 http://files.smashingmagazine.com/wallpapers/april-14/the-collection-of-birds/cal/apr-14-the-collection-of-birds-cal-320x480.jpg
416 http://files.smashingmagazine.com/wallpapers/april-14/the-collection-of-birds/cal/apr-14-the-collection-of-birds-cal-640x480.jpg
417 http://files.smashingmagazine.com/wallpapers/april-14/the-collection-of-birds/cal/apr-14-the-collection-of-birds-cal-800x480.jpg
418 http://files.smashingmagazine.com/wallpapers/april-14/the-collection-of-birds/cal/apr-14-the-collection-of-birds-cal-800x600.jpg
419 http://files.smashingmagazine.com/wallpapers/april-14/the-collection-of-birds/cal/apr-14-the-collection-of-birds-cal-1024x768.jpg
420 http://files.smashingmagazine.com/wallpapers/april-14/the-collection-of-birds/cal/apr-14-the-collection-of-birds-cal-1024x1024.jpg
421 http://files.smashingmagazine.com/wallpapers/april-14/the-collection-of-birds/cal/apr-14-the-collection-of-birds-cal-1152x864.jpg
422 http://files.smashingmagazine.com/wallpapers/april-14/the-collection-of-birds/cal/apr-14-the-collection-of-birds-cal-1280x720.jpg
423 http://files.smashingmagazine.com/wallpapers/april-14/the-collection-of-birds/cal/apr-14-the-collection-of-birds-cal-1280x800.jpg
424 http://files.smashingmagazine.com/wallpapers/april-14/the-collection-of-birds/cal/apr-14-the-collection-of-birds-cal-1280x960.jpg
425 http://files.smashingmagazine.com/wallpapers/april-14/the-collection-of-birds/cal/apr-14-the-collection-of-birds-cal-1280x1024.jpg
426 http://files.smashingmagazine.com/wallpapers/april-14/the-collection-of-birds/cal/apr-14-the-collection-of-birds-cal-1400x1050.jpg
427 http://files.smashingmagazine.com/wallpapers/april-14/the-collection-of-birds/cal/apr-14-the-collection-of-birds-cal-1440x900.jpg
428 http://files.smashingmagazine.com/wallpapers/april-14/the-collection-of-birds/cal/apr-14-the-collection-of-birds-cal-1600x1200.jpg
429 http://files.smashingmagazine.com/wallpapers/april-14/the-collection-of-birds/cal/apr-14-the-collection-of-birds-cal-1680x1050.jpg
430 http://files.smashingmagazine.com/wallpapers/april-14/the-collection-of-birds/cal/apr-14-the-collection-of-birds-cal-1680x1200.jpg
431 http://files.smashingmagazine.com/wallpapers/april-14/the-collection-of-birds/cal/apr-14-the-collection-of-birds-cal-1920x1080.jpg
432 http://files.smashingmagazine.com/wallpapers/april-14/the-collection-of-birds/cal/apr-14-the-collection-of-birds-cal-1920x1200.jpg
433 http://files.smashingmagazine.com/wallpapers/april-14/the-collection-of-birds/cal/apr-14-the-collection-of-birds-cal-1920x1440.jpg
434 http://files.smashingmagazine.com/wallpapers/april-14/the-collection-of-birds/cal/apr-14-the-collection-of-birds-cal-2560x1440.jpg
435 http://files.smashingmagazine.com/wallpapers/april-14/the-collection-of-birds/cal/apr-14-the-collection-of-birds-cal-2560x1600.jpg
436 http://files.smashingmagazine.com/wallpapers/april-14/the-collection-of-birds/cal/apr-14-the-collection-of-birds-cal-2880x1800.jpg
437 http://files.smashingmagazine.com/wallpapers/april-14/the-collection-of-birds/nocal/apr-14-the-collection-of-birds-nocal-320x480.jpg
438 http://files.smashingmagazine.com/wallpapers/april-14/the-collection-of-birds/nocal/apr-14-the-collection-of-birds-nocal-640x480.jpg
439 http://files.smashingmagazine.com/wallpapers/april-14/the-collection-of-birds/nocal/apr-14-the-collection-of-birds-nocal-800x480.jpg
440 http://files.smashingmagazine.com/wallpapers/april-14/the-collection-of-birds/nocal/apr-14-the-collection-of-birds-nocal-800x600.jpg
441 http://files.smashingmagazine.com/wallpapers/april-14/the-collection-of-birds/nocal/apr-14-the-collection-of-birds-nocal-1024x768.jpg
442 http://files.smashingmagazine.com/wallpapers/april-14/the-collection-of-birds/nocal/apr-14-the-collection-of-birds-nocal-1024x1024.jpg
443 http://files.smashingmagazine.com/wallpapers/april-14/the-collection-of-birds/nocal/apr-14-the-collection-of-birds-nocal-1152x864.jpg
444 http://files.smashingmagazine.com/wallpapers/april-14/the-collection-of-birds/nocal/apr-14-the-collection-of-birds-nocal-1280x720.jpg
445 http://files.smashingmagazine.com/wallpapers/april-14/the-collection-of-birds/nocal/apr-14-the-collection-of-birds-nocal-1280x800.jpg
446 http://files.smashingmagazine.com/wallpapers/april-14/the-collection-of-birds/nocal/apr-14-the-collection-of-birds-nocal-1280x960.jpg
447 http://files.smashingmagazine.com/wallpapers/april-14/the-collection-of-birds/nocal/apr-14-the-collection-of-birds-nocal-1280x1024.jpg
448 http://files.smashingmagazine.com/wallpapers/april-14/the-collection-of-birds/nocal/apr-14-the-collection-of-birds-nocal-1400x1050.jpg
449 http://files.smashingmagazine.com/wallpapers/april-14/the-collection-of-birds/nocal/apr-14-the-collection-of-birds-nocal-1440x900.jpg
450 http://files.smashingmagazine.com/wallpapers/april-14/the-collection-of-birds/nocal/apr-14-the-collection-of-birds-nocal-1600x1200.jpg
451 http://files.smashingmagazine.com/wallpapers/april-14/the-collection-of-birds/nocal/apr-14-the-collection-of-birds-nocal-1680x1050.jpg
452 http://files.smashingmagazine.com/wallpapers/april-14/the-collection-of-birds/nocal/apr-14-the-collection-of-birds-nocal-1680x1200.jpg
453 http://files.smashingmagazine.com/wallpapers/april-14/the-collection-of-birds/nocal/apr-14-the-collection-of-birds-nocal-1920x1080.jpg
454 http://files.smashingmagazine.com/wallpapers/april-14/the-collection-of-birds/nocal/apr-14-the-collection-of-birds-nocal-1920x1200.jpg
455 http://files.smashingmagazine.com/wallpapers/april-14/the-collection-of-birds/nocal/apr-14-the-collection-of-birds-nocal-1920x1440.jpg
456 http://files.smashingmagazine.com/wallpapers/april-14/the-collection-of-birds/nocal/apr-14-the-collection-of-birds-nocal-2560x1440.jpg
457 http://files.smashingmagazine.com/wallpapers/april-14/the-collection-of-birds/nocal/apr-14-the-collection-of-birds-nocal-2560x1600.jpg
458 http://files.smashingmagazine.com/wallpapers/april-14/the-collection-of-birds/nocal/apr-14-the-collection-of-birds-nocal-2880x1800.jpg
460 http://files.smashingmagazine.com/wallpapers/april-14/not_to_be_a_patient_in_love/apr-14-not_to_be_a_patient_in_love-full.jpg
461 http://files.smashingmagazine.com/wallpapers/april-14/not_to_be_a_patient_in_love/apr-14-not_to_be_a_patient_in_love-preview.jpg
462 http://files.smashingmagazine.com/wallpapers/april-14/not_to_be_a_patient_in_love/cal/apr-14-not_to_be_a_patient_in_love-cal-320x480.jpg
463 http://files.smashingmagazine.com/wallpapers/april-14/not_to_be_a_patient_in_love/cal/apr-14-not_to_be_a_patient_in_love-cal-800x800.jpg
464 http://files.smashingmagazine.com/wallpapers/april-14/not_to_be_a_patient_in_love/cal/apr-14-not_to_be_a_patient_in_love-cal-1024x768.jpg
465 http://files.smashingmagazine.com/wallpapers/april-14/not_to_be_a_patient_in_love/cal/apr-14-not_to_be_a_patient_in_love-cal-1152x864.jpg
466 http://files.smashingmagazine.com/wallpapers/april-14/not_to_be_a_patient_in_love/cal/apr-14-not_to_be_a_patient_in_love-cal-1200x1200.jpg
467 http://files.smashingmagazine.com/wallpapers/april-14/not_to_be_a_patient_in_love/cal/apr-14-not_to_be_a_patient_in_love-cal-1366x768.jpg
468 http://files.smashingmagazine.com/wallpapers/april-14/not_to_be_a_patient_in_love/cal/apr-14-not_to_be_a_patient_in_love-cal-1440x900.jpg
469 http://files.smashingmagazine.com/wallpapers/april-14/not_to_be_a_patient_in_love/cal/apr-14-not_to_be_a_patient_in_love-cal-1680x1050.jpg
470 http://files.smashingmagazine.com/wallpapers/april-14/not_to_be_a_patient_in_love/cal/apr-14-not_to_be_a_patient_in_love-cal-1680x1200.jpg
471 http://files.smashingmagazine.com/wallpapers/april-14/not_to_be_a_patient_in_love/cal/apr-14-not_to_be_a_patient_in_love-cal-1920x1080.jpg
472 http://files.smashingmagazine.com/wallpapers/april-14/not_to_be_a_patient_in_love/cal/apr-14-not_to_be_a_patient_in_love-cal-1920x1200.jpg
473 http://files.smashingmagazine.com/wallpapers/april-14/not_to_be_a_patient_in_love/cal/apr-14-not_to_be_a_patient_in_love-cal-2560x1440.jpg
474 http://files.smashingmagazine.com/wallpapers/april-14/not_to_be_a_patient_in_love/cal/apr-14-not_to_be_a_patient_in_love-cal-2880x1080.jpg
475 http://files.smashingmagazine.com/wallpapers/april-14/not_to_be_a_patient_in_love/nocal/apr-14-not_to_be_a_patient_in_love-nocal-320x480.jpg
476 http://files.smashingmagazine.com/wallpapers/april-14/not_to_be_a_patient_in_love/nocal/apr-14-not_to_be_a_patient_in_love-nocal-800x800.jpg
477 http://files.smashingmagazine.com/wallpapers/april-14/not_to_be_a_patient_in_love/nocal/apr-14-not_to_be_a_patient_in_love-nocal-1024x768.jpg
478 http://files.smashingmagazine.com/wallpapers/april-14/not_to_be_a_patient_in_love/nocal/apr-14-not_to_be_a_patient_in_love-nocal-1152x864.jpg
479 http://files.smashingmagazine.com/wallpapers/april-14/not_to_be_a_patient_in_love/nocal/apr-14-not_to_be_a_patient_in_love-nocal-1200x1200.jpg
480 http://files.smashingmagazine.com/wallpapers/april-14/not_to_be_a_patient_in_love/nocal/apr-14-not_to_be_a_patient_in_love-nocal-1366x768.jpg
481 http://files.smashingmagazine.com/wallpapers/april-14/not_to_be_a_patient_in_love/nocal/apr-14-not_to_be_a_patient_in_love-nocal-1440x900.jpg
482 http://files.smashingmagazine.com/wallpapers/april-14/not_to_be_a_patient_in_love/nocal/apr-14-not_to_be_a_patient_in_love-nocal-1680x1050.jpg
483 http://files.smashingmagazine.com/wallpapers/april-14/not_to_be_a_patient_in_love/nocal/apr-14-not_to_be_a_patient_in_love-nocal-1680x1200.jpg
484 http://files.smashingmagazine.com/wallpapers/april-14/not_to_be_a_patient_in_love/nocal/apr-14-not_to_be_a_patient_in_love-nocal-1920x1080.jpg
485 http://files.smashingmagazine.com/wallpapers/april-14/not_to_be_a_patient_in_love/nocal/apr-14-not_to_be_a_patient_in_love-nocal-1920x1200.jpg
486 http://files.smashingmagazine.com/wallpapers/april-14/not_to_be_a_patient_in_love/nocal/apr-14-not_to_be_a_patient_in_love-nocal-2560x1440.jpg
487 http://files.smashingmagazine.com/wallpapers/april-14/not_to_be_a_patient_in_love/nocal/apr-14-not_to_be_a_patient_in_love-nocal-2880x1080.jpg