November is a rather gray month in many parts of the world, so what could be better as some colorful inspiration to start it off with the right foot? To tickle your creativity, artists and designers from across the globe once again challenged their artistic abilities and designed desktop wallpapers for you to indulge in. Wallpapers that are a bit more distinctive as the usual crowd, bound to breathe some fresh life into your routine.
All artworks in this collection come in versions with and without a calendar for November 2017, so it's up to you to decide if you want to have the month always in sight or just some distraction-free inspiration. A big thank-you to everyone who shared their wallpapers this time around! Enjoy!
Please note that:
All images can be clicked on and lead to the preview of the wallpaper,
You can feature your work in our magazine by taking part in our Desktop Wallpaper Calendars series. We are regularly looking for creative designers and artists to be featured on Smashing Magazine. Are you one of them?
Colorful Autumn
"Autumn can be dreary, especially in November, when rain starts pouring every day. We wanted to summon better days, so that's how this colourful November calendar was created. Open your umbrella and let's roll!" — Designed by PopArt Studio from Serbia.
The Kind Soul
"Kindness drives humanity. Be kind. Be humble. Be humane. Be the best of yourself! Here is presenting to you an inspiration in form of a calendar for November." — Designed by Color Mean Creative Studio from Dubai.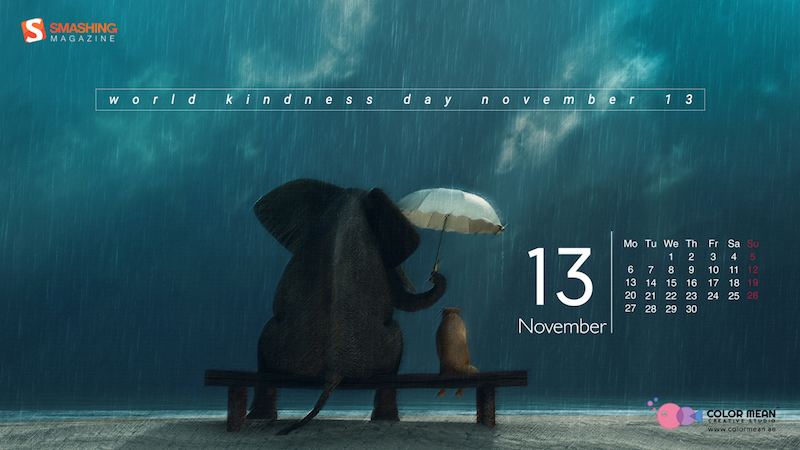 November Fun
Designed by Xenia Latii from Germany.
Autumn Darkness
"'When autumn darkness falls, what we will remember are the small acts of kindness: a cake, a hug, an invitation to talk, and every single rose. These are all expressions of a nation coming together and caring about its people.' (Jens Stoltenberg)" — Designed by Dipanjan Karmakar from India.
Tempestuous November
"By the end of autumn, ferocious Poseidon will part from tinted clouds and timid breeze. After this uneven clash, the sky once more becomes pellucid just in time for imminent luminous snow." — Designed by Ana Masnikosa from Belgrade, Serbia.
Fall Breeze
"The colorful leaves and cool breeze that make you want to snuggle in your couch at home inspired me to create this fall design." — Designed by Allison Coyle from the United States.
Music From Nature
Designed by StarAdmin from India.
No Shave Movember
"The goal of Movember is to 'change the face of men's health.'" — Designed by Suman Sil from India.
Welcome November
"Dear November, be awesome!" — Designed by PlusCharts from India.
Peanut Butter Jelly Time!
"November is the Peanut Butter Month so I decided to make a wallpaper around that. As everyone knows peanut butter goes really well with some jelly so I made two sandwiches, one with peanut butter and one with jelly. Together they make the best combination. I also think peanut butter tastes pretty good so that's why I chose this for my wallpaper." — Designed by Senne Mommens from Belgium.
Autumn In November
Designed by Dielan Ophals from Belgium.
Coco Chanel
"Beauty begins the moment you decide to be yourself - Coco Chanel" — Designed by Tazi from Australia.
Movember
"Movember is an annual event involving the growing of mustaches during the month of November to raise awareness of men's health issues, such as prostate cancer, testicular cancer and men's suicide. This wallpaper is to support men's health." — Designed by Hemangi Rane from Gainesville, FL.
Fantastic Dreams
"No dream is too big. No challenge is too great. The whole universe is friendly to us and conspires only to give the best to those who dream and work." — Designed by BootstrapDash from India.
Curious Squirrel
Designed by Saul Wauters from Belgium.
Give Thanks
"'Feeling gratitude and not expressing it is like wrapping a present and not giving it.' (William Arthur Ward)" — Designed by TemplateWatch from India.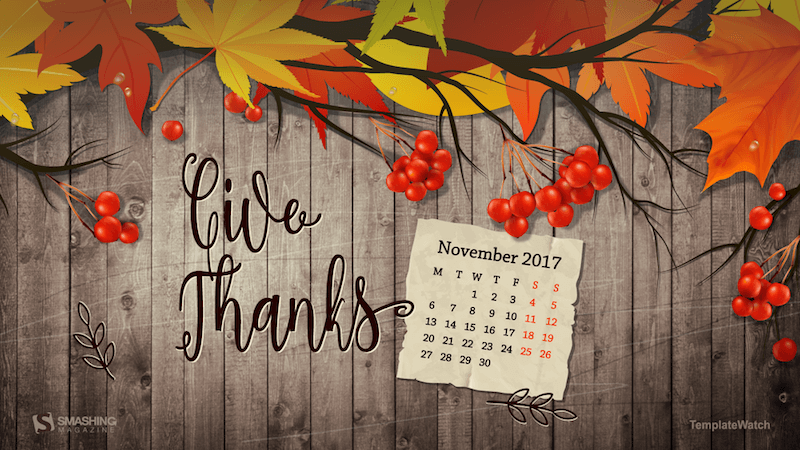 Happy Thanksgiving
"This Thanksgiving, we wish that God showers you and your family with, peace, love, warmth, and joy." — Designed by Mozilor from India.
Happy Birthday C.S.Lewis!
"It's C.S. Lewis's birthday on the 29th November, so I decided to create this 'Chronicles of Narnia' inspired wallpaper to honour this day." — Designed by Safia Begum from the United Kingdom.
Howling At The Moon
"The short days of the autumn and the early nights of winter. The image gives you the feeling of a cold night in autumn." — Designed by Lars Pauwels from Belgium.
Maple Leaf Globe
Designed by Hannah Joy Patterson from the USA.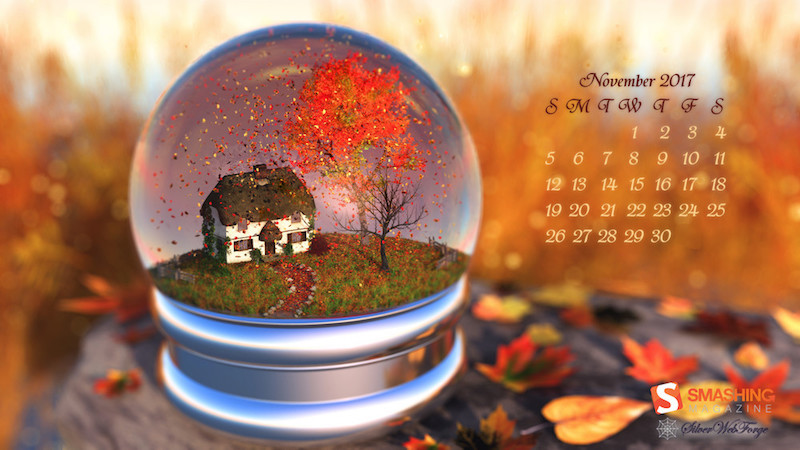 Autumn In The Park
"November is great for having a walk in the park, being out of your house, watching the few colored leaves that are still hanging on the trees. Enjoy the fresh but cold air from a blue sky on a nice November day." — Designed by Arne Ameye from Belgium.
Melancholy
"November brings us deeper into Autumn, when all leaves are brown and yellow, and Summer is just a distant memory to which we look back with a sweet melancholy." — Designed by Pedro Vaz from Portugal.
Armistice Day
"In Belgium we have Armistice Day on November the 11th. This is a Bank Holiday. We remember the end of the War and all the weapons were put down." — Designed by Ruben Annaert from Belgium.
Success Is A State Of Mind
Designed by Metrovista from Orlando, FL.
Meteor Shower
"Since I was a kid I've always been extremely inspired by astronomy. Starting this project I found out that many meteor showers occur during November. I had never made a proper space-related illustration before and I definitely took my chance now." — Designed by Yannis Wellemans from Belgium.
Stop Being So Hammer-Headed
"A single hammer headed person around can simply ruin your entire peace and pleasure when you are working on something great. As it's an empty vessel, nothing much to expect but loud noise. It's easy to identify those from outside and being hammer headed is a choice. So, consider people around, stop hitting yourself into others and let them do whatever they feel like." — Designed by Sweans from London.
Someone Sleeps More
Designed by UrbanUI from India.
Welcome A Season Of Chilling Joy
"The season of plenty of warmth and love has just stepped in… Enjoy the chill with the joy of sharing." — Designed by Areva Digital from India.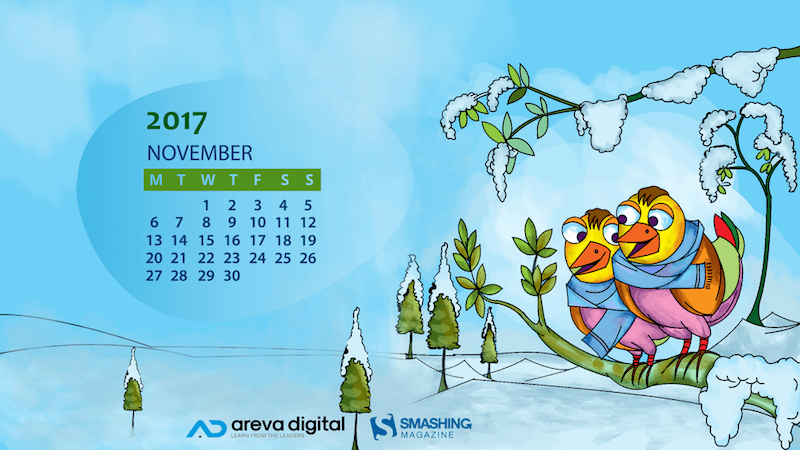 Welcome Winter
"When it's cold outside, bring out the warmth and love in your hearts; to enjoy what the season has kept in store for you. Let's welcome the onset of winter this November with open arms." — Designed by Acodez from India.
Join In Next Month!
Please note that we respect and carefully consider the ideas and motivation behind each and every artist's work. This is why we give all artists the full freedom to explore their creativity and express emotions and experience throughout their works. This is also why the themes of the wallpapers weren't anyhow influenced by us, but rather designed from scratch by the artists themselves.
A big thank you to all designers for their participation. Join in next month!
What's Your Favorite?
What's your favorite theme or wallpaper for this month? Please let us know in the comment section below.