The new year is an opportunity to start over fresh, to overcome routines and rethink processes. And, well, despite all the New Year's resolutions you might have made, sometimes it's the small things that work wonders. A tidy desktop and a new, inspiring wallpaper, for example, that caters for a little inspiration shot when you need one.
To kick off 2018 with wallpapers that are a bit more distinctive as the usual crowd, artists and designers from across the globe once again challenged their artistic skills and designed unique desktop wallpapers for you to indulge in. This creativity mission has been going on for almost ten years already, and we are very thankful to everyone who has and still is diligently contributing to it.
All wallpapers in this collection come in versions with and without a calendar for January 2018 and can be downloaded for free. Happy new year!
Further Reading

on SmashingMag:

Please note that:
All images can be clicked on and lead to the preview of the wallpaper,
You can feature your work in our magazine by taking part in our Desktop Wallpaper Calendars series. We are regularly looking for creative designers and artists to be featured on Smashing Magazine. Are you one of them?
Cheers To New Challenges
"When a New Year is just around the corner, we look back to what we did wrong and what we did right in the year that's passed. We grow better and wiser. But the time to reflect is now (also) passed. Cheers to a New Year and new challenges! Bring it on, 2018!" — Designed by Friendlystock from Greece.
Open The Doors Of The New Year
"January is the first month of the year and is usually the coldest winter month in the Northern hemisphere. The name of the month of January comes from 'ianua', the Latin word for door, so this month denotes the door to the new year and a new beginning. Let's open the doors of the New Year of 2018 together and hope it will be the best so far!" — Designed by PopArt Studio from Serbia.
Colours Of Festivity And Celebration
"The chilling season of winter is a season of vibrant colours of joy, love, happiness, peace, and hope. It also ushers an all-new zeal in the hearts to welcome the new year with celebration to embrace the new beginning." — Designed by Acodez IT Solutions from Delhi NCR - India.
January Is The Month For Dreaming
"It can be very hot in Australia and very cold in Europe so I think that it is a good month for dreaming and making plans." — Designed by Tazi from Australia.
Every New Year Gives You A Good Place To Start Over
""May the journey of new year be filled with new opportunities, Your days be bright with new hopes and your heart be happy with love! May New year bring prosperity, love, happiness and delight in your life."" — Designed by Norjimm Pvt Ltd from India.
New Year - A New Beginning
"New Year - A New Beginning. But, always cherish some good old memories of your lifetime." — Designed by ColorMean Creative Studio from Dubai.
Big Things Often Have Small Beginnings
Designed by Metrovista from Orlando, FL.
Freedom
"It is great to take shots of birds and think about the freedom they have. Then I start dreaming of becoming one and flying around the world with their beautiful wings." — Designed by Marija Zaric from Belgrade, Serbia.
Wishing A Colourful, Joyful Year Ahead!
"Let's celebrate and fill this new year, with the warmth and brightness of the best colours that will make life vibrant, blissful and cheerful." — Designed by Lamskin from india.
More Wallpapers (Without Calendars)
Hello Summer In Australia
Designed by Tazi Designs from Australia.
Angel In Snow
Designed by Brainer from Ukraine.
Colorful 2018
"As the year ends, we head to a new beginning where hopefully the best is yet to come." — Designed by Maria Keller from Mexico.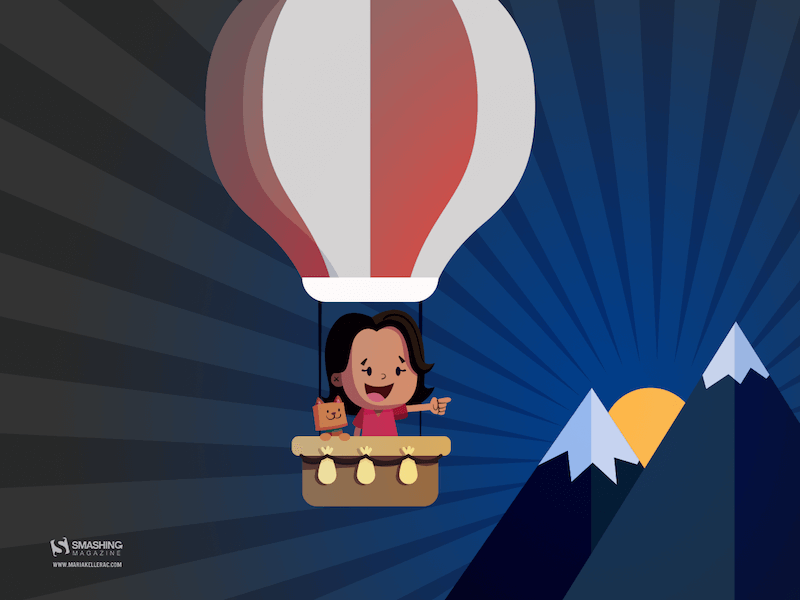 A New Start
"The new year brings hope, festivity, lots and lots of resolutions, and many more goals that need to be achieved. This wallpaper is based on the idea of 'A New Start'." — Designed by Damn Perfect from India.
Love Makes You Warm
"Following the busy Christmas season, the cold and boring January comes, love is one thing, what can make us warm for sure!" — Designed by Barbara Dörnyei from Hungary.
Reindeer
Designed by Ana Masnikosa from Belgrade, Serbia.
Travel And Explore
"For once you have tasted flight you will walk the earth with your eyes turned skywards, for there you have been and there you will long to return. (Leonardo da Vinci)" — Designed by Dipanjan Karmakar from India.
Join In Next Month!
Please note that we respect and carefully consider the ideas and motivation behind each and every artist's work. This is why we give all artists the full freedom to explore their creativity and express emotions and experience throughout their works. This is also why the themes of the wallpapers weren't anyhow influenced by us, but rather designed from scratch by the artists themselves.
A big thank you to all designers for their participation. Join in next month!
What's Your Favorite?
What's your favorite theme or wallpaper for this month? Please let us know in the comment section below.
(il)