Smashing Workshops: Winter 2021
For many of us, personal workspace can feel quite comfortable and convenient, but nobody really wants to sign up for another full day of focused screen time. That's why we break our online Smashing workshops down into 2.5h-sessions — with one session per day. This way, you always have enough time take it all in, try things out, rewatch a session or raise questions between sessions.
We're super thrilled to announce the full program of workshops for the next months to come:
Our online workshops take place live and span multiple days across weeks. In every session, there is always enough time to bring up your questions or just get a cup of tea. We don't rush through the content, but instead, try to create a welcoming, friendly and inclusive environment for everyone to have time to think, discuss and get feedback.
There are plenty of things to expect from a Smashing workshop, but the most important one is focusing on practical examples and techniques. The workshops aren't talks; they are interactive, with live conversations with attendees, sometimes with challenges, homework and team work. Of course, you get all workshop materials and video recordings as well, so if you miss a session you can re-watch it the same day.
SmashingConf San Francisco 2022
Yes, it's official! Next year, we'll be organizing a SmashingConf in each of these cities: San Francisco, Freiburg, New York and Austin! Alongside in-house workshops, the first speakers have already been announced with talks by experts on accessibility, front-end, design systems, performance and interface design.
We'd love to meet you in person on March 28–31, 2022, at the waterfront next to the iconic Golden Gate Bridge. There will be two days of talks, a single track, two workshop days, and loads of side events (all included in your ticket). For both the talks and the workshops, we have a good range of topics, varying from Figma to Web Performance and from SVG Animation to CSS Custom Properties. Jump to all speakers and topics →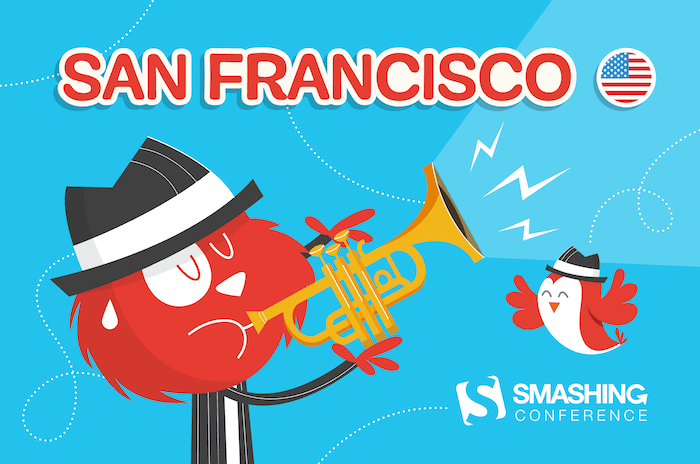 The Next Smashing Conference In A City Nearby
Great conferences are all about learning new skills and making new connections. That's why we've set up a couple of new adventures for 2022 — practical sessions, new formats, new lightning talks, evening sessions and genuine, interesting conversations — with a dash of friendly networking!
Austin, USA
We are so excited to be bringing SmashingConf to Austin again on June 27–30, 2022. We'll be exploring how new web technologies and emerging front-end/UX techniques can make us all better designers and developers. More details will be announced very soon — make sure to subscribe to the SmashingConf newsletter to be one of the first ones to know! 🌮
Freiburg, Germany
We will be returning to our hometown for SmashingConf Freiburg on the 5-7 September 2022. We pour our hearts into creating friendly, inclusive events that are focused on real-world problems and solutions. Our focus is on front-end and UX, but we cover all things web — be it UI design or machine learning. The Freiburg edition is, of course, no exception! 🥨
New York, USA
Each and every one of our Smashing conferences is a friendly, inclusive event for people who care about their work. No fluff, no fillers, no multi-track experience — just actionable insights applicable to your work right away. Join us for SmashingConf NYC in October 2022 — an event that is always quite a popular one! Follow @smashingconf on Twitter to get notified once we spill the beans on the Who, When and Where! ✨
Thank You!
A sincere thank you for your kind, ongoing support and generosity — for being smashing, now and ever. We'd be honored to welcome you.