Easter is coming and white rabbits have the noble task to deliver the Easter eggs 🥚. This smashing collection of Easter wallpapers is all about painted eggs, cute bunnies, spring, green grass and fat chicken. We put you in Easter festive mood.
These pictures are the best Easter wallpapers from Smashing Magazine's monthly contest1 – running from 2008 until 2016 and still counting. Please note: The images here do not contain any calendars. If you spot one, there is none. In several cases there are versions for your smartphone. Enjoy! 🐰

Further Reading

on SmashingMag:
Easter Bunny With Painted Egg
It's a painted egg and a bunny. Designed by Alexandra Ipate6 from Romania.
Spring Bunny
The bunny family for Easter and whole April. Designed by Kamila Norys15 from Poland.
Spring Bunny
Designed by Andrei Tudorica26 from Romania.
Don't Mess with Mr.Hare
Greyhound learns a valuable lesson about messing with the hare at Easter. Designed by Tom Bradshaw33 from United Kingdom.
Easter Bunny
A white Easter Bunny standing in the tall green grass. Designed by Narcis Lupou from Romania.
Easter
Designed by Aleksandra Kucher48 from Ukraine.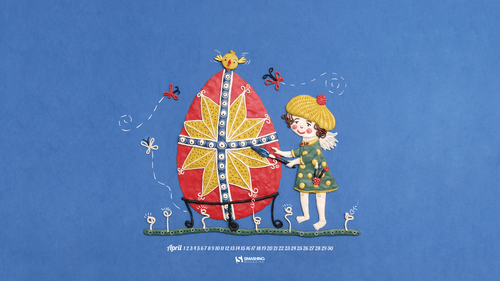 Poster Bunny
A cheeky poster bunny just couldn't resist the tempting easter egg. Designed by Isis70 from Malaysia.
Have A Smashing Easter!
Easter is the only time of the year when it's perfectly safe to put all your eggs in one basket… even the craziest ones — Designed by Marielle Perikly Kokosidou77 from Greece.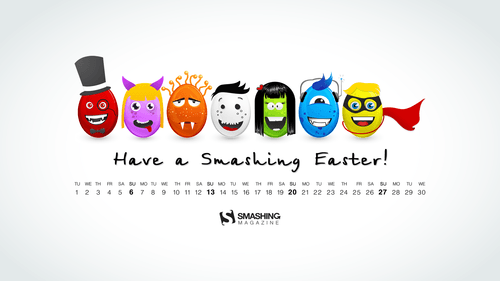 Happy Easter
Easter Bunny is kind of confused. He was very surprised when silly chicks popped out of these colorful eggs! Happy Easter! Designed by Lights Team97 from Brooklyn, NY.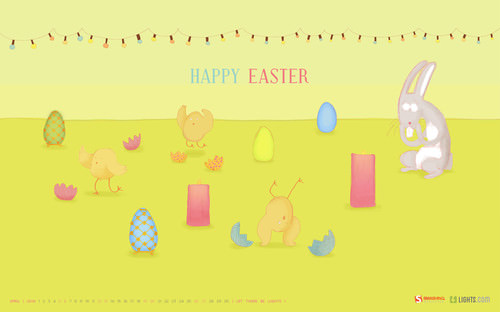 Easter Bunny
The scene represents a bucolic place. There's a little bunny in a green field with two trees and bushes. He's taking a greeting of "happy easter". On the horizon there are white clouds in the blue sky. On the top-right cloud lays the smashing magazine logo while the days of april's month flying in that sky. Designed by Laura Sclavi107 from Italy.
Falling Egg
Designed by Ben Wouters116 from Belgium.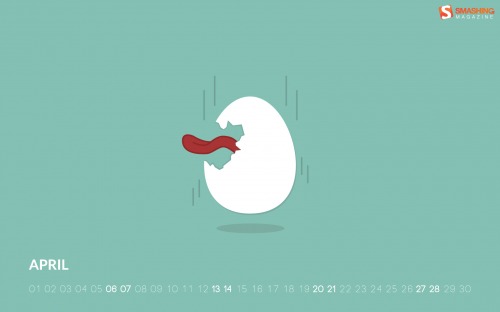 Easter Landscape
Landscape with easter eggs. Designed by Hans Van Nieuwenhuyse124 from Belgium.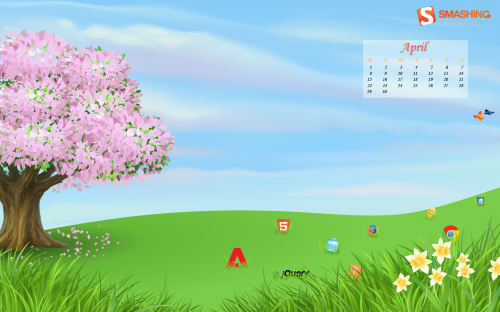 Carrots Are Better Than Eggs!
Designed by Maria Keller132 from Mexico.
320×480134, 640×480135, 800×480136, 800×600137, 1024×768138, 1024×1024139, 1152×864140, 1280×720141, 1280×800142, 1280×960143, 1280×1024144, 1400×1050145, 1440×900146, 1600×1200147, 1680×1050148, 1680×1200149, 1920×1080150, 1920×1200151, 1920×1440152, 2560×1440153, 640×1136154, 750×1334155, 1242×2208156, 1366×768157
Fools And Bunnies
A wallpaper representing april fools or pranks (Jack in the box) and Easter bunnies and eggs. Designed by Niels Vanhorenbeeck from Belgium.
Funny Bunny
Our funny bunny takes a look at the giant carrot in shape of an easter egg. Designed by Adconcept Werbeagentur Gmbh164 from Germany.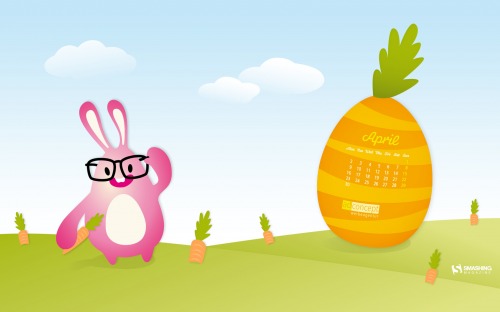 Skate Boarding Into April
Brownie Bunny wishes all a blast into the 2nd quarter of the year! Stay cool, cute and green! Designed by Lew Su-ann173 from Brunei Darussalam.
Happy In April
Designed by Bart Goris from Belgium.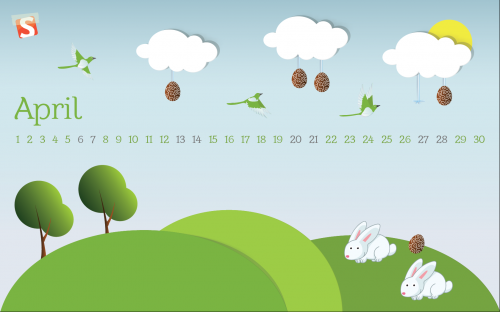 Time For Cooking
A springy and sweet illustration. To all the friends and families who are preparing delicious Easter recipes together. Designed by Bag Of Secrets194 from Italy.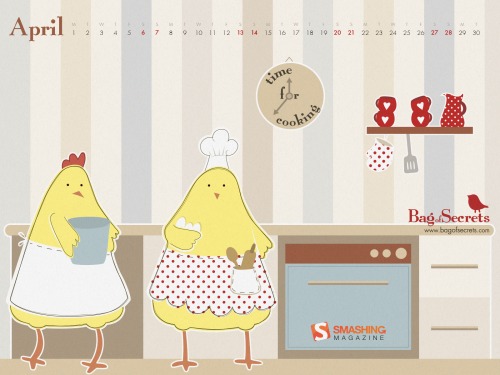 Dyed Easter Eggs
Colored Easter Eggs were a really special part of my family's Easter traditions. The eggs symbolize new life offered by Jesus' death and resurrection on Easter. Designed by Evan Chiu205 from Cincinnati, OH, USA.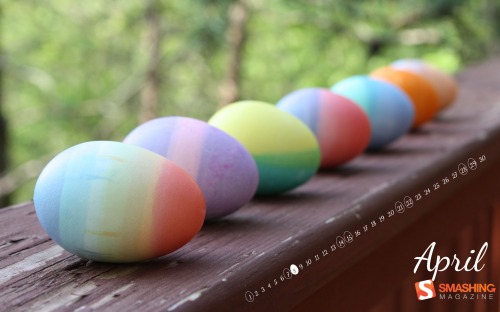 Easter Flower
Designed by Nathalie Lansbergen214 from the Netherlands.
Footnotes