35 Joyful Easter Wallpaper ? Funny Bunnies And Painted Eggs
Bunnies ahead! These fluffy little fellows are an unmistakable sign that Easter is here. Along with their companions in crime, yellow chicks, of course. But did you know that Easter bunnies can be much more than cute? Some of them have a secret passion for skateboarding, others take it up even with their natural predators to protect their easter eggs. Don't believe it? Well, wait and see.
In this post, we compiled the best Easter wallpapers from our monthly contest for you. It all started back in 2008 and it's still running today thanks to the love and patience that artists and designers from all across the globe put into creating unique, inspiring, and, well, simply beautiful, wallpapers each month anew. So without further ado, let's dive right into the world of bunnies, cheeky chicks, blooming flowers, easter eggs, and — how could we forget — chocolate, of course. Happy Easter!
Further Reading

on SmashingMag:
Easter Bunny With Painted Egg
"It's a painted egg and a bunny." — Designed by Alexandra Ipate from Romania.
Bunny Family
"The bunny family for Easter and whole April." — Designed by Kamila Norys from Poland.
Spring Bunny
Designed by Andrei Tudorica from Romania.
Don't Mess With Mr.Hare
"Greyhound learns a valuable lesson about messing with the hare at Easter." — Designed by Tom Bradshaw from the United Kingdom.
Bunny In The Grass
A white Easter Bunny standing in the tall green grass. Designed by Narcis Lupou from Romania.
Easter Egg Art
Designed by Aleksandra Kucher from Ukraine.
Happy Easter
My love for illustration, so I tried to make a really funny illustration of an Easter bunny. Designed by José Manuel Coelho de Jesus from Portugal.
Poster Bunny
"A cheeky poster bunny just couldn't resist the tempting easter egg." — Designed by Isis from Malaysia.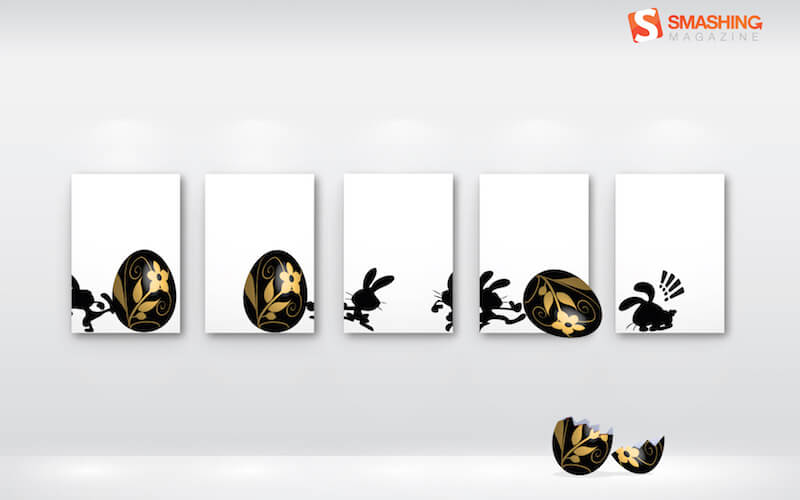 Have A Smashing Easter!
"Easter is the only time of the year when it's perfectly safe to put all your eggs in one basket… even the craziest ones" — Designed by Marielle Perikly Kokosidou from Greece.
Silly Chicks
"Easter Bunny is kind of confused. He was very surprised when silly chicks popped out of these colorful eggs! Happy Easter!" — Designed by Lights Team from Brooklyn, NY.
Bucolic Bunny
"The scene represents a bucolic place. There's a little bunny in a green field with two trees and bushes. He's taking a greeting of 'happy easter'. On the horizon there are white clouds in the blue sky." — Designed by Laura Sclavi from Italy.
Falling Egg
Designed by Ben Wouters from Belgium.
Funny Bunny
Designed by Nona Maria Patrascu from Romania.
Easter Landscape
"Landscape with easter eggs." — Designed by Hans Van Nieuwenhuyse from Belgium.
Carrots Are Better Than Eggs!
Designed by Maria Keller from Mexico.
Fools And Bunnies
"A wallpaper representing April fools or pranks (Jack in the box) and Easter bunnies and eggs." — Designed by Niels Vanhorenbeeck from Belgium.
Lucky Find
"Our funny bunny takes a look at the giant carrot in shape of an easter egg." — Designed by Adconcept Werbeagentur Gmbh from Germany.
Skateboarding Bunny
"Brownie Bunny wishes all a blast into the 2nd quarter of the year! Stay cool, cute and green!" — Designed by Lew Su-ann from Brunei Darussalam.
Happy In April
Designed by Bart Goris from Belgium.
Time For Cooking
"A springy and sweet illustration. To all the friends and families who are preparing delicious Easter recipes together." — Designed by Bag Of Secrets from Italy.
The Early Adopters
Last year I made also a wallpaper with these little chickens. The whole year up to now they lay on my desk and looked at me: 'we are still cheerfull, use us again for your wallpaper." — Designed by Agnes Swart from the Netherlands.
Dyed Easter Eggs
"Colored Easter Eggs were a really special part of my family's Easter traditions. The eggs symbolize new life offered by Jesus' death and resurrection on Easter." — Designed by Evan Chiu from Cincinnati, OH, USA.
Easter Flower
Designed by Nathalie Lansbergen from the Netherlands.
Don't Forget To Prank Those You Love!
Designed by Design19 from Romania.
Springing
"It's spring already, my favourite season! You can smell it, you can see it, you can feel it in the air. Trees blossom, the grass is smiling at the sun, everything is so eager to show itself." — Designed by Vane Kosturanov from Macedonia.
Wake Up!
"I am the kind of person that prefers cold but I do love spring since it's the magical time when flowers and trees come back to life and fill the landscape with beautiful colors." — Designed by Maria Keller from Mexico.
Relax!
"…and enjoy your Easter holidays with some good chocolate." — Designed by Ricardo Gimenes from Brazil.
Flying On A Rainy day!
"April is the month of spring or autumn depending where you live on the globe! It's also the second rainiest month of the year. I was inspired by one simple motif to illustrate rain, birds and flowers. So either you witness rainy days or colorful ones … Enjoy April!" — Designed by Rana Kadry from Egypt.
Hello March, Cheep Cheep!
"Sun is shining, birds are singing 'Cheep, cheep', a sign that March is coming! Happy march and enjoy the sunny days!" — Designed by Agnes Swart from the Netherlands.
Spring
"This image describes the indescribable feeling I have looking outside: After all those cold dark winter nights, the day slowly grows longer, the sun awakens and we finally absorb the beautiful colors of SPRING!" — Designed by Maurice De Haas, Haasmans from the Netherlands.
Head In The Clouds
Designed by Christina Mokry from Germany.
Crazy Garden
Designed by Pietje Precies from the Netherlands.
Colorbunny
"To celebrate this March you need bright colors, spring and an easter bunny."— Designed by René Gast from Germany.
Blooming
Blooming tulips - a sign that spring is truly here. Designed by Britt Wilcox from the USA.
Shadow Bunny
In the land of the shadows the 'hare-ry' hand is king. Guised as the bringer of easter, mischief only awaits. So hide your eggs of chocolates and such from the hand dressed as a hare, whence come next year you'd have nothing to bare. Designed by Siewhui from Singapore.
(cm), (sl)