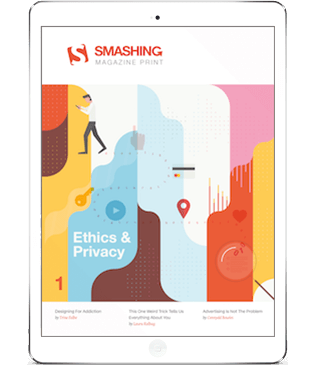 For a long time, we wanted to create a printed magazine that hasn't existed before. Not a magazine about fleeting design trends or ever-changing frameworks, but topics that would make us all think, and remain useful as time passes by. A magazine exploring topics that often get lost in a myriad of blog posts out there. Written by the community for the community. Jump to table of contents.
We kick off with an issue exploring topics very close to our hearts — ethics, privacy and security, because these issues reach into all our lives, from our personal use of the web through to the advanced applications we develop. We look into tracking, advertising, GDPR and privacy law, data protection and addictive interfaces. We explore how to integrate privacy-driven decisions into our workflows by default and abandon dark UI patterns for good. Download a free PDF preview (3 MB).
Published on

July 24, 2019
About The Book
The web is wonderfully diverse and unpredictable because of wonderfully diverse people shaping it. While we often see people as lifeless dots in our analytics stats, every single dot is an actual person, and so every single dot matters.
Humility, kindness and humbleness have become rarities on the web. But each of us deserves to be respected and valued — that holds true for how companies treat our data and privacy —, and that's why the very first issue of our little new printed magazine is dedicated to something that's very close to our hearts: ethics and privacy. The issue will challenge you to explore ethics, privacy and security as you design and build the web.
With Smashing Magazine Print, we want to provide a place for topics that cover the bigger picture, topics that perhaps have more longevity as what we usually cover online. Without running short on practical and actionable insights, of course.
Table of Contents
Editor's Note

—

Towards Ethics By Default, One Step At A Time

—

Designing For Addiction

—

It's Not About You

—

This One Weird Trick Tells Us Everything About You

—

Quieting Disquiet

—

Advertising Is Not The Problem

—
Technical Details
Formats:

ePUB, Kindle, PDF (DRM-free)

Pages:

60

Language:

English

Released:

July 24, 2019

Publisher:

Smashing Media AG

ISBN (PDF):

978-3-945749-79-1