For a long time, we wanted to create a printed magazine that hasn't existed before. Not a magazine about fleeting design trends or ever-changing frameworks, but topics that would make us all think, and remain useful as time passes by. A magazine exploring topics that often get lost in a myriad of blog posts out there. Written by the community for the community. Jump to table of contents.
We kick off with a 60-pages issue exploring topics very close to our hearts — ethics, privacy and security. We explore the usual suspects — tracking, advertising, privacy law (e.g. GDPR), data protection and addictive interfaces. What follows is a collection of essays which sit very well together, yet tackle different aspects of the issues at hand. You may not agree with all of them, but we hope they'll make you think. Download a free PDF preview (3 MB).
Published on

July 24, 2019

Tags:

Design, Privacy, Ethics
About The Book
The web is wonderfully diverse and unpredictable because of wonderfully diverse people shaping it. While we often see people as lifeless dots in our analytics stats, every single dot is an actual person, and so every single dot matters.
Humility, kindness and humbleness have become rarities on the web. But each of us deserves to be respected and valued — that holds true for how companies treat our data and privacy — and that's why the very first issue of our little new printed magazine is dedicated to something that's very close to our hearts: ethics and privacy. The issue will challenge you to explore ethics, privacy and security as you design and build the web.
Table of Contents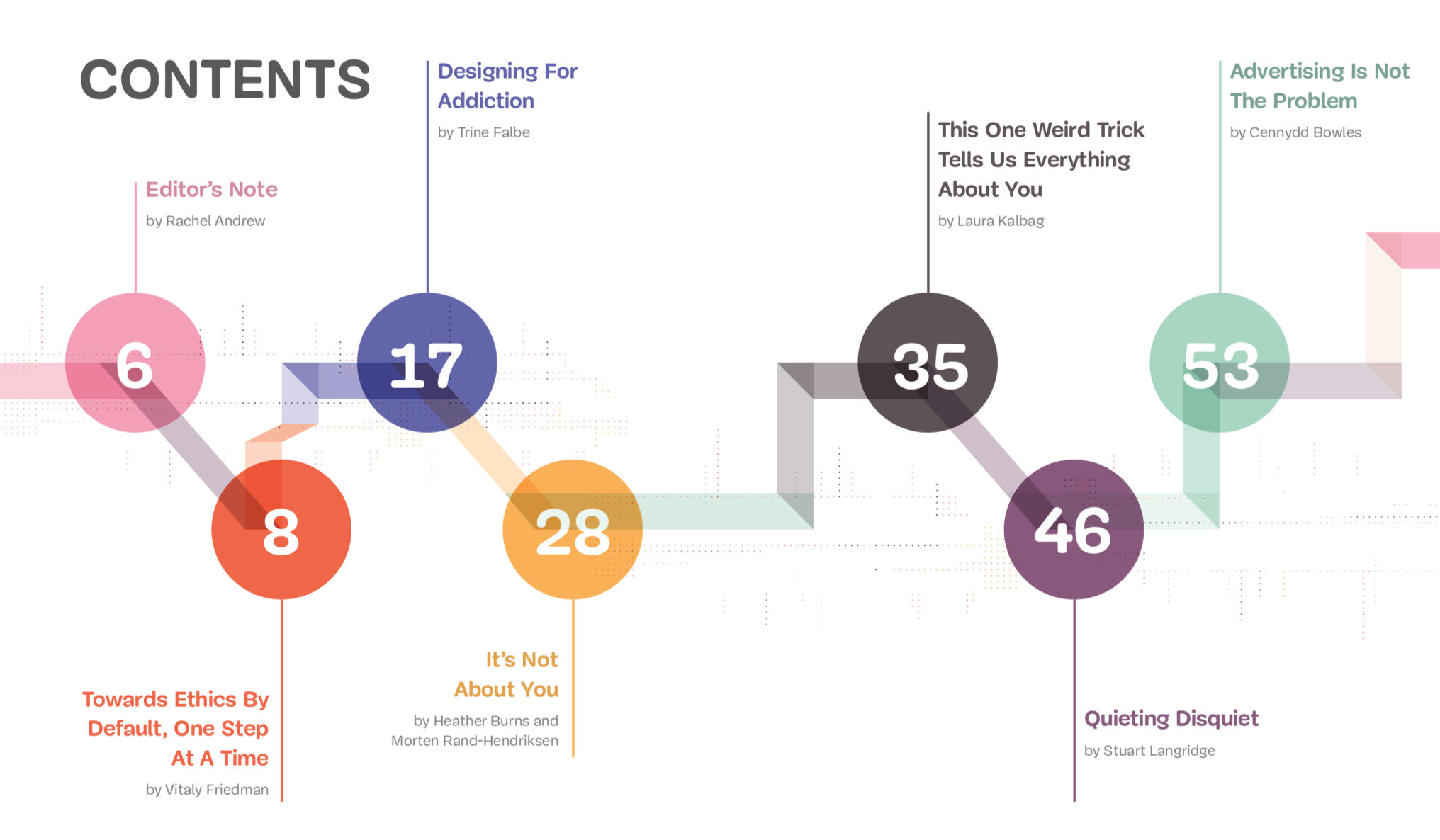 Editor's Note
by Rachel Andrew
Towards Ethics By Default, One Step at a Time
by Vitaly Friedman
Designing For Addiction
by Trine Falbe
It's Not About You
by Heather Burns and Morten Rand-Hendriksen
This One Weird Trick Tells Us Everything About You
by Laura Kalbag
Quieting Disquiet
by Stuart Langridge
Advertising Is Not The Problem
by Cennydd Bowles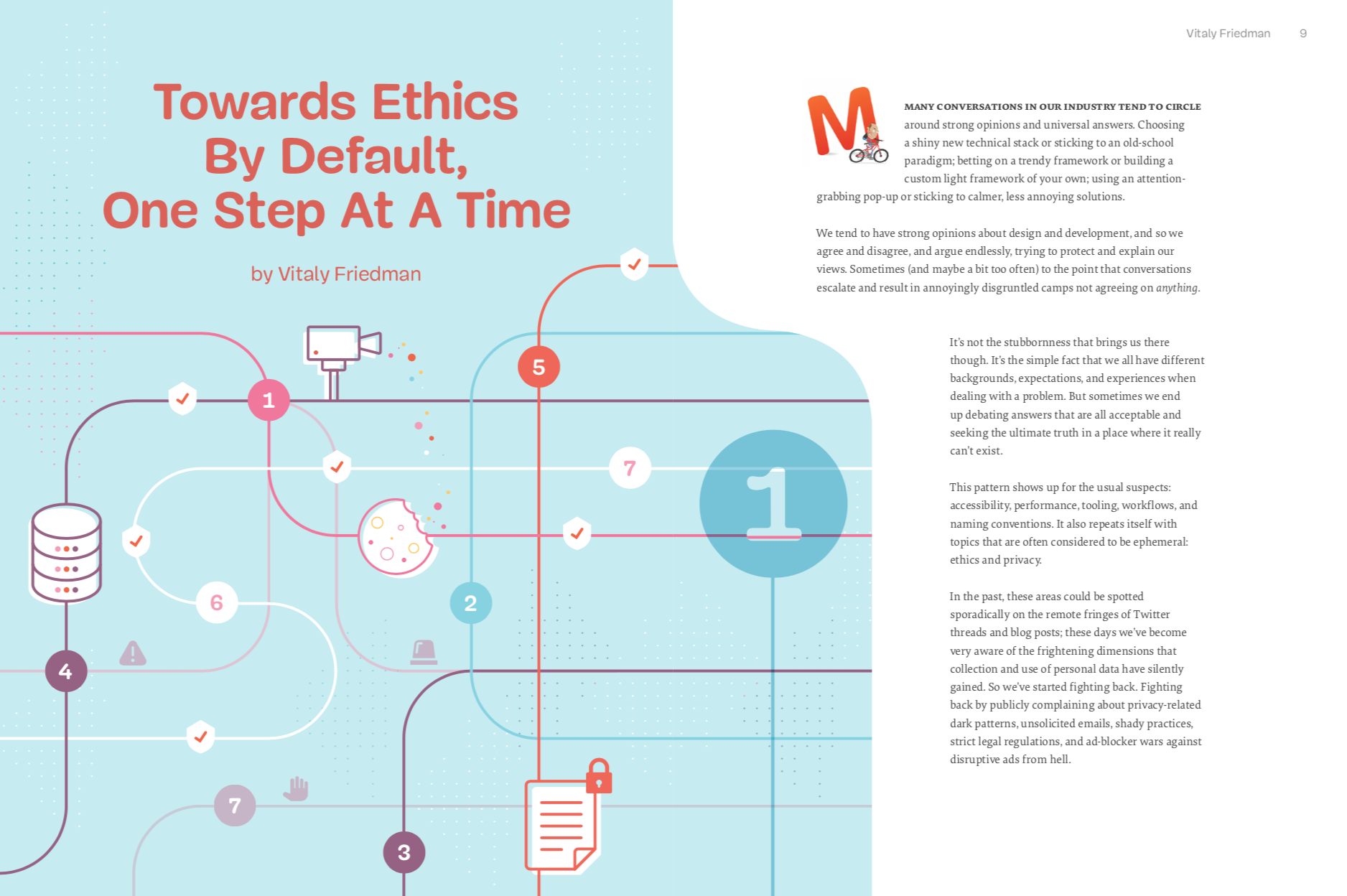 With Smashing Magazine Print, we want to provide a place for topics that cover the bigger picture, topics that perhaps have more longevity as what we usually cover online. Without running short on practical and actionable insights, of course.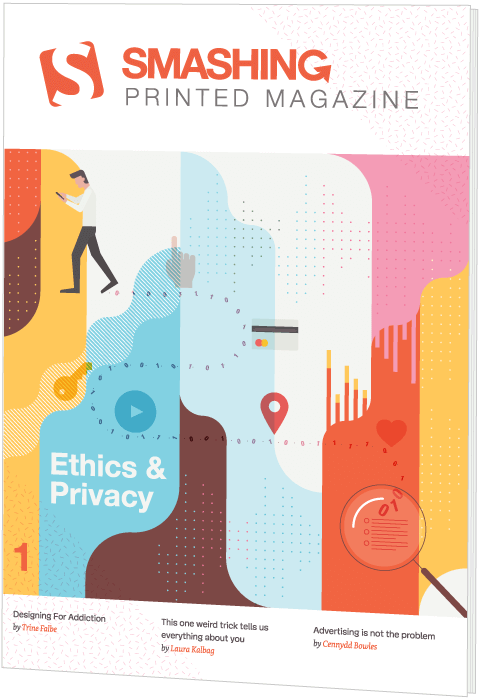 Frequently Asked Questions
If you have any questions, we are right here to answer them. We love our customers, and we'd love to help you in any way or just listen to your story. So please feel free to ask questions via @smashingmag on Twitter — we'll get back to you right away. Just in case: here are answers to some frequently asked questions.
How much does shipping cost to my country?

No shipping costs — wherever you are in the world! We ship everywhere, worldwide, via airmail shipping. What you see is what you pay. No ifs or buts.

Delivery times to my country?

All books are shipped via airmail to keep delivery times as short as possible. You can check the anticipated delivery times for your country.

Is the eBook included with print?

When you purchase a printed book, you'll get a friendly discount on the eBook. All eBooks are available in usual formats — PDF, ePUB, and Amazon Kindle.

What payment methods are accepted?

PayPal, VISA, MasterCard and American Express. Of course, we use a secure connection, with 256-bit AES encryption and a green GeoTrust Extended Validation SSL CA certificate. And no, we don't store your credit card data on our servers. (Obviously.)

Is there a money-back guarantee?

Yes, absolutely! No risk at all — our 100-day full money-back guarantee keeps you safe. Don't hesitate to return your purchase. You'll get your money back without ifs or buts!

I have a question that is not covered here.

No worries! Please get in touch with us via the contact form. We would love to help you as soon as we possibly can!