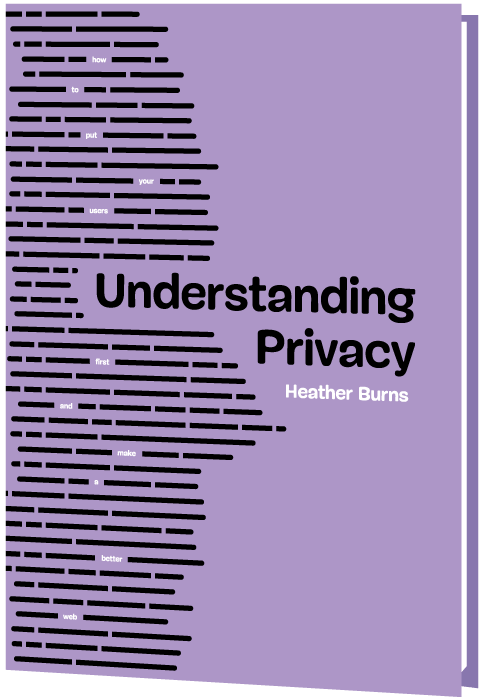 Privacy is a scary topic? It doesn't have to be. Our new book Understanding Privacy helps you understand what data privacy is really about beyond scary headlines. It is an introduction to the beliefs, concepts, and ideas that inform privacy as it exists — or has failed to exist — on the open web that we build. Whether you're a designer, developer, or project manager, this book will equip you with the knowledge you need to put your users first in everything you do and build a better web for tomorrow. Jump to table of contents.
288 pages. High quality hardcover. Written by Heather Burns.
Published on

November 2022

Tags:

Privacy
About The Book
Understanding Privacy is about all the fundamental values of privacy as a concept, which precede privacy as a legal compliance issue. It's about the ways these concepts impact your work as a designer, a developer, or a project manager. And it's about the ways you can adopt these principles to create a healthy, user-centric approach to privacy in everything you do.
Heather explains what she has experienced working on privacy from every angle — human rights, law, policy, and web development — in the simplest way possible, and in the most positive way possible, in ways you can comprehend, use, and adapt in your work on the web right away.
What is discussed in this book is applicable to any programming language, software community, or project workflow. For that reason, you won't find any code samples in this book. A healthy approach to user privacy, after all, doesn't tell you how to code. It tells you how to make the right decisions which inform the code. It also gives you the foundation you need to question, and even challenge, workplace practices which might not be in your users' best interests.
This book is not a legal reference manual. While it will briefly cover the major privacy regulations and proposals in context, it helps you understand the common values which inform nearly all user-centric privacy regulations, and to apply them regardless of the presence or absence of a legal framework.
By the end of this book, you will have shifted your understanding from a negative view of privacy as a scary legal compliance obligation to a positive view of privacy as an opportunity to build a better web. Download a free PDF sample (11MB).
288 pages. Written by Heather Burns. Cover design and illustrations by Espen Brunborg.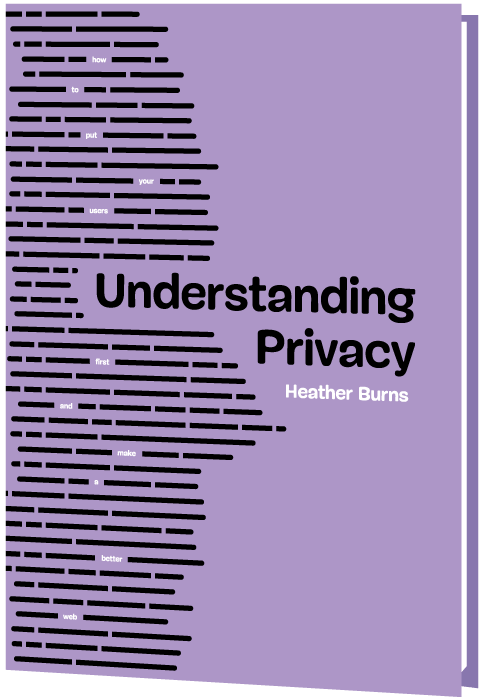 Table of Contents
In the book's first section, "Privacy and You," Heather reviews the fundamental concepts, definitions, and frameworks behind privacy and data protection.

In the second section, "Privacy and Your Work," Heather discusses how to integrate a healthy approach to user privacy into everything you do, whether you are a designer, a developer, or a project manager.

"Privacy and Your Users" covers issues around user privacy where you can make a difference.

In "Privacy and Your Future," Heather suggests a few critical areas that make the web a better place and lay the ground for future developers, designers, and project managers to build a better web for tomorrow's users.

In the final section, "Privacy and Health Data," Heather addresses an even more pressing recent issue: the obligations we have to safeguard user privacy and health data, and how to do it as best we can.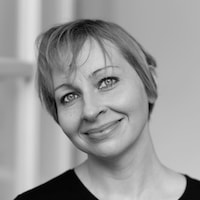 About The Author
Heather Burns is a tech policy professional and an advocate for an open Internet which upholds the human rights to privacy, accessibility, and freedom of expression. She's been passionate about privacy since she built her first web site in 1996, and has translated those beliefs into a career spanning politics, web development, startups, and digital rights. She was a volunteer contributor to privacy initiatives in several open source projects, and educated thousands of contributors in the fundamentals of user privacy. Her work has seen her named Smashing Magazine's Person of the Week, a Mozilla Open Leader, and in 2022, an Internet Society Mid-Career Fellow. She lives in Glasgow, Scotland.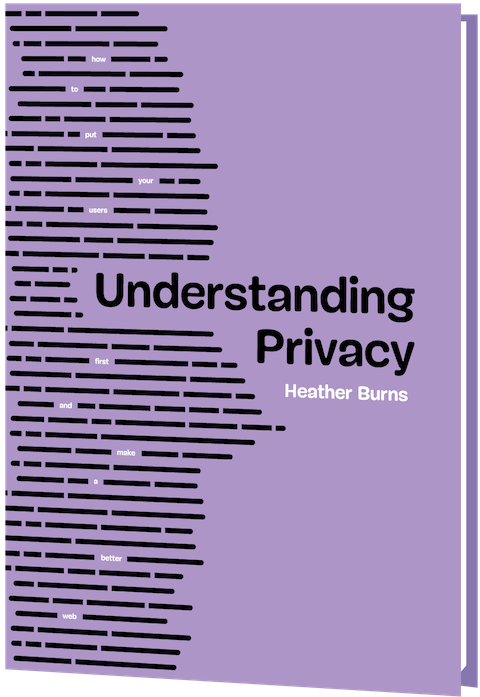 Frequently Asked Questions
If you have any questions, we are right here to answer them. We love our customers, and we'd love to help you in any way or just listen to your story. So please feel free to ask questions via @smashingmag on Twitter — we'll get back to you right away. Just in case: here are answers to some frequently asked questions.
How much does shipping cost to my country?

No shipping costs — wherever you are in the world! We ship everywhere, worldwide, via airmail shipping. What you see is what you pay. No ifs or buts.

Delivery times to my country?

All books are shipped via airmail to keep delivery times as short as possible. You can check the anticipated delivery times for your country.

Is the eBook included with print?

When you purchase a printed book, you'll get a friendly discount on the eBook. All eBooks are available in usual formats — PDF, ePUB, and Amazon Kindle.

What payment methods are accepted?

PayPal, VISA, MasterCard and American Express. Of course, we use a secure connection, with 256-bit AES encryption and a green GeoTrust Extended Validation SSL CA certificate. And no, we don't store your credit card data on our servers. (Obviously.)

Is there a money-back guarantee?

Yes, absolutely! No risk at all — our 100-day full money-back guarantee keeps you safe. Don't hesitate to return your purchase. You'll get your money back without ifs or buts!

I have a question that is not covered here.

No worries! Please get in touch with us via the contact form. We would love to help you as soon as we possibly can!