59 Valentines Day Wallpapers ? Love and Hearts
The 14th of February is Valentines Day or Saint Valentine's Day. Why not decorating your desktop with a lovely wallpaper to celebrate it. And then let the love heartfully come into your live.
Please notice that we respect the ideas and motivation behind artists' work, which is why we've given all designers full freedom to explore her creativity and express her emotions and experience through her work. And this is also why the theme of the wallpaper weren't anyhow influenced by us, but designed from scratch by the artist herself.
These wallpapers are the very best Valentines Day wallpapers from Smashing Magazine's monthly contest – running from 2008 until 2016 and still counting. Please note: These Valentine Day wallpapers do not contain any calendars. If you spot one, there is none. Spread the love!
Further Reading

on SmashingMag:
St. Valentine's Day
Blow the love over everyone you know! Designed by VeraART from Brussels, Belgium.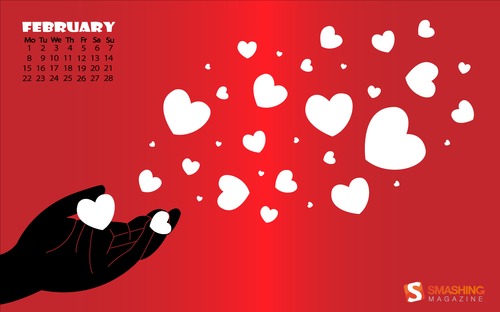 Valentine
Love is in the air… Designed by Nicolas De Rechter from Belgium.
Happy Valentine!
I've been designing wallpapers since two years with the picture of my Manka dolls. My inspiration for February was Valentine's Day. Designed by Monika Horvath from Hungary.
Sexy Valentine
Because of the event on the 14 february 'Valentine' I wanted to spice up the desktops of the people. Designed by Johan Teirlinck from Belgium.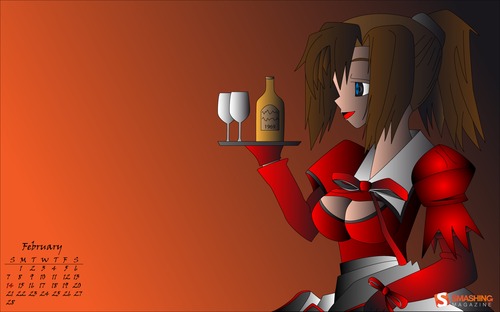 My Heart Is Too Big!
Designed by Adrian Limbasan from Romania.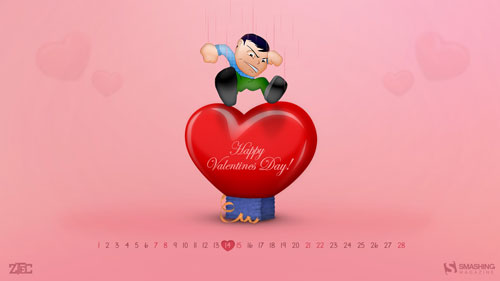 It's a French Kind of Love
Designed by Nicole Dominguez from USA.
Be Mine
"A cutsie calendar theme." Designed by Sandi from Toronto, ON, Canada.
Let The Love Out
Let the love out to the air! Designed by Elie Cheong from Malaysia.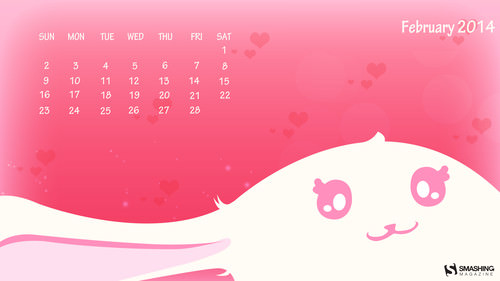 This Is Love
Designed by Katerina Bobkova from Ukraine.
Love Wallpaper
Suffering from unrequited love? Care to attract your sweetheart right now? Try this free Love Wallpaper at work! Post your and your love's pic files so that they fitted into the Love Wallpaper's face silhouettes… Done! Meet your valentine, friend! Designed by Rumake Web Agency from Russia.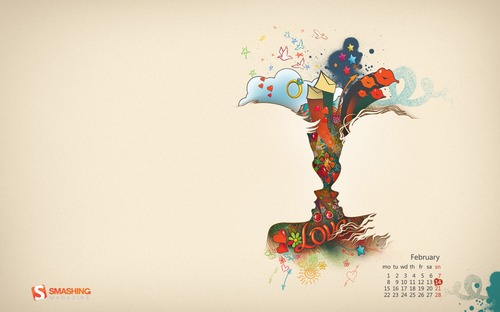 Birds Love
Designed by Sacchidanand H Chawan from India.
Love Is In The Air
February is one of the coldest months of the year, and I think that love is the only thing that can warm it. Designed by Raluca Dragos from Romania.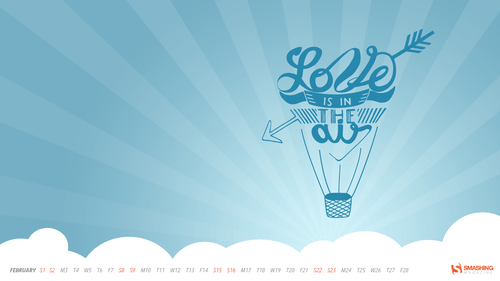 Hedgehog Love
The only thing more adorable that hedgehogs is hedgehog romance, in the spirit of Valentine's Day. Designed by Dorothy Timmer from Central Florida, USA.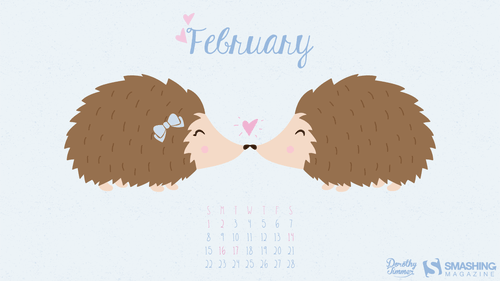 Every Day Should Be Valentines Day
Valentine's Day is a big business today. I personally don't celebrate it, because I think if you love someone every day should be Valentine's Day. That's what this wallpaper is all about. The two birds – Milo and Pipita – are a wallpaper series and usually they argue about things men and women argue about, but as it's the Valentine Edition I just went with something cute. — Designed by Nicole Bauer from Germany.
Footprints
Yes it's another Valentine's inspired wallpaper, I just couldn't resist! Enjoy (with love). Designed by Federica Sibella from Italy.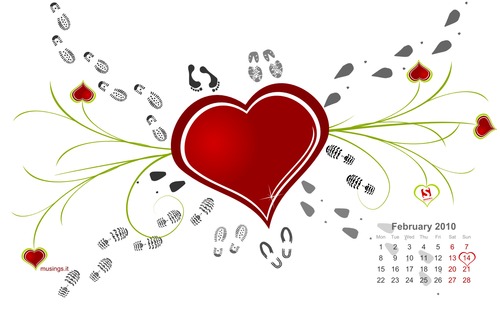 True Love
Valentines Day chocolates are the perfect gifts to melt a heart. Designed by Manish Jinwal from India.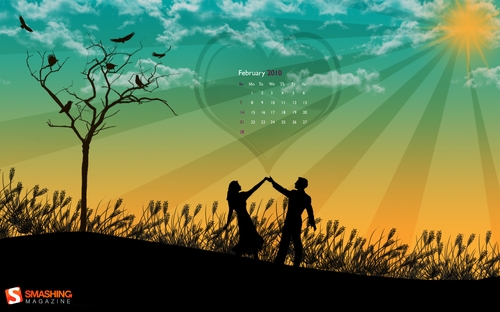 A Tree of Love
February is a month of "LOVE", so i create "A Tree of LOVE" Designed by Sandhya Banshal from India.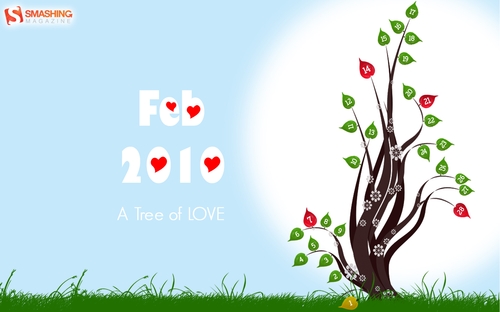 Love Is In The Air
February is all roses, hearts and love, so I designed a wallpaper inspired by these elements — love is in the air. Designed by Margarita Shabanova from Bulgaria.
Love flight
Let's up in the clouds in this February. You shoud give credence the love flight. Designed by Roman Volkov aka dacascas from Russia.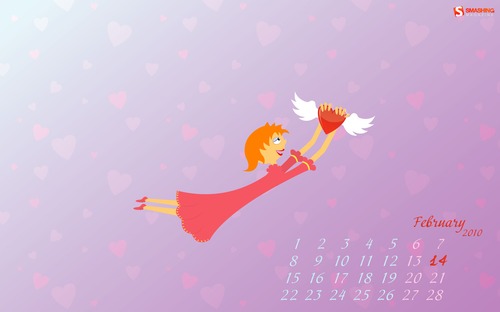 Valentine
Happy Valentine's Day … Designed by Soodabeh Amirakbari from Iran.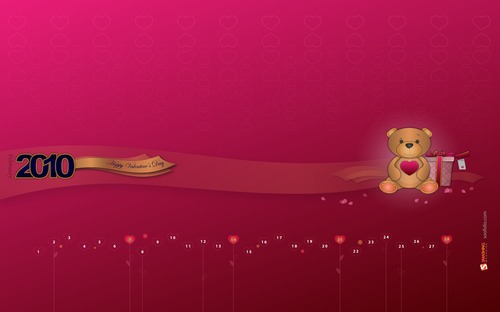 Prints Charming
I've been drawing these fingerprint characters for a while. They make people smile. Designed by Phil Scroggs from United States.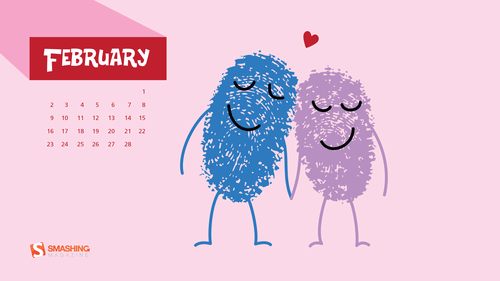 Love Of My Life
Designed by Elise Vanoorbeek from Belgium.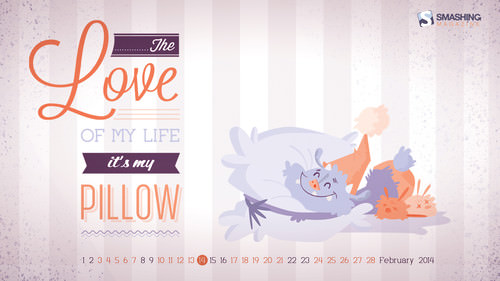 Retro Love
A retro themed Wallpaper, inspired by Deandesign. Designed by Abdus Salam from Pakistan.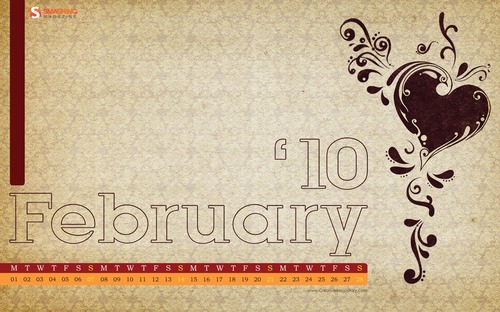 Chocolate Heartz for Valentines
Valentines Day chocolates are the perfect gifts to melt a heart. Designed by Manish Jinwal from India.
Abstract Love
This is my first wallpaper… February under the aspect of abstract love… Love isn't always what we expect… Designed by Mehdi Naqi from Belgium.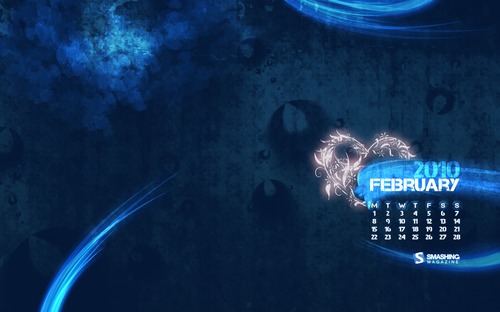 Love wall painting
Hey! This is my latest idea on the subject "Valentine's day". I know that not everybody loves Valentine's day but i do! So i hope that you lovers will love my valentine calendar too.Cheers and happy Valentine's day! Designed by Alexandra Ipate from Romania.
Love Splash
Happy Valentine's Day to you all. Designed by Motion Art-ist from Turkey.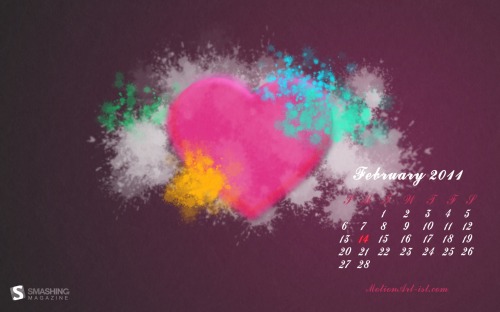 Broken Love
A Valentines Day themed wallpaper, inspired by the love that must fight to exist. Designed by Celsiuspictor from Spain.
I didn't want to design the normal routine love wallpapers… so I thought to do something different. Designed by Zainab Sule from Nigeria.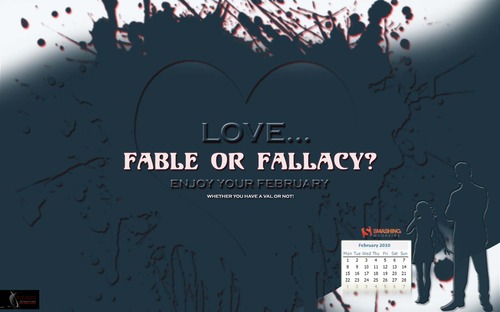 It's The Love Signal
Let's beam our love to the universe! Designed by Lew Su-ann from Brunei Darussalam.
For the Birds
An old birdcage in the sky. Designed by Kristen Cook from USA.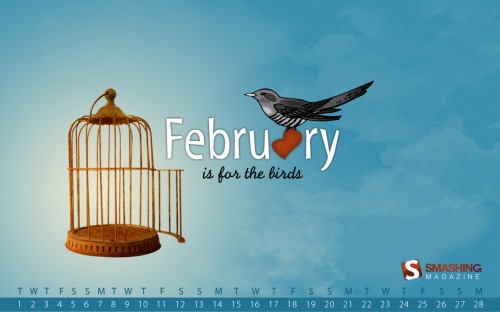 Be My Valentine
The month of love — Designed by Jana Engelhardt from Australia.
Lost Without You…
February, the month of love. This wallpaper is dedicated to all those people out there who have found that one person in life. They would understand this feeling of being lost, if that person is not around to share your joy, sorrow, success, failure. Happy Valentine's Day!! — Designed by Charuta Puranik from India.
She Loves Me
Ah February, the 14th is the day when we dare a little more than usual, or we await something special from that one person - the better friend, or the better half! — Designed by Rihards Gromuls from Latvia.
Love Is Timeless
Love is "strange" to find that the differences between people do not exist. Love is timeless. Designed by Verónica Valenzuela from Spain.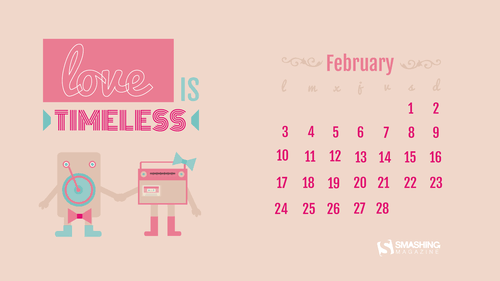 Elephants
Big lovers! Designed by Giada Degli Agostini from Italy.
Indian Valentines Day
An Indian Valentines Day Decorative Typography. Designed by Atma Creative Team from India.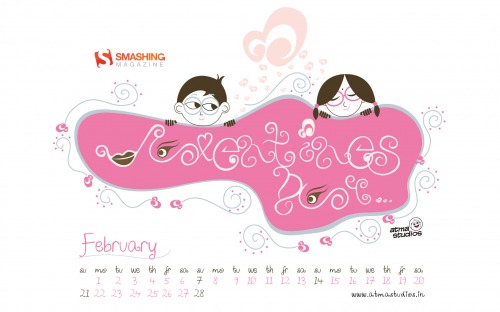 Valentine
This is a present for valentine enjoy . Designed by Vanhove Jonathan.
Month of Hearts
I hope this month brings many Valentines to you. Designed by Stephanie Lam from Australia.
Bird Love
A motive is dedicated to all that keeps warm with love in cold winter days. Designed by Tina Krašovec from Slovenia.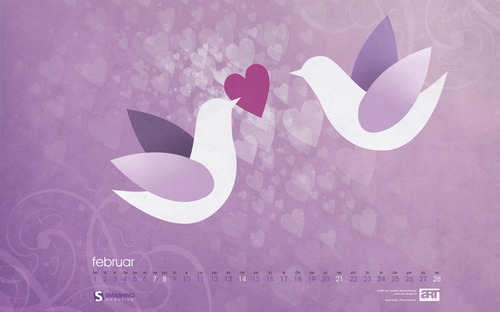 Valentine
Happy Valentine's Day. Designed by Dragos M from Romania.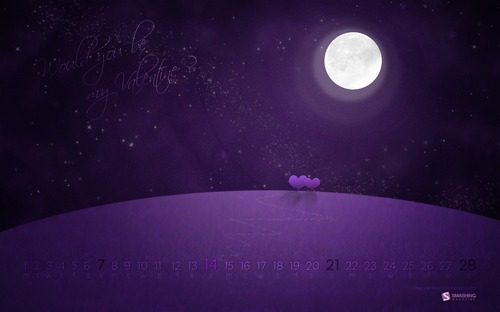 Love Compose
Designed by Kayro C from China.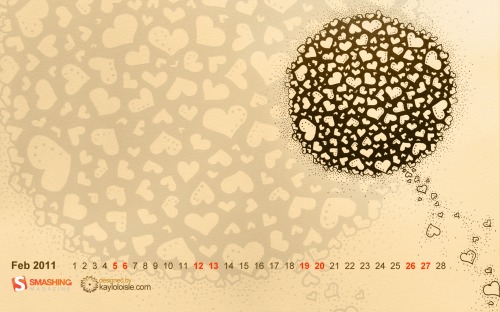 Love Is All You Need
Designed by WebOlution from Greece.
All You Need Is Love
The Beatles said it best! Love is all you need. Designed by Allison Brown from Canada.
Hugs And Kisses!
Designed by Denise Johnson from Chicago.
Paper Heart For Loveruary
When I was a little boy I usually folded my notes into paper shapes, objects, flowers or different kinds of animals. Unfortunately, I don't have so much time lately to create origami models, but a handmade paper heart for Valentine's Day is always a must-have. Designed by Zsolt Szilvai from Hungary.
All You Need Is Love
Valentines Dayis all about the love.These love birds represent the selfless love they have for each other. Designed by Adorable Designs from the United States.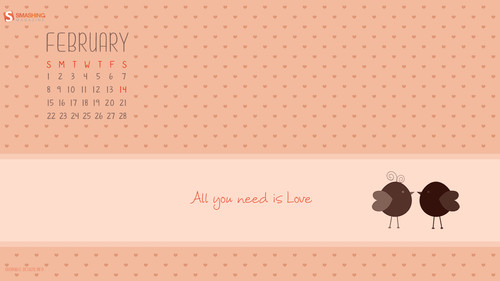 Love Tipi
A place for lovers to hide. Designed by Malgorzata Nowak from Poland.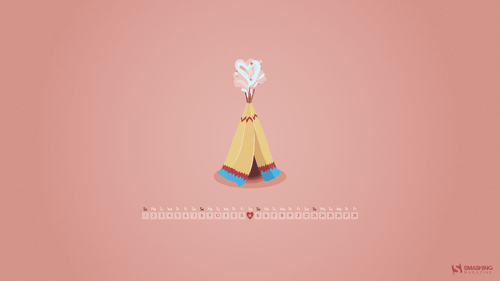 Valentine'10
Designed by Segers Sven from Belgium.
Set Your Love Free
I doodled a heart with wings in black and white that people liked, so I thought I'd work it up in vibrant colours. Designed by Sadie Moisan from Britain.
Craft With Passion
We wanted to create a heart symbol in a unique method. We made it using simple circles and lines. Designed by Rillusion from Chennai.
Just Do What You Love Most
I just love to do mandalas, so I did one for you, and I hope you will love it, too. Designed by Temeshi from Poland.
It's Valentine's Day!
February is the month of love…So Warm those days with the Valentine's day wallpaper! — Designed by Webolution from Greece.
Mr. & Ms. Nice
Designed by Diana Morgado from Portugal.
House Of Cards
Designed by Dan Di from Italy.
Valentine's Day Special
Let's share love. Let's make memories. Let's see the world. Designed by Paarva Creations from India.
Season Of Love
It's the season of love. Express your feelings to the ones you love most. Designed by Suman Sil from India.
Every Love Story Is Written On Stars
I believe that every Love Story is written by the God on a beautiful Star somewhere far between the galaxies. I believe in these stories, because I believe in Love. Designed by Abin Joe from Kochi, India.
Spread Light, Spread Love
A young office clerk and a rockabilly girl? Well, we didn't see that coming. Good job, Cupid! Don't forget your flameless candles and Starlightz for this Valentine's Day. Spread light, spread love! Designed by Lights.com Team from United States.