The 14th of February is Valentines Day or Saint Valentine's Day. Why not decorating your desktop with a lovely wallpaper to celebrate it. And then let the love heartfully come into your live.
Please notice that we respect the ideas and motivation behind artists' work, which is why we've given all designers full freedom to explore her creativity and express her emotions and experience through her work. And this is also why the theme of the wallpaper weren't anyhow influenced by us, but designed from scratch by the artist herself.
These 50 wallpapers1 are the very best Valentines Day wallpapers from Smashing Magazine's monthly contest2 – running from 2008 until 2016 and still counting. Please note: These Valentine Day wallpapers do not contain any calendars. If you spot one, there is none. Spread the love!
Further Reading

on SmashingMag:
St. Valentine's Day
Blow the love over everyone you know! Designed by VeraART from Brussels, Belgium.
Valentine
Love is in the air… Designed by Nicolas De Rechter from Belgium.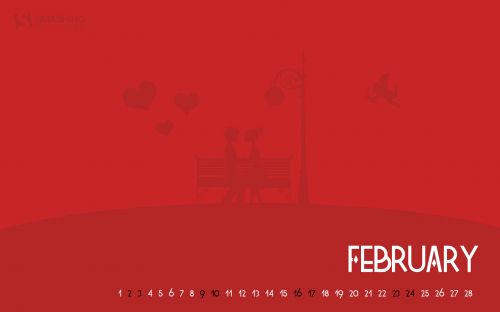 Happy Valentine!
I've been designing wallpapers since two years with the picture of my Manka dolls. My inspiration for February was Valentine's Day. Designed by Monika Horvath19 from Hungary.
Sexy Valentine
Because of the event on the 14 february 'Valentine' I wanted to spice up the desktops of the people. Designed by Johan Teirlinck from Belgium.
My Heart Is Too Big!
Designed by Adrian Limbasan36 from Romania.
It's a French Kind of Love
Designed by Nicole Dominguez47 from USA.
Be Mine
"A cutsie calendar theme." Designed by Sandi55 from Toronto, ON, Canada.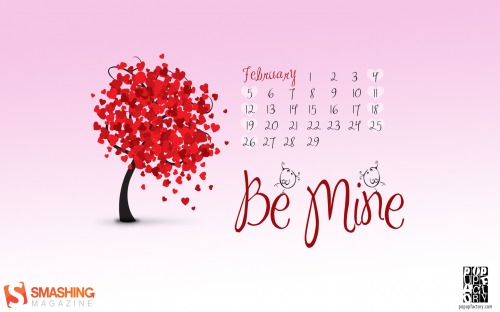 Let The Love Out
Let the love out to the air! Designed by Elie Cheong61 from Malaysia.
This Is Love
Designed by Katerina Bobkova68 from Ukraine.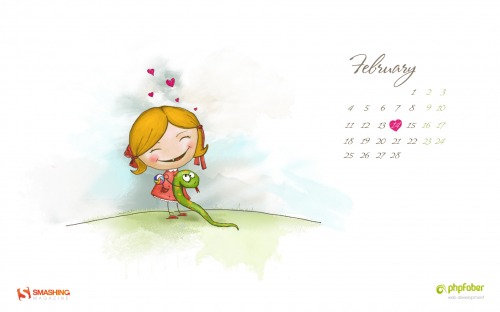 Love Wallpaper
Suffering from unrequited love? Care to attract your sweetheart right now? Try this free Love Wallpaper at work! Post your and your love's pic files so that they fitted into the Love Wallpaper's face silhouettes… Done! Meet your valentine, friend! Designed by Rumake Web Agency from Russia.
Birds Love
Designed by Sacchidanand H Chawan83 from India.
Love Is In The Air
February is one of the coldest months of the year, and I think that love is the only thing that can warm it. Designed by Raluca Dragos93 from Romania.
Hedgehog Love
The only thing more adorable that hedgehogs is hedgehog romance, in the spirit of Valentine's Day. Designed by Dorothy Timmer111 from Central Florida, USA.
Every Day Should Be Valentines Day
Valentine's Day is a big business today. I personally don't celebrate it, because I think if you love someone every day should be Valentine's Day. That's what this wallpaper is all about. The two birds – Milo and Pipita – are a wallpaper series and usually they argue about things men and women argue about, but as it's the Valentine Edition I just went with something cute. — Designed by Nicole Bauer134 from Germany.
Footprints
Yes it's another Valentine's inspired wallpaper, I just couldn't resist! Enjoy (with love). Designed by Federica Sibella147 from Italy.
True Love
Valentines Day chocolates are the perfect gifts to melt a heart. Designed by Manish Jinwal251161 from India.
A Tree of Love
February is a month of "LOVE", so i create "A Tree of LOVE" Designed by Sandhya Banshal167 from India.
Love Is In The Air
February is all roses, hearts and love, so I designed a wallpaper inspired by these elements — love is in the air. Designed by Margarita Shabanova from Bulgaria.
Love flight
Let's up in the clouds in this February. You shoud give credence the love flight. Designed by Roman Volkov aka dacascas195 from Russia.
Valentine
Happy Valentine's Day … Designed by Soodabeh Amirakbari201 from Iran.
Prints Charming
I've been drawing these fingerprint characters for a while. They make people smile. Designed by Phil Scroggs209 from United States.
Love Of My Life
Designed by Elise Vanoorbeek230 from Belgium.
Retro Love
A retro themed Wallpaper, inspired by Deandesign. Designed by Abdus Salam from Pakistan.
Chocolate Heartz for Valentines
Valentines Day chocolates are the perfect gifts to melt a heart. Designed by Manish Jinwal251161 from India.
Abstract Love
This is my first wallpaper… February under the aspect of abstract love… Love isn't always what we expect… Designed by Mehdi Naqi257 from Belgium.
Love wall painting
Hey! This is my latest idea on the subject "Valentine's day". I know that not everybody loves Valentine's day but i do! So i hope that you lovers will love my valentine calendar too.Cheers and happy Valentine's day! Designed by Alexandra Ipate265 from Romania.
Love Splash
Happy Valentine's Day to you all. Designed by Motion Art-ist from Turkey.
Broken Love
A Valentines Day themed wallpaper, inspired by the love that must fight to exist. Designed by Celsiuspictor283 from Spain.
I didn't want to design the normal routine love wallpapers… so I thought to do something different. Designed by Zainab Sule288 from Nigeria.
It's The Love Signal
Let's beam our love to the universe! Designed by Lew Su-ann293 from Brunei Darussalam.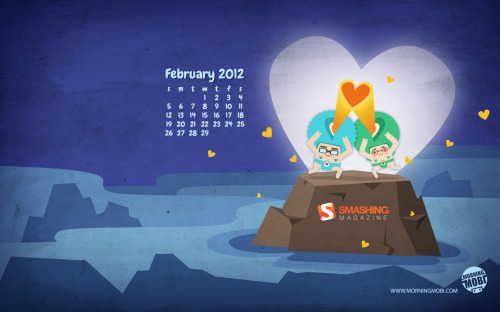 For the Birds
An old birdcage in the sky. Designed by Kristen Cook from USA.
Be My Valentine
The month of love — Designed by Jana Engelhardt309 from Australia.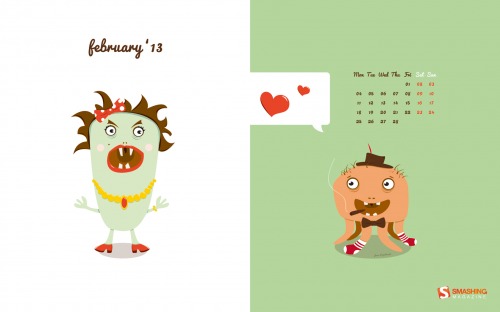 Lost Without You…
February, the month of love. This wallpaper is dedicated to all those people out there who have found that one person in life. They would understand this feeling of being lost, if that person is not around to share your joy, sorrow, success, failure. Happy Valentine's Day!! — Designed by Charuta Puranik from India.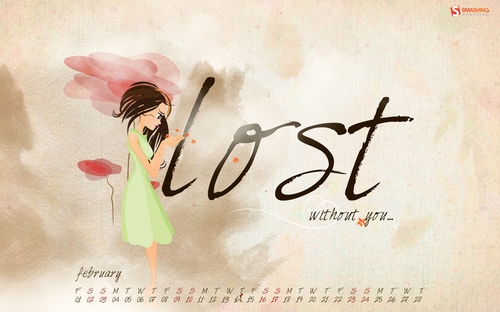 She Loves Me
Ah February, the 14th is the day when we dare a little more than usual, or we await something special from that one person – the better friend, or the better half! — Designed by Rihards Gromuls327 from Latvia.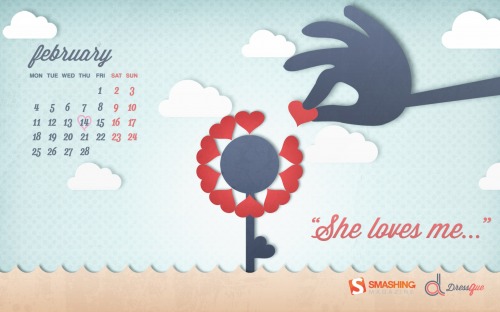 Love Is Timeless
Love is "strange" to find that the differences between people do not exist. Love is timeless. Designed by Verónica Valenzuela349 from Spain.
Elephants
Big lovers! Designed by Giada Degli Agostini from Italy.
Indian Valentines Day
An Indian Valentines Day Decorative Typography. Designed by Atma Creative Team368 from India.
Valentine
This is a present for valentine enjoy . Designed by Vanhove Jonathan.
Month of Hearts
I hope this month brings many Valentines to you. Designed by Stephanie Lam383 from Australia.
Bird Love
A motive is dedicated to all that keeps warm with love in cold winter days. Designed by Tina Krašovec391 from Slovenia.
Valentine
Happy Valentine's Day. Designed by Dragos M400 from Romania.
Love Compose
Designed by Kayro C from China.
Love Is All You Need
Designed by WebOlution411 from Greece.
All You Need Is Love
The Beatles said it best! Love is all you need. Designed by Allison Brown423 from Canada.
Hugs And Kisses!
Designed by Denise Johnson431 from Chicago.
Paper Heart For Loveruary
When I was a little boy I usually folded my notes into paper shapes, objects, flowers or different kinds of animals. Unfortunately, I don't have so much time lately to create origami models, but a handmade paper heart for Valentine's Day is always a must-have. Designed by Zsolt Szilvai439 from Hungary.
All You Need Is Love
Valentines Dayis all about the love.These love birds represent the selfless love they have for each other. Designed by Adorable Designs460 from the United States.
Love Tipi
A place for lovers to hide. Designed by Malgorzata Nowak481 from Poland.
Valentine'10
Designed by Segers Sven from Belgium.
It's Valentine's Day!
February is the month of love…So Warm those days with the Valentine's day wallpaper! — Designed by Webolution509 from Greece.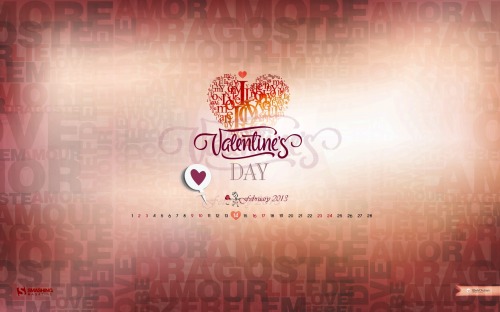 Childhood Sweethearts
Remember the excitement of Valentine's Day when you were in grade school? Remember the cheesy Valentines cards and the sugary treats; the silly love predictions? Designed by Leisha Farrell of Feral Bytes from USA.
Mr. & Ms. Nice
Designed by Diana Morgado529 from Portugal.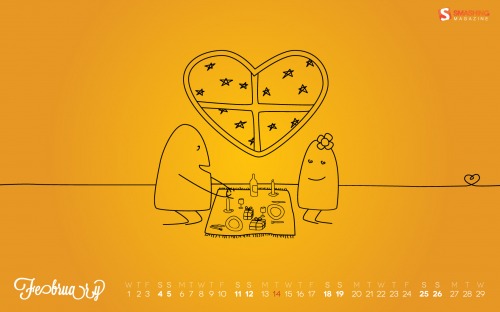 House Of Cards
Designed by Dan Di538 from Italy.
Every Love Story Is Written On Stars
I believe that every Love Story is written by the God on a beautiful Star somewhere far between the galaxies. I believe in these stories, because I believe in Love. Designed by Abin Joe560 from Kochi, India.
Spread Light, Spread Love
A young office clerk and a rockabilly girl? Well, we didn't see that coming. Good job, Cupid! Don't forget your flameless candles and Starlightz for this Valentine's Day. Spread light, spread love! Designed by Lights.com Team572 from United States.
320×480573, 640×480574, 800×480575, 800×600576, 1024×768577, 1152×864578, 1280×720579, 1280×800580, 1280×960581, 1280×1024582, 1400×1050583, 1440×900584, 1600×1200585, 1680×1050586, 1680×1200587, 1920×1080588, 1920×1200589, 1920×1440590, 2560×1440591, 640×960592, 640×1136593, 1040×1360594, 1040×1536595, 1080×1920596, 2560×1600597, 2880×1800598, 2048×2048599
Footnotes
6 https://www.smashingmagazine.com/wp-content/uploads/uploader/wallpapers/february10/february-10-valentine3-nocal-1024x768.jpg
7 https://www.smashingmagazine.com/wp-content/uploads/uploader/wallpapers/february10/february-10-valentine3-nocal-1280x800.jpg
8 https://www.smashingmagazine.com/wp-content/uploads/uploader/wallpapers/february10/february-10-valentine3-nocal-1280x1024.jpg
9 https://www.smashingmagazine.com/wp-content/uploads/uploader/wallpapers/february10/february-10-valentine3-nocal-1440x900.jpg
10 https://www.smashingmagazine.com/wp-content/uploads/uploader/wallpapers/february10/february-10-valentine3-nocal-1680x1050.jpg
11 https://www.smashingmagazine.com/wp-content/uploads/uploader/wallpapers/february10/february-10-valentine3-nocal-1920x1200.jpg
12 http://files.smashingmagazine.com/wallpapers/february-13/february-13-valentine__31-nocal-1280x720.png
13 http://files.smashingmagazine.com/wallpapers/february-13/february-13-valentine__31-nocal-1280x800.png
14 http://files.smashingmagazine.com/wallpapers/february-13/february-13-valentine__31-nocal-1440x900.png
15 http://files.smashingmagazine.com/wallpapers/february-13/february-13-valentine__31-nocal-1680x1050.png
16 http://files.smashingmagazine.com/wallpapers/february-13/february-13-valentine__31-nocal-1920x1080.png
17 http://files.smashingmagazine.com/wallpapers/february-13/february-13-valentine__31-nocal-1920x1200.png
18 http://files.smashingmagazine.com/wallpapers/february-13/february-13-valentine__31-nocal-2560x1440.png
20 http://files.smashingmagazine.com/wallpapers/february-14/happy-valentine/nocal/feb-14-happy-valentine-nocal-320x480.jpg
21 http://files.smashingmagazine.com/wallpapers/february-14/happy-valentine/nocal/feb-14-happy-valentine-nocal-800x480.jpg
22 http://files.smashingmagazine.com/wallpapers/february-14/happy-valentine/nocal/feb-14-happy-valentine-nocal-1024x768.jpg
23 http://files.smashingmagazine.com/wallpapers/february-14/happy-valentine/nocal/feb-14-happy-valentine-nocal-1280x800.jpg
24 http://files.smashingmagazine.com/wallpapers/february-14/happy-valentine/nocal/feb-14-happy-valentine-nocal-1280x1024.jpg
25 http://files.smashingmagazine.com/wallpapers/february-14/happy-valentine/nocal/feb-14-happy-valentine-nocal-1440x900.jpg
26 http://files.smashingmagazine.com/wallpapers/february-14/happy-valentine/nocal/feb-14-happy-valentine-nocal-1920x1080.jpg
27 http://files.smashingmagazine.com/wallpapers/february-14/happy-valentine/nocal/feb-14-happy-valentine-nocal-1920x1200.jpg
28 http://files.smashingmagazine.com/wallpapers/february-14/happy-valentine/nocal/feb-14-happy-valentine-nocal-1366x768.jpg
29 https://www.smashingmagazine.com/wp-content/uploads/uploader/wallpapers/february10/february-10-sexyvalentine-nocal-320x480.jpg
30 https://www.smashingmagazine.com/wp-content/uploads/uploader/wallpapers/february10/february-10-sexyvalentine-nocal-1024x768.jpg
31 https://www.smashingmagazine.com/wp-content/uploads/uploader/wallpapers/february10/february-10-sexyvalentine-nocal-1280x800.jpg
32 https://www.smashingmagazine.com/wp-content/uploads/uploader/wallpapers/february10/february-10-sexyvalentine-nocal-1280x1024.jpg
33 https://www.smashingmagazine.com/wp-content/uploads/uploader/wallpapers/february10/february-10-sexyvalentine-nocal-1440x900.jpg
34 https://www.smashingmagazine.com/wp-content/uploads/uploader/wallpapers/february10/february-10-sexyvalentine-nocal-1680x1050.jpg
35 https://www.smashingmagazine.com/wp-content/uploads/uploader/wallpapers/february10/february-10-sexyvalentine-nocal-1920x1200.jpg
37 http://files.smashingmagazine.com/wallpapers/feb-15/my-heart-is-too-big/nocal/feb-15-my-heart-is-too-big-nocal-800x480.jpg
38 http://files.smashingmagazine.com/wallpapers/feb-15/my-heart-is-too-big/nocal/feb-15-my-heart-is-too-big-nocal-1280x720.jpg
39 http://files.smashingmagazine.com/wallpapers/feb-15/my-heart-is-too-big/nocal/feb-15-my-heart-is-too-big-nocal-1280x800.jpg
40 http://files.smashingmagazine.com/wallpapers/feb-15/my-heart-is-too-big/nocal/feb-15-my-heart-is-too-big-nocal-1280x960.jpg
41 http://files.smashingmagazine.com/wallpapers/feb-15/my-heart-is-too-big/nocal/feb-15-my-heart-is-too-big-nocal-1600x1200.jpg
42 http://files.smashingmagazine.com/wallpapers/feb-15/my-heart-is-too-big/nocal/feb-15-my-heart-is-too-big-nocal-1680x1050.jpg
43 http://files.smashingmagazine.com/wallpapers/feb-15/my-heart-is-too-big/nocal/feb-15-my-heart-is-too-big-nocal-1680x1200.jpg
44 http://files.smashingmagazine.com/wallpapers/feb-15/my-heart-is-too-big/nocal/feb-15-my-heart-is-too-big-nocal-1920x1080.jpg
45 http://files.smashingmagazine.com/wallpapers/feb-15/my-heart-is-too-big/nocal/feb-15-my-heart-is-too-big-nocal-1920x1200.jpg
46 http://files.smashingmagazine.com/wallpapers/feb-15/my-heart-is-too-big/nocal/feb-15-my-heart-is-too-big-nocal-1920x1440.jpg
48 https://www.smashingmagazine.com/wp-content/uploads/uploader/images/wallpaper-calendar-february-10/full/fr_kinf_of_love_dominguez.png
49 https://www.smashingmagazine.com/wp-content/uploads/uploader/wallpapers/february10/february-10-fr_kinf_of_love_dominguez-nocal-320x480.png
50 https://www.smashingmagazine.com/wp-content/uploads/uploader/wallpapers/february10/february-10-fr_kinf_of_love_dominguez-nocal-1024x768.png
51 https://www.smashingmagazine.com/wp-content/uploads/uploader/wallpapers/february10/february-10-fr_kinf_of_love_dominguez-nocal-1280x800.png
52 https://www.smashingmagazine.com/wp-content/uploads/uploader/wallpapers/february10/february-10-fr_kinf_of_love_dominguez-nocal-1440x900.png
53 https://www.smashingmagazine.com/wp-content/uploads/uploader/wallpapers/february10/february-10-fr_kinf_of_love_dominguez-nocal-1680x1050.png
54 https://www.smashingmagazine.com/wp-content/uploads/uploader/wallpapers/february10/february-10-fr_kinf_of_love_dominguez-nocal-1920x1200.png
56 http://files.smashingmagazine.com/wallpapers/february-12/february-12-be_mine__4-nocal-1024x768.jpg
57 http://files.smashingmagazine.com/wallpapers/february-12/february-12-be_mine__4-nocal-1280x800.jpg
58 http://files.smashingmagazine.com/wallpapers/february-12/february-12-be_mine__4-nocal-1366x768.jpg
59 http://files.smashingmagazine.com/wallpapers/february-12/february-12-be_mine__4-nocal-1440x900.jpg
60 http://files.smashingmagazine.com/wallpapers/february-12/february-12-be_mine__4-nocal-1680x1050.jpg
62 http://files.smashingmagazine.com/wallpapers/february-14/love-is-the-air/nocal/feb-14-love-is-the-air-nocal-320x480.jpg
63 http://files.smashingmagazine.com/wallpapers/february-14/love-is-the-air/nocal/feb-14-love-is-the-air-nocal-800x480.jpg
64 http://files.smashingmagazine.com/wallpapers/february-14/love-is-the-air/nocal/feb-14-love-is-the-air-nocal-800x600.jpg
65 http://files.smashingmagazine.com/wallpapers/february-14/love-is-the-air/nocal/feb-14-love-is-the-air-nocal-1024x768.jpg
66 http://files.smashingmagazine.com/wallpapers/february-14/love-is-the-air/nocal/feb-14-love-is-the-air-nocal-1280x720.jpg
67 http://files.smashingmagazine.com/wallpapers/february-14/love-is-the-air/nocal/feb-14-love-is-the-air-nocal-1920x1080.jpg
69 http://files.smashingmagazine.com/wallpapers/february-13/february-13-february_13_this_is_love__92-nocal-320x480.jpg
70 http://files.smashingmagazine.com/wallpapers/february-13/february-13-february_13_this_is_love__92-nocal-1024x768.jpg
71 http://files.smashingmagazine.com/wallpapers/february-13/february-13-february_13_this_is_love__92-nocal-1024x1024.jpg
72 http://files.smashingmagazine.com/wallpapers/february-13/february-13-february_13_this_is_love__92-nocal-1280x800.jpg
73 http://files.smashingmagazine.com/wallpapers/february-13/february-13-february_13_this_is_love__92-nocal-1440x900.jpg
74 http://files.smashingmagazine.com/wallpapers/february-13/february-13-february_13_this_is_love__92-nocal-1680x1050.jpg
75 http://files.smashingmagazine.com/wallpapers/february-13/february-13-february_13_this_is_love__92-nocal-1960x1080.jpg
76 https://www.smashingmagazine.com/wp-content/uploads/uploader/wallpapers/february10/february-10-love-wallpaper-nocal-1024x768.jpg
77 https://www.smashingmagazine.com/wp-content/uploads/uploader/wallpapers/february10/february-10-love-wallpaper-nocal-1280x800.jpg
78 https://www.smashingmagazine.com/wp-content/uploads/uploader/wallpapers/february10/february-10-love-wallpaper-nocal-1440x900.jpg
79 https://www.smashingmagazine.com/wp-content/uploads/uploader/wallpapers/february10/february-10-love-wallpaper-nocal-1680x1050.jpg
80 https://www.smashingmagazine.com/wp-content/uploads/uploader/wallpapers/february10/february-10-love-wallpaper-nocal-1920x1080.jpg
81 https://www.smashingmagazine.com/wp-content/uploads/uploader/wallpapers/february10/february-10-love-wallpaper-nocal-1920x1200.jpg
82 https://www.smashingmagazine.com/wp-content/uploads/uploader/wallpapers/february10/february-10-love-wallpaper-nocal-1920x1440.jpg
85 http://files.smashingmagazine.com/wallpapers/feb-16/month-of-love/nocal/feb-16-month-of-love-nocal-1280x1024.png
86 http://files.smashingmagazine.com/wallpapers/feb-16/month-of-love/nocal/feb-16-month-of-love-nocal-1366x768.png
87 http://files.smashingmagazine.com/wallpapers/feb-16/month-of-love/nocal/feb-16-month-of-love-nocal-1440x900.png
88 http://files.smashingmagazine.com/wallpapers/feb-16/month-of-love/nocal/feb-16-month-of-love-nocal-1440x1050.png
89 http://files.smashingmagazine.com/wallpapers/feb-16/month-of-love/nocal/feb-16-month-of-love-nocal-1600x1200.png
90 http://files.smashingmagazine.com/wallpapers/feb-16/month-of-love/nocal/feb-16-month-of-love-nocal-1680x1050.png
91 http://files.smashingmagazine.com/wallpapers/feb-16/month-of-love/nocal/feb-16-month-of-love-nocal-1680x1200.png
92 http://files.smashingmagazine.com/wallpapers/feb-16/month-of-love/nocal/feb-16-month-of-love-nocal-1920x1080.png
94 http://files.smashingmagazine.com/wallpapers/february-14/balloon-love-is-in-the-air/nocal/feb-14-balloon-love-is-in-the-air-nocal-320x480.png
95 http://files.smashingmagazine.com/wallpapers/february-14/balloon-love-is-in-the-air/nocal/feb-14-balloon-love-is-in-the-air-nocal-640x480.png
96 http://files.smashingmagazine.com/wallpapers/february-14/balloon-love-is-in-the-air/nocal/feb-14-balloon-love-is-in-the-air-nocal-800x480.png
97 http://files.smashingmagazine.com/wallpapers/february-14/balloon-love-is-in-the-air/nocal/feb-14-balloon-love-is-in-the-air-nocal-800x600.png
98 http://files.smashingmagazine.com/wallpapers/february-14/balloon-love-is-in-the-air/nocal/feb-14-balloon-love-is-in-the-air-nocal-1024x1024.png
99 http://files.smashingmagazine.com/wallpapers/february-14/balloon-love-is-in-the-air/nocal/feb-14-balloon-love-is-in-the-air-nocal-1152x864.png
100 http://files.smashingmagazine.com/wallpapers/february-14/balloon-love-is-in-the-air/nocal/feb-14-balloon-love-is-in-the-air-nocal-1280x720.png
101 http://files.smashingmagazine.com/wallpapers/february-14/balloon-love-is-in-the-air/nocal/feb-14-balloon-love-is-in-the-air-nocal-1280x800.png
102 http://files.smashingmagazine.com/wallpapers/february-14/balloon-love-is-in-the-air/nocal/feb-14-balloon-love-is-in-the-air-nocal-1280x960.png
103 http://files.smashingmagazine.com/wallpapers/february-14/balloon-love-is-in-the-air/nocal/feb-14-balloon-love-is-in-the-air-nocal-1400x1050.png
104 http://files.smashingmagazine.com/wallpapers/february-14/balloon-love-is-in-the-air/nocal/feb-14-balloon-love-is-in-the-air-nocal-1440x900.png
105 http://files.smashingmagazine.com/wallpapers/february-14/balloon-love-is-in-the-air/nocal/feb-14-balloon-love-is-in-the-air-nocal-1600x1200.png
106 http://files.smashingmagazine.com/wallpapers/february-14/balloon-love-is-in-the-air/nocal/feb-14-balloon-love-is-in-the-air-nocal-1680x1200.png
107 http://files.smashingmagazine.com/wallpapers/february-14/balloon-love-is-in-the-air/nocal/feb-14-balloon-love-is-in-the-air-nocal-1920x1080.png
108 http://files.smashingmagazine.com/wallpapers/february-14/balloon-love-is-in-the-air/nocal/feb-14-balloon-love-is-in-the-air-nocal-1920x1200.png
109 http://files.smashingmagazine.com/wallpapers/february-14/balloon-love-is-in-the-air/nocal/feb-14-balloon-love-is-in-the-air-nocal-1920x1440.png
110 http://files.smashingmagazine.com/wallpapers/february-14/balloon-love-is-in-the-air/nocal/feb-14-balloon-love-is-in-the-air-nocal-2560x1440.png
112 http://files.smashingmagazine.com/wallpapers/feb-15/hedgehog-love/nocal/feb-15-hedgehog-love-nocal-640x480.png
113 http://files.smashingmagazine.com/wallpapers/feb-15/hedgehog-love/nocal/feb-15-hedgehog-love-nocal-800x480.png
114 http://files.smashingmagazine.com/wallpapers/feb-15/hedgehog-love/nocal/feb-15-hedgehog-love-nocal-800x600.png
115 http://files.smashingmagazine.com/wallpapers/feb-15/hedgehog-love/nocal/feb-15-hedgehog-love-nocal-1024x768.png
116 http://files.smashingmagazine.com/wallpapers/feb-15/hedgehog-love/nocal/feb-15-hedgehog-love-nocal-1024x1024.png
117 http://files.smashingmagazine.com/wallpapers/feb-15/hedgehog-love/nocal/feb-15-hedgehog-love-nocal-1152x864.png
118 http://files.smashingmagazine.com/wallpapers/feb-15/hedgehog-love/nocal/feb-15-hedgehog-love-nocal-1280x720.png
119 http://files.smashingmagazine.com/wallpapers/feb-15/hedgehog-love/nocal/feb-15-hedgehog-love-nocal-1280x800.png
120 http://files.smashingmagazine.com/wallpapers/feb-15/hedgehog-love/nocal/feb-15-hedgehog-love-nocal-1280x960.png
121 http://files.smashingmagazine.com/wallpapers/feb-15/hedgehog-love/nocal/feb-15-hedgehog-love-nocal-1280x1024.png
122 http://files.smashingmagazine.com/wallpapers/feb-15/hedgehog-love/nocal/feb-15-hedgehog-love-nocal-1400x1050.png
123 http://files.smashingmagazine.com/wallpapers/feb-15/hedgehog-love/nocal/feb-15-hedgehog-love-nocal-1440x900.png
124 http://files.smashingmagazine.com/wallpapers/feb-15/hedgehog-love/nocal/feb-15-hedgehog-love-nocal-1600x1200.png
125 http://files.smashingmagazine.com/wallpapers/feb-15/hedgehog-love/nocal/feb-15-hedgehog-love-nocal-1680x1050.png
126 http://files.smashingmagazine.com/wallpapers/feb-15/hedgehog-love/nocal/feb-15-hedgehog-love-nocal-1680x1200.png
127 http://files.smashingmagazine.com/wallpapers/feb-15/hedgehog-love/nocal/feb-15-hedgehog-love-nocal-1920x1080.png
128 http://files.smashingmagazine.com/wallpapers/feb-15/hedgehog-love/nocal/feb-15-hedgehog-love-nocal-1920x1200.png
129 http://files.smashingmagazine.com/wallpapers/feb-15/hedgehog-love/nocal/feb-15-hedgehog-love-nocal-1920x1440.png
130 http://files.smashingmagazine.com/wallpapers/feb-15/hedgehog-love/nocal/feb-15-hedgehog-love-nocal-2560x1440.png
131 http://files.smashingmagazine.com/wallpapers/feb-15/hedgehog-love/nocal/feb-15-hedgehog-love-nocal-640x1136.png
132 http://files.smashingmagazine.com/wallpapers/feb-15/hedgehog-love/nocal/feb-15-hedgehog-love-nocal-750x1334.png
133 http://files.smashingmagazine.com/wallpapers/feb-15/hedgehog-love/nocal/feb-15-hedgehog-love-nocal-1366x768.png
135 http://files.smashingmagazine.com/wallpapers/february-13/february-13-birds_valentine__47-nocal-320x480.jpg
136 http://files.smashingmagazine.com/wallpapers/february-13/february-13-birds_valentine__47-nocal-640x960.jpg
137 http://files.smashingmagazine.com/wallpapers/february-13/february-13-birds_valentine__47-nocal-1024x768.jpg
138 http://files.smashingmagazine.com/wallpapers/february-13/february-13-birds_valentine__47-nocal-1024x1024.jpg
139 http://files.smashingmagazine.com/wallpapers/february-13/february-13-birds_valentine__47-nocal-1280x800.jpg
140 http://files.smashingmagazine.com/wallpapers/february-13/february-13-birds_valentine__47-nocal-1280x1024.jpg
141 http://files.smashingmagazine.com/wallpapers/february-13/february-13-birds_valentine__47-nocal-1366x768.jpg
142 http://files.smashingmagazine.com/wallpapers/february-13/february-13-birds_valentine__47-nocal-1440x900.jpg
143 http://files.smashingmagazine.com/wallpapers/february-13/february-13-birds_valentine__47-nocal-1680x1050.jpg
144 http://files.smashingmagazine.com/wallpapers/february-13/february-13-birds_valentine__47-nocal-1920x1080.jpg
145 http://files.smashingmagazine.com/wallpapers/february-13/february-13-birds_valentine__47-nocal-1920x1200.jpg
146 http://files.smashingmagazine.com/wallpapers/february-13/february-13-birds_valentine__47-nocal-2560x1440.jpg
148 https://www.smashingmagazine.com/wp-content/uploads/uploader/wallpapers/february10/february-10-footprints-nocal-1024x640.jpg
149 https://www.smashingmagazine.com/wp-content/uploads/uploader/wallpapers/february10/february-10-footprints-nocal-1024x768.jpg
150 https://www.smashingmagazine.com/wp-content/uploads/uploader/wallpapers/february10/february-10-footprints-nocal-1152x864.jpg
151 https://www.smashingmagazine.com/wp-content/uploads/uploader/wallpapers/february10/february-10-footprints-nocal-1280x800.jpg
152 https://www.smashingmagazine.com/wp-content/uploads/uploader/wallpapers/february10/february-10-footprints-nocal-1280x960.jpg
153 https://www.smashingmagazine.com/wp-content/uploads/uploader/wallpapers/february10/february-10-footprints-nocal-1280x1024.jpg
154 https://www.smashingmagazine.com/wp-content/uploads/uploader/wallpapers/february10/february-10-footprints-nocal-1400x1050.jpg
155 https://www.smashingmagazine.com/wp-content/uploads/uploader/wallpapers/february10/february-10-footprints-nocal-1440x900.jpg
156 https://www.smashingmagazine.com/wp-content/uploads/uploader/wallpapers/february10/february-10-footprints-nocal-1600x1200.jpg
157 https://www.smashingmagazine.com/wp-content/uploads/uploader/wallpapers/february10/february-10-footprints-nocal-1680x1050.jpg
158 https://www.smashingmagazine.com/wp-content/uploads/uploader/wallpapers/february10/february-10-footprints-nocal-1920x1200.jpg
159 https://www.smashingmagazine.com/wp-content/uploads/uploader/wallpapers/february10/february-10-footprints-nocal-1920x1440.jpg
160 https://www.smashingmagazine.com/wp-content/uploads/uploader/wallpapers/february10/february-10-footprints-nocal-2560x1600.jpg
162 https://www.smashingmagazine.com/wp-content/uploads/uploader/wallpapers/february10/february-10-true-love-nocal-1280x800.jpg
163 https://www.smashingmagazine.com/wp-content/uploads/uploader/wallpapers/february10/february-10-true-love-nocal-1280x1024.jpg
164 https://www.smashingmagazine.com/wp-content/uploads/uploader/wallpapers/february10/february-10-true-love-nocal-1440x900.jpg
165 https://www.smashingmagazine.com/wp-content/uploads/uploader/wallpapers/february10/february-10-true-love-nocal-1680x1050.jpg
166 https://www.smashingmagazine.com/wp-content/uploads/uploader/wallpapers/february10/february-10-true-love-nocal-1920x1200.jpg
168 https://www.smashingmagazine.com/wp-content/uploads/uploader/wallpapers/february10/february-10-a-tree-of-love-nocal-1024x768.jpg
169 https://www.smashingmagazine.com/wp-content/uploads/uploader/wallpapers/february10/february-10-a-tree-of-love-nocal-1280x800.jpg
170 https://www.smashingmagazine.com/wp-content/uploads/uploader/wallpapers/february10/february-10-a-tree-of-love-nocal-1280x1024.jpg
171 https://www.smashingmagazine.com/wp-content/uploads/uploader/wallpapers/february10/february-10-a-tree-of-love-nocal-1440x900.jpg
172 https://www.smashingmagazine.com/wp-content/uploads/uploader/wallpapers/february10/february-10-a-tree-of-love-nocal-1680x1050.jpg
173 http://files.smashingmagazine.com/wallpapers/feb-16/love-is-in-the-air/feb-16-love-is-in-the-air-full.jpg
174 http://files.smashingmagazine.com/wallpapers/feb-16/love-is-in-the-air/nocal/feb-16-love-is-in-the-air-nocal-320x480.jpg
175 http://files.smashingmagazine.com/wallpapers/feb-16/love-is-in-the-air/nocal/feb-16-love-is-in-the-air-nocal-640x480.jpg
176 http://files.smashingmagazine.com/wallpapers/feb-16/love-is-in-the-air/nocal/feb-16-love-is-in-the-air-nocal-800x480.jpg
177 http://files.smashingmagazine.com/wallpapers/feb-16/love-is-in-the-air/nocal/feb-16-love-is-in-the-air-nocal-800x600.jpg
178 http://files.smashingmagazine.com/wallpapers/feb-16/love-is-in-the-air/nocal/feb-16-love-is-in-the-air-nocal-1024x768.jpg
179 http://files.smashingmagazine.com/wallpapers/feb-16/love-is-in-the-air/nocal/feb-16-love-is-in-the-air-nocal-1024x1024.jpg
180 http://files.smashingmagazine.com/wallpapers/feb-16/love-is-in-the-air/nocal/feb-16-love-is-in-the-air-nocal-1152x864.jpg
181 http://files.smashingmagazine.com/wallpapers/feb-16/love-is-in-the-air/nocal/feb-16-love-is-in-the-air-nocal-1280x720.jpg
182 http://files.smashingmagazine.com/wallpapers/feb-16/love-is-in-the-air/nocal/feb-16-love-is-in-the-air-nocal-1280x800.jpg
183 http://files.smashingmagazine.com/wallpapers/feb-16/love-is-in-the-air/nocal/feb-16-love-is-in-the-air-nocal-1280x960.jpg
184 http://files.smashingmagazine.com/wallpapers/feb-16/love-is-in-the-air/nocal/feb-16-love-is-in-the-air-nocal-1280x1024.jpg
185 http://files.smashingmagazine.com/wallpapers/feb-16/love-is-in-the-air/nocal/feb-16-love-is-in-the-air-nocal-1366x768.jpg
186 http://files.smashingmagazine.com/wallpapers/feb-16/love-is-in-the-air/nocal/feb-16-love-is-in-the-air-nocal-1400x1050.jpg
187 http://files.smashingmagazine.com/wallpapers/feb-16/love-is-in-the-air/nocal/feb-16-love-is-in-the-air-nocal-1440x900.jpg
188 http://files.smashingmagazine.com/wallpapers/feb-16/love-is-in-the-air/nocal/feb-16-love-is-in-the-air-nocal-1600x1200.jpg
189 http://files.smashingmagazine.com/wallpapers/feb-16/love-is-in-the-air/nocal/feb-16-love-is-in-the-air-nocal-1680x1050.jpg
190 http://files.smashingmagazine.com/wallpapers/feb-16/love-is-in-the-air/nocal/feb-16-love-is-in-the-air-nocal-1680x1200.jpg
191 http://files.smashingmagazine.com/wallpapers/feb-16/love-is-in-the-air/nocal/feb-16-love-is-in-the-air-nocal-1920x1080.jpg
192 http://files.smashingmagazine.com/wallpapers/feb-16/love-is-in-the-air/nocal/feb-16-love-is-in-the-air-nocal-1920x1200.jpg
193 http://files.smashingmagazine.com/wallpapers/feb-16/love-is-in-the-air/nocal/feb-16-love-is-in-the-air-nocal-1920x1440.jpg
194 http://files.smashingmagazine.com/wallpapers/feb-16/love-is-in-the-air/nocal/feb-16-love-is-in-the-air-nocal-2560x1440.jpg
196 https://www.smashingmagazine.com/wp-content/uploads/uploader/wallpapers/february10/february-10-love-flight-nocal-1024x768.jpg
197 https://www.smashingmagazine.com/wp-content/uploads/uploader/wallpapers/february10/february-10-love-flight-nocal-1280x800.jpg
198 https://www.smashingmagazine.com/wp-content/uploads/uploader/wallpapers/february10/february-10-love-flight-nocal-1280x1024.jpg
199 https://www.smashingmagazine.com/wp-content/uploads/uploader/wallpapers/february10/february-10-love-flight-nocal-1440x900.jpg
200 https://www.smashingmagazine.com/wp-content/uploads/uploader/wallpapers/february10/february-10-love-flight-nocal-1680x1050.jpg
202 https://www.smashingmagazine.com/wp-content/uploads/uploader/wallpapers/february10/february-10-valentine10-nocal-1024x768.jpg
203 https://www.smashingmagazine.com/wp-content/uploads/uploader/wallpapers/february10/february-10-valentine10-nocal-1152x864.jpg
204 https://www.smashingmagazine.com/wp-content/uploads/uploader/wallpapers/february10/february-10-valentine10-nocal-1280x800.jpg
205 https://www.smashingmagazine.com/wp-content/uploads/uploader/wallpapers/february10/february-10-valentine10-nocal-1280x1024.jpg
206 https://www.smashingmagazine.com/wp-content/uploads/uploader/wallpapers/february10/february-10-valentine10-nocal-1440x900.jpg
207 https://www.smashingmagazine.com/wp-content/uploads/uploader/wallpapers/february10/february-10-valentine10-nocal-1680x1050.jpg
208 https://www.smashingmagazine.com/wp-content/uploads/uploader/wallpapers/february10/february-10-valentine10-nocal-1920x1200.jpg
210 http://files.smashingmagazine.com/wallpapers/february-14/prints-charming/nocal/feb-14-prints-charming-nocal-320x480.png
211 http://files.smashingmagazine.com/wallpapers/february-14/prints-charming/nocal/feb-14-prints-charming-nocal-640x480.png
212 http://files.smashingmagazine.com/wallpapers/february-14/prints-charming/nocal/feb-14-prints-charming-nocal-800x480.png
213 http://files.smashingmagazine.com/wallpapers/february-14/prints-charming/nocal/feb-14-prints-charming-nocal-800x600.png
214 http://files.smashingmagazine.com/wallpapers/february-14/prints-charming/nocal/feb-14-prints-charming-nocal-1024x768.png
215 http://files.smashingmagazine.com/wallpapers/february-14/prints-charming/nocal/feb-14-prints-charming-nocal-1024x1024.png
216 http://files.smashingmagazine.com/wallpapers/february-14/prints-charming/nocal/feb-14-prints-charming-nocal-1152x864.png
217 http://files.smashingmagazine.com/wallpapers/february-14/prints-charming/nocal/feb-14-prints-charming-nocal-1280x720.png
218 http://files.smashingmagazine.com/wallpapers/february-14/prints-charming/nocal/feb-14-prints-charming-nocal-1280x800.png
219 http://files.smashingmagazine.com/wallpapers/february-14/prints-charming/nocal/feb-14-prints-charming-nocal-1280x960.png
220 http://files.smashingmagazine.com/wallpapers/february-14/prints-charming/nocal/feb-14-prints-charming-nocal-1280x1024.png
221 http://files.smashingmagazine.com/wallpapers/february-14/prints-charming/nocal/feb-14-prints-charming-nocal-1400x1050.png
222 http://files.smashingmagazine.com/wallpapers/february-14/prints-charming/nocal/feb-14-prints-charming-nocal-1440x900.png
223 http://files.smashingmagazine.com/wallpapers/february-14/prints-charming/nocal/feb-14-prints-charming-nocal-1600x1200.png
224 http://files.smashingmagazine.com/wallpapers/february-14/prints-charming/nocal/feb-14-prints-charming-nocal-1680x1050.png
225 http://files.smashingmagazine.com/wallpapers/february-14/prints-charming/nocal/feb-14-prints-charming-nocal-1680x1200.png
226 http://files.smashingmagazine.com/wallpapers/february-14/prints-charming/nocal/feb-14-prints-charming-nocal-1920x1080.png
227 http://files.smashingmagazine.com/wallpapers/february-14/prints-charming/nocal/feb-14-prints-charming-nocal-1920x1200.png
228 http://files.smashingmagazine.com/wallpapers/february-14/prints-charming/nocal/feb-14-prints-charming-nocal-1920x1440.png
229 http://files.smashingmagazine.com/wallpapers/february-14/prints-charming/nocal/feb-14-prints-charming-nocal-2560x1440.png
231 http://files.smashingmagazine.com/wallpapers/february-14/love-of-my-life/cal/feb-14-love-of-my-life-cal-2560x1440.jpg
232 http://files.smashingmagazine.com/wallpapers/february-14/love-of-my-life/nocal/feb-14-love-of-my-life-nocal-800x600.jpg
233 http://files.smashingmagazine.com/wallpapers/february-14/love-of-my-life/nocal/feb-14-love-of-my-life-nocal-1204x768.jpg
234 http://files.smashingmagazine.com/wallpapers/february-14/love-of-my-life/nocal/feb-14-love-of-my-life-nocal-1280x720.jpg
235 http://files.smashingmagazine.com/wallpapers/february-14/love-of-my-life/nocal/feb-14-love-of-my-life-nocal-1280x800.jpg
236 http://files.smashingmagazine.com/wallpapers/february-14/love-of-my-life/nocal/feb-14-love-of-my-life-nocal-1280x960.jpg
237 http://files.smashingmagazine.com/wallpapers/february-14/love-of-my-life/nocal/feb-14-love-of-my-life-nocal-1600x1200.jpg
238 http://files.smashingmagazine.com/wallpapers/february-14/love-of-my-life/nocal/feb-14-love-of-my-life-nocal-1680x1050.jpg
239 http://files.smashingmagazine.com/wallpapers/february-14/love-of-my-life/nocal/feb-14-love-of-my-life-nocal-1680x1200.jpg
240 http://files.smashingmagazine.com/wallpapers/february-14/love-of-my-life/nocal/feb-14-love-of-my-life-nocal-1920x1080.jpg
241 http://files.smashingmagazine.com/wallpapers/february-14/love-of-my-life/nocal/feb-14-love-of-my-life-nocal-1920x1200.jpg
242 http://files.smashingmagazine.com/wallpapers/february-14/love-of-my-life/nocal/feb-14-love-of-my-life-nocal-1920x1440.jpg
243 http://files.smashingmagazine.com/wallpapers/february-14/love-of-my-life/nocal/feb-14-love-of-my-life-nocal-2560x1440.jpg
244 https://www.smashingmagazine.com/wp-content/uploads/uploader/wallpapers/february10/february-10-retro-love-nocal-320x480.jpg
245 https://www.smashingmagazine.com/wp-content/uploads/uploader/wallpapers/february10/february-10-retro-love-nocal-1024x768.jpg
246 https://www.smashingmagazine.com/wp-content/uploads/uploader/wallpapers/february10/february-10-retro-love-nocal-1280x800.jpg
247 https://www.smashingmagazine.com/wp-content/uploads/uploader/wallpapers/february10/february-10-retro-love-nocal-1280x1024.jpg
248 https://www.smashingmagazine.com/wp-content/uploads/uploader/wallpapers/february10/february-10-retro-love-nocal-1440x900.jpg
249 https://www.smashingmagazine.com/wp-content/uploads/uploader/wallpapers/february10/february-10-retro-love-nocal-1600x1200.jpg
250 https://www.smashingmagazine.com/wp-content/uploads/uploader/wallpapers/february10/february-10-retro-love-nocal-1920x1200.jpg
252 https://www.smashingmagazine.com/wp-content/uploads/uploader/wallpapers/february10/february-10-chocolate-heartz-for-valentines-nocal-1280x800.jpg
253 https://www.smashingmagazine.com/wp-content/uploads/uploader/wallpapers/february10/february-10-chocolate-heartz-for-valentines-nocal-1280x1024.jpg
254 https://www.smashingmagazine.com/wp-content/uploads/uploader/wallpapers/february10/february-10-chocolate-heartz-for-valentines-nocal-1440x900.jpg
255 https://www.smashingmagazine.com/wp-content/uploads/uploader/wallpapers/february10/february-10-chocolate-heartz-for-valentines-nocal-1680x1050.jpg
256 https://www.smashingmagazine.com/wp-content/uploads/uploader/wallpapers/february10/february-10-chocolate-heartz-for-valentines-nocal-1920x1200.jpg
258 https://www.smashingmagazine.com/wp-content/uploads/uploader/wallpapers/february10/february-10-abstract_love-nocal-1024x768.jpg
259 https://www.smashingmagazine.com/wp-content/uploads/uploader/wallpapers/february10/february-10-abstract_love-nocal-1280x800.jpg
260 https://www.smashingmagazine.com/wp-content/uploads/uploader/wallpapers/february10/february-10-abstract_love-nocal-1280x1024.jpg
261 https://www.smashingmagazine.com/wp-content/uploads/uploader/wallpapers/february10/february-10-abstract_love-nocal-1440x900.jpg
262 https://www.smashingmagazine.com/wp-content/uploads/uploader/wallpapers/february10/february-10-abstract_love-nocal-1680x1050.jpg
263 https://www.smashingmagazine.com/wp-content/uploads/uploader/wallpapers/february10/february-10-abstract_love-nocal-1920x1080.jpg
264 https://www.smashingmagazine.com/wp-content/uploads/uploader/wallpapers/february10/february-10-abstract_love-nocal-1920x1200.jpg
266 https://www.smashingmagazine.com/wp-content/uploads/uploader/images/wallpaper-calendar-february-10/full/love-wall-painting.jpg
267 https://www.smashingmagazine.com/wp-content/uploads/uploader/wallpapers/february10/february-10-love-wall-painting-nocal-1024x640.jpg
268 https://www.smashingmagazine.com/wp-content/uploads/uploader/wallpapers/february10/february-10-love-wall-painting-nocal-1280x800.jpg
269 https://www.smashingmagazine.com/wp-content/uploads/uploader/wallpapers/february10/february-10-love-wall-painting-nocal-1440x900.jpg
270 https://www.smashingmagazine.com/wp-content/uploads/uploader/wallpapers/february10/february-10-love-wall-painting-nocal-1680x1050.jpg
271 https://www.smashingmagazine.com/wp-content/uploads/uploader/wallpapers/february10/february-10-love-wall-painting-nocal-1920x1200.jpg
272 https://www.smashingmagazine.com/wp-content/uploads/uploader/wallpapers/february10/february-10-love-wall-painting-nocal-2560x1600.jpg
273 https://www.smashingmagazine.com/wp-content/uploads/uploader/wallpapers/february11/february-11-love_splash__7-nocal-320x480.jpg
274 https://www.smashingmagazine.com/wp-content/uploads/uploader/wallpapers/february11/february-11-love_splash__7-nocal-1024x768.jpg
275 https://www.smashingmagazine.com/wp-content/uploads/uploader/wallpapers/february11/february-11-love_splash__7-nocal-1024x1024.jpg
276 https://www.smashingmagazine.com/wp-content/uploads/uploader/wallpapers/february11/february-11-love_splash__7-nocal-1280x800.jpg
277 https://www.smashingmagazine.com/wp-content/uploads/uploader/wallpapers/february11/february-11-love_splash__7-nocal-1280x1024.jpg
278 https://www.smashingmagazine.com/wp-content/uploads/uploader/wallpapers/february11/february-11-love_splash__7-nocal-1440x900.jpg
279 https://www.smashingmagazine.com/wp-content/uploads/uploader/wallpapers/february11/february-11-love_splash__7-nocal-1680x1050.jpg
280 https://www.smashingmagazine.com/wp-content/uploads/uploader/wallpapers/february11/february-11-love_splash__7-nocal-1920x1080.jpg
281 https://www.smashingmagazine.com/wp-content/uploads/uploader/wallpapers/february11/february-11-love_splash__7-nocal-1920x1200.jpg
282 https://www.smashingmagazine.com/wp-content/uploads/uploader/wallpapers/february11/february-11-love_splash__7-nocal-2560x1440.jpg
284 https://www.smashingmagazine.com/wp-content/uploads/uploader/wallpapers/february11/february-11-broken_love__92-nocal-1024x768.jpg
285 https://www.smashingmagazine.com/wp-content/uploads/uploader/wallpapers/february11/february-11-broken_love__92-nocal-1280x1024.jpg
286 https://www.smashingmagazine.com/wp-content/uploads/uploader/wallpapers/february11/february-11-broken_love__92-nocal-1440x900.jpg
287 https://www.smashingmagazine.com/wp-content/uploads/uploader/wallpapers/february11/february-11-broken_love__92-nocal-1920x1200.jpg
289 https://www.smashingmagazine.com/wp-content/uploads/uploader/wallpapers/february10/february-10-lovereal-nocal-1024x768.jpg
290 https://www.smashingmagazine.com/wp-content/uploads/uploader/wallpapers/february10/february-10-lovereal-nocal-1280x800.jpg
291 https://www.smashingmagazine.com/wp-content/uploads/uploader/wallpapers/february10/february-10-lovereal-nocal-1280x1024.jpg
292 https://www.smashingmagazine.com/wp-content/uploads/uploader/wallpapers/february10/february-10-lovereal-nocal-1680x1050.jpg
294 http://files.smashingmagazine.com/wallpapers/february-12/february-12-love_signal__65-nocal-800x600.jpg
295 http://files.smashingmagazine.com/wallpapers/february-12/february-12-love_signal__65-nocal-1024x768.jpg
296 http://files.smashingmagazine.com/wallpapers/february-12/february-12-love_signal__65-nocal-1152x864.jpg
297 http://files.smashingmagazine.com/wallpapers/february-12/february-12-love_signal__65-nocal-1280x800.jpg
298 http://files.smashingmagazine.com/wallpapers/february-12/february-12-love_signal__65-nocal-1280x960.jpg
299 http://files.smashingmagazine.com/wallpapers/february-12/february-12-love_signal__65-nocal-1400x1050.jpg
300 http://files.smashingmagazine.com/wallpapers/february-12/february-12-love_signal__65-nocal-1440x900.jpg
301 http://files.smashingmagazine.com/wallpapers/february-12/february-12-love_signal__65-nocal-1600x1200.jpg
302 http://files.smashingmagazine.com/wallpapers/february-12/february-12-love_signal__65-nocal-1680x1050.jpg
303 http://files.smashingmagazine.com/wallpapers/february-12/february-12-love_signal__65-nocal-1920x1200.jpg
304 https://www.smashingmagazine.com/wp-content/uploads/uploader/wallpapers/february11/february-11-for_the_birds__93-nocal-320x480.jpg
305 https://www.smashingmagazine.com/wp-content/uploads/uploader/wallpapers/february11/february-11-for_the_birds__93-nocal-1024x768.jpg
306 https://www.smashingmagazine.com/wp-content/uploads/uploader/wallpapers/february11/february-11-for_the_birds__93-nocal-1280x800.jpg
307 https://www.smashingmagazine.com/wp-content/uploads/uploader/wallpapers/february11/february-11-for_the_birds__93-nocal-1280x1024.jpg
308 https://www.smashingmagazine.com/wp-content/uploads/uploader/wallpapers/february11/february-11-for_the_birds__93-nocal-1440x900.jpg
310 http://files.smashingmagazine.com/wallpapers/february-13/february-13-be_my_valentine__59-nocal-320x480.jpg
311 http://files.smashingmagazine.com/wallpapers/february-13/february-13-be_my_valentine__59-nocal-640x960.jpg
312 http://files.smashingmagazine.com/wallpapers/february-13/february-13-be_my_valentine__59-nocal-1024x768.jpg
313 http://files.smashingmagazine.com/wallpapers/february-13/february-13-be_my_valentine__59-nocal-1024x1024.jpg
314 http://files.smashingmagazine.com/wallpapers/february-13/february-13-be_my_valentine__59-nocal-1280x800.jpg
315 http://files.smashingmagazine.com/wallpapers/february-13/february-13-be_my_valentine__59-nocal-1280x1024.jpg
316 http://files.smashingmagazine.com/wallpapers/february-13/february-13-be_my_valentine__59-nocal-1366x768.jpg
317 http://files.smashingmagazine.com/wallpapers/february-13/february-13-be_my_valentine__59-nocal-1440x900.jpg
318 http://files.smashingmagazine.com/wallpapers/february-13/february-13-be_my_valentine__59-nocal-1680x1050.jpg
319 http://files.smashingmagazine.com/wallpapers/february-13/february-13-be_my_valentine__59-nocal-1920x1080.jpg
320 http://files.smashingmagazine.com/wallpapers/february-13/february-13-be_my_valentine__59-nocal-1920x1200.jpg
321 http://files.smashingmagazine.com/wallpapers/february-13/february-13-lost_withoutyou__62-nocal-320x480.jpg
322 http://files.smashingmagazine.com/wallpapers/february-13/february-13-lost_withoutyou__62-nocal-1024x768.jpg
323 http://files.smashingmagazine.com/wallpapers/february-13/february-13-lost_withoutyou__62-nocal-1280x1024.jpg
324 http://files.smashingmagazine.com/wallpapers/february-13/february-13-lost_withoutyou__62-nocal-1366x768.jpg
325 http://files.smashingmagazine.com/wallpapers/february-13/february-13-lost_withoutyou__62-nocal-1920x1080.jpg
326 http://files.smashingmagazine.com/wallpapers/february-13/february-13-lost_withoutyou__62-nocal-1920x1200.jpg
328 http://files.smashingmagazine.com/wallpapers/february-13/february-13-she_loves_me__94-calendar-2560x1440.jpg
329 http://files.smashingmagazine.com/wallpapers/february-13/february-13-she_loves_me__94-nocal-320x480.jpg
330 http://files.smashingmagazine.com/wallpapers/february-13/february-13-she_loves_me__94-nocal-640x480.jpg
331 http://files.smashingmagazine.com/wallpapers/february-13/february-13-she_loves_me__94-nocal-800x480.jpg
332 http://files.smashingmagazine.com/wallpapers/february-13/february-13-she_loves_me__94-nocal-800x600.jpg
333 http://files.smashingmagazine.com/wallpapers/february-13/february-13-she_loves_me__94-nocal-1024x768.jpg
334 http://files.smashingmagazine.com/wallpapers/february-13/february-13-she_loves_me__94-nocal-1024x1024.jpg
335 http://files.smashingmagazine.com/wallpapers/february-13/february-13-she_loves_me__94-nocal-1152x864.jpg
336 http://files.smashingmagazine.com/wallpapers/february-13/february-13-she_loves_me__94-nocal-1280x720.jpg
337 http://files.smashingmagazine.com/wallpapers/february-13/february-13-she_loves_me__94-nocal-1280x800.jpg
338 http://files.smashingmagazine.com/wallpapers/february-13/february-13-she_loves_me__94-nocal-1280x960.jpg
339 http://files.smashingmagazine.com/wallpapers/february-13/february-13-she_loves_me__94-nocal-1280x1024.jpg
340 http://files.smashingmagazine.com/wallpapers/february-13/february-13-she_loves_me__94-nocal-1400x1050.jpg
341 http://files.smashingmagazine.com/wallpapers/february-13/february-13-she_loves_me__94-nocal-1440x900.jpg
342 http://files.smashingmagazine.com/wallpapers/february-13/february-13-she_loves_me__94-nocal-1600x1200.jpg
343 http://files.smashingmagazine.com/wallpapers/february-13/february-13-she_loves_me__94-nocal-1680x1050.jpg
344 http://files.smashingmagazine.com/wallpapers/february-13/february-13-she_loves_me__94-nocal-1680x1200.jpg
345 http://files.smashingmagazine.com/wallpapers/february-13/february-13-she_loves_me__94-nocal-1920x1080.jpg
346 http://files.smashingmagazine.com/wallpapers/february-13/february-13-she_loves_me__94-nocal-1920x1200.jpg
347 http://files.smashingmagazine.com/wallpapers/february-13/february-13-she_loves_me__94-nocal-1920x1440.jpg
348 http://files.smashingmagazine.com/wallpapers/february-13/february-13-she_loves_me__94-nocal-2560x1440.jpg
350 http://files.smashingmagazine.com/wallpapers/february-14/love-is-timeless/nocal/feb-14-love-is-timeless-nocal-800x480.png
351 http://files.smashingmagazine.com/wallpapers/february-14/love-is-timeless/nocal/feb-14-love-is-timeless-nocal-1024x768.png
352 http://files.smashingmagazine.com/wallpapers/february-14/love-is-timeless/nocal/feb-14-love-is-timeless-nocal-1152x864.png
353 http://files.smashingmagazine.com/wallpapers/february-14/love-is-timeless/nocal/feb-14-love-is-timeless-nocal-1280x960.png
354 http://files.smashingmagazine.com/wallpapers/february-14/love-is-timeless/nocal/feb-14-love-is-timeless-nocal-1440x900.png
355 http://files.smashingmagazine.com/wallpapers/february-14/love-is-timeless/nocal/feb-14-love-is-timeless-nocal-1680x1200.png
356 http://files.smashingmagazine.com/wallpapers/february-14/love-is-timeless/nocal/feb-14-love-is-timeless-nocal-1920x1080.png
357 http://files.smashingmagazine.com/wallpapers/february-14/love-is-timeless/nocal/feb-14-love-is-timeless-nocal-2560x1440.png
358 https://www.smashingmagazine.com/wp-content/uploads/uploader/images/wallpaper-calendar-february-10/full/elephants.jpg
359 https://www.smashingmagazine.com/wp-content/uploads/uploader/wallpapers/february10/february-10-elephants-nocal-800x600.jpg
360 https://www.smashingmagazine.com/wp-content/uploads/uploader/wallpapers/february10/february-10-elephants-nocal-1024x768.jpg
361 https://www.smashingmagazine.com/wp-content/uploads/uploader/wallpapers/february10/february-10-elephants-nocal-1280x800.jpg
362 https://www.smashingmagazine.com/wp-content/uploads/uploader/wallpapers/february10/february-10-elephants-nocal-1280x960.jpg
363 https://www.smashingmagazine.com/wp-content/uploads/uploader/wallpapers/february10/february-10-elephants-nocal-1440x900.jpg
364 https://www.smashingmagazine.com/wp-content/uploads/uploader/wallpapers/february10/february-10-elephants-nocal-1600x1200.jpg
365 https://www.smashingmagazine.com/wp-content/uploads/uploader/wallpapers/february10/february-10-elephants-nocal-1680x1050.jpg
366 https://www.smashingmagazine.com/wp-content/uploads/uploader/wallpapers/february10/february-10-elephants-nocal-1920x1200.jpg
367 https://www.smashingmagazine.com/wp-content/uploads/uploader/wallpapers/february10/february-10-elephants-nocal-2560x1600.jpg
369 https://www.smashingmagazine.com/wp-content/uploads/uploader/wallpapers/february11/february-11-indian_valentines_day__20-nocal-1024x768.jpg
370 https://www.smashingmagazine.com/wp-content/uploads/uploader/wallpapers/february11/february-11-indian_valentines_day__20-nocal-1280x800.jpg
371 https://www.smashingmagazine.com/wp-content/uploads/uploader/wallpapers/february11/february-11-indian_valentines_day__20-nocal-1280x1024.jpg
372 https://www.smashingmagazine.com/wp-content/uploads/uploader/wallpapers/february11/february-11-indian_valentines_day__20-nocal-1440x900.jpg
373 https://www.smashingmagazine.com/wp-content/uploads/uploader/wallpapers/february11/february-11-indian_valentines_day__20-nocal-1680x1050.jpg
374 https://www.smashingmagazine.com/wp-content/uploads/uploader/wallpapers/february11/february-11-indian_valentines_day__20-nocal-1920x1200.jpg
375 https://www.smashingmagazine.com/wp-content/uploads/uploader/images/wallpaper-calendar-february-10/full/valentine6.jpg
376 https://www.smashingmagazine.com/wp-content/uploads/uploader/wallpapers/february10/february-10-valentine6-nocal-480x320.jpg
377 https://www.smashingmagazine.com/wp-content/uploads/uploader/wallpapers/february10/february-10-valentine6-nocal-1024x768.jpg
378 https://www.smashingmagazine.com/wp-content/uploads/uploader/wallpapers/february10/february-10-valentine6-nocal-1280x800.jpg
379 https://www.smashingmagazine.com/wp-content/uploads/uploader/wallpapers/february10/february-10-valentine6-nocal-1280x1024.jpg
380 https://www.smashingmagazine.com/wp-content/uploads/uploader/wallpapers/february10/february-10-valentine6-nocal-1440x900.jpg
381 https://www.smashingmagazine.com/wp-content/uploads/uploader/wallpapers/february10/february-10-valentine6-nocal-1680x1050.jpg
382 https://www.smashingmagazine.com/wp-content/uploads/uploader/wallpapers/february10/february-10-valentine6-nocal-1920x1200.jpg
384 https://www.smashingmagazine.com/wp-content/uploads/uploader/images/wallpaper-calendar-february-10/full/month-of-hearts.png
385 https://www.smashingmagazine.com/wp-content/uploads/uploader/wallpapers/february10/february-10-month-of-hearts-nocal-1024x768.png
386 https://www.smashingmagazine.com/wp-content/uploads/uploader/wallpapers/february10/february-10-month-of-hearts-nocal-1280x800.png
387 https://www.smashingmagazine.com/wp-content/uploads/uploader/wallpapers/february10/february-10-month-of-hearts-nocal-1280x1024.png
388 https://www.smashingmagazine.com/wp-content/uploads/uploader/wallpapers/february10/february-10-month-of-hearts-nocal-1440x900.png
389 https://www.smashingmagazine.com/wp-content/uploads/uploader/wallpapers/february10/february-10-month-of-hearts-nocal-1680x1050.png
390 https://www.smashingmagazine.com/wp-content/uploads/uploader/wallpapers/february10/february-10-month-of-hearts-nocal-1920x1200.png
392 https://www.smashingmagazine.com/wp-content/uploads/uploader/wallpapers/february10/february-10-bird-love-nocal-320x480.jpg
393 https://www.smashingmagazine.com/wp-content/uploads/uploader/wallpapers/february10/february-10-bird-love-nocal-1024x768.jpg
394 https://www.smashingmagazine.com/wp-content/uploads/uploader/wallpapers/february10/february-10-bird-love-nocal-1280x800.jpg
395 https://www.smashingmagazine.com/wp-content/uploads/uploader/wallpapers/february10/february-10-bird-love-nocal-1280x1024.jpg
396 https://www.smashingmagazine.com/wp-content/uploads/uploader/wallpapers/february10/february-10-bird-love-nocal-1440x900.jpg
397 https://www.smashingmagazine.com/wp-content/uploads/uploader/wallpapers/february10/february-10-bird-love-nocal-1600x1200.jpg
398 https://www.smashingmagazine.com/wp-content/uploads/uploader/wallpapers/february10/february-10-bird-love-nocal-1680x1050.jpg
399 https://www.smashingmagazine.com/wp-content/uploads/uploader/wallpapers/february10/february-10-bird-love-nocal-1920x1200.jpg
401 https://www.smashingmagazine.com/wp-content/uploads/uploader/wallpapers/february10/february-10-valentine2-nocal-1024x768.jpg
402 https://www.smashingmagazine.com/wp-content/uploads/uploader/wallpapers/february10/february-10-valentine2-nocal-1280x1024.jpg
403 https://www.smashingmagazine.com/wp-content/uploads/uploader/wallpapers/february10/february-10-valentine2-nocal-1440x900.jpg
404 https://www.smashingmagazine.com/wp-content/uploads/uploader/wallpapers/february10/february-10-valentine2-nocal-1680x1050.jpg
405 https://www.smashingmagazine.com/wp-content/uploads/uploader/wallpapers/february10/february-10-valentine2-nocal-1920x1200.jpg
406 https://www.smashingmagazine.com/wp-content/uploads/uploader/wallpapers/february11/february-11-love_compose__99-nocal-1024x768.jpg
407 https://www.smashingmagazine.com/wp-content/uploads/uploader/wallpapers/february11/february-11-love_compose__99-nocal-1280x800.jpg
408 https://www.smashingmagazine.com/wp-content/uploads/uploader/wallpapers/february11/february-11-love_compose__99-nocal-1440x900.jpg
409 https://www.smashingmagazine.com/wp-content/uploads/uploader/wallpapers/february11/february-11-love_compose__99-nocal-1680x1050.jpg
410 https://www.smashingmagazine.com/wp-content/uploads/uploader/wallpapers/february11/february-11-love_compose__99-nocal-1920x1200.jpg
412 http://files.smashingmagazine.com/wallpapers/february-14/love-is-in-the-air/feb-14-love-is-in-the-air-full.jpg
413 http://files.smashingmagazine.com/wallpapers/february-14/love-is-in-the-air/nocal/feb-14-love-is-in-the-air-nocal-1024x1024.jpg
414 http://files.smashingmagazine.com/wallpapers/february-14/love-is-in-the-air/nocal/feb-14-love-is-in-the-air-nocal-1280x800.jpg
415 http://files.smashingmagazine.com/wallpapers/february-14/love-is-in-the-air/nocal/feb-14-love-is-in-the-air-nocal-1280x1024.jpg
416 http://files.smashingmagazine.com/wallpapers/february-14/love-is-in-the-air/nocal/feb-14-love-is-in-the-air-nocal-1680x1050.jpg
417 http://files.smashingmagazine.com/wallpapers/february-14/love-is-in-the-air/nocal/feb-14-love-is-in-the-air-nocal-1920x1080.jpg
418 http://files.smashingmagazine.com/wallpapers/february-14/love-is-in-the-air/nocal/feb-14-love-is-in-the-air-nocal-1920x1200.jpg
419 http://files.smashingmagazine.com/wallpapers/february-14/love-is-in-the-air/nocal/feb-14-love-is-in-the-air-nocal-2560x1440.jpg
420 http://files.smashingmagazine.com/wallpapers/february-14/love-is-in-the-air/nocal/feb-14-love-is-in-the-air-nocal-1366x768.jpg
421 http://files.smashingmagazine.com/wallpapers/february-14/love-is-in-the-air/nocal/feb-14-love-is-in-the-air-nocal-2560x1600.jpg
422 http://files.smashingmagazine.com/wallpapers/february-14/love-is-in-the-air/nocal/feb-14-love-is-in-the-air-nocal-640x960.jpg
424 http://files.smashingmagazine.com/wallpapers/february-12/february-12-all_you_need__16-nocal-1024x768.jpg
425 http://files.smashingmagazine.com/wallpapers/february-12/february-12-all_you_need__16-nocal-1024x1024.jpg
426 http://files.smashingmagazine.com/wallpapers/february-12/february-12-all_you_need__16-nocal-1280x800.jpg
427 http://files.smashingmagazine.com/wallpapers/february-12/february-12-all_you_need__16-nocal-1280x1024.jpg
428 http://files.smashingmagazine.com/wallpapers/february-12/february-12-all_you_need__16-nocal-1440x900.jpg
429 http://files.smashingmagazine.com/wallpapers/february-12/february-12-all_you_need__16-nocal-1680x1050.jpg
430 http://files.smashingmagazine.com/wallpapers/february-12/february-12-all_you_need__16-nocal-1920x1080.jpg
432 http://files.smashingmagazine.com/wallpapers/feb-16/hugs-and-kisses/feb-16-hugs-and-kisses-full.png
433 http://files.smashingmagazine.com/wallpapers/feb-16/hugs-and-kisses/nocal/feb-16-hugs-and-kisses-nocal-1024x768.png
434 http://files.smashingmagazine.com/wallpapers/feb-16/hugs-and-kisses/nocal/feb-16-hugs-and-kisses-nocal-1280x800.png
435 http://files.smashingmagazine.com/wallpapers/feb-16/hugs-and-kisses/nocal/feb-16-hugs-and-kisses-nocal-1280x1024.png
436 http://files.smashingmagazine.com/wallpapers/feb-16/hugs-and-kisses/nocal/feb-16-hugs-and-kisses-nocal-1440x900.png
437 http://files.smashingmagazine.com/wallpapers/feb-16/hugs-and-kisses/nocal/feb-16-hugs-and-kisses-nocal-1600x1200.png
438 http://files.smashingmagazine.com/wallpapers/feb-16/hugs-and-kisses/nocal/feb-16-hugs-and-kisses-nocal-1920x1200.png
440 http://files.smashingmagazine.com/wallpapers/feb-16/paper-heart-for-loveruary/feb-16-paper-heart-for-loveruary-full.png
441 http://files.smashingmagazine.com/wallpapers/feb-16/paper-heart-for-loveruary/nocal/feb-16-paper-heart-for-loveruary-nocal-320x480.png
442 http://files.smashingmagazine.com/wallpapers/feb-16/paper-heart-for-loveruary/nocal/feb-16-paper-heart-for-loveruary-nocal-640x480.png
443 http://files.smashingmagazine.com/wallpapers/feb-16/paper-heart-for-loveruary/nocal/feb-16-paper-heart-for-loveruary-nocal-800x480.png
444 http://files.smashingmagazine.com/wallpapers/feb-16/paper-heart-for-loveruary/nocal/feb-16-paper-heart-for-loveruary-nocal-800x600.png
445 http://files.smashingmagazine.com/wallpapers/feb-16/paper-heart-for-loveruary/nocal/feb-16-paper-heart-for-loveruary-nocal-1024x768.png
446 http://files.smashingmagazine.com/wallpapers/feb-16/paper-heart-for-loveruary/nocal/feb-16-paper-heart-for-loveruary-nocal-1024x1024.png
447 http://files.smashingmagazine.com/wallpapers/feb-16/paper-heart-for-loveruary/nocal/feb-16-paper-heart-for-loveruary-nocal-1152x864.png
448 http://files.smashingmagazine.com/wallpapers/feb-16/paper-heart-for-loveruary/nocal/feb-16-paper-heart-for-loveruary-nocal-1280x720.png
449 http://files.smashingmagazine.com/wallpapers/feb-16/paper-heart-for-loveruary/nocal/feb-16-paper-heart-for-loveruary-nocal-1280x800.png
450 http://files.smashingmagazine.com/wallpapers/feb-16/paper-heart-for-loveruary/nocal/feb-16-paper-heart-for-loveruary-nocal-1280x960.png
451 http://files.smashingmagazine.com/wallpapers/feb-16/paper-heart-for-loveruary/nocal/feb-16-paper-heart-for-loveruary-nocal-1280x1024.png
452 http://files.smashingmagazine.com/wallpapers/feb-16/paper-heart-for-loveruary/nocal/feb-16-paper-heart-for-loveruary-nocal-1400x1050.png
453 http://files.smashingmagazine.com/wallpapers/feb-16/paper-heart-for-loveruary/nocal/feb-16-paper-heart-for-loveruary-nocal-1440x900.png
454 http://files.smashingmagazine.com/wallpapers/feb-16/paper-heart-for-loveruary/nocal/feb-16-paper-heart-for-loveruary-nocal-1600x1200.png
455 http://files.smashingmagazine.com/wallpapers/feb-16/paper-heart-for-loveruary/nocal/feb-16-paper-heart-for-loveruary-nocal-1680x1050.png
456 http://files.smashingmagazine.com/wallpapers/feb-16/paper-heart-for-loveruary/nocal/feb-16-paper-heart-for-loveruary-nocal-1680x1200.png
457 http://files.smashingmagazine.com/wallpapers/feb-16/paper-heart-for-loveruary/nocal/feb-16-paper-heart-for-loveruary-nocal-1920x1080.png
458 http://files.smashingmagazine.com/wallpapers/feb-16/paper-heart-for-loveruary/nocal/feb-16-paper-heart-for-loveruary-nocal-1920x1200.png
459 http://files.smashingmagazine.com/wallpapers/feb-16/paper-heart-for-loveruary/nocal/feb-16-paper-heart-for-loveruary-nocal-1920x1440.png
461 http://files.smashingmagazine.com/wallpapers/feb-15/all-you-need-is-love/nocal/feb-15-all-you-need-is-love-nocal-320x480.jpg
462 http://files.smashingmagazine.com/wallpapers/feb-15/all-you-need-is-love/nocal/feb-15-all-you-need-is-love-nocal-640x480.jpg
463 http://files.smashingmagazine.com/wallpapers/feb-15/all-you-need-is-love/nocal/feb-15-all-you-need-is-love-nocal-800x600.jpg
464 http://files.smashingmagazine.com/wallpapers/feb-15/all-you-need-is-love/nocal/feb-15-all-you-need-is-love-nocal-1024x768.jpg
465 http://files.smashingmagazine.com/wallpapers/feb-15/all-you-need-is-love/nocal/feb-15-all-you-need-is-love-nocal-1024x1024.jpg
466 http://files.smashingmagazine.com/wallpapers/feb-15/all-you-need-is-love/nocal/feb-15-all-you-need-is-love-nocal-1280x800.jpg
467 http://files.smashingmagazine.com/wallpapers/feb-15/all-you-need-is-love/nocal/feb-15-all-you-need-is-love-nocal-1280x960.jpg
468 http://files.smashingmagazine.com/wallpapers/feb-15/all-you-need-is-love/nocal/feb-15-all-you-need-is-love-nocal-1280x1024.jpg
469 http://files.smashingmagazine.com/wallpapers/feb-15/all-you-need-is-love/nocal/feb-15-all-you-need-is-love-nocal-1400x1050.jpg
470 http://files.smashingmagazine.com/wallpapers/feb-15/all-you-need-is-love/nocal/feb-15-all-you-need-is-love-nocal-1440x900.jpg
471 http://files.smashingmagazine.com/wallpapers/feb-15/all-you-need-is-love/nocal/feb-15-all-you-need-is-love-nocal-1600x1200.jpg
472 http://files.smashingmagazine.com/wallpapers/feb-15/all-you-need-is-love/nocal/feb-15-all-you-need-is-love-nocal-1680x1050.jpg
473 http://files.smashingmagazine.com/wallpapers/feb-15/all-you-need-is-love/nocal/feb-15-all-you-need-is-love-nocal-1680x1200.jpg
474 http://files.smashingmagazine.com/wallpapers/feb-15/all-you-need-is-love/nocal/feb-15-all-you-need-is-love-nocal-1920x1080.jpg
475 http://files.smashingmagazine.com/wallpapers/feb-15/all-you-need-is-love/nocal/feb-15-all-you-need-is-love-nocal-1920x1200.jpg
476 http://files.smashingmagazine.com/wallpapers/feb-15/all-you-need-is-love/nocal/feb-15-all-you-need-is-love-nocal-1920x1440.jpg
477 http://files.smashingmagazine.com/wallpapers/feb-15/all-you-need-is-love/nocal/feb-15-all-you-need-is-love-nocal-2560x1440.jpg
478 http://files.smashingmagazine.com/wallpapers/feb-15/all-you-need-is-love/nocal/feb-15-all-you-need-is-love-nocal-750x1334.jpg
479 http://files.smashingmagazine.com/wallpapers/feb-15/all-you-need-is-love/nocal/feb-15-all-you-need-is-love-nocal-1080x1920.jpg
480 http://files.smashingmagazine.com/wallpapers/feb-15/all-you-need-is-love/nocal/feb-15-all-you-need-is-love-nocal-1366x768.jpg
482 http://files.smashingmagazine.com/wallpapers/feb-15/love-tipi/nocal/feb-15-love-tipi-nocal-320x480.png
483 http://files.smashingmagazine.com/wallpapers/feb-15/love-tipi/nocal/feb-15-love-tipi-nocal-640x480.png
484 http://files.smashingmagazine.com/wallpapers/feb-15/love-tipi/nocal/feb-15-love-tipi-nocal-800x480.png
485 http://files.smashingmagazine.com/wallpapers/feb-15/love-tipi/nocal/feb-15-love-tipi-nocal-800x600.png
486 http://files.smashingmagazine.com/wallpapers/feb-15/love-tipi/nocal/feb-15-love-tipi-nocal-1024x768.png
487 http://files.smashingmagazine.com/wallpapers/feb-15/love-tipi/nocal/feb-15-love-tipi-nocal-1024x1024.png
488 http://files.smashingmagazine.com/wallpapers/feb-15/love-tipi/nocal/feb-15-love-tipi-nocal-1152x864.png
489 http://files.smashingmagazine.com/wallpapers/feb-15/love-tipi/nocal/feb-15-love-tipi-nocal-1280x720.png
490 http://files.smashingmagazine.com/wallpapers/feb-15/love-tipi/nocal/feb-15-love-tipi-nocal-1280x800.png
491 http://files.smashingmagazine.com/wallpapers/feb-15/love-tipi/nocal/feb-15-love-tipi-nocal-1280x960.png
492 http://files.smashingmagazine.com/wallpapers/feb-15/love-tipi/nocal/feb-15-love-tipi-nocal-1280x1024.png
493 http://files.smashingmagazine.com/wallpapers/feb-15/love-tipi/nocal/feb-15-love-tipi-nocal-1400x1050.png
494 http://files.smashingmagazine.com/wallpapers/feb-15/love-tipi/nocal/feb-15-love-tipi-nocal-1440x900.png
495 http://files.smashingmagazine.com/wallpapers/feb-15/love-tipi/nocal/feb-15-love-tipi-nocal-1600x1200.png
496 http://files.smashingmagazine.com/wallpapers/feb-15/love-tipi/nocal/feb-15-love-tipi-nocal-1680x1050.png
497 http://files.smashingmagazine.com/wallpapers/feb-15/love-tipi/nocal/feb-15-love-tipi-nocal-1680x1200.png
498 http://files.smashingmagazine.com/wallpapers/feb-15/love-tipi/nocal/feb-15-love-tipi-nocal-1920x1080.png
499 http://files.smashingmagazine.com/wallpapers/feb-15/love-tipi/nocal/feb-15-love-tipi-nocal-1920x1200.png
500 http://files.smashingmagazine.com/wallpapers/feb-15/love-tipi/nocal/feb-15-love-tipi-nocal-1920x1440.png
501 http://files.smashingmagazine.com/wallpapers/feb-15/love-tipi/nocal/feb-15-love-tipi-nocal-2560x1440.png
502 https://www.smashingmagazine.com/wp-content/uploads/uploader/images/wallpaper-calendar-february-10/full/valentine5.jpg
503 https://www.smashingmagazine.com/wp-content/uploads/uploader/wallpapers/february10/february-10-valentine5-nocal-1024x768.jpg
504 https://www.smashingmagazine.com/wp-content/uploads/uploader/wallpapers/february10/february-10-valentine5-nocal-1280x800.jpg
505 https://www.smashingmagazine.com/wp-content/uploads/uploader/wallpapers/february10/february-10-valentine5-nocal-1280x1024.jpg
506 https://www.smashingmagazine.com/wp-content/uploads/uploader/wallpapers/february10/february-10-valentine5-nocal-1440x900.jpg
507 https://www.smashingmagazine.com/wp-content/uploads/uploader/wallpapers/february10/february-10-valentine5-nocal-1680x1050.jpg
508 https://www.smashingmagazine.com/wp-content/uploads/uploader/wallpapers/february10/february-10-valentine5-nocal-1920x1200.jpg
510 http://files.smashingmagazine.com/wallpapers/february-13/february-13-its_valentines_day__91-nocal-320x480.jpg
511 http://files.smashingmagazine.com/wallpapers/february-13/february-13-its_valentines_day__91-nocal-1024x1024.jpg
512 http://files.smashingmagazine.com/wallpapers/february-13/february-13-its_valentines_day__91-nocal-1280x800.jpg
513 http://files.smashingmagazine.com/wallpapers/february-13/february-13-its_valentines_day__91-nocal-1280x1024.jpg
514 http://files.smashingmagazine.com/wallpapers/february-13/february-13-its_valentines_day__91-nocal-1366x768.jpg
515 http://files.smashingmagazine.com/wallpapers/february-13/february-13-its_valentines_day__91-nocal-1680x1050.jpg
516 http://files.smashingmagazine.com/wallpapers/february-13/february-13-its_valentines_day__91-nocal-1920x1080.jpg
517 http://files.smashingmagazine.com/wallpapers/february-13/february-13-its_valentines_day__91-nocal-1920x1200.jpg
518 http://files.smashingmagazine.com/wallpapers/february-13/february-13-its_valentines_day__91-nocal-2560x1440.jpg
519 http://files.smashingmagazine.com/wallpapers/february-13/february-13-its_valentines_day__91-nocal-2560x1600.jpg
520 https://www.smashingmagazine.com/wp-content/uploads/uploader/wallpapers/february10/february-10-childhood-sweethearts-nocal-800x600.jpg
521 https://www.smashingmagazine.com/wp-content/uploads/uploader/wallpapers/february10/february-10-childhood-sweethearts-nocal-1024x640.jpg
522 https://www.smashingmagazine.com/wp-content/uploads/uploader/wallpapers/february10/february-10-childhood-sweethearts-nocal-1024x768.jpg
523 https://www.smashingmagazine.com/wp-content/uploads/uploader/wallpapers/february10/february-10-childhood-sweethearts-nocal-1280x800.jpg
524 https://www.smashingmagazine.com/wp-content/uploads/uploader/wallpapers/february10/february-10-childhood-sweethearts-nocal-1280x1024.jpg
525 https://www.smashingmagazine.com/wp-content/uploads/uploader/wallpapers/february10/february-10-childhood-sweethearts-nocal-1440x900.jpg
526 https://www.smashingmagazine.com/wp-content/uploads/uploader/wallpapers/february10/february-10-childhood-sweethearts-nocal-1600x1200.jpg
527 https://www.smashingmagazine.com/wp-content/uploads/uploader/wallpapers/february10/february-10-childhood-sweethearts-nocal-1680x1050.jpg
528 https://www.smashingmagazine.com/wp-content/uploads/uploader/wallpapers/february10/february-10-childhood-sweethearts-nocal-1920x1200.jpg
530 http://files.smashingmagazine.com/wallpapers/february-12/february-12-valentine_nice__44-nocal-1024x768.jpg
531 http://files.smashingmagazine.com/wallpapers/february-12/february-12-valentine_nice__44-nocal-1280x800.jpg
532 http://files.smashingmagazine.com/wallpapers/february-12/february-12-valentine_nice__44-nocal-1280x1024.jpg
533 http://files.smashingmagazine.com/wallpapers/february-12/february-12-valentine_nice__44-nocal-1440x900.jpg
534 http://files.smashingmagazine.com/wallpapers/february-12/february-12-valentine_nice__44-nocal-1680x1050.jpg
535 http://files.smashingmagazine.com/wallpapers/february-12/february-12-valentine_nice__44-nocal-1920x1080.jpg
536 http://files.smashingmagazine.com/wallpapers/february-12/february-12-valentine_nice__44-nocal-1920x1200.jpg
537 http://files.smashingmagazine.com/wallpapers/february-12/february-12-valentine_nice__44-nocal-2560x1440.jpg
539 http://files.smashingmagazine.com/wallpapers/feb-15/house-of-cards/feb-15-house-of-cards-full.jpg
540 http://files.smashingmagazine.com/wallpapers/feb-15/house-of-cards/nocal/feb-15-house-of-cards-nocal-320x480.jpg
541 http://files.smashingmagazine.com/wallpapers/feb-15/house-of-cards/nocal/feb-15-house-of-cards-nocal-640x480.jpg
542 http://files.smashingmagazine.com/wallpapers/feb-15/house-of-cards/nocal/feb-15-house-of-cards-nocal-800x480.jpg
543 http://files.smashingmagazine.com/wallpapers/feb-15/house-of-cards/nocal/feb-15-house-of-cards-nocal-800x600.jpg
544 http://files.smashingmagazine.com/wallpapers/feb-15/house-of-cards/nocal/feb-15-house-of-cards-nocal-1024x768.jpg
545 http://files.smashingmagazine.com/wallpapers/feb-15/house-of-cards/nocal/feb-15-house-of-cards-nocal-1024x1024.jpg
546 http://files.smashingmagazine.com/wallpapers/feb-15/house-of-cards/nocal/feb-15-house-of-cards-nocal-1152x864.jpg
547 http://files.smashingmagazine.com/wallpapers/feb-15/house-of-cards/nocal/feb-15-house-of-cards-nocal-1280x720.jpg
548 http://files.smashingmagazine.com/wallpapers/feb-15/house-of-cards/nocal/feb-15-house-of-cards-nocal-1280x800.jpg
549 http://files.smashingmagazine.com/wallpapers/feb-15/house-of-cards/nocal/feb-15-house-of-cards-nocal-1280x960.jpg
550 http://files.smashingmagazine.com/wallpapers/feb-15/house-of-cards/nocal/feb-15-house-of-cards-nocal-1280x1024.jpg
551 http://files.smashingmagazine.com/wallpapers/feb-15/house-of-cards/nocal/feb-15-house-of-cards-nocal-1400x1050.jpg
552 http://files.smashingmagazine.com/wallpapers/feb-15/house-of-cards/nocal/feb-15-house-of-cards-nocal-1440x900.jpg
553 http://files.smashingmagazine.com/wallpapers/feb-15/house-of-cards/nocal/feb-15-house-of-cards-nocal-1600x1200.jpg
554 http://files.smashingmagazine.com/wallpapers/feb-15/house-of-cards/nocal/feb-15-house-of-cards-nocal-1680x1050.jpg
555 http://files.smashingmagazine.com/wallpapers/feb-15/house-of-cards/nocal/feb-15-house-of-cards-nocal-1680x1200.jpg
556 http://files.smashingmagazine.com/wallpapers/feb-15/house-of-cards/nocal/feb-15-house-of-cards-nocal-1920x1080.jpg
557 http://files.smashingmagazine.com/wallpapers/feb-15/house-of-cards/nocal/feb-15-house-of-cards-nocal-1920x1200.jpg
558 http://files.smashingmagazine.com/wallpapers/feb-15/house-of-cards/nocal/feb-15-house-of-cards-nocal-1920x1440.jpg
559 http://files.smashingmagazine.com/wallpapers/feb-15/house-of-cards/nocal/feb-15-house-of-cards-nocal-2560x1440.jpg
561 http://files.smashingmagazine.com/wallpapers/feb-15/every-love-story-is-written-on-stars/feb-15-every-love-story-is-written-on-stars-full.png
562 http://files.smashingmagazine.com/wallpapers/feb-15/every-love-story-is-written-on-stars/nocal/feb-15-every-love-story-is-written-on-stars-nocal-800x480.png
563 http://files.smashingmagazine.com/wallpapers/feb-15/every-love-story-is-written-on-stars/nocal/feb-15-every-love-story-is-written-on-stars-nocal-800x600.png
564 http://files.smashingmagazine.com/wallpapers/feb-15/every-love-story-is-written-on-stars/nocal/feb-15-every-love-story-is-written-on-stars-nocal-1024x768.png
565 http://files.smashingmagazine.com/wallpapers/feb-15/every-love-story-is-written-on-stars/nocal/feb-15-every-love-story-is-written-on-stars-nocal-1280x720.png
566 http://files.smashingmagazine.com/wallpapers/feb-15/every-love-story-is-written-on-stars/nocal/feb-15-every-love-story-is-written-on-stars-nocal-1280x800.png
567 http://files.smashingmagazine.com/wallpapers/feb-15/every-love-story-is-written-on-stars/nocal/feb-15-every-love-story-is-written-on-stars-nocal-1280x960.png
568 http://files.smashingmagazine.com/wallpapers/feb-15/every-love-story-is-written-on-stars/nocal/feb-15-every-love-story-is-written-on-stars-nocal-1280x1024.png
569 http://files.smashingmagazine.com/wallpapers/feb-15/every-love-story-is-written-on-stars/nocal/feb-15-every-love-story-is-written-on-stars-nocal-1920x1080.png
570 http://files.smashingmagazine.com/wallpapers/feb-15/every-love-story-is-written-on-stars/nocal/feb-15-every-love-story-is-written-on-stars-nocal-1920x1200.png
571 http://files.smashingmagazine.com/wallpapers/feb-15/every-love-story-is-written-on-stars/nocal/feb-15-every-love-story-is-written-on-stars-nocal-2560x1440.png
573 http://files.smashingmagazine.com/wallpapers/february-14/spread-light-spread-love/nocal/feb-14-spread-light-spread-love-nocal-320x480.jpg
574 http://files.smashingmagazine.com/wallpapers/february-14/spread-light-spread-love/nocal/feb-14-spread-light-spread-love-nocal-640x480.jpg
575 http://files.smashingmagazine.com/wallpapers/february-14/spread-light-spread-love/nocal/feb-14-spread-light-spread-love-nocal-800x480.jpg
576 http://files.smashingmagazine.com/wallpapers/february-14/spread-light-spread-love/nocal/feb-14-spread-light-spread-love-nocal-800x600.jpg
577 http://files.smashingmagazine.com/wallpapers/february-14/spread-light-spread-love/nocal/feb-14-spread-light-spread-love-nocal-1024x768.jpg
578 http://files.smashingmagazine.com/wallpapers/february-14/spread-light-spread-love/nocal/feb-14-spread-light-spread-love-nocal-1152x864.jpg
579 http://files.smashingmagazine.com/wallpapers/february-14/spread-light-spread-love/nocal/feb-14-spread-light-spread-love-nocal-1280x720.jpg
580 http://files.smashingmagazine.com/wallpapers/february-14/spread-light-spread-love/nocal/feb-14-spread-light-spread-love-nocal-1280x800.jpg
581 http://files.smashingmagazine.com/wallpapers/february-14/spread-light-spread-love/nocal/feb-14-spread-light-spread-love-nocal-1280x960.jpg
582 http://files.smashingmagazine.com/wallpapers/february-14/spread-light-spread-love/nocal/feb-14-spread-light-spread-love-nocal-1280x1024.jpg
583 http://files.smashingmagazine.com/wallpapers/february-14/spread-light-spread-love/nocal/feb-14-spread-light-spread-love-nocal-1400x1050.jpg
584 http://files.smashingmagazine.com/wallpapers/february-14/spread-light-spread-love/nocal/feb-14-spread-light-spread-love-nocal-1440x900.jpg
585 http://files.smashingmagazine.com/wallpapers/february-14/spread-light-spread-love/nocal/feb-14-spread-light-spread-love-nocal-1600x1200.jpg
586 http://files.smashingmagazine.com/wallpapers/february-14/spread-light-spread-love/nocal/feb-14-spread-light-spread-love-nocal-1680x1050.jpg
587 http://files.smashingmagazine.com/wallpapers/february-14/spread-light-spread-love/nocal/feb-14-spread-light-spread-love-nocal-1680x1200.jpg
588 http://files.smashingmagazine.com/wallpapers/february-14/spread-light-spread-love/nocal/feb-14-spread-light-spread-love-nocal-1920x1080.jpg
589 http://files.smashingmagazine.com/wallpapers/february-14/spread-light-spread-love/nocal/feb-14-spread-light-spread-love-nocal-1920x1200.jpg
590 http://files.smashingmagazine.com/wallpapers/february-14/spread-light-spread-love/nocal/feb-14-spread-light-spread-love-nocal-1920x1440.jpg
591 http://files.smashingmagazine.com/wallpapers/february-14/spread-light-spread-love/nocal/feb-14-spread-light-spread-love-nocal-2560x1440.jpg
592 http://files.smashingmagazine.com/wallpapers/february-14/spread-light-spread-love/nocal/feb-14-spread-light-spread-love-nocal-640x960.jpg
593 http://files.smashingmagazine.com/wallpapers/february-14/spread-light-spread-love/nocal/feb-14-spread-light-spread-love-nocal-640x1136.jpg
594 http://files.smashingmagazine.com/wallpapers/february-14/spread-light-spread-love/nocal/feb-14-spread-light-spread-love-nocal-1040x1360.jpg
595 http://files.smashingmagazine.com/wallpapers/february-14/spread-light-spread-love/nocal/feb-14-spread-light-spread-love-nocal-1040x1536.jpg
596 http://files.smashingmagazine.com/wallpapers/february-14/spread-light-spread-love/nocal/feb-14-spread-light-spread-love-nocal-1080x1920.jpg
597 http://files.smashingmagazine.com/wallpapers/february-14/spread-light-spread-love/nocal/feb-14-spread-light-spread-love-nocal-2560x1600.jpg
598 http://files.smashingmagazine.com/wallpapers/february-14/spread-light-spread-love/nocal/feb-14-spread-light-spread-love-nocal-2880x1800.jpg