Halloween is around the corner and the atmosphere is filled with pumpkins, skeletons, bonfires, horror movies and other scary things spread across the houses, stores and, of course, web sites. Just the right time to spice up your desktop with an appropriate Halloween spirit. And for this purpose you may change your desktop wallpaper and prepare some traditional pumpkin carvings.
In this post we present some beautiful hight quality wallpapers for your scary Halloween party. These images do not contain any calendars. All images can be clicked and lead to a preview. [Links checked January/12/2017]
You may also want to take a look at the following related posts:
Further Reading

on SmashingMag:
Halloween Pumpkin 🎃 4Wallpaper
Scary bats and spiders, frightening skeletons, delicious candies and lollies and ominous black cats and carved pumpkins… All bundled up together and you have a perfect Halloween. Trick or treat! Designed by Soraia Mendes from Portugal.
Happy Halloween Wallpapers
Designed by Zanetine Web Design 11 from India.
The Moons Glow
"It is a full moon tonight. The fall wind blows the clouds. The leaves have fallen from the trees and a happy pumpkin sits beneath a spooky tree. The tree and the pumpkin both welcome in the month of October." Designed by Allison S. Hoge from USA.
Halloween
Designed by Violeta Dabija36 from Moldova.
Punpkin Scarecrow
Designed by Barbara Haider48 from Austria.
Scary Pumpkin
My is my favorite holiday. This calendar shows my desire to make Halloween a darker holiday than it has been in the past for me. Designed by Rachel Cobb from USA.
The Month Of Monsters
To me October is a really fun month, since this is the time of the year where all kind of monsters can hang out together, without caring what universe they come from. — Designed by Maria Keller62 from Mexico.
Creepy Pumpkin
Designed by Christopher Krahlisch86 from Germany.
Happy H.
Designed by Salma Ali104 from United Arab Emirates..
Night Of The Black Cat
Halloween is nearly upon us once again! I love black cats, so I decided to feature one surrounded by a moon-lit sky. — Designed by Eddie Wong113 from Ireland.
Halloween Cat
Designed by Mohamad Khatib from Lebanon.
Will Miss You On This Halloween
Jack-o-lanterns and spooky ghosts are coming to fight the haunted house, witches all alive again! But this time don't miss your friends. It's time to scare the family, pals and mates with ghosts! Wish you a happy Halloween night again and again. Designed by Debobrata Debnath142 from India.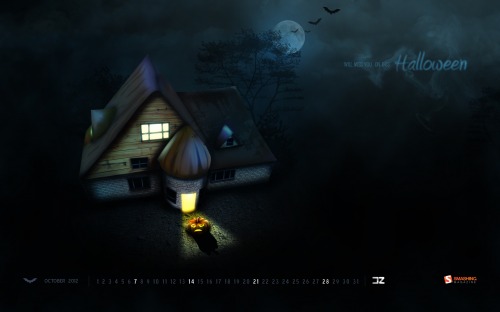 Childish
Children day is celebrated in October…in many countries around the world ..They are the future..
The hope for a brighter tomorrow… Designed by Nishith from India.
Trick Or Treat
"As night falls there's magic and mischief in the air." Designed by Jason Knight (nativeBrand)157 from UK.
Creepy Ice-cream
To all ice-cream lovers, let's get creepy this October! Designed by Carmen Ng from Singapore.
Halloween
The time of candies, ghosts, witches and fun. Designed by cheloveche.ru171 from Russia.
Feeling Sorry For All The Pumpkins
Designed by Ricardo Gimenes179 from Brazil.
Zombie's Grafitti
A mystical month like October diserve an trash art contribution so the dead can go back to life and haunt the living people. This wallpaper was made for terror e thriller lovers. Download and enjoy it! Designed by Vinicius Ervilha from Brazil.
Ghost
Designed by Tiago Santos from Portugal.
Misty Woods
October reminds me of cold nights. Halloween is a time when going up to creepy houses through misty haunted woods is acceptable, which also inspired me to design a moonlight misty composition. — Designed by Samantha Magaard217 from the United States.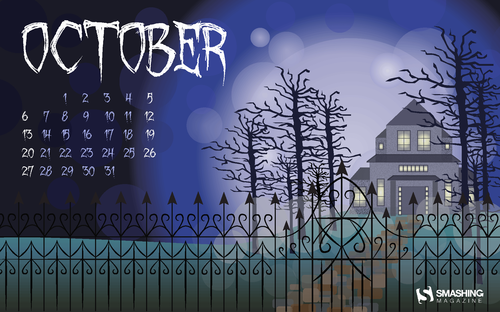 A Very Bright Halloween
We want to remind everyone to stay safe this Halloween when trick-or-treating, maybe carry a portable lantern or flashlight. We also wanted to share some ideas we had for adding a special bright touch to your costumes this year – battery operated Halloween string lights! — Designed by Carla Genovesio (from Lights.com224 from the United States.
Moon Owl
Designed by Katerina Bobkova246 from Ukraine.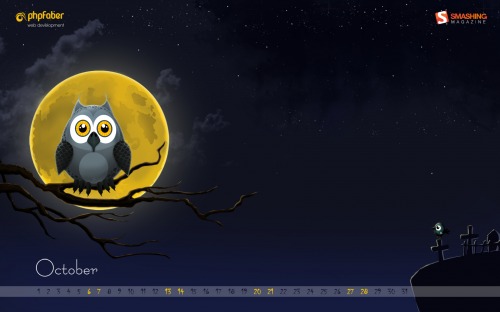 Scary Moon
Designed by Andy Murphy255 from Northern Ireland.
It's The Most Terrifying Time Of The Year
The best time of the whole year. The weather get cooler and crisper, the leaves start to change, and all of the things that go bump in the night come out to play. — Designed by Casey Booth266 from the United States.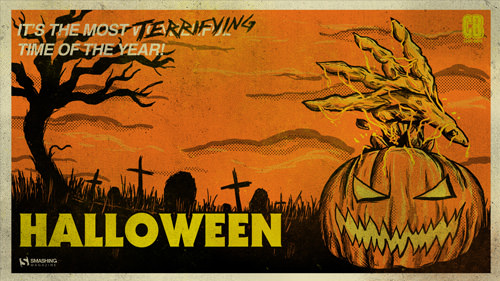 Skull Wallpaper
Designed by Rumake Web Agency from Russia.
Skeleton Theme
Designed by Shilpa Sharma288 from India.
Sweet Halloween
Designed by Cortando Pixeles297 from Argentina.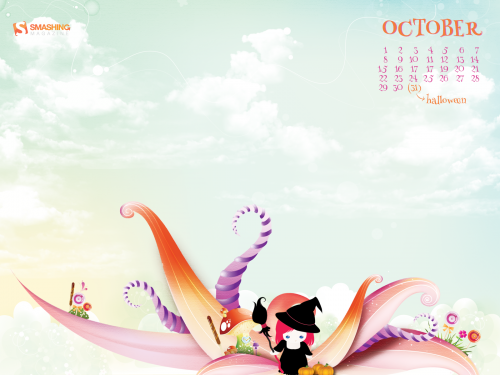 Ghostober
"I made this wallpaper a year ago, but i didntcame on time to send it to Smashing magazine.Serching other files i found it, and decide to finish it and post it, halloween is coming, hope you like this ghostsperms hehe!" Designed by Ricardo Delgado308 from México City.
Weird Season
Designed by Ryan Thompson315 from USА.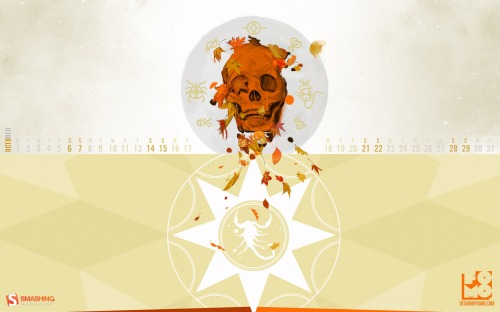 Happy H.
Designed by JD337 from the United States.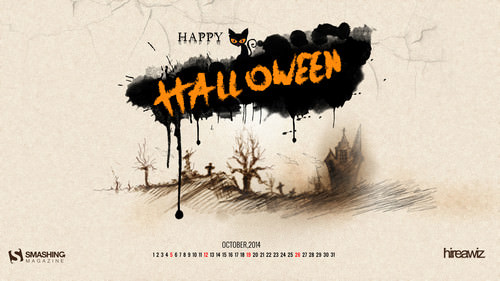 Weeny Scary
Designed by Cheloveche.ru359 from Russia.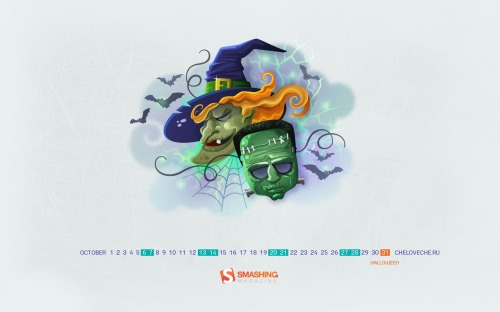 It Is Coming
Fall always reminds me of a cozy atmosphere during evenings spent with candles, covered under my fluffy blanket. Everything is shining in warm orange light. Halloween FTW! — Designed by Izabela Grzegorczyk368 from Vienna, Austria.
Trick Or Treat 2000
It is the year 2000, and robots rule the world. This is a photo of a recently completed fully-functional rod puppet, approx. 10″ tall, set within a digital halloween scene via Photoshop. 0000101011001! (robot translation: Trick or treat!) Designed by Out of the Chair Design378 from Canada.
Dead Night
The month the dead walk (apparently). For everyone who celebrates Halloween, with costumes, trick or treats or just a simple desktop wallpaper. Designed by Bogdan Lazar386 from Romania.
Jack O Cal
"Jack O Lantern with 2010 October Calender in mouth. spooky halloween surrounding background" Designed by Lindsey Kellis395 from USA.
Skull Break
Designed by jadekone from Venezuela.
Eerie October
Designed by Jennifer Leigh Holt from Canada.
Pumpkin Spice Spookster
"A spooky, fun, orange-tastic wall for Halloween lovers of all ages." Designed by Allen from USA.
Creepy October
Designed by Roland Szabó from Hungary.
Creepy October
Designed by Christina Mokry from Germany.
Ghost Friends
"Boney wanted to have friends but they are all ghosts." Designed by Constantino Co from Singapore.
The Evil Screen
Designed by Misti Kenison.
Kill your boss (Do not take it seriously)
(Editorial Team) Yes, this is a controversial wallpaper. Please do not take it seriously and consider it to be a funny and scary Halloween wallpaper. Some bosses can be quite harsh sometimes, but that's definitely no the reason to kill anybody. So we do not take any legal responsibilities for the side effects of you having this wallpaper on your desktop. Happy Halloween!
"When your boss yells that you are too immature to be a designer you are morally obliged to stop whatever youare doing, go to him and have an encounter." Designed by Milana Adamov459 from Serbia.
Halloween Wallpapers Elsewhere
Think Halloween469
Only 1280× 960px. Designed by Zefhar.
Ghosts471
800×600, 1024×768, 1280×1024, 1600×1200.
Halloween Night Wallpaper473
1024×768, 1152×864, 1280×960 and 1600×1200.
Pacman Halloween475
800×600, 1024×768, 1280×1024, 1600×1200.
Horror, Scary Wallpapers
Skin Walkers478
1024×768, 1152×864, 1280×1024 and 1600×1200.
Halloween Pumpkin Wallpaper480
1440×900.
Halloween Lights482
Pumpkin and gourd lanterns represent a more artistic side of All Hallow's Eve. 640×480, 800×600, 1024×768, 1280×1024, 1600×1200.
White Chocolate Pumpkin484
This white pumpkin decorated with brown and orange graphics looks good enough to eat. 640×480, 800×600, 1024×768, 1280×1024, 1600×1200.
Wallcoo Halloween Haunts486
Over 50 beautiful Halloween wallpapers in various resolutions, at most 1920×1200.
Spooky Halloween493
1024×768.
Paci Tubes Halloween Wallpapers495
7 Halloween wallpapers in the resolution 1280×1024.
Pendemonium499
Only 1024×768.
Dangerous Mask501
1600×1200.
Halloween In The Midnight Forest503
800×600, 1024×768, 1280×1024, 1600×1200.
Halloween Art Design505
Only 1024×768.
The Two And The Nightmare507
800×600, 1024×768, 1280×1024, 1600×1200.
This is the END (sl)
Footnotes
5 https://www.smashingmagazine.com/wp-content/uploads/uploader/images/wallpaper-calendar-october-11/full/this_is_halloween__83.jpg
6 http://files.smashingmagazine.com/wallpapers/october-11/october-11-this_is_halloween__83-nocal-320x480.jpg
7 http://files.smashingmagazine.com/wallpapers/october-11/october-11-this_is_halloween__83-nocal-1024x1024.jpg
8 http://files.smashingmagazine.com/wallpapers/october-11/october-11-this_is_halloween__83-nocal-1280x1024.jpg
9 http://files.smashingmagazine.com/wallpapers/october-11/october-11-this_is_halloween__83-nocal-1920x1200.jpg
10 http://files.smashingmagazine.com/wallpapers/october-11/october-11-this_is_halloween__83-nocal-2560x1440.jpg
12 http://files.smashingmagazine.com/wallpapers/oct-13/happy-halloween/oct-13-happy-halloween-full.png
13 http://files.smashingmagazine.com/wallpapers/oct-13/happy-halloween/nocal/oct-13-happy-halloween-nocal-320x480.png
14 http://files.smashingmagazine.com/wallpapers/oct-13/happy-halloween/nocal/oct-13-happy-halloween-nocal-640x480.png
15 http://files.smashingmagazine.com/wallpapers/oct-13/happy-halloween/nocal/oct-13-happy-halloween-nocal-800x480.png
16 http://files.smashingmagazine.com/wallpapers/oct-13/happy-halloween/nocal/oct-13-happy-halloween-nocal-800x600.png
17 http://files.smashingmagazine.com/wallpapers/oct-13/happy-halloween/nocal/oct-13-happy-halloween-nocal-1024x768.png
18 http://files.smashingmagazine.com/wallpapers/oct-13/happy-halloween/nocal/oct-13-happy-halloween-nocal-1152x864.png
19 http://files.smashingmagazine.com/wallpapers/oct-13/happy-halloween/nocal/oct-13-happy-halloween-nocal-1280x720.png
20 http://files.smashingmagazine.com/wallpapers/oct-13/happy-halloween/nocal/oct-13-happy-halloween-nocal-1280x800.png
21 http://files.smashingmagazine.com/wallpapers/oct-13/happy-halloween/nocal/oct-13-happy-halloween-nocal-1280x960.png
22 http://files.smashingmagazine.com/wallpapers/oct-13/happy-halloween/nocal/oct-13-happy-halloween-nocal-1440x900.png
23 http://files.smashingmagazine.com/wallpapers/oct-13/happy-halloween/nocal/oct-13-happy-halloween-nocal-1600x1200.png
24 http://files.smashingmagazine.com/wallpapers/oct-13/happy-halloween/nocal/oct-13-happy-halloween-nocal-1680x1050.png
25 http://files.smashingmagazine.com/wallpapers/oct-13/happy-halloween/nocal/oct-13-happy-halloween-nocal-1920x1080.png
26 http://files.smashingmagazine.com/wallpapers/oct-13/happy-halloween/nocal/oct-13-happy-halloween-nocal-1920x1200.png
27 http://files.smashingmagazine.com/wallpapers/oct-13/happy-halloween/nocal/oct-13-happy-halloween-nocal-2560x1440.png
28 http://files.smashingmagazine.com/wallpapers/oct-13/happy-halloween/nocal/oct-13-happy-halloween-nocal-2880x1080.png
29 http://files.smashingmagazine.com/wallpapers/oct-13/happy-halloween/nocal/oct-13-happy-halloween-nocal-1366x768.png
30 https://www.smashingmagazine.com/wp-content/uploads/ext_uploads/images/wallpaper-calendar-october-09/full/the_moons_glow.jpg
31 https://www.smashingmagazine.com/wp-content/uploads/ext_uploads/wallpapers/october09/october-09-the_moons_glow-nocal-320x480.jpg
32 https://www.smashingmagazine.com/wp-content/uploads/ext_uploads/wallpapers/october09/october-09-the_moons_glow-nocal-1024x768.jpg
33 https://www.smashingmagazine.com/wp-content/uploads/ext_uploads/wallpapers/october09/october-09-the_moons_glow-nocal-1280x800.jpg
34 https://www.smashingmagazine.com/wp-content/uploads/ext_uploads/wallpapers/october09/october-09-the_moons_glow-nocal-1280x1024.jpg
35 https://www.smashingmagazine.com/wp-content/uploads/ext_uploads/wallpapers/october09/october-09-the_moons_glow-nocal-1920x1200.jpg
37 https://www.smashingmagazine.com/wp-content/uploads/uploader/images/wallpaper-calendar-october-10/full/halloween1.jpg
38 https://www.smashingmagazine.com/wp-content/uploads/uploader/wallpapers/october10/october-10-halloween1-nocal-320x480.jpg
39 https://www.smashingmagazine.com/wp-content/uploads/uploader/wallpapers/october10/october-10-halloween1-nocal-1024x768.jpg
40 https://www.smashingmagazine.com/wp-content/uploads/uploader/wallpapers/october10/october-10-halloween1-nocal-1024x1024.jpg
41 https://www.smashingmagazine.com/wp-content/uploads/uploader/wallpapers/october10/october-10-halloween1-nocal-1280x800.jpg
42 https://www.smashingmagazine.com/wp-content/uploads/uploader/wallpapers/october10/october-10-halloween1-nocal-1280x1024.jpg
43 https://www.smashingmagazine.com/wp-content/uploads/uploader/wallpapers/october10/october-10-halloween1-nocal-1440x900.jpg
44 https://www.smashingmagazine.com/wp-content/uploads/uploader/wallpapers/october10/october-10-halloween1-nocal-1680x1050.jpg
45 https://www.smashingmagazine.com/wp-content/uploads/uploader/wallpapers/october10/october-10-halloween1-nocal-1920x1080.jpg
46 https://www.smashingmagazine.com/wp-content/uploads/uploader/wallpapers/october10/october-10-halloween1-nocal-1920x1200.jpg
47 https://www.smashingmagazine.com/wp-content/uploads/uploader/wallpapers/october10/october-10-halloween1-nocal-2560x1440.jpg
49 https://www.smashingmagazine.com/wp-content/uploads/ext_uploads/images/wallpaper-calendar-november-09/full/winter-sleep.jpg
50 https://www.smashingmagazine.com/wp-content/uploads/ext_uploads/wallpapers/november09/november-09-winter-sleep-nocal-1280x800.jpg
51 https://www.smashingmagazine.com/wp-content/uploads/ext_uploads/wallpapers/november09/november-09-winter-sleep-nocal-1280x1024.jpg
52 https://www.smashingmagazine.com/wp-content/uploads/ext_uploads/wallpapers/november09/november-09-winter-sleep-nocal-1440x900.jpg
53 https://www.smashingmagazine.com/wp-content/uploads/ext_uploads/wallpapers/november09/november-09-winter-sleep-nocal-1680x1050.jpg
54 https://www.smashingmagazine.com/wp-content/uploads/ext_uploads/wallpapers/november09/november-09-winter-sleep-nocal-1920x1200.jpg
55 https://www.smashingmagazine.com/wp-content/uploads/ext_uploads/images/wallpaper-calendar-october-09/full/scary_pumpkin.jpg
56 https://www.smashingmagazine.com/wp-content/uploads/ext_uploads/wallpapers/october09/october-09-scary_pumpkin-nocal-320x480.jpg
57 https://www.smashingmagazine.com/wp-content/uploads/ext_uploads/wallpapers/october09/october-09-scary_pumpkin-nocal-1024x768.jpg
58 https://www.smashingmagazine.com/wp-content/uploads/ext_uploads/wallpapers/october09/october-09-scary_pumpkin-nocal-1280x800.jpg
59 https://www.smashingmagazine.com/wp-content/uploads/ext_uploads/wallpapers/october09/october-09-scary_pumpkin-nocal-1440x900.jpg
60 https://www.smashingmagazine.com/wp-content/uploads/ext_uploads/wallpapers/october09/october-09-scary_pumpkin-nocal-1680x1050.jpg
61 https://www.smashingmagazine.com/wp-content/uploads/ext_uploads/wallpapers/october09/october-09-scary_pumpkin-nocal-1920x1200.jpg
63 http://files.smashingmagazine.com/wallpapers/oct-14/the-month-of-monsters/oct-14-the-month-of-monsters-full.png
64 http://files.smashingmagazine.com/wallpapers/oct-14/the-month-of-monsters/nocal/oct-14-the-month-of-monsters-nocal-320x480.png
65 http://files.smashingmagazine.com/wallpapers/oct-14/the-month-of-monsters/nocal/oct-14-the-month-of-monsters-nocal-640x480.png
66 http://files.smashingmagazine.com/wallpapers/oct-14/the-month-of-monsters/nocal/oct-14-the-month-of-monsters-nocal-800x480.png
67 http://files.smashingmagazine.com/wallpapers/oct-14/the-month-of-monsters/nocal/oct-14-the-month-of-monsters-nocal-800x600.png
68 http://files.smashingmagazine.com/wallpapers/oct-14/the-month-of-monsters/nocal/oct-14-the-month-of-monsters-nocal-1024x768.png
69 http://files.smashingmagazine.com/wallpapers/oct-14/the-month-of-monsters/nocal/oct-14-the-month-of-monsters-nocal-1024x1024.png
70 http://files.smashingmagazine.com/wallpapers/oct-14/the-month-of-monsters/nocal/oct-14-the-month-of-monsters-nocal-1152x864.png
71 http://files.smashingmagazine.com/wallpapers/oct-14/the-month-of-monsters/nocal/oct-14-the-month-of-monsters-nocal-1280x720.png
72 http://files.smashingmagazine.com/wallpapers/oct-14/the-month-of-monsters/nocal/oct-14-the-month-of-monsters-nocal-1280x800.png
73 http://files.smashingmagazine.com/wallpapers/oct-14/the-month-of-monsters/nocal/oct-14-the-month-of-monsters-nocal-1280x960.png
74 http://files.smashingmagazine.com/wallpapers/oct-14/the-month-of-monsters/nocal/oct-14-the-month-of-monsters-nocal-1280x1024.png
75 http://files.smashingmagazine.com/wallpapers/oct-14/the-month-of-monsters/nocal/oct-14-the-month-of-monsters-nocal-1400x1050.png
76 http://files.smashingmagazine.com/wallpapers/oct-14/the-month-of-monsters/nocal/oct-14-the-month-of-monsters-nocal-1440x900.png
77 http://files.smashingmagazine.com/wallpapers/oct-14/the-month-of-monsters/nocal/oct-14-the-month-of-monsters-nocal-1600x1200.png
78 http://files.smashingmagazine.com/wallpapers/oct-14/the-month-of-monsters/nocal/oct-14-the-month-of-monsters-nocal-1680x1050.png
79 http://files.smashingmagazine.com/wallpapers/oct-14/the-month-of-monsters/nocal/oct-14-the-month-of-monsters-nocal-1680x1200.png
80 http://files.smashingmagazine.com/wallpapers/oct-14/the-month-of-monsters/nocal/oct-14-the-month-of-monsters-nocal-1920x1080.png
81 http://files.smashingmagazine.com/wallpapers/oct-14/the-month-of-monsters/nocal/oct-14-the-month-of-monsters-nocal-1920x1200.png
82 http://files.smashingmagazine.com/wallpapers/oct-14/the-month-of-monsters/nocal/oct-14-the-month-of-monsters-nocal-1920x1440.png
83 http://files.smashingmagazine.com/wallpapers/oct-14/the-month-of-monsters/nocal/oct-14-the-month-of-monsters-nocal-2560x1440.png
84 http://files.smashingmagazine.com/wallpapers/oct-14/the-month-of-monsters/nocal/oct-14-the-month-of-monsters-nocal-2880x1800.png
85 http://files.smashingmagazine.com/wallpapers/oct-14/the-month-of-monsters/nocal/oct-14-the-month-of-monsters-nocal-1366x768.png
87 http://files.smashingmagazine.com/wallpapers/oct-15/creepy-pumpkin/oct-15-creepy-pumpkin-full.jpg
88 http://files.smashingmagazine.com/wallpapers/oct-15/creepy-pumpkin/nocal/oct-15-creepy-pumpkin-nocal-640x480.jpg
89 http://files.smashingmagazine.com/wallpapers/oct-15/creepy-pumpkin/nocal/oct-15-creepy-pumpkin-nocal-800x600.jpg
90 http://files.smashingmagazine.com/wallpapers/oct-15/creepy-pumpkin/nocal/oct-15-creepy-pumpkin-nocal-1024x768.jpg
91 http://files.smashingmagazine.com/wallpapers/oct-15/creepy-pumpkin/nocal/oct-15-creepy-pumpkin-nocal-1152x864.jpg
92 http://files.smashingmagazine.com/wallpapers/oct-15/creepy-pumpkin/nocal/oct-15-creepy-pumpkin-nocal-1280x720.jpg
93 http://files.smashingmagazine.com/wallpapers/oct-15/creepy-pumpkin/nocal/oct-15-creepy-pumpkin-nocal-1280x800.jpg
94 http://files.smashingmagazine.com/wallpapers/oct-15/creepy-pumpkin/nocal/oct-15-creepy-pumpkin-nocal-1280x960.jpg
95 http://files.smashingmagazine.com/wallpapers/oct-15/creepy-pumpkin/nocal/oct-15-creepy-pumpkin-nocal-1366x768.jpg
96 http://files.smashingmagazine.com/wallpapers/oct-15/creepy-pumpkin/nocal/oct-15-creepy-pumpkin-nocal-1400x1050.jpg
97 http://files.smashingmagazine.com/wallpapers/oct-15/creepy-pumpkin/nocal/oct-15-creepy-pumpkin-nocal-1440x900.jpg
98 http://files.smashingmagazine.com/wallpapers/oct-15/creepy-pumpkin/nocal/oct-15-creepy-pumpkin-nocal-1600x1200.jpg
99 http://files.smashingmagazine.com/wallpapers/oct-15/creepy-pumpkin/nocal/oct-15-creepy-pumpkin-nocal-1680x1050.jpg
100 http://files.smashingmagazine.com/wallpapers/oct-15/creepy-pumpkin/nocal/oct-15-creepy-pumpkin-nocal-1920x1080.jpg
101 http://files.smashingmagazine.com/wallpapers/oct-15/creepy-pumpkin/nocal/oct-15-creepy-pumpkin-nocal-1920x1200.jpg
102 http://files.smashingmagazine.com/wallpapers/oct-15/creepy-pumpkin/nocal/oct-15-creepy-pumpkin-nocal-1920x1440.jpg
103 http://files.smashingmagazine.com/wallpapers/oct-15/creepy-pumpkin/nocal/oct-15-creepy-pumpkin-nocal-2560x1440.jpg
105 https://www.smashingmagazine.com/wp-content/uploads/uploader/images/wallpaper-calendar-october-10/full/happy-halloween.png
106 https://www.smashingmagazine.com/wp-content/uploads/uploader/wallpapers/october10/october-10-happy-halloween-nocal-1024x768.png
107 https://www.smashingmagazine.com/wp-content/uploads/uploader/wallpapers/october10/october-10-happy-halloween-nocal-1280x800.png
108 https://www.smashingmagazine.com/wp-content/uploads/uploader/wallpapers/october10/october-10-happy-halloween-nocal-1440x900.png
109 https://www.smashingmagazine.com/wp-content/uploads/uploader/wallpapers/october10/october-10-happy-halloween-nocal-1680x1050.png
110 https://www.smashingmagazine.com/wp-content/uploads/uploader/wallpapers/october10/october-10-happy-halloween-nocal-1920x1080.png
111 https://www.smashingmagazine.com/wp-content/uploads/uploader/wallpapers/october10/october-10-happy-halloween-nocal-1920x1200.png
112 https://www.smashingmagazine.com/wp-content/uploads/uploader/wallpapers/october10/october-10-happy-halloween-nocal-2560x1440.png
114 http://files.smashingmagazine.com/wallpapers/oct-14/night-of-the-black-cat/oct-14-night-of-the-black-cat-full.jpg
115 http://files.smashingmagazine.com/wallpapers/oct-14/night-of-the-black-cat/nocal/oct-14-night-of-the-black-cat-nocal-320x480.jpg
116 http://files.smashingmagazine.com/wallpapers/oct-14/night-of-the-black-cat/nocal/oct-14-night-of-the-black-cat-nocal-800x480.jpg
117 http://files.smashingmagazine.com/wallpapers/oct-14/night-of-the-black-cat/nocal/oct-14-night-of-the-black-cat-nocal-800x600.jpg
118 http://files.smashingmagazine.com/wallpapers/oct-14/night-of-the-black-cat/nocal/oct-14-night-of-the-black-cat-nocal-1024x768.jpg
119 http://files.smashingmagazine.com/wallpapers/oct-14/night-of-the-black-cat/nocal/oct-14-night-of-the-black-cat-nocal-1024x1024.jpg
120 http://files.smashingmagazine.com/wallpapers/oct-14/night-of-the-black-cat/nocal/oct-14-night-of-the-black-cat-nocal-1152x864.jpg
121 http://files.smashingmagazine.com/wallpapers/oct-14/night-of-the-black-cat/nocal/oct-14-night-of-the-black-cat-nocal-1280x720.jpg
122 http://files.smashingmagazine.com/wallpapers/oct-14/night-of-the-black-cat/nocal/oct-14-night-of-the-black-cat-nocal-1280x800.jpg
123 http://files.smashingmagazine.com/wallpapers/oct-14/night-of-the-black-cat/nocal/oct-14-night-of-the-black-cat-nocal-1280x960.jpg
124 http://files.smashingmagazine.com/wallpapers/oct-14/night-of-the-black-cat/nocal/oct-14-night-of-the-black-cat-nocal-1280x1024.jpg
125 http://files.smashingmagazine.com/wallpapers/oct-14/night-of-the-black-cat/nocal/oct-14-night-of-the-black-cat-nocal-1400x1050.jpg
126 http://files.smashingmagazine.com/wallpapers/oct-14/night-of-the-black-cat/nocal/oct-14-night-of-the-black-cat-nocal-1440x900.jpg
127 http://files.smashingmagazine.com/wallpapers/oct-14/night-of-the-black-cat/nocal/oct-14-night-of-the-black-cat-nocal-1600x1200.jpg
128 http://files.smashingmagazine.com/wallpapers/oct-14/night-of-the-black-cat/nocal/oct-14-night-of-the-black-cat-nocal-1680x1050.jpg
129 http://files.smashingmagazine.com/wallpapers/oct-14/night-of-the-black-cat/nocal/oct-14-night-of-the-black-cat-nocal-1680x1200.jpg
130 http://files.smashingmagazine.com/wallpapers/oct-14/night-of-the-black-cat/nocal/oct-14-night-of-the-black-cat-nocal-1920x1080.jpg
131 http://files.smashingmagazine.com/wallpapers/oct-14/night-of-the-black-cat/nocal/oct-14-night-of-the-black-cat-nocal-1920x1200.jpg
132 http://files.smashingmagazine.com/wallpapers/oct-14/night-of-the-black-cat/nocal/oct-14-night-of-the-black-cat-nocal-1920x1440.jpg
133 http://files.smashingmagazine.com/wallpapers/oct-14/night-of-the-black-cat/nocal/oct-14-night-of-the-black-cat-nocal-2560x1440.jpg
136 http://files.smashingmagazine.com/wallpapers/october-12/october-12-oct_12__46-nocal-1024x1024.jpg
137 http://files.smashingmagazine.com/wallpapers/october-12/october-12-oct_12__46-nocal-1280x800.jpg
138 http://files.smashingmagazine.com/wallpapers/october-12/october-12-oct_12__46-nocal-1400x1050.jpg
139 http://files.smashingmagazine.com/wallpapers/october-12/october-12-oct_12__46-nocal-1680x1050.jpg
140 http://files.smashingmagazine.com/wallpapers/october-12/october-12-oct_12__46-nocal-1920x1080.jpg
141 http://files.smashingmagazine.com/wallpapers/october-12/october-12-oct_12__46-nocal-2560x1440.jpg
144 http://files.smashingmagazine.com/wallpapers/october-12/october-12-will_miss_you__26-nocal-1024x1024.jpg
145 http://files.smashingmagazine.com/wallpapers/october-12/october-12-will_miss_you__26-nocal-1280x800.jpg
146 http://files.smashingmagazine.com/wallpapers/october-12/october-12-will_miss_you__26-nocal-1280x1024.jpg
147 http://files.smashingmagazine.com/wallpapers/october-12/october-12-will_miss_you__26-nocal-1440x900.jpg
148 http://files.smashingmagazine.com/wallpapers/october-12/october-12-will_miss_you__26-nocal-1920x1080.jpg
149 http://files.smashingmagazine.com/wallpapers/october-12/october-12-will_miss_you__26-nocal-1920x1200.jpg
150 http://files.smashingmagazine.com/wallpapers/october-12/october-12-will_miss_you__26-nocal-2560x1440.jpg
151 https://www.smashingmagazine.com/wp-content/uploads/uploader/images/wallpaper-calendar-october-10/full/childish.jpg
152 https://www.smashingmagazine.com/wp-content/uploads/uploader/wallpapers/october10/october-10-childish-nocal-1024x768.jpg
153 https://www.smashingmagazine.com/wp-content/uploads/uploader/wallpapers/october10/october-10-childish-nocal-1280x800.jpg
154 https://www.smashingmagazine.com/wp-content/uploads/uploader/wallpapers/october10/october-10-childish-nocal-1440x900.jpg
155 https://www.smashingmagazine.com/wp-content/uploads/uploader/wallpapers/october10/october-10-childish-nocal-1680x1050.jpg
156 https://www.smashingmagazine.com/wp-content/uploads/uploader/wallpapers/october10/october-10-childish-nocal-1920x1200.jpg
158 https://www.smashingmagazine.com/wp-content/uploads/uploader/images/wallpaper-calendar-october-10/full/trick-or-treat.jpg
159 https://www.smashingmagazine.com/wp-content/uploads/uploader/wallpapers/october10/october-10-trick-or-treat-nocal-1024x768.jpg
160 https://www.smashingmagazine.com/wp-content/uploads/uploader/wallpapers/october10/october-10-trick-or-treat-nocal-1280x800.jpg
161 https://www.smashingmagazine.com/wp-content/uploads/uploader/wallpapers/october10/october-10-trick-or-treat-nocal-1280x1024.jpg
162 https://www.smashingmagazine.com/wp-content/uploads/uploader/wallpapers/october10/october-10-trick-or-treat-nocal-1440x900.jpg
163 https://www.smashingmagazine.com/wp-content/uploads/uploader/wallpapers/october10/october-10-trick-or-treat-nocal-1680x1050.jpg
164 https://www.smashingmagazine.com/wp-content/uploads/uploader/wallpapers/october10/october-10-trick-or-treat-nocal-1920x1200.jpg
165 https://www.smashingmagazine.com/wp-content/uploads/uploader/images/wallpaper-calendar-october-10/full/creepy-ice-cream.jpg
166 https://www.smashingmagazine.com/wp-content/uploads/uploader/wallpapers/october10/october-10-creepy-ice-cream-nocal-1024x768.jpg
167 https://www.smashingmagazine.com/wp-content/uploads/uploader/wallpapers/october10/october-10-creepy-ice-cream-nocal-1280x1024.jpg
168 https://www.smashingmagazine.com/wp-content/uploads/uploader/wallpapers/october10/october-10-creepy-ice-cream-nocal-1440x900.jpg
169 https://www.smashingmagazine.com/wp-content/uploads/uploader/wallpapers/october10/october-10-creepy-ice-cream-nocal-1680x1050.jpg
170 https://www.smashingmagazine.com/wp-content/uploads/uploader/wallpapers/october10/october-10-creepy-ice-cream-nocal-1920x1200.jpg
172 https://www.smashingmagazine.com/wp-content/uploads/uploader/images/wallpaper-calendar-october-10/full/halloween_35.jpg
173 https://www.smashingmagazine.com/wp-content/uploads/uploader/wallpapers/october10/october-10-halloween_35-nocal-1024x768.jpg
174 https://www.smashingmagazine.com/wp-content/uploads/uploader/wallpapers/october10/october-10-halloween_35-nocal-1280x800.jpg
175 https://www.smashingmagazine.com/wp-content/uploads/uploader/wallpapers/october10/october-10-halloween_35-nocal-1280x1024.jpg
176 https://www.smashingmagazine.com/wp-content/uploads/uploader/wallpapers/october10/october-10-halloween_35-nocal-1440x900.jpg
177 https://www.smashingmagazine.com/wp-content/uploads/uploader/wallpapers/october10/october-10-halloween_35-nocal-1680x1050.jpg
178 https://www.smashingmagazine.com/wp-content/uploads/uploader/wallpapers/october10/october-10-halloween_35-nocal-1920x1200.jpg
180 http://files.smashingmagazine.com/wallpapers/oct-14/feeling-sorry-for-all-the-pumpkins/oct-14-feeling-sorry-for-all-the-pumpkins-full.png
181 http://files.smashingmagazine.com/wallpapers/oct-14/feeling-sorry-for-all-the-pumpkins/nocal/oct-14-feeling-sorry-for-all-the-pumpkins-nocal-320x480.png
182 http://files.smashingmagazine.com/wallpapers/oct-14/feeling-sorry-for-all-the-pumpkins/nocal/oct-14-feeling-sorry-for-all-the-pumpkins-nocal-1024x768.png
183 http://files.smashingmagazine.com/wallpapers/oct-14/feeling-sorry-for-all-the-pumpkins/nocal/oct-14-feeling-sorry-for-all-the-pumpkins-nocal-1024x1024.png
184 http://files.smashingmagazine.com/wallpapers/oct-14/feeling-sorry-for-all-the-pumpkins/nocal/oct-14-feeling-sorry-for-all-the-pumpkins-nocal-1280x800.png
185 http://files.smashingmagazine.com/wallpapers/oct-14/feeling-sorry-for-all-the-pumpkins/nocal/oct-14-feeling-sorry-for-all-the-pumpkins-nocal-1280x960.png
186 http://files.smashingmagazine.com/wallpapers/oct-14/feeling-sorry-for-all-the-pumpkins/nocal/oct-14-feeling-sorry-for-all-the-pumpkins-nocal-1280x1024.png
187 http://files.smashingmagazine.com/wallpapers/oct-14/feeling-sorry-for-all-the-pumpkins/nocal/oct-14-feeling-sorry-for-all-the-pumpkins-nocal-1400x1050.png
188 http://files.smashingmagazine.com/wallpapers/oct-14/feeling-sorry-for-all-the-pumpkins/nocal/oct-14-feeling-sorry-for-all-the-pumpkins-nocal-1440x900.png
189 http://files.smashingmagazine.com/wallpapers/oct-14/feeling-sorry-for-all-the-pumpkins/nocal/oct-14-feeling-sorry-for-all-the-pumpkins-nocal-1600x1200.png
190 http://files.smashingmagazine.com/wallpapers/oct-14/feeling-sorry-for-all-the-pumpkins/nocal/oct-14-feeling-sorry-for-all-the-pumpkins-nocal-1680x1050.png
191 http://files.smashingmagazine.com/wallpapers/oct-14/feeling-sorry-for-all-the-pumpkins/nocal/oct-14-feeling-sorry-for-all-the-pumpkins-nocal-1680x1200.png
192 http://files.smashingmagazine.com/wallpapers/oct-14/feeling-sorry-for-all-the-pumpkins/nocal/oct-14-feeling-sorry-for-all-the-pumpkins-nocal-1920x1080.png
193 http://files.smashingmagazine.com/wallpapers/oct-14/feeling-sorry-for-all-the-pumpkins/nocal/oct-14-feeling-sorry-for-all-the-pumpkins-nocal-1920x1200.png
194 http://files.smashingmagazine.com/wallpapers/oct-14/feeling-sorry-for-all-the-pumpkins/nocal/oct-14-feeling-sorry-for-all-the-pumpkins-nocal-1920x1440.png
195 http://files.smashingmagazine.com/wallpapers/oct-14/feeling-sorry-for-all-the-pumpkins/nocal/oct-14-feeling-sorry-for-all-the-pumpkins-nocal-2560x1440.png
196 http://files.smashingmagazine.com/wallpapers/oct-14/feeling-sorry-for-all-the-pumpkins/nocal/oct-14-feeling-sorry-for-all-the-pumpkins-nocal-640x960.png
197 http://files.smashingmagazine.com/wallpapers/oct-14/feeling-sorry-for-all-the-pumpkins/nocal/oct-14-feeling-sorry-for-all-the-pumpkins-nocal-1366x768.png
198 http://files.smashingmagazine.com/wallpapers/oct-14/feeling-sorry-for-all-the-pumpkins/nocal/oct-14-feeling-sorry-for-all-the-pumpkins-nocal-1600x1050.png
199 http://files.smashingmagazine.com/wallpapers/oct-14/feeling-sorry-for-all-the-pumpkins/nocal/oct-14-feeling-sorry-for-all-the-pumpkins-nocal-2880x1800.png
200 https://www.smashingmagazine.com/wp-content/uploads/ext_uploads/images/wallpaper-calendar-october-09/full/zombie's_grafitti.jpg
201 https://www.smashingmagazine.com/wp-content/uploads/ext_uploads/wallpapers/october09/october-09-zombie's_grafitti-nocal-800x600.jpg
202 https://www.smashingmagazine.com/wp-content/uploads/ext_uploads/wallpapers/october09/october-09-zombie's_grafitti-nocal-1024x768.jpg
203 https://www.smashingmagazine.com/wp-content/uploads/ext_uploads/wallpapers/october09/october-09-zombie's_grafitti-nocal-1280x800.jpg
204 https://www.smashingmagazine.com/wp-content/uploads/ext_uploads/wallpapers/october09/october-09-zombie's_grafitti-nocal-1280x1024.jpg
205 https://www.smashingmagazine.com/wp-content/uploads/ext_uploads/wallpapers/october09/october-09-zombie's_grafitti-nocal-1440x900.jpg
206 https://www.smashingmagazine.com/wp-content/uploads/ext_uploads/wallpapers/october09/october-09-zombie's_grafitti-nocal-1680x1050.jpg
207 https://www.smashingmagazine.com/wp-content/uploads/uploader/images/wallpaper-calendar-october-11/full/ghost_halloween__26.jpg
208 http://files.smashingmagazine.com/wallpapers/october-11/october-11-ghost_halloween__26-nocal-1024x768.jpg
209 http://files.smashingmagazine.com/wallpapers/october-11/october-11-ghost_halloween__26-nocal-1024x1024.jpg
210 http://files.smashingmagazine.com/wallpapers/october-11/october-11-ghost_halloween__26-nocal-1280x800.jpg
211 http://files.smashingmagazine.com/wallpapers/october-11/october-11-ghost_halloween__26-nocal-1280x1024.jpg
212 http://files.smashingmagazine.com/wallpapers/october-11/october-11-ghost_halloween__26-nocal-1440x900.jpg
213 http://files.smashingmagazine.com/wallpapers/october-11/october-11-ghost_halloween__26-nocal-1680x1050.jpg
214 http://files.smashingmagazine.com/wallpapers/october-11/october-11-ghost_halloween__26-nocal-1920x1080.jpg
215 http://files.smashingmagazine.com/wallpapers/october-11/october-11-ghost_halloween__26-nocal-1920x1200.jpg
216 http://files.smashingmagazine.com/wallpapers/october-11/october-11-ghost_halloween__26-nocal-2560x1440.jpg
219 http://files.smashingmagazine.com/wallpapers/oct-13/misty-woods/nocal/oct-13-misty-woods-nocal-320x480.png
220 http://files.smashingmagazine.com/wallpapers/oct-13/misty-woods/nocal/oct-13-misty-woods-nocal-1024x1024.png
221 http://files.smashingmagazine.com/wallpapers/oct-13/misty-woods/nocal/oct-13-misty-woods-nocal-1280x800.png
222 http://files.smashingmagazine.com/wallpapers/oct-13/misty-woods/nocal/oct-13-misty-woods-nocal-1440x900.png
223 http://files.smashingmagazine.com/wallpapers/oct-13/misty-woods/nocal/oct-13-misty-woods-nocal-1920x1200.png
225 http://files.smashingmagazine.com/wallpapers/oct-13/a-very-bright-halloween/oct-13-a-very-bright-halloween-full.jpg
226 http://files.smashingmagazine.com/wallpapers/oct-13/a-very-bright-halloween/nocal/oct-13-a-very-bright-halloween-nocal-320x480.jpg
227 http://files.smashingmagazine.com/wallpapers/oct-13/a-very-bright-halloween/nocal/oct-13-a-very-bright-halloween-nocal-640x480.jpg
228 http://files.smashingmagazine.com/wallpapers/oct-13/a-very-bright-halloween/nocal/oct-13-a-very-bright-halloween-nocal-800x480.jpg
229 http://files.smashingmagazine.com/wallpapers/oct-13/a-very-bright-halloween/nocal/oct-13-a-very-bright-halloween-nocal-800x600.jpg
230 http://files.smashingmagazine.com/wallpapers/oct-13/a-very-bright-halloween/nocal/oct-13-a-very-bright-halloween-nocal-1024x768.jpg
231 http://files.smashingmagazine.com/wallpapers/oct-13/a-very-bright-halloween/nocal/oct-13-a-very-bright-halloween-nocal-1024x1024.jpg
232 http://files.smashingmagazine.com/wallpapers/oct-13/a-very-bright-halloween/nocal/oct-13-a-very-bright-halloween-nocal-1152x864.jpg
233 http://files.smashingmagazine.com/wallpapers/oct-13/a-very-bright-halloween/nocal/oct-13-a-very-bright-halloween-nocal-1280x720.jpg
234 http://files.smashingmagazine.com/wallpapers/oct-13/a-very-bright-halloween/nocal/oct-13-a-very-bright-halloween-nocal-1280x800.jpg
235 http://files.smashingmagazine.com/wallpapers/oct-13/a-very-bright-halloween/nocal/oct-13-a-very-bright-halloween-nocal-1280x960.jpg
236 http://files.smashingmagazine.com/wallpapers/oct-13/a-very-bright-halloween/nocal/oct-13-a-very-bright-halloween-nocal-1280x1024.jpg
237 http://files.smashingmagazine.com/wallpapers/oct-13/a-very-bright-halloween/nocal/oct-13-a-very-bright-halloween-nocal-1400x1050.jpg
238 http://files.smashingmagazine.com/wallpapers/oct-13/a-very-bright-halloween/nocal/oct-13-a-very-bright-halloween-nocal-1440x900.jpg
239 http://files.smashingmagazine.com/wallpapers/oct-13/a-very-bright-halloween/nocal/oct-13-a-very-bright-halloween-nocal-1600x1200.jpg
240 http://files.smashingmagazine.com/wallpapers/oct-13/a-very-bright-halloween/nocal/oct-13-a-very-bright-halloween-nocal-1680x1050.jpg
241 http://files.smashingmagazine.com/wallpapers/oct-13/a-very-bright-halloween/nocal/oct-13-a-very-bright-halloween-nocal-1680x1200.jpg
242 http://files.smashingmagazine.com/wallpapers/oct-13/a-very-bright-halloween/nocal/oct-13-a-very-bright-halloween-nocal-1920x1080.jpg
243 http://files.smashingmagazine.com/wallpapers/oct-13/a-very-bright-halloween/nocal/oct-13-a-very-bright-halloween-nocal-1920x1200.jpg
244 http://files.smashingmagazine.com/wallpapers/oct-13/a-very-bright-halloween/nocal/oct-13-a-very-bright-halloween-nocal-1920x1440.jpg
245 http://files.smashingmagazine.com/wallpapers/oct-13/a-very-bright-halloween/nocal/oct-13-a-very-bright-halloween-nocal-2560x1440.jpg
248 http://files.smashingmagazine.com/wallpapers/october-12/october-12-halloween__57-nocal-320x480.jpg
249 http://files.smashingmagazine.com/wallpapers/october-12/october-12-halloween__57-nocal-1024x768.jpg
250 http://files.smashingmagazine.com/wallpapers/october-12/october-12-halloween__57-nocal-1024x1024.jpg
251 http://files.smashingmagazine.com/wallpapers/october-12/october-12-halloween__57-nocal-1280x800.jpg
252 http://files.smashingmagazine.com/wallpapers/october-12/october-12-halloween__57-nocal-1440x900.jpg
253 http://files.smashingmagazine.com/wallpapers/october-12/october-12-halloween__57-nocal-1680x1050.jpg
254 http://files.smashingmagazine.com/wallpapers/october-12/october-12-halloween__57-nocal-1920x1080.jpg
257 http://files.smashingmagazine.com/wallpapers/october-12/october-12-halloween_moon__67-nocal-320x480.jpg
258 http://files.smashingmagazine.com/wallpapers/october-12/october-12-halloween_moon__67-nocal-800x480.jpg
259 http://files.smashingmagazine.com/wallpapers/october-12/october-12-halloween_moon__67-nocal-800x600.jpg
260 http://files.smashingmagazine.com/wallpapers/october-12/october-12-halloween_moon__67-nocal-1280x720.jpg
261 http://files.smashingmagazine.com/wallpapers/october-12/october-12-halloween_moon__67-nocal-1280x800.jpg
262 http://files.smashingmagazine.com/wallpapers/october-12/october-12-halloween_moon__67-nocal-1366x768.jpg
263 http://files.smashingmagazine.com/wallpapers/october-12/october-12-halloween_moon__67-nocal-1440x900.jpg
264 http://files.smashingmagazine.com/wallpapers/october-12/october-12-halloween_moon__67-nocal-1680x1050.jpg
265 http://files.smashingmagazine.com/wallpapers/october-12/october-12-halloween_moon__67-nocal-1920x1080.jpg
267 http://files.smashingmagazine.com/wallpapers/oct-14/its-the-most-terrifying-time-of-the-year/oct-14-its-the-most-terrifying-time-of-the-year-full.jpg
268 http://files.smashingmagazine.com/wallpapers/oct-14/its-the-most-terrifying-time-of-the-year/nocal/oct-14-its-the-most-terrifying-time-of-the-year-nocal-1280x800.jpg
269 http://files.smashingmagazine.com/wallpapers/oct-14/its-the-most-terrifying-time-of-the-year/nocal/oct-14-its-the-most-terrifying-time-of-the-year-nocal-1440x900.jpg
270 http://files.smashingmagazine.com/wallpapers/oct-14/its-the-most-terrifying-time-of-the-year/nocal/oct-14-its-the-most-terrifying-time-of-the-year-nocal-1680x1050.jpg
271 http://files.smashingmagazine.com/wallpapers/oct-14/its-the-most-terrifying-time-of-the-year/nocal/oct-14-its-the-most-terrifying-time-of-the-year-nocal-1920x1080.jpg
272 http://files.smashingmagazine.com/wallpapers/oct-14/its-the-most-terrifying-time-of-the-year/nocal/oct-14-its-the-most-terrifying-time-of-the-year-nocal-2560x1440.jpg
273 http://files.smashingmagazine.com/wallpapers/oct-14/its-the-most-terrifying-time-of-the-year/nocal/oct-14-its-the-most-terrifying-time-of-the-year-nocal-640x960.jpg
274 http://files.smashingmagazine.com/wallpapers/oct-14/its-the-most-terrifying-time-of-the-year/nocal/oct-14-its-the-most-terrifying-time-of-the-year-nocal-640x1136.jpg
275 http://files.smashingmagazine.com/wallpapers/oct-14/its-the-most-terrifying-time-of-the-year/nocal/oct-14-its-the-most-terrifying-time-of-the-year-nocal-1080x1920.jpg
276 http://files.smashingmagazine.com/wallpapers/oct-14/its-the-most-terrifying-time-of-the-year/nocal/oct-14-its-the-most-terrifying-time-of-the-year-nocal-960x1704.jpg
277 http://files.smashingmagazine.com/wallpapers/oct-14/its-the-most-terrifying-time-of-the-year/nocal/oct-14-its-the-most-terrifying-time-of-the-year-nocal-1366x768.jpg
278 http://files.smashingmagazine.com/wallpapers/oct-14/its-the-most-terrifying-time-of-the-year/nocal/oct-14-its-the-most-terrifying-time-of-the-year-nocal-768x1024.jpg
279 https://www.smashingmagazine.com/wp-content/uploads/ext_uploads/images/wallpaper-calendar-october-09/full/halloween.jpg
280 https://www.smashingmagazine.com/wp-content/uploads/ext_uploads/wallpapers/october09/october-09-halloween-nocal-1024x768.jpg
281 https://www.smashingmagazine.com/wp-content/uploads/ext_uploads/wallpapers/october09/october-09-halloween-nocal-1280x800.jpg
282 https://www.smashingmagazine.com/wp-content/uploads/ext_uploads/wallpapers/october09/october-09-halloween-nocal-1280x1024.jpg
283 https://www.smashingmagazine.com/wp-content/uploads/ext_uploads/wallpapers/october09/october-09-halloween-nocal-1440x900.jpg
284 https://www.smashingmagazine.com/wp-content/uploads/ext_uploads/wallpapers/october09/october-09-halloween-nocal-1600x1200.jpg
285 https://www.smashingmagazine.com/wp-content/uploads/ext_uploads/wallpapers/october09/october-09-halloween-nocal-1680x1050.jpg
286 https://www.smashingmagazine.com/wp-content/uploads/ext_uploads/wallpapers/october09/october-09-halloween-nocal-1920x1200.jpg
287 https://www.smashingmagazine.com/wp-content/uploads/ext_uploads/wallpapers/october09/october-09-halloween-nocal-1920x1440.jpg
289 http://files.smashingmagazine.com/wallpapers/oct-14/halloween-theme/oct-14-halloween-theme-full.jpg
290 http://files.smashingmagazine.com/wallpapers/oct-14/halloween-theme/nocal/oct-14-halloween-theme-nocal-1280x800.jpg
291 http://files.smashingmagazine.com/wallpapers/oct-14/halloween-theme/nocal/oct-14-halloween-theme-nocal-1280x960.jpg
292 http://files.smashingmagazine.com/wallpapers/oct-14/halloween-theme/nocal/oct-14-halloween-theme-nocal-1280x1024.jpg
293 http://files.smashingmagazine.com/wallpapers/oct-14/halloween-theme/nocal/oct-14-halloween-theme-nocal-1400x1050.jpg
294 http://files.smashingmagazine.com/wallpapers/oct-14/halloween-theme/nocal/oct-14-halloween-theme-nocal-1440x900.jpg
295 http://files.smashingmagazine.com/wallpapers/oct-14/halloween-theme/nocal/oct-14-halloween-theme-nocal-1600x1200.jpg
296 http://files.smashingmagazine.com/wallpapers/oct-14/halloween-theme/nocal/oct-14-halloween-theme-nocal-1336x768.jpg
299 http://files.smashingmagazine.com/wallpapers/october-12/october-12-sweet_halloween__99-nocal-640x480.png
300 http://files.smashingmagazine.com/wallpapers/october-12/october-12-sweet_halloween__99-nocal-800x600.png
301 http://files.smashingmagazine.com/wallpapers/october-12/october-12-sweet_halloween__99-nocal-1024x768.png
302 http://files.smashingmagazine.com/wallpapers/october-12/october-12-sweet_halloween__99-nocal-1024x1024.png
303 http://files.smashingmagazine.com/wallpapers/october-12/october-12-sweet_halloween__99-nocal-1152x864.png
304 http://files.smashingmagazine.com/wallpapers/october-12/october-12-sweet_halloween__99-nocal-1280x960.png
305 http://files.smashingmagazine.com/wallpapers/october-12/october-12-sweet_halloween__99-nocal-1400x1050.png
306 http://files.smashingmagazine.com/wallpapers/october-12/october-12-sweet_halloween__99-nocal-1600x1200.png
307 http://files.smashingmagazine.com/wallpapers/october-12/october-12-sweet_halloween__99-nocal-1920x1440.png
309 https://www.smashingmagazine.com/wp-content/uploads/uploader/images/wallpaper-calendar-october-10/full/ghostober_33.jpg
310 https://www.smashingmagazine.com/wp-content/uploads/uploader/wallpapers/october10/october-10-ghostober_33-nocal-1024x768.jpg
311 https://www.smashingmagazine.com/wp-content/uploads/uploader/wallpapers/october10/october-10-ghostober_33-nocal-1024x1024.jpg
312 https://www.smashingmagazine.com/wp-content/uploads/uploader/wallpapers/october10/october-10-ghostober_33-nocal-1280x800.jpg
313 https://www.smashingmagazine.com/wp-content/uploads/uploader/wallpapers/october10/october-10-ghostober_33-nocal-1280x1024.jpg
314 https://www.smashingmagazine.com/wp-content/uploads/uploader/wallpapers/october10/october-10-ghostober_33-nocal-2560x1440.jpg
317 http://files.smashingmagazine.com/wallpapers/october-12/october-12-weird_season__85-nocal-320x480.jpg
318 http://files.smashingmagazine.com/wallpapers/october-12/october-12-weird_season__85-nocal-640x480.jpg
319 http://files.smashingmagazine.com/wallpapers/october-12/october-12-weird_season__85-nocal-800x480.jpg
320 http://files.smashingmagazine.com/wallpapers/october-12/october-12-weird_season__85-nocal-800x600.jpg
321 http://files.smashingmagazine.com/wallpapers/october-12/october-12-weird_season__85-nocal-1024x768.jpg
322 http://files.smashingmagazine.com/wallpapers/october-12/october-12-weird_season__85-nocal-1024x1024.jpg
323 http://files.smashingmagazine.com/wallpapers/october-12/october-12-weird_season__85-nocal-1152x864.jpg
324 http://files.smashingmagazine.com/wallpapers/october-12/october-12-weird_season__85-nocal-1280x720.jpg
325 http://files.smashingmagazine.com/wallpapers/october-12/october-12-weird_season__85-nocal-1280x800.jpg
326 http://files.smashingmagazine.com/wallpapers/october-12/october-12-weird_season__85-nocal-1280x960.jpg
327 http://files.smashingmagazine.com/wallpapers/october-12/october-12-weird_season__85-nocal-1280x1024.jpg
328 http://files.smashingmagazine.com/wallpapers/october-12/october-12-weird_season__85-nocal-1400x1050.jpg
329 http://files.smashingmagazine.com/wallpapers/october-12/october-12-weird_season__85-nocal-1440x900.jpg
330 http://files.smashingmagazine.com/wallpapers/october-12/october-12-weird_season__85-nocal-1600x1200.jpg
331 http://files.smashingmagazine.com/wallpapers/october-12/october-12-weird_season__85-nocal-1680x1050.jpg
332 http://files.smashingmagazine.com/wallpapers/october-12/october-12-weird_season__85-nocal-1680x1200.jpg
333 http://files.smashingmagazine.com/wallpapers/october-12/october-12-weird_season__85-nocal-1920x1080.jpg
334 http://files.smashingmagazine.com/wallpapers/october-12/october-12-weird_season__85-nocal-1920x1200.jpg
335 http://files.smashingmagazine.com/wallpapers/october-12/october-12-weird_season__85-nocal-1920x1440.jpg
336 http://files.smashingmagazine.com/wallpapers/october-12/october-12-weird_season__85-nocal-2560x1440.jpg
338 http://files.smashingmagazine.com/wallpapers/oct-14/happy-halloween-wallpaper/oct-14-happy-halloween-wallpaper-full.jpg
339 http://files.smashingmagazine.com/wallpapers/oct-14/happy-halloween-wallpaper/nocal/oct-14-happy-halloween-wallpaper-nocal-320x480.jpg
340 http://files.smashingmagazine.com/wallpapers/oct-14/happy-halloween-wallpaper/nocal/oct-14-happy-halloween-wallpaper-nocal-640x480.jpg
341 http://files.smashingmagazine.com/wallpapers/oct-14/happy-halloween-wallpaper/nocal/oct-14-happy-halloween-wallpaper-nocal-800x480.jpg
342 http://files.smashingmagazine.com/wallpapers/oct-14/happy-halloween-wallpaper/nocal/oct-14-happy-halloween-wallpaper-nocal-800x600.jpg
343 http://files.smashingmagazine.com/wallpapers/oct-14/happy-halloween-wallpaper/nocal/oct-14-happy-halloween-wallpaper-nocal-1024x768.jpg
344 http://files.smashingmagazine.com/wallpapers/oct-14/happy-halloween-wallpaper/nocal/oct-14-happy-halloween-wallpaper-nocal-1024x1024.jpg
345 http://files.smashingmagazine.com/wallpapers/oct-14/happy-halloween-wallpaper/nocal/oct-14-happy-halloween-wallpaper-nocal-1152x864.jpg
346 http://files.smashingmagazine.com/wallpapers/oct-14/happy-halloween-wallpaper/nocal/oct-14-happy-halloween-wallpaper-nocal-1280x720.jpg
347 http://files.smashingmagazine.com/wallpapers/oct-14/happy-halloween-wallpaper/nocal/oct-14-happy-halloween-wallpaper-nocal-1280x800.jpg
348 http://files.smashingmagazine.com/wallpapers/oct-14/happy-halloween-wallpaper/nocal/oct-14-happy-halloween-wallpaper-nocal-1280x960.jpg
349 http://files.smashingmagazine.com/wallpapers/oct-14/happy-halloween-wallpaper/nocal/oct-14-happy-halloween-wallpaper-nocal-1280x1024.jpg
350 http://files.smashingmagazine.com/wallpapers/oct-14/happy-halloween-wallpaper/nocal/oct-14-happy-halloween-wallpaper-nocal-1400x1050.jpg
351 http://files.smashingmagazine.com/wallpapers/oct-14/happy-halloween-wallpaper/nocal/oct-14-happy-halloween-wallpaper-nocal-1440x900.jpg
352 http://files.smashingmagazine.com/wallpapers/oct-14/happy-halloween-wallpaper/nocal/oct-14-happy-halloween-wallpaper-nocal-1600x1200.jpg
353 http://files.smashingmagazine.com/wallpapers/oct-14/happy-halloween-wallpaper/nocal/oct-14-happy-halloween-wallpaper-nocal-1680x1050.jpg
354 http://files.smashingmagazine.com/wallpapers/oct-14/happy-halloween-wallpaper/nocal/oct-14-happy-halloween-wallpaper-nocal-1680x1200.jpg
355 http://files.smashingmagazine.com/wallpapers/oct-14/happy-halloween-wallpaper/nocal/oct-14-happy-halloween-wallpaper-nocal-1920x1080.jpg
356 http://files.smashingmagazine.com/wallpapers/oct-14/happy-halloween-wallpaper/nocal/oct-14-happy-halloween-wallpaper-nocal-1920x1200.jpg
357 http://files.smashingmagazine.com/wallpapers/oct-14/happy-halloween-wallpaper/nocal/oct-14-happy-halloween-wallpaper-nocal-1920x1440.jpg
358 http://files.smashingmagazine.com/wallpapers/oct-14/happy-halloween-wallpaper/nocal/oct-14-happy-halloween-wallpaper-nocal-2560x1440.jpg
361 http://files.smashingmagazine.com/wallpapers/october-12/october-12-halloween__79-nocal-395x512.jpg
362 http://files.smashingmagazine.com/wallpapers/october-12/october-12-halloween__79-nocal-1024x768.jpg
363 http://files.smashingmagazine.com/wallpapers/october-12/october-12-halloween__79-nocal-1280x800.jpg
364 http://files.smashingmagazine.com/wallpapers/october-12/october-12-halloween__79-nocal-1280x1024.jpg
365 http://files.smashingmagazine.com/wallpapers/october-12/october-12-halloween__79-nocal-1440x900.jpg
366 http://files.smashingmagazine.com/wallpapers/october-12/october-12-halloween__79-nocal-1680x1050.jpg
367 http://files.smashingmagazine.com/wallpapers/october-12/october-12-halloween__79-nocal-1920x1200.jpg
369 http://files.smashingmagazine.com/wallpapers/oct-14/halloween-is-coming/oct-14-halloween-is-coming-full.jpg
370 http://files.smashingmagazine.com/wallpapers/oct-14/halloween-is-coming/nocal/oct-14-halloween-is-coming-nocal-1280x720.jpg
371 http://files.smashingmagazine.com/wallpapers/oct-14/halloween-is-coming/nocal/oct-14-halloween-is-coming-nocal-1280x800.jpg
372 http://files.smashingmagazine.com/wallpapers/oct-14/halloween-is-coming/nocal/oct-14-halloween-is-coming-nocal-1440x900.jpg
373 http://files.smashingmagazine.com/wallpapers/oct-14/halloween-is-coming/nocal/oct-14-halloween-is-coming-nocal-1680x1050.jpg
374 http://files.smashingmagazine.com/wallpapers/oct-14/halloween-is-coming/nocal/oct-14-halloween-is-coming-nocal-1920x1080.jpg
375 http://files.smashingmagazine.com/wallpapers/oct-14/halloween-is-coming/nocal/oct-14-halloween-is-coming-nocal-1920x1200.jpg
376 http://files.smashingmagazine.com/wallpapers/oct-14/halloween-is-coming/nocal/oct-14-halloween-is-coming-nocal-2560x1440.jpg
377 http://files.smashingmagazine.com/wallpapers/oct-14/halloween-is-coming/nocal/oct-14-halloween-is-coming-nocal-1600x900.jpg
379 https://www.smashingmagazine.com/wp-content/uploads/ext_uploads/images/wallpaper-calendar-october-09/full/robot-trickortreat.jpg
380 https://www.smashingmagazine.com/wp-content/uploads/ext_uploads/wallpapers/october09/october-09-robot-trickortreat-nocal-320x480.jpg
381 https://www.smashingmagazine.com/wp-content/uploads/ext_uploads/wallpapers/october09/october-09-robot-trickortreat-nocal-1024x768.jpg
382 https://www.smashingmagazine.com/wp-content/uploads/ext_uploads/wallpapers/october09/october-09-robot-trickortreat-nocal-1280x1024.jpg
383 https://www.smashingmagazine.com/wp-content/uploads/ext_uploads/wallpapers/october09/october-09-robot-trickortreat-nocal-1440x900.jpg
384 https://www.smashingmagazine.com/wp-content/uploads/ext_uploads/wallpapers/october09/october-09-robot-trickortreat-nocal-1680x1050.jpg
385 https://www.smashingmagazine.com/wp-content/uploads/ext_uploads/wallpapers/october09/october-09-robot-trickortreat-nocal-1920x1200.jpg
387 https://www.smashingmagazine.com/wp-content/uploads/uploader/images/wallpaper-calendar-october-10/full/dead_night.jpg
388 https://www.smashingmagazine.com/wp-content/uploads/uploader/wallpapers/october10/october-10-dead_night-nocal-1024x768.jpg
389 https://www.smashingmagazine.com/wp-content/uploads/uploader/wallpapers/october10/october-10-dead_night-nocal-1280x800.jpg
390 https://www.smashingmagazine.com/wp-content/uploads/uploader/wallpapers/october10/october-10-dead_night-nocal-1280x1024.jpg
391 https://www.smashingmagazine.com/wp-content/uploads/uploader/wallpapers/october10/october-10-dead_night-nocal-1440x900.jpg
392 https://www.smashingmagazine.com/wp-content/uploads/uploader/wallpapers/october10/october-10-dead_night-nocal-1680x1050.jpg
393 https://www.smashingmagazine.com/wp-content/uploads/uploader/wallpapers/october10/october-10-dead_night-nocal-1920x1080.jpg
394 https://www.smashingmagazine.com/wp-content/uploads/uploader/wallpapers/october10/october-10-dead_night-nocal-1920x1200.jpg
396 https://www.smashingmagazine.com/wp-content/uploads/uploader/images/wallpaper-calendar-october-10/full/jack_o_calendar__44.jpg
397 https://www.smashingmagazine.com/wp-content/uploads/uploader/wallpapers/october10/october-10-jack_o_calendar__44-nocal-1280x800.jpg
398 https://www.smashingmagazine.com/wp-content/uploads/uploader/wallpapers/october10/october-10-jack_o_calendar__44-nocal-1280x1024.jpg
399 https://www.smashingmagazine.com/wp-content/uploads/uploader/wallpapers/october10/october-10-jack_o_calendar__44-nocal-1440x900.jpg
400 https://www.smashingmagazine.com/wp-content/uploads/uploader/wallpapers/october10/october-10-jack_o_calendar__44-nocal-1680x1050.jpg
401 https://www.smashingmagazine.com/wp-content/uploads/uploader/wallpapers/october10/october-10-jack_o_calendar__44-nocal-1920x1200.jpg
402 https://www.smashingmagazine.com/wp-content/uploads/uploader/images/wallpaper-calendar-april-10/full/skull-break.jpg
403 https://www.smashingmagazine.com/wp-content/uploads/uploader/wallpapers/april10/april-10-skull-break-nocal-1024x768.jpg
404 https://www.smashingmagazine.com/wp-content/uploads/uploader/wallpapers/april10/april-10-skull-break-nocal-1280x800.jpg
405 https://www.smashingmagazine.com/wp-content/uploads/uploader/wallpapers/april10/april-10-skull-break-nocal-1440x900.jpg
406 https://www.smashingmagazine.com/wp-content/uploads/uploader/wallpapers/april10/april-10-skull-break-nocal-1680x1050.jpg
407 https://www.smashingmagazine.com/wp-content/uploads/uploader/wallpapers/april10/april-10-skull-break-nocal-1920x1200.jpg
408 https://www.smashingmagazine.com/wp-content/uploads/uploader/images/wallpaper-calendar-october-10/full/eerie_october.jpg
409 https://www.smashingmagazine.com/wp-content/uploads/uploader/wallpapers/october10/october-10-eerie_october-nocal-320x480.jpg
410 https://www.smashingmagazine.com/wp-content/uploads/uploader/wallpapers/october10/october-10-eerie_october-nocal-1024x768.jpg
411 https://www.smashingmagazine.com/wp-content/uploads/uploader/wallpapers/october10/october-10-eerie_october-nocal-1440x900.jpg
412 https://www.smashingmagazine.com/wp-content/uploads/uploader/wallpapers/october10/october-10-eerie_october-nocal-1680x1050.jpg
413 https://www.smashingmagazine.com/wp-content/uploads/uploader/wallpapers/october10/october-10-eerie_october-nocal-1920x1080.jpg
414 https://www.smashingmagazine.com/wp-content/uploads/uploader/wallpapers/october10/october-10-eerie_october-nocal-1920x1200.jpg
415 https://www.smashingmagazine.com/wp-content/uploads/uploader/images/wallpaper-calendar-october-10/full/pumpkin-spice-spookster.jpg
416 https://www.smashingmagazine.com/wp-content/uploads/uploader/wallpapers/october10/october-10-pumpkin-spice-spookster-nocal-320x480.jpg
417 https://www.smashingmagazine.com/wp-content/uploads/uploader/wallpapers/october10/october-10-pumpkin-spice-spookster-nocal-480x272.jpg
418 https://www.smashingmagazine.com/wp-content/uploads/uploader/wallpapers/october10/october-10-pumpkin-spice-spookster-nocal-640x480.jpg
419 https://www.smashingmagazine.com/wp-content/uploads/uploader/wallpapers/october10/october-10-pumpkin-spice-spookster-nocal-640x960.jpg
420 https://www.smashingmagazine.com/wp-content/uploads/uploader/wallpapers/october10/october-10-pumpkin-spice-spookster-nocal-960x800.jpg
421 https://www.smashingmagazine.com/wp-content/uploads/uploader/wallpapers/october10/october-10-pumpkin-spice-spookster-nocal-960x854.jpg
422 https://www.smashingmagazine.com/wp-content/uploads/uploader/wallpapers/october10/october-10-pumpkin-spice-spookster-nocal-1024x768.jpg
423 https://www.smashingmagazine.com/wp-content/uploads/uploader/wallpapers/october10/october-10-pumpkin-spice-spookster-nocal-1024x1024.jpg
424 https://www.smashingmagazine.com/wp-content/uploads/uploader/wallpapers/october10/october-10-pumpkin-spice-spookster-nocal-1152x864.jpg
425 https://www.smashingmagazine.com/wp-content/uploads/uploader/wallpapers/october10/october-10-pumpkin-spice-spookster-nocal-1280x800.jpg
426 https://www.smashingmagazine.com/wp-content/uploads/uploader/wallpapers/october10/october-10-pumpkin-spice-spookster-nocal-1280x960.jpg
427 https://www.smashingmagazine.com/wp-content/uploads/uploader/wallpapers/october10/october-10-pumpkin-spice-spookster-nocal-1280x1024.jpg
428 https://www.smashingmagazine.com/wp-content/uploads/uploader/wallpapers/october10/october-10-pumpkin-spice-spookster-nocal-1366x768.jpg
429 https://www.smashingmagazine.com/wp-content/uploads/uploader/wallpapers/october10/october-10-pumpkin-spice-spookster-nocal-1400x1050.jpg
430 https://www.smashingmagazine.com/wp-content/uploads/uploader/wallpapers/october10/october-10-pumpkin-spice-spookster-nocal-1440x900.jpg
431 https://www.smashingmagazine.com/wp-content/uploads/uploader/wallpapers/october10/october-10-pumpkin-spice-spookster-nocal-1600x900.jpg
432 https://www.smashingmagazine.com/wp-content/uploads/uploader/wallpapers/october10/october-10-pumpkin-spice-spookster-nocal-1600x1200.jpg
433 https://www.smashingmagazine.com/wp-content/uploads/uploader/wallpapers/october10/october-10-pumpkin-spice-spookster-nocal-1680x1050.jpg
434 https://www.smashingmagazine.com/wp-content/uploads/uploader/wallpapers/october10/october-10-pumpkin-spice-spookster-nocal-1920x1200.jpg
435 https://www.smashingmagazine.com/wp-content/uploads/uploader/wallpapers/october10/october-10-pumpkin-spice-spookster-nocal-2560x1440.jpg
436 https://www.smashingmagazine.com/wp-content/uploads/uploader/wallpapers/october10/october-10-pumpkin-spice-spookster-nocal-2560x1600.jpg
437 https://www.smashingmagazine.com/wp-content/uploads/uploader/images/wallpaper-calendar-october-11/full/creepy_october__3.jpg
438 http://files.smashingmagazine.com/wallpapers/october-11/october-11-creepy_october__3-nocal-1280x720.jpg
439 http://files.smashingmagazine.com/wallpapers/october-11/october-11-creepy_october__3-nocal-1280x800.jpg
440 http://files.smashingmagazine.com/wallpapers/october-11/october-11-creepy_october__3-nocal-1440x900.jpg
441 http://files.smashingmagazine.com/wallpapers/october-11/october-11-creepy_october__3-nocal-1680x1050.jpg
442 http://files.smashingmagazine.com/wallpapers/october-11/october-11-creepy_october__3-nocal-1920x1080.jpg
443 http://files.smashingmagazine.com/wallpapers/october-11/october-11-creepy_october__3-nocal-1920x1200.jpg
445 http://files.smashingmagazine.com/wallpapers/october-12/october-12-creepy_october__93-nocal-1280x800.jpg
446 http://files.smashingmagazine.com/wallpapers/october-12/october-12-creepy_october__93-nocal-1280x1024.jpg
447 http://files.smashingmagazine.com/wallpapers/october-12/october-12-creepy_october__93-nocal-1680x1050.jpg
448 http://files.smashingmagazine.com/wallpapers/october-12/october-12-creepy_october__93-nocal-1920x1080.jpg
449 http://files.smashingmagazine.com/wallpapers/october-12/october-12-creepy_october__93-nocal-2560x1440.jpg
450 https://www.smashingmagazine.com/wp-content/uploads/uploader/images/wallpaper-calendar-november-10/full/ghost_friends__18.jpg
451 https://www.smashingmagazine.com/wp-content/uploads/uploader/wallpapers/november10/november-10-ghost_friends__18-nocal-1920x1200.jpg
452 https://www.smashingmagazine.com/wp-content/uploads/uploader/images/wallpaper-calendar-february-10/full/evilscreen.jpg
453 https://www.smashingmagazine.com/wp-content/uploads/uploader/wallpapers/february10/february-10-evilscreen-nocal-1024x768.jpg
454 https://www.smashingmagazine.com/wp-content/uploads/uploader/wallpapers/february10/february-10-evilscreen-nocal-1280x800.jpg
455 https://www.smashingmagazine.com/wp-content/uploads/uploader/wallpapers/february10/february-10-evilscreen-nocal-1280x1024.jpg
456 https://www.smashingmagazine.com/wp-content/uploads/uploader/wallpapers/february10/february-10-evilscreen-nocal-1440x900.jpg
457 https://www.smashingmagazine.com/wp-content/uploads/uploader/wallpapers/february10/february-10-evilscreen-nocal-1680x1050.jpg
458 https://www.smashingmagazine.com/wp-content/uploads/uploader/wallpapers/february10/february-10-evilscreen-nocal-1920x1200.jpg
460 https://www.smashingmagazine.com/wp-content/uploads/ext_uploads/images/wallpaper-calendar-october-09/full/kill-your-boss.jpg
461 https://www.smashingmagazine.com/wp-content/uploads/ext_uploads/wallpapers/october09/october-09-kill-your-boss-nocal-320x480.jpg
462 https://www.smashingmagazine.com/wp-content/uploads/ext_uploads/wallpapers/october09/october-09-kill-your-boss-nocal-800x600.jpg
463 https://www.smashingmagazine.com/wp-content/uploads/ext_uploads/wallpapers/october09/october-09-kill-your-boss-nocal-1024x768.jpg
464 https://www.smashingmagazine.com/wp-content/uploads/ext_uploads/wallpapers/october09/october-09-kill-your-boss-nocal-1280x800.jpg
465 https://www.smashingmagazine.com/wp-content/uploads/ext_uploads/wallpapers/october09/october-09-kill-your-boss-nocal-1280x1024.jpg
466 https://www.smashingmagazine.com/wp-content/uploads/ext_uploads/wallpapers/october09/october-09-kill-your-boss-nocal-1440x900.jpg
467 https://www.smashingmagazine.com/wp-content/uploads/ext_uploads/wallpapers/october09/october-09-kill-your-boss-nocal-1680x1050.jpg
468 https://www.smashingmagazine.com/wp-content/uploads/ext_uploads/wallpapers/october09/october-09-kill-your-boss-nocal-1920x1200.jpg
480 http://psdtuts.com/tutorials/photo-effects-tutorials/design-a-halloween-pumpkin-wallpaper-in-photoshop/
481 http://psdtuts.com/tutorials/photo-effects-tutorials/design-a-halloween-pumpkin-wallpaper-in-photoshop/
482 http://www.americangreetings.com/wallpapers/display.pd?prodnum=3103721&N=374222+374411&offset=5&Ns=P_NEWNESS|1||P_PERFORMANCE_NUMBER|1
483 http://www.americangreetings.com/wallpapers/display.pd?prodnum=3103721&N=374222+374411&offset=5&Ns=P_NEWNESS|1||P_PERFORMANCE_NUMBER|1
484 http://www.americangreetings.com/wallpapers/display.pd?prodnum=3103745&N=374222+374411&offset=19&Ns=P_NEWNESS|1||P_PERFORMANCE_NUMBER|1
485 http://www.americangreetings.com/wallpapers/display.pd?prodnum=3103745&N=374222+374411&offset=19&Ns=P_NEWNESS|1||P_PERFORMANCE_NUMBER|1