Upcoming Web Design Conferences (January 2019 – June 2019)
Ahoy! The hunt for shiny front-end & UX treasures has begun! For our fifth SmashingConf San Francisco, we'll explore how to apply psychology to UX, design workflow, refactoring, moving to a static site setup, CSS Grid techniques, performance, deployment patterns for HTTP/2 and how to provide better estimates and pricing. Plus a bunch of hands-on workshops on design, front-end and UX.
SmashingConf San Francisco (April 16-17, 2019)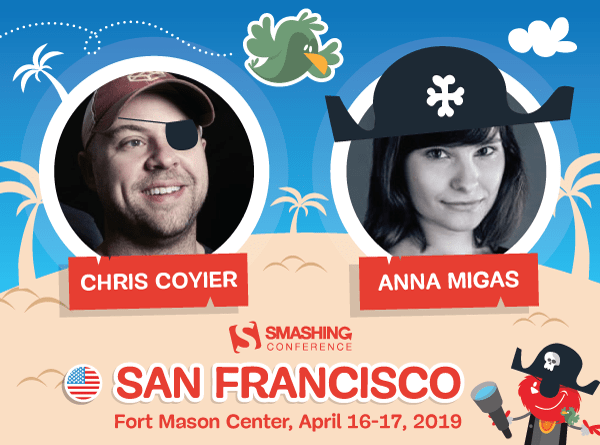 "Coming to Smashing Conferences fundamentally changed how I develop websites."

— Ryan Chittenden, Director of Web Development, Fuego Digital Media
"I reminisce fondly of the Smashing Confs I attended in Whistler and NYC as a newly minted DevRel. Turning point in my career!"

— Jen Looper (@jenlooper), Senior Developer Advocate at Progress
Taking place in wonderful San Francisco on April 16-17, 2019, with 13 knowledgeable speakers, 8 practical workshops and a broad range of topics on front-end development and accessible UI designs. We'd love to walk the plank with you in San Francisco! ;-)
Register for three days and save $100 off the cost of registering separately for the conference and the workshop. Check the speakers →
Enough for the plug, now let's dive into our list for January throughout June.
January 2019
JSFoo Pune 2019
"The second Pune edition of India's premier JavaScript conference. HasGeek launched JSFoo in 2011 as India's first JavaScript conference. The JS community in India has grown phenomenally since then. JavaScript now pervades every aspect of web development – browsers, apps, front-end, backend, mobile and IoT, and there's always scope to understand new ideas and solutions. The conference explores new ideas, implementing innovative solutions, and learning from experiences, especially negative ones!"
When: January 10, 2019
Where: Pune, India
iOS Conf Singapore 2019
"The largest iOS developer conference in Southeast Asia. 2 full days - single-track - conference featuring 20+ pure iOS and Swift programming talks. 1 full day workshop and hands-on experience on modern application architecture and functional programming in Swift."
When: January 17-19, 2019
Where: Singapore, Singapore
DevFest Florida 2019
"Florida's most magical developer conference. Held steps from the Magic Kingdom in Walt Disney World and offering over 30 expert speaker talks on all the hot topics in technology. DevFest Florida is the first combined DevFest being organized by three Google Developer Groups in the central Florida area: Space Coast, Central Florida, and Tampa Bay."
When: January 19, 2019
Where: Orlando, FL, USA
Nomad Summit 2019
"We're inviting the most successful digital nomads to come share their business models, productivity tricks, travel hacks, and money making techniques in listener-friendly 40 minute TED-style talks! Come join us in the top digital nomad haven of the world, Chiang Mai, Thailand, where 400 experienced and aspiring location-independent entrepreneurs will gather from around the globe for a day of inspiring talks and networking."
When: January 19, 2019
Where: Chiang Mai, Thailand
You Got This 2019
"You Got This will cover topics across three themes - learning, living and levelling-up. This isn't your typical tech conference - we're not talking about your technical skills, but everything else needed for a happy, healthy work life. You Got This is an annual, 150+ person conference for junior developers, designers, and their teams to learn how to better support their co-workers."
When: January 19, 2019
Where: London, UK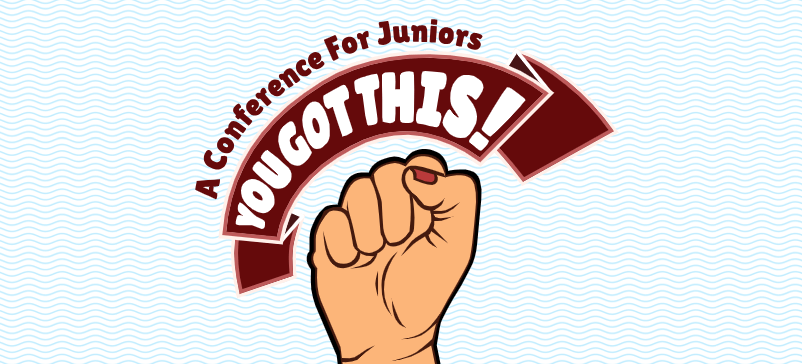 StarCon 2019
"StarCon is a two-day software engineering conference held in Waterloo, Ontario with two days of lightning talks about technology, computer science, programming, and the joy of learning about them!"
When: January 19-20, 2019
Where: Waterloo, Canada
New Adventures 2019
"It's time to explore an uncertain future, together. Tools, frameworks, automation: what value do they offer, and how will they alter the way digital experiences form? Will you be essential or expendable? Did design sleep in while everyone else got busy defining a new rulebook for our industry? We'll talk about designing smarter. We'll consider labour and ethics, education and inclusivity, the disappearance of weirdness and fun. We'll reconvene, recalibrate, and re-energise digital design. Our speakers include Ethan Marcotte, Jeremy Keith, Clare Sutcliffe MBE, Naz Hamid, Helen Joy, and Jessica White, and we have fringe events across three days in the city."
When: January 23-25, 2019
Where: Nottingham, UK
GoDays 2019
"Let's go, go, go and rock Berlin! From January 29-30, 2019 the very first edition of GoDays will take place at the Factory Görlitzer Park in Berlin. ​ GoDays is a two day conference focused on connecting the Go community. In numerous technical talks and hands-on workshops, Go experts, beginners, and everyone in between will exchange ideas and learn from each other."
When: January 29-30, 2019
Where: Berlin, Germany
February 2019
Windy City DevFest 2019
"Windy City DevFest is a 100% community organized developer conference with industry experts presenting on exciting topics including mobile, web, cloud, virtual reality, machine learning, and much more!"
When: February 1, 2019
Where: Chicago, IL, USA
FFS Tech Conf Down Under 2019
"FFS Tech Conf is a conference that started in London as a "jokey early morning tweet exchange" and became a one-day single-track conference. The original FFS Tech Conf legends are a group of tech professionals who were a little bit done with the typical conference format. Sessions last no more than 15 minutes of rant about technology, it's practice or its use (30 minutes of discussion to follow each rant). Additionally, we'll be opening up the conference to people in technology who have been 'off the tools' for a bit, like Product Managers and strategy leads."
When: February 2, 2019
Where: Melbourne, Australia
DevFestMN 2019
"Google Developer Group DevFests are the largest Google related events in the world! Each DevFest is carefully crafted for you by your local GDG community to bring in awesome speakers, great topics, and lots of fun! While no two events will be exactly alike, each GDG DevFest will, at its core, be powered by a shared belief that when developers come together to exchange ideas, amazing things can happen!"
When: February 2, 2019
Where: Minneapolis, MN, USA
Meet Magento India 2019
"This year we want to have the biggest Magento event in India ever! We are planning on bringing in all aspects of Magento development and, new this year, will be how merchants fit in with agencies and developers. In addition we plan on workshops and sessions around B2B, B2C, OMS, PWA, UX/UI, and more! Meet Magento India is happening on 2nd Feb in Ahmedabad. We are lining up speakers, call for speakers is open for speaker, entrepreneur, storyteller, techie, motivator, leader, CEO or mentor and who have leadership, motivation or inspiration skills."
When: February 2, 2019
Where: Ahmedabad, India
Interaction 19
"Interaction 19 will assemble a diverse group of practitioners and academics from around the world to explore the edges of interaction design, and help spark a transformation of the discipline to be relevant to the needs of the 21st century. We will give interaction design practitioners an inspiring and transformative experience that will help them to learn what to learn, to build their personal toolbox and to grow their professional networks."
When: February 3-8, 2019
Where: Seattle, WA, USA
c't webdev
"Die c't-Redaktion und heise events laden Sie herzlich zur ersten c't webdev ein. Die neue Konferenz soll profes­sionelle Entwickler über die Grenzen ein­zel­ner Program­mier­sprachen und Frameworks hinaus zusam­men­bringen und ihnen die Möglichkeit geben, sich über alltägliche Probleme aus­zu­tauschen sowie über neue Ansätze und Tools zu informieren. In der Entwicklung von Web-Frontends spielen Frame­works und Bibliotheken eine zentrale Rolle. Prä­pro­zes­soren, Build-Tools, Docker und andere Werkzeuge aus dem Container-Umfeld erleichtern die Umsetzung und den produktiven Betrieb. Dabei sollte man aber die Basics nicht aus den Augen lassen, etwa die Grundlagen des UX-Designs und die Performance. Mobile Frontends mit AMP und Progressive Web Apps werden immer wichtiger. Darüber hinaus wollen An­wen­der vermehrt über neue Kanäle angesprochen werden, etwa Assistenten, Bots und VR. Bei der Umsetzung sind zudem der Datenschutz, die Sicherheit und strategische Aspekte zu berücksichtigen, etwa Unternehmens-Policies. Die Veranstalter der c't webdev legen Wert auf ein respektvolles Miteinander und Diversität."
When: February 6-7, 2019
Where: Cologne, Germany
RubyConf AU 2019
"Our yearly gathering where we share knowledge about the Ruby programming language, and celebrate the Australian and broader Ruby community."
When: February 7-9, 2019
Where: Melbourne, Australia
JSConf Hawaiʻi
"Our mission: Provide a fun, unique and welcoming environment where diversity thrives and attendees can come together to discuss JavaScript as a technology and grow it as a community."
When: February 7-8, 2019
Where: Honolulu, HI, USA
DelEx Conference 2019
"Delex stands for Delivery Excellence. Delivery in 'green' is dense mixture of best practices and experience. Proper use of Test Automation and DevOps can shift delivery to a new heights. We introduce two-day event filled up with progressive ideas from changemakers and the most inspiring thinkers. Talks on conference will cover different level of Automated Testing, DevOps activities and tools. It is a good platform for professional networking that leaves plenty of space for collaboration!"
When: February 8-9, 2019
Where: Minsk, Belarus
FrontFest 2019
"FrontFest is a non-profit conference organized by a team of 8 people in their free time. Our goal is for FrontFest to be an interesting experience for attendees and the entire community, where we can get to know each other, inspire us, gather ideas and learn from experienced people, but also allow us to discover new talents in the frontend world."
When: February 9, 2019
Where: Madrid, Spain
DevFest KC 2019
"GDG DevFests are large, community-run developer events happening around the globe focused on community building and learning about Google's technologies. Each DevFest is carefully crafted for you by your local GDG community to bring in awesome speakers, great topics, and lots fun! While no two events will be exactly alike, each GDG DevFest will, at its core, be powered by a shared belief that when developers come together to exchange ideas, amazing things can happen! DevFest KC 2019 is a 100% community organized full-day developer conference featuring awesome world-class speakers from technology leaders within the community as well as Google product team developers."
When: February 9, 2019
Where: Kansas City, MO, USA
Frontend Developer Love 2019
"Frontend Developer Love 2019 will continue the legacy and once again be the most hyped Frontend Developer Conference in the Netherlands. With Evan You, and a lineup of 25+ top javascript speakers sharing their insight into frameworks and the projects they are currently working on. Across 3 days we will share knowledge with over 3000 javascript enthusiasts, allowing them to discover and learn about javascript alongside networking with the most enthusiastic community of frontend developers on the planet!"
When: February 13-15, 2019
Where: Amsterdam, Netherlands
European Testing Conference 2019 - Valencia
"Testing is important. This conference is about getting experts and practitioners together to talk, learn and practice the art of testing. We're looking into advanced new methods into making our testing more effective, as well as enrich our understanding of fundamental methods to grow a stronger community. We're tired of conferences that feel more like sales pitches than practitioners sharing the craft. Come. Learn. Do. Teach. Test."
When: February 14-15, 2019
Where: Valencia, Spain
Vue.Js Amsterdam 2019
"Vuejs Amsterdam 2019 will be a two day conference for Vuejs enthusiasts from around the world. Vuejs Amsterdam was proud to host 1085 Attendees from 51 countries in 2018. If you never made it to Vuejs Amsterdam 2018, check out the aftermovie below. Don't miss your chance to experience the "big screen" and extend your Vuejs knowledge."
When: February 14-15, 2019
Where: Amsterdam, Netherlands
PyCon Belarus 2019
"PyCon Belarus 2019 will be held on February 15-16 in Minsk, Belarus. The conference is organized by SPACE Production (SPACE EventSpace.BY) with the support of Python enthusiasts from Belarus, Russia, Ukraine and Portugal. The conference is annual and dates back to 2015 year. Conference program 2019 includes 2 days for Python developers of different levels: Junior Day – February 15: the talks and workshops for beginners and juniors; Advanced Day – February 16: two tracks with talks about last trends in Python development and data science talks on Python-ecosystem."
When: February 15-16, 2019
Where: Minsk, Belarus
UXistanbul 2019
""The first International User Experience and Usability Conference of Turkey and Region." We are a one-day user experience and usability event, and we annually "fascinate" our guests. By being the first UX conference of Turkey, we gather UX and Usability professionals from World's leading companies in Istanbul, to share their experiences."
When: February 19, 2019
Where: Istanbul, Turkey
nor(DEV):con 2019
"nor(DEV):con is back! After taking a well earned break, the region's biggest tech conference returns in February 2019 and promises to be even bigger than before! The updated format will include new specialisms including a dedicated Process Track, to include other development processes (not just Agile), as well as the Stephen Fry Track which aims to focus on the holistic side of tech life. The Schools Day, designed to encourage young people into tech, is set to return as is the full day of workshops on the preceding Thursday. Conference favourites like the Business Track are looking to be even bigger than last time, and so is another delegate favourite – the Wine Reception!"
When: February 21-23, 2019
Where: Norwich, UK
!!Con West
"!!Con (pronounced "bang bang con") West is a two-day conference of ten-minute talks about the joy, excitement, and surprise of computing, and the west-coast successor to !!Con!"
When: February 23, 2019
Where: Santa Cruz, CA, USA
World IA Day 2019
"World Information Architecture Day is a one-day annual celebration hosted by the Information Architecture Institute and held in dozens of locations across the globe. We are a community of like-minded professionals and enthusiasts who share the common goal of practising, learning, teaching and shaping the future of information architecture."
When: February 23, 2019
Where: Chicago, IL, USA
GrafanaCon LA 2019
"GrafanaCon is a two-day event with talks focused on Grafana and the surrounding open source monitoring ecosystem. In addition to the latest features and functionality of Grafana, you can expect to see and hear from members of the extended open source monitoring community."
When: February 25-26, 2019
Where: Los Angeles, CA, USA
March 2019
13th International Conference on Design Principles & Practices
"Founded in 2007, the Design Principles & Practices Research Network offers an interdisciplinary forum to explore the meaning and purpose of design. In professional and disciplinary terms, the network traverses a broad sweep to construct a trans-disciplinary dialogue, which encompasses a wide array of design paradigms and practices. International Conference on Design Principles & Practices attendees include leaders in the field, as well as emerging scholars, who travel to the conference from all corners of the globe and represent a broad range of disciplines and perspectives. A variety of presentation options and session types offer opportunities for attendees to share their work, discuss key issues in the field, and build relationships with attendees."
When: March 1-3, 2019
Where: St Petersburg, Russia
DevNexus 2019
"SouthEast's largest developer conference. The goal of the Devnexus Conference is to connect developers from all over the world, provide affordable education, and promote Open Source values."
When: March 6-8, 2019
Where: Atlanta, GA, USA
DevRelCon Tokyo 2019
"DevRelCon Tokyo: a conference about developer relations, developer experience, developer community, APIs and developer marketing on March 9th, 2019, Tokyo. DevRelCon Tokyo 2019 is the only Developer Relations conference in Japan. Over 200 professionals working in developer relations, DX, tech writing, API design, technical support, community and develper marketing. To participate in DevRelCon, you agree to abide by our code of conduct."
When: March 9, 2019
Where: Tokyo, Japan
Source Up! 2019
"Level up your web development skills, techniques, and practice. 2 days, 8 in-depth talks and 2 full-day, hands-on workshops with authors, front-end consultants, and experts who've worked with Etsy, Google, Microsoft, Slack, and more."
When: March 11-12, 2019
Where: Cape Town, South Africa
ServerlessDays Boston 2019
"ServerlessDays started life as JeffConf, a tongue in cheek conference in the spirit of Paul Johnston's blog post, an attempt to move beyond the Serverless buzzword and focus on the practical use of function as a service platforms and the value they provide. It is a one day, community-focused, single track event centred on real world Serverless based solutions. It's about fostering a community and helping all of us learn from each other as we embrace a new way of building applications."
When: March 12, 2019
Where: Boston, MA, USA
Appdevcon 2019
"Appdevcon is a conference by app developers, for app developers. We have five days with multiple tracks, designed in such a way that whether you're an Android, iOS, Windows, Web, TV or other app developer, there's always at least one session that should be of interest. The venue is great, it's the Pathé De Munt Movie Theater in Amsterdam. We expect around 350 attendees."
When: March 12-15, 2019
Where: Amsterdam, Netherlands
ConFoo Montreal 2019
"ConFoo Montreal is a multi-technology conference for web developers. Reserve the dates right now, as ConFoo will be in Montreal again in 2019, from March 13th to March 15th, at Hotel Bonaventure in beautiful downtown Montreal."
When: March 13-15, 2019
Where: Montreal, Canada
Momentum Developer Conference 2019
"Momentum is a Cincinnati developer conference dedicated to providing developers with great content for learning and success. Join us on March 21, 2019 at Sharonville Convention Center. For Software Developers: Learn from top notch developers, Receive fresh perspectives on the challenges you face daily, Share your best practices with others, Take home tips and tricks you can use tomorrow."
When: March 21, 2019
Where: Cincinnati, OH, USA
Up Front Conf 2019
"March's UpFrontConf will be our 5th year running this! 1px.gif, sliding doors, rounded corners, tables, clear fix, calculating the box model, floats, using lots of JavaScript / jQuery where CSS can now be used."
When: March 22, 2019
Where: Manchester, UK
BOB 2019
"Are you interested in technologies beyond the mainstream, that a are a pleasure to use, and effective at getting the job done? BOB is the forum for developers, architects and builders to explore and discover the best tools available today for building software. Our goal is for all participants to leave the conference with new ideas to improve development back at the ranch. We are committed to diversity: We aim at exploring a wide range of tools in a welcoming and friendly crowd of diverse people. To that end, a number of support options for participants from groups under-represented in tech are available."
When: March 22, 2019
Where: Berlin, Germany
Codemotion Rome 2019
"Codemotion Rome 2019 is the largest tech conference for developers in Europe, open to all languages and technologies. We aim at sharing all the latest tech news and best practices not only at Codemotion conferences! We also organize training and courses for IT professionals, tech school for future innovators and tech hackathons. Moreover, Codemotion is a true supporter of Startups and Game developers."
When: March 22, 2019
Where: Rome, Italy
Women Techmakers Montreal 2019
"Women Techmakers is a program created by Google to celebrate International Women's Day and to highlight the talent of women in technology. In 2019, we're organizing the fourth edition in Montreal as part of the special event The Women Techmakers Global Event Series Celebrating International Women's Day (WTM IWD). This program has been in over 200 global events and seen across 52 countries. The main focus of this community-building initiative is to promote talented and passionate women, increase the visibility of the Montreal technology community and empower women in technology."
When: March 23, 2019
Where: Montreal, Canada
DevConf Cape Town 2019
"DevConf is a community-driven, developer focused, one-day conference hosted annually. The aim of the conference is to provide software developers with a buffet of tools, practices and principles applicable to tackling current and future challenges in the South African software development environment. It's an event where attendees can learn, network and be inspired regardless of their specific technology stack and programming language of choice."
When: March 26, 2019
Where: Cape Town, South Africa
DevConf Johannesburg 2019
"DevConf is a community-driven, developer focused, one-day conference hosted annually. The aim of the conference is to provide software developers with a buffet of tools, practices and principles applicable to tackling current and future challenges in the South African software development environment. It's an event where attendees can learn, network and be inspired regardless of their specific technology stack and programming language of choice."
When: March 28, 2019
Where: Johannesburg, South Africa
Rust Latam 2019
"Rust Latam Conference is the Latin America' leading event for and by the Rust movement, and one of Rust local community' largest annual networking opportunities. This weekend conference of interactive sessions, hands-on activities, and engaging talks brings together 200+ passionate advocates, developers and enthusiasts of the Rust Programming Language from around the world. This March, the people and ideas in the Rust Latin America community will leap off the screen to learn, discuss, debate and address Rust in person. Our first-annual Rust Latam Conference is starting in Montevideo."
When: March 29-30, 2019
Where: Montevideo, Uruguay

April 2019
Kafka Summit New York City 2019
"Kafka Summit is the premier event for data architects, engineers, devops professionals, and developers who want to learn about streaming data. It brings the Apache Kafka community together to share best practices, write code and discuss the future of streaming technologies."
When: April 2, 2019
Where: New York City, NY, USA
#PerfMatters Conference 2019
"#PerfMatters Conference is the web performance conference in Redwood City, California with talks by internationally renowned performance developers. Our focus is on front-end web performance."
When: April 2-3, 2019
Where: Redwood City, CA, USA
Codemotion Amsterdam 2019
"Codemotion Amsterdam is back on April 2-3, 2019! Are you ready for the largest, all-inclusive tech conference for software developers in EMEA? 2-day event open to all languages and technologies, 7 parallel tracks, 80+ international speakers from leading tech companies. Ticket includes lunch, drinks, snacks and our awesome afterparty!"
When: April 2-3, 2019
Where: Amsterdam, Netherlands
Frontend NE 2019
"That's right, after the success of last year's conference, we're doing it all over again! On Wednesday April 3rd 2019 we'll be at the Boiler Shop in Newcastle for another Frontend filled fiesta! We've got the fabulous Lea Verou, and the wonderful Jeremy Keith. With a few more great speakers still to be announced."
When: April 3, 2019
Where: Newcastle upon Tyne, UK
Fronteers Spring Conference 2019
"Following the success of 2016's Spring Conference, Friday 5 April 2019 will see a new single-day, single-topic conference in a sunny setting, the familiar and grandiose Tuschinski theatre. Mark your calendars."
When: April 5, 2019
Where: Amsterdam, Netherlands
Serverless Architecture Conference 2019
"We bring together the world's leading software architects and cloud experts to share their ideas and knowledge. Mastering Cloud Native Architectures, the Kubernetes Ecosystem and Functions From managed containerized environments to functions: Modern cloud native technologies are pushing productivity to the next level. To take full advantage of this new dawn of deploying, scaling and managing applications software architects and developers need to re-focus the way they design software systems. Join Serverless Architecture Conference and gain key knowledge and skills for this new era of computing. Being a software engineer has never been better."
When: April 8-10, 2019
Where: The Hague, Netherlands
Forward JS Ottawa 2019
"Join a diverse group of people to talk about the future of JavaScript and the open web in Ottawa. Join experts from Google, Netflix, Mozilla, Adobe, IBM, Microsoft and dozens of other companies for a day of sessions and panels about JavaScript and the open web."
When: April 9-12, 2019
Where: Ottawa, Canada
DjangoCon Europe 2019
"After a lot of planning, we are happy to announce that we'll be hosting all you lovely Django people next year! You don't necessarily need to buy plane tickets or book hotel rooms yet: Alternatives such as ride sharing and accommodation sharing will be provided through the website for interested ticket-holders from December and onward."
When: April 10-12, 2019
Where: Copenhagen, Denmark
DevOne 2019
"The cloud, the final frontier. These are the voyages of the conference DevOne. Its one-day mission: To explore the hottest topics of DevOps, to seek out new challenges in Software development, to boldly go where no human has continuously integrated before."
When: April 11, 2019
Where: Linz, Austria
JSHeroes 2019
"Join us on the 11th and 12th of April 2019 for 2 days of conference, with a kick-off day full of workshops on the 10th. Feel free to send us your suggestions over Twitter, we'd be happy to hear from you. We believe that the community and the open-source models are well suited for our core values: learning, teaching and knowledge sharing. Our mission is to inspire other communities with the concept of open-source events. We're publishing all data about this conference, in full transparency. We are also available at any time for inquires and we`re really looking forward to sharing our knowledge about organizing international events. This way, whenever a community wants to start something similar, they can build on our knowledge."
When: April 11-12, 2019
Where: Cluj-Napoca, Romania
Zer0Con 2019
"Zer0Con is POC's 'CLOSED' international security conference. It focuses on finding, analyzing, and exploiting vulnerabilities. Zer0Con aims to have high-level technical presentations. It is a high-level and closed conference. It only focuses on finding, analyzing, exploiting vulnerabilities. Only speakers, attendees, and sponsors will share vulnerabilities information. Zer0Con attendees can share various information and establish unique community. Training courses also focus on finding, analyzing, exploiting vulnerabilities. If you have certain level of ability to find bugs and make exploit code, you will improve yourself through Zer0Con."
When: April 11-12, 2019
Where: Seoul, South Korea
React Amsterdam 2019
"React Amsterdam is a celebration of good things coming together: REACT THAT ROCKS AND SPRING IN AMSTERDAM THAT BLOSSOMS A full-day, two-track conference on all things React, gathering Front-end and Full-stack developers across the globe in the tech heart of Europe. We're coming back with a new gig on April 12, 2019. Mark your calendars for the biggest React community event. Same as last year, days before (and after) the main event, we'll host a training day, with three workshops on advanced React, GraphQL as well as a crash course on React Native."
When: April 11-13, 2019
Where: Amsterdam, Netherlands
Afrotech Fest 2019
"A tech festival by and for black people of African and Caribbean heritage. Afrotech Fest is a 'for us by us' festival seeking to create intentional and alternative spaces within the tech scene. We debut, highlight and showcase speakers across different disciplines, experiences and backgrounds. In 2018, we put together an exciting programme covering everything from working in games, to exploring possible futures using Wakanda as a touch point. The festival offers interactive events across multiple venue spaces, including talks, workshops, and an opening night party."
When: April 12-14, 2019
Where: London, UK
Practical AI and ML Conference QCon.ai 2019
"QCon has been delivering a platform for senior developers, engineers, & leaders to discuss software engineering worldwide for over 10 years. Take a deep-dive into practices and use cases for applying AI & machine learning in our 2nd edition of QCon.ai conference. Do you feel you have the talent to harness data in how you work but don't know the right problems to solve with AI and Machine Learning in engineering? At QCon.ai we are dedicated to helping senior software engineers and architects uncover real-world patterns, practices, and use cases for applying artificial intelligence/machine learning in engineering."
When: April 15-17, 2019
Where: San Francisco, CA, USA
SmashingConf SF 2019
"Ahoy! The hunt for shiny front-end & UX treasures has begun! For our fifth SmashingConf San Francisco, we'll explore how to improve accessibility and front-end workflow, refactoring, security, interface design patterns, CSS Grid techniques, performance, and how to write better JavaScript. Plus a bunch of hands-on workshops on design, front-end and UX."
When: April 15-18, 2019
Where: San Francisco, CA, USA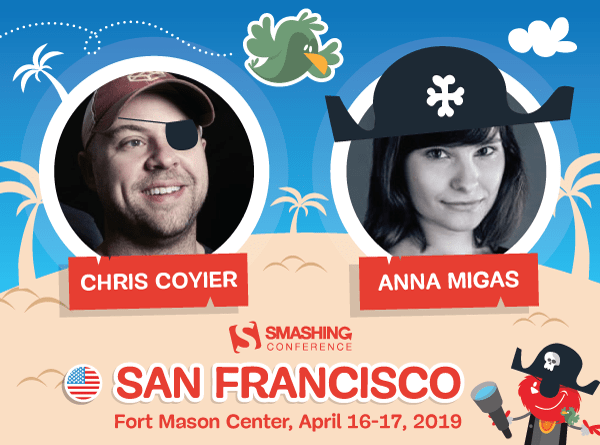 DevNet Create Developer Conference
"DevNet Create is the only conference that joins the forces of infrastructure and application development. From mashing up NOCs and DevOps for NetDevOps, to leveraging artificial intelligence and machine learning concepts, DevNet Create exposes innovative ways of approaching hard enterprise issues. Hands-on learning matched with cross-vertical and cross-platform sessions featuring a breadth of developer tools and frameworks. An intimate setting to connect with peers and meet leaders in the world of infrastructure and application development."
When: April 24-25, 2019
Where: Mountain View, CA, USA

Agile-Lean Ireland 2019 Conference
"We are a community-led conference, dedicated to spreading learning in Agile and Lean to the Irish and international community. On April 23rd-26th 2019, we will return to Croke Park, Dublin's most historic venue, for our 3rd annual conference. This event will feature the cream of International and Irish speakers, with a mix of regular talks, workshops, open space and lightning talks. The two pre-conference days will consist of masterclass workshops with Mary Poppendieck, Barry O'Reilly and Michael Nir, whilst April 25th and 26th will be conference days. Our theme this year is Rise – we will hear stories of how to achieve success and rise to the top through learning from adversity, from internationally renowned keynotes and from our community. Our goal is to help grow knowledge for Leaders, Agile/Lean Coaches, Scrum Masters, Product Owners, Kanban Leads, UX Designers, Developers and Testers."
When: April 24-26, 2019
Where: Dublin, Ireland
0xCC
"0xCC is a infosec training conference by women for women. We are not about putting up walls or demanding special treatment but rather our aim is to encourage and support all women in the industry from those looking to join to those already established. We hope the conference brings together people's love for infosec and helps the newbies find that love too."
When: April 26-27, 2019
Where: Melbourne, Australia
The Lead Developer New York 2019
"The Lead Developer is an international conference for Engineering Managers to develop themselves and get inspired to empower their teams. In 2018, 1300+ Engineering Managers, Lead Developers, VPs of Engineering, and CTOs joined us at our conferences in London, New York and Austin to learn from the best in leadership."
When: April 30, 2019
Where: New York, NY, USA
May 2019
ng-conf 2019
"Best way to BLAST Angular Space Invaders before they reach you at a professional level...? By joining us for ng-conf 2019 of course! Our workshops & presentations will have you defeating those aliens like it's nobody's business!"
When: May 1-3, 2019
Where: Salt Lake City, UT, USA
Design and Authority - 4T Symposium 2019
"The coupling of design and authority in a Google search, the "internet search authority," surprisingly results in entries which have more to do with the procedural and legislative aspects related to design: The "authority" issues rules for which the product of design or the designer has to comply with, or claims privilege in shaping the design product. Authority is usually attributed to an agent of enforcement regulating products and to an extent, that those produce design. Understood as a form of legitimized power, authority is realized only by the mutual recognition of those who hold power and those who do not. -In what ways do design and authority come together? -How does design exert authority? -How can design resist authority? -How does authority shape design in shaping itself, its powers? -How do products of design have authority over lives, cultures, countries, histories or how do they lose the authority they once had? -When does design become complicit with authority in creating authoritarian structures? -How does authoritarianism enforce design regimes that hold sway over the field of cultural production? -In what ways can one explain the relationship of authorship, design and authority? -Is it possible to talk about the authority of collective authorship in design?"
When: May 2-4, 2019
Where: Izmir, Turkey
UX Burlington 2019
"UX Burlington is an event tailored for UX professionals seeking to stay ahead of the curve and push their work to the next level. User expectations are changing fast and real-time interactions on social media and Amazon Prime have helped fuel those shifts. In practice we have to demonstrate value in less than a second — or at best prove usefulness on first use. As UX practitioners we need to understand how we can address and meet those expectations of immediacy in what we're working on today. Every talk at the 2019 conference will be presented through the lens of immediacy in UX."
When: May 3, 2019
Where: Burlington, VT, USA
PHPKonf 2019
"PHPKonf is hosted by the Istanbul PHP community in Istanbul, Turkey at May 4st 2019, and you're invited! For the 6th year, we'll host some of the best speakers, awesome talk topics, latest technologies, and up to date news in PHP."
When: May 4, 2019
Where: Istanbul, Turkey
SATURN 2019
"As systems grow in complexity, architecture's role becomes increasingly important at the enterprise, systems, and software levels. Architecture practitioners rely on technology, research, and the knowledge and experience of peers to build predictable, high-quality systems. The SATURN Conference brings together an international audience of practicing software architects, industry thought leaders, developers, technical managers, and researchers to share ideas, insights, and experience about effective architecture-centric practices for developing and maintaining software-intensive systems."
When: May 6-9, 2019
Where: Pittsburgh, PA, USA
Craft Conference 2019
"CRAFT is about software craftsmanship, which tools, methods, practices should be part of the toolbox of a modern developer and company, and it is a compass on new technologies, trends. You can learn from the best speakers and practitioners in our community."
When: May 7-10, 2019
Where: Budapest, Hungary
Kafka Summit London 2019
"Kafka Summit is the premier event for data architects, engineers, devops professionals, and developers who want to learn about streaming data. It brings the Apache Kafka community together to share best practices, write code, and discuss the future of streaming technologies."
When: May 13-14, 2019
Where: London, UK
beyond tellerrand // DÜSSELDORF 2019
"Join us for the ninth edition of beyond tellerrand in our hometown. 2 days of inspiring and motivating talks plus a day with full-day workshops (announced soon) and Side Evens around these dates. First speakers are announced, so stay tuned for more information soon or join our mailing list to stay up to date."
When: May 13-15, 2019
Where: Düsseldorf, Germany
BSDCan 2019
"BSDCan, a BSD conference held in Ottawa, Canada, quickly established itself as the technical conference for people working on and with 4.4BSD based operating systems and related projects. The organizers have found a fantastic formula that appeals to a wide range of people from extreme novices to advanced developers."
When: May 15-18, 2019
Where: Ottawa, Canada
Codemania 2019
"We're back for more Codemania in beautiful Auckland, New Zealand on May 15th 2019. Grab a ticket now, and we'll update with more info soon."
When: May 15, 2019
Where: Auckland, New Zealand
FullStack NYC 2019
"FullStack 2019 conference launches in New York City for its first edition abroad following the success of FullStack London. Join us and learn from the foremost experts in the js, node and IoT fields."
When: May 16-17, 2019
Where: New York, NYC, USA
ScaleConf Colombia 2019
"ScaleConf Colombia is a non-profit language-agnostic conference organized by volunteers to bring knowledge on scalability, distributed systems, DevOps and modern software tools to the community. Our main objective is to level up the community's knowledge, by bringing great speakers from the teams that are paving the way for a global scale in tomorrow's apps and services. Last year's event was successful beyond our expectations, with over 350 attendees, 13 awesome speakers, 10 sponsors and 2 days of exciting talks and workshops, so ScaleConf Colombia is coming back for 2018!"
When: May 17-18, 2019
Where: Medellin, Colombia

Techorama 2019
"Techorama is a yearly international technology conference which takes place at Kinepolis Antwerp. We welcome about 1500 attendees, a healthy mix between developers, IT Professionals, Data Professionals and SharePoint professionals. Our commitment is to create a unique conference experience with quality content and the best speaker line-up."
When: May 20-22, 2019
Where: Antwerp, Belgium
Collision 2019
"Collision is the fastest growing tech conference in America. Now in its fifth year, Collision has grown to over 25,000 attendees and is in for a big change in 2019. Following three sunny, jazz-filled years in New Orleans, we're moving Collision to Toronto. Our host cities have always had a big impact on our conferences and we're excited to show you what Toronto has to offer. From its diverse population to its position as an AI torch-bearer, there is a lot going on in Toronto's startup scene."
When: May 20-23, 2019
Where: Toronto, Canada
ACE! 2019
"ACE! is the largest regional conference of its kind in Central Europe, attracting people from all over the region. We're really excited about ACE! 2019 which combines two one-track conferences into one. The Building Software Better track includes the traditional ACE! content such as agile, lean, Scrum, Kanban, and other methods for improving the software development. The Building Better Products track that features Lean Startup, LeanUX, Design Thinking and Customer Development topics. This track is for everyone involved in creating products, including product managers, UI and Interaction Designers, and UX Researchers. We've also added a workshop track so that attendees can apply new skills and experiment with new ideas. Learn how to use gathered knowledge to make the products that people want."
When: May 23-24, 2019
Where: Krakow, Poland
ngVikings 2019
"The main Angular event in the Nordics. And the only travelling Angular conference in the world. Having Angular team members, Google Developer Experts and legendary international speakers onboard, ngVikings Conference guarantees an excellent program: fresh, technically deep and 100% useful."
When: May 27-28, 2019
Where: Copenhagen, Denmark
Agile & Beyond 2019
"Agile & Beyond is a grassroots, volunteer run conference that helps people learn about agile principles and practices as well as covers topics that help make people and companies awesome. With pre-conference workshops and over 100 conference sessions, there is a wide variety of topics for the agile newbie all the way to the agile expert."
When: May 29-31, 2019
Where: Detroit, MI, USA
UX London 2019
"UX London, now in it's eleventh year brings together the world's leading design experts and practitioners for three days of inspirational talks and hands-on workshops. Clearleft a Strategic Design Agency, based in sunny Brighton has curated the schedule so you will spend your mornings gaining unique insights from influential speakers from around the globe. In the afternoon you'll get the chance to roll up your sleeves in the workshop of your choice, not to mention sampling fantastic street food and spending time with the UX community at our evening events. You'll head home with new ideas, practical skills that you can apply straight away and brilliant connections with fellow UXers the world over."
When: May 29-31, 2019
Where: London, UK
CSSconf EU 2019
"Dedicated to everyone who loves and writes CSS: On May 31st 2019, CSSconf EU will gather the international CSS community in Berlin, Germany. This is your chance to meet top-notch engineers & web designers, world-class speakers, and CSS-loving people at this one-day, one-track conference. CSSconf EU is a not-for-profit community conference run by a team of volunteers. We are all active members of the tech community, and run or contribute to various free local meetups, workshops, and education initiatives. With CSSconf EU, we aim to bring the international CSS crowd together with our beloved local Berlin community. We are humbled to look back to three sold-out events where we welcomed the world's most excellent CSS speakers on our stage, and we are proud to have always put an inclusive and welcoming culture first. We operate under a Code of Conduct, write articles to be transparent, and are committed to accessibility."
When: May 31, 2019
Where: Berlin, Germany
June 2019
JSConf EU 2019
"JSConf EU is a professional, not-for-profit, labour-of-love conference for the JavaScript community. It's a two day affair, with many related side events in the days surrounding it. JSConf EU is an invitation for the community to come together and for new people to get to know and join the community."
When: June 1-2, 2019
Where: Berlin, Germany
Open Security Summit 2019
"The Open Security Summit 2019 is focused on the collaboration between, Developers and Application Security. Using the same model as the previous OWASP Summits, this 5-day event will be a high-energy experience, during which attendees get the chance to work and collaborate intensively."
When: June 3-7, 2019
Where: Bedford, UK
soap! 2019
"At soap! we organize the best content conference, deliver cool world-class webinars, and organize meetups for content enthusiasts."
When: June 5-7, 2019
Where: Krakow, Poland
LambdaConf 2019
"LambdaConf is the leading and most well-known conference for functional programming in the world. Each year, hundreds of aspiring and practicing functional programmers, researchers, and students assemble from all around the world to learn foundations, master new languages and libraries, and share state-of-the art research, techniques, and applications in the rapidly growing field of functional programming."
When: June 5-9, 2019
Where: Boulder, CO, USA
DevRelCon San Francisco 2019
"We're back for our fourth year and re-re-branded back to DevRelCon (from DevXcon). This is the conference where you can meet and learn from your community of dev advocates, community managers, team managers, dev marketers, and people in many roles that share DevRel and DX responsibilities in support, docs, engineering, product, partner engineering, BD, marketing, customer success, and more!"
When: June 6-7, 2019
Where: San Francisco, CA, USA
RevolutionConf 2019
"RevolutionConf is back for our FOURTH YEAR! Again this year, we are being hosted by the Wyndham Virginia Beach located in the beautiful, historic North End of Virginia Beach, VA. You're literally a couple feet away from the ocean on our own private beach. RevolutionConf was founded on the idea of uniting software developers of all backgrounds. You are not defined by your programming language, your operating system, or your development environment. You are awesome because you sling code. The 2019 year of RevolutionConf is no different. We're expecting between 350 to 400 attendees across a variety backgrounds and skill sets. If selected, you're invited to our VIP dinner Wed night before the conference as well as our LUAU on Thursday night!"
When: June 6-7, 2019
Where: Virginia Beach, VA, USA
Pixel Pioneers Bristol 2019
"Pixel Pioneers is a new series of affordable events bringing world-class advice from the brightest minds in digital design and front-end development to the UK. Organised by Oliver Lindberg, former editor of net magazine with more than a decade of experience in the web industry, the events are tailored to the web's vibrant community. After a successful first year, we're coming back to Bristol and Belfast in 2019!"
When: June 7, 2019
Where: Bristol, UK
The Lead Developer London 2019
"As tech lead you have to be a great developer. But you also need to be a good team leader, be commercially astute, and stay on top of all the tech developments and trends coming over the horizon. With a balance of content across team, tools and tech, The Lead Developer conference is designed with the complexities of the job in mind. Join the community of tech leads, engineering managers and CTOs for two days of inspiring talks and networking opportunities. For even more in-depth learning, book a ticket to one of our workshops taking place the day before the conference."
When: June 11-12, 2019
Where: London, UK
DevOps Conference 2019
"Agile processes, microservices, continuous delivery, container and cloud technologies are essential to the current high paced software delivery. The DevOps Conference offers deep insights on innovative infrastructure and modern lean business culture through hands-on workshops, sessions and keynotes. Join us as we enable shorter delivery cycles, faster changes of functionality and a higher software quality."
When: June 11-14, 2019
Where: Berlin, Germany
React Day Norway 2019
"React Day Norway is a gathering for sharing, learning, and uniting the people and knowledge of React, React Native, and GraphQL! Come join us to create awesome friendships and apps! Join us for one day of React(Native) and tech networking in Norway. This mid-week, mid-summers React Day is all about sharing the latest techniques, best practices and to grow your network."
When: June 12, 2019
Where: Larvik, Norway
UX Scotland 2019
"The conference for the UX, service design and digital communities welcoming national and international participants to Scotland. UX Scotland 2019 is a hands-on, practical User Experience and Design conference for the software, web, and mobile community. Returning for its 7th year, UX Scotland 2019 will allow participants to connect and learn from their peers and leaders in the industry. Participants will leave with new ideas and skills to improve their user experiences, an increased professional network, and memories of many useful conversations."
When: June 12-14, 2019
Where: Edinburgh, UK
AppiumConf 2019
"Join us for three-full days packed with inspiring and practical talks featuring the Appium team and the world's top mobile testing and automation experts. Gain valuable insight for your own automation strategy, make connections with other Appium users from around the globe and learn from Appium specialists on a variety of topics, including: Utilising Application Backdoors for Testing via Appium, Appium for Unity games and apps, Layout (GUI) Automation Testing, P2P Communication Testing, Interacting with native components in real devices and more!"
When: June 13-15, 2019
Where: Bengaluru, India
JSConf Asia 2019
"JSConf.Asia 2019 is a 3 day long celebration of the web platform, its technology, impact and people. It is the seventh edition of Southeast Asia's largest and possibly most loved community event, organised from developers for developers with the aim to educate, inspire and entertain around open source software and the web. Our curated line-up covers 40+ talks, lectures and workshops on the latest in web design, JS, CSS, UX, front-end web development as well as Node and software engineering fundamentals. This year will mark the first time that we are stretching our efforts into the arts as an additional, conscious component of the conference experience."
When: June 14-16, 2019
Where: Singapore, Singapore
UX STRAT Europe 2019
"UX STRAT is a conference that brings together leaders, strategists, researchers, and senior design professionals from many nations to hear about and discuss the latest trends in strategic UX / Product / Service Design. Carefully curated presentations focus on the intersection of business strategy, user experience, customer experience, product design, and service design, specifically for the European context. UX STRAT Europe 2019 will take place in Amsterdam on June 17 - 19. The call for presentations for UX STRAT Europe is now open! The audience consists primarily of very experienced UX / CX / Product / Service Design leaders, strategists, researchers, and designers, so presentation and workshop proposals should be targeted to this audience. Our key selection criteria are rigor, depth and transparency."
When: June 17-19, 2019
Where: Amsterdam, Netherlands
Leading Design New York
"After three sell out years of Leading Design in London, Strategic Design Agency Clearleft, is taking its flagship conference Stateside to the glorious Guggenheim, New York. Join their growing community of design leaders for inspiration, workshops and socials. You'll hear from global experts as they share experiences of leadership. Being a design leader can be as challenging as it is rewarding, Leading Design will give you opportunity to connect with your peers, swap war stories, and build relationships to last the rest of your careers."
When: June 19-20, 2019
Where: New York City, NY, USA
WordCamp Europe 2019
"WordCamp Europe is hosted in a different city in Europe each year, meaning there is an annual opportunity to refresh our take on WCEU, putting a new spin on the established brand. Each year, the Design Team (a sub-team in the wider WCEU Organising Team) carefully chooses colours, fonts, graphics and a compelling theme that runs through the visual representation of the upcoming year's edition of WCEU. For 2019, WCEU is hosted in Berlin, Germany, and our theme is: Street art!"
When: June 20-22, 2019
Where: Berlin, Germany
DataGrillen: Data, Bratwurst & Beer
"Microsoft Data Platform event, combining the best ingredients: Data, Bratwurst and Beer. The event formerly known as SQLGrillen. The best and brightest of the data platform world come to DataGrillen. Continuous education is the key to success in your IT career. DataGrillen offers free training, an unbeatable ROI!"
When: June 20-21, 2019
Where: Lingen, Germany
NodeConf Colombia 2019
"NodeConf Colombia 2019 is the first international event focused on the entire Node.js ecosystem. It's a non-profit event, where our attendees will be sharing in an environment of inclusion and respect, having access to relevant information through talks, workshops, and great experiences with the Colombian Node community."
When: June 21-22, 2019
Where: Medellin, Colombia
SmashingConf Toronto 2019
"Up, up, up to the stars! For our second SmashingConf Toronto (June 25-26), we'll explore the bright and dark sides of front-end and UX — responsive HTML email, naming conventions, security audits, GDPR and privacy, responsive art direction, front-end architecture, rendering performance, CSS Grid Layout, PWA, Vue.js, Webpack and how to set up bulletproof contracts. Plus a bunch of hands-on workshops on design, front-end and UX."
When: June 24-27, 2019
Where: Toronto, Canada
enterJS 2019
"EnterJS opens its doors for the sixth time in 2019 for a comprehensive view of a JavaScript-powered enterprise world. It helps developers to tap into the potential of contemporary web technologies. As before, JavaScript is the only language that enables consistent and end-to-end full-stack development, from UI / UX and single-page applications and cross-platform applications through REST APIs, business logic and the Internet of Things to databases, message -Queues and other services. The enterJS addresses the resulting company-wide challenges in lectures and workshops. It is designed for web developers and designers, DevOps, team / project managers and technology decision makers."
When: June 25-28, 2019
Where: Darmstadt, Germany
ADDC 2019
"Single-track international conference for iOS & Android designers and developers in Barcelona, Spain. App designers and developers around the world work side by side every day to build some of the most incredible and innovative applications. Yet our potential for synergy is so often overlooked. ADDC aims to create an opportunity for designers and developers to meet, find new ways to work together and get inspired in an open, inclusive and collaborative space."
When: June 26-28, 2019
Where: Barcelona, Spain
Where Are You Going?
If you're planning to attend any of these events, we'd love to hear your thoughts in the comments section below. What are you most excited about? What are you looking forward to learning and experiencing?
By the way, the Smashing team is constantly organizing a series of conferences and workshops! We'd love to welcome you there!
(jc, ms, il)