Conferences are about gathering information and knowledge but are also opportunities to meet and learn from like-minded folks in the web design community. Plus, you'll be exposed to a large amount of new information, so be prepared to absorb the latest techniques brought to you by distinguished authors and speakers!
SmashingConf San Francisco (April 17-18, 2018)
We love bringing people together, and creating a friendly atmosphere for everybody to share and learn. No fluff, no theory — just actionable insights applicable to your work right away.
The conference will cover the ultimate CSS layout techniques, performance optimization, UX, strategies and design workflows, tips on establishing and maintaining design systems, and techniques to produce resilient, fast responsive websites. Tickets are available now →
"Enough for the plug, now let's dive into our list for January throughout April.
February 2018
Owner Summit 2018
"The first thing you'll realize when you attend Owner Summit is that you're not alone navigating the waters of running a digital agency. The second thing you'll realize is the people who attend Owner Summit aren't your competitors - they're your allies. And that's what makes Owner Summit different. You'll leave with a support system to lean on long after we part ways."
When: February 11-13, 2018
Where: Charleston, SC, USA
Webstock 2018
"Webstock is an annual celebration of the web and what lies beneath, and of its makers. It is a celebration of the creativity, the culture, the challenges, the craft, and everything in between. It features industry leaders - makers, thinkers and doers - talking on a very wide range of topics and is attended by brilliant people who give a damn about the work they do, the way they do it and the impact it has."
When: February 12-16, 2018
Where: Wellington, New Zealand
SustainableUX 2018
"This is for UX / Front-end / Product people who want to make a positive impact on climate-change, social equality and inclusion. SustainableUX continues to be an online-only event, in keeping with our goal of helping designers reduce their carbon footprints. In-person conferences can cost thousands of tons of CO2, which we avoid by hosting it on Google Hangouts which is largely renewable-powered."
When: February 15, 2018
Where: Online
FRONTEND DEVELOPER LOVE CONFERENCE 2018
"Frontend Developer Love Conference will share awesome case studies built using React, Angularjs or Vuejs. The most popular and used frameworks in the Frontend Developer World are covered at this knowledge sharing conference. As your company and the Frontend World moves from one framework to another, stay on top of your trade at this awesome Frontend Developer Conference."
When: February 15-16, 2018
Where: Amsterdam, Netherlands
FLORIDA DRUPALCAMP 2018
"Florida DrupalCamp is an annual conference that brings together web developers from all over the world to learn, network and discuss web development and the Drupal content management system."
When: February 16-18, 2018
Where: Orlando, FL, USA
DevFest KC 2018
"Google Developer Group DevFests are the largest Google related events in the world! Each DevFest is carefully crafted for you by your local GDG community to bring in awesome speakers, great topics, and lots fun! While no two events will be exactly alike, each GDG DevFest will, at its core, be powered by a shared belief that when developers come together to exchange ideas, amazing things can happen!"
When: February 17, 2018
Where: Kansas City, MO, USA
Front Fest 2018
"Front Fest is the event on web technologies (HTML, CSS, Javascript ... and whatever comes!), where you can meet other front-end developers like you and learn from them. We want to bring together the best front-end development professionals, evangelists and gurus from all over Spain."
When: February 17, 2018
Where: Madrid, Spain
FITC Amsterdam 2018
"Now in its 11th year, FITC returns to Amsterdam to host their groundbreaking design and tech event on the future of innovation, design and all the cool shit in between. Join fellow digital creators this February to hear world renowned speakers talk design, development, creativity and so much more. Get your ticket early to experience 40+ speakers from around the globe guaranteed to show you something you've never seen, game-changing conversations on the Future, Innovation, Technology, and Creativity, two full days of conference talks and learning + two night time networking parties, optional full day workshops on Sunday Feb 18."
When: February 17, 2018
Where: Amsterdam, Netherlands
devnexus 2018
"The Atlanta Java Users Group (AJUG) is organized by Java Developers for Java Developers in order to provide a forum for exchanging information and for brainstorming with other developers on how to successfully implement new Java solutions. The goal of the Devnexus Conference is to connect developers from all over the world, provide affordable education, and promote Open Source values."
When: February 21-23, 2018
Where: Atlanta, GA, USA

WIAD Switzerland 2018
"World IA Day Switzerland is an annual one-day conference celebrating Information Architecture. Listen to fabulous Swiss and international speakers and meet other IA and UX maniacs. No matter if you are new to Information Architecture or an experienced professional, let's get together and share the ways Information Architecture makes a difference in our lives."
When: February 23-24, 2018
Where: Zurich, Switzerland
World IA Day 2018
"World Information Architecture Day is a one-day annual celebration hosted by the Information Architecture Institute and held in dozens of locations across the globe. We are a community of like-minded professionals and enthusiasts who share the common goal of practicing, learning, teaching and shaping the future of information architecture. We share our thoughts, ideas, and work within an open and welcoming environment. The content created as a result of our celebration is available to everyone and we invite conversation around the work we are doing."
When: February 24, 2018
Where: 25 countries around the world
Mobile World Congress 2018
"Mobile is creating a better future, and we want you to be a part of it. Here you'll find everything you need to know about the event, and discover ways you can get involved with #MWC18. Mobile World Congress sets the industry standard for mobile innovation. The event offers attendees, sponsors, and exhibitors alike the unique opportunity to reach the global mobile community. Showcase your organisation leadership by participating in the event that brings the mobile world together, in one place."
When: February 26- March 1, 2018
Where: Barcelona, Spain
ConveyUX 2018
"The Emerald City is bursting at the seams with all the high-tech development. Companies big and small are opening offices here and the user experience scene is exploding. If you haven't been to Seattle before, this is a great time to get introduced. It might rain a bit in February but the temperatures are always mild. ConveyUX is a great opportunity for local and visitors to get together and enjoy the city while we hash about UX."
When: February 27- March 1, 2018
Where: Seattle, WA, USA
March 2018
ngVikings 2018
"At ngVikings you will meet experienced front-end developers and people who are fascinated by modern web technologies, who are constantly pursuing new thoughts and ideas. There are many case studies proving that the Nordic Angular community is motivated to try out new frameworks and new ideas."
When: March 1-2, 2018
Where: Helsinki, Finland
JoomlaDay Florida 2018
"The third annual JoomlaDay Florida kicks of with three days of keynotes, training, sessions, workshops, and certification in sunny Tampa, Florida! JoomlaDay Florida is the largest attended Joomla event in the USA and brings together web designers, integrators, developers, and marketers for an annual weekend event. Joomla 4 is set for release in 2018 and will be the most significant update in the history of the CMS. Come find out what is on the horizon for Joomla and learn why Joomla 4 will be a game changer.=20 This open source conference offers something for everyone with sessions for UX, Hosting, AR, CSS, Website Security, Software Development, and marketing."
When: March 2-4, 2018
Where: Tampa, FL, USA
.concat() 2018
"We invite the web development and UX community from Austria and the entire world to Salzburg. Have a brilliant and safe conference where you can meet old and new friends to expand your knowledge and horizon. Come and hear talks about the wide variety of web and UX topics and its community so you can build better applications for more platforms, devices and humans. Yes the web is definitely a great place to be in."
When: March 3, 2018
Where: Salzburg, Austria
QCon London 2018
"QCon London is a practitioner-driven conference for technical team leads, architects, engineering directors, and project managers who influence innovation in their teams. 18 editorial tracks across 3 days, 140+ practitioner speakers from places like Uber, Google,Facebook, Spotify Twitter, and more..."
When: March 5-9, 2018
Where: London, UK
Confoo Montreal 2018
"ConFoo Montreal is a multi-technology conference for web developers: 155 presentations by popular international speakers, Focused on pragmatic solutions for web developers, Great content and amazing experience."
When: March 7-9, 2018
Where: Montreal, Canada
ScaleConf 2018
"Each year ScaleConf brings international and local experts together to share their experience scaling websites and services using modern technologies and philosophies."
When: March 8-9, 2018
Where: Cape Town, South Africa
WordTechCon! 2018
"WordTechCon is a new premium conference that will allow WordPress Theme and Plugin Developers as well as hosting services to learn from industry leaders at a relaxed pace in a wonderful location."
When: March 8-10, 2018
Where: Dallas, TX, USA
Midwest PHP 2018
"Midwest PHP is the FUN conference. This is our fifth annual conference, and each year it gets better and better. Our goal is to share best practices, ideas, and techniques about building state-of-the-art software applications. The conference is at the Radisson Blu Mall of America in Bloomington, Minnesota. We can't think of a better place to connect with friends, old and new, than in a relaxed environment with entertainment at your front door, and inspiring talks from people doing amazing things."
When: March 9-10, 2018
Where: Bloomington, MN, USA
SXSW 2018
"Featuring a variety of tracks that allow attendees to explore what's next in the worlds of entertainment, culture, and technology, SXSW proves that the most unexpected discoveries happen when diverse topics and people come together. With one unified conference that spans 24 tracks of programming plus our SXSW Eco curated Cities Summit, we'll be offering more opportunities for networking, learning, and discovery than ever before."
When: March 9-18, 2018
Where: Austin, TX, USA
UpFront Conf 2018
"UpFront Conf is a one-day event for the front-end development community, designed by leading practitioners from the North of England. Now in its third year, the conference brings together the worlds foremost authorities on development, design, UX/UI and all things web and is ideal for any developer or designer looking for access to hot topics and the latest trends."
When: March 16, 2018
Where: Manchester City, UK
App Promotion Summit London 2018
"APS is the #1 destination for the leaders of the global app ecosystem to come together to learn, network and drive growth. This is conferencing, in its purist form. Attendees absolutely love it. We are going to keep pushing boundaries, keep enabling relationships and keep driving growth."
When: March 22, 2018
Where: London, UK
Experience Conference 2018
"Experience Conference is a yearly event that tackles the hottest UX topics in the CEE region. Come over and discuss with like-minded professionals, become part of an international community, make new partnerships and enjoy the talks of world leading UX experts."
When: March 27, 2018
Where: Bratislava, Slowakia
DevConf 2018
"DevConf is a community driven, developer focused, one-day conference hosted annually. The aim of the conference is to provide software developers a buffet of tools, practices and principles applicable to tackling current and future challenges in the South African software development environment. It's an event where attendees can learn, network and be inspired regardless of their specific technology stack and programming language of choice."
When: March 27, 2018
Where: Johannesburg, South Africa

April 2018
An Event Apart Seattle 2018
"An Event Apart Seattle: Special Edition is a three-day conference with 18 sessions and an intense focus on digital design, UX, content, code, and more."
When: April 2-4, 2018
Where: Seattle, WA, USA
University of Illinois Web Conference 2018
"An affordable two-day conference for web designers, developers, content managers, social media marketers, and other web professionals within higher ed and beyond."
When: April 4-6, 2018
Where: Champaign, IL, USA
RWDevCon 2018
"RWDevCon is a conference focused on high quality programming tutorials. It's right outside Washington DC, brought to you by the teams at raywenderlich.com and 360iDev. Learn about iOS development with Swift via high quality hands-on tutorials led by the authors you know and love. Strong interactive focus - follow along with the instructor and learn by doing."
When: April 5-7, 2018
Where: Alexandria, VA, USA
FITC Toronto 2018
"FITC Toronto is a professional celebration of the best the world has to offer in design, digital development, media and innovation in creative technologies three days and nights of presentations, parties, installations and performances that unite and transform the industry."
When: April 8-10, 2018
Where: Toronto, Canada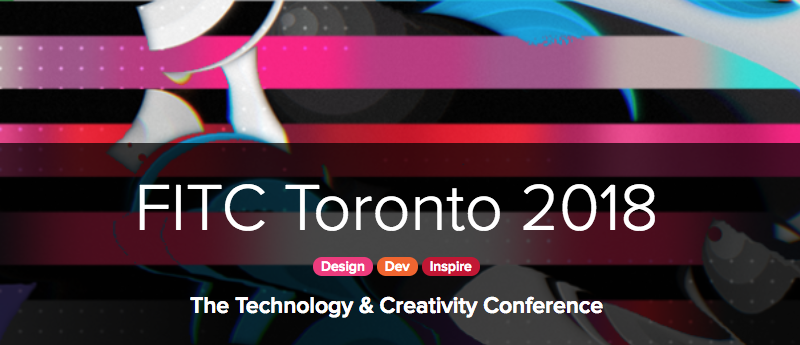 React Amsterdam 2018
"React Amsterdam is a celebration of good things coming together: React that rocks and spring in Amsterdam that blossoms. A full-day, two-track conference on all things React, gathering Front-end and Full-stack developers across the globe in the tech heart of Europe."
When: April 13, 2018
Where: Amsterdam, Netherlands
BSides Canberra
"Each BSides is a community-driven framework for building events for and by information security community members. The goal is to expand the spectrum of conversation beyond the traditional confines of space and time. It creates opportunities for individuals to both present and participate in an intimate atmosphere that encourages collaboration. It is an intense event with discussions, demos, and interaction from participants. It is where conversations for the next-big-thing are happening."
When: April 13-14, 2018
Where: Canberra, Australia
SmashingConf San Francisco
"We love bringing people together, and creating a friendly atmosphere for everybody to share and learn. No fluff, no theory just actionable insights applicable to your work right away."
The conference will cover the ultimate CSS layout techniques, performance optimization, UX, strategies and design workflows, tips on establishing and maintaining design systems, and techniques to produce resilient, fast responsive websites. Get the last early birds
When: April 17-18, 2018
Where: San Francisco, CA, USA
ngConf 2018
"ngConf 2018, the Angular event of the year! As always this year's event will be focused on teaching, educating, and elevating each of the Angular developers in attendance. Always up to date, we will have sessions about the latest version of Angular and related technologies. Whether you are a beginner, intermediate, or expert, this will be the best opportunity we have ever provided. Our two days of optional pre-conference workshops require a separate ticket. Be sure to purchase one if you are planning to attend."
When: April 18-20, 2018
Where: Salt Lake City, UT, USA

Zero-In Conference 2018
"Zero-In is a tech conference with a people first approach, focus on the long-term trend of personalization in tech products and experiences. Our companies are on the bleeding edge of automation, targeting and building positive customer experience. We have our roots in the UPRISE Festival Europe series with 6 events on its belt and more to come. "
When: April 19, 2018
Where: Amsterdam, Netherlands
CodeStock 2018
"CodeStock is an annual technology conference for developers, IT professionals, and entrepreneurs held in Knoxville, TN. The conference is run by the CodeStock Corporation, a 501(c)(3) organization. The conference spans two full days and is packed with technical & entrepreneurial content. 2017 will mark the 10th year of the CodeStock conference and is expected to host over 75 speakers presenting on over 100 topics that span the gamut from best practice enterprise software development to cutting edge web techniques to managing a technical entrepreneurial endeavor. In previous years, we've had 1,000 attendees and sold out well in advance of the conference."
When: April 20-21, 2018
Where: Knoxville, TN, USA
iA Summit 2018
"Now in its 19th year, the IA Summit is the preeminent professional conference on how to create and manage information spaces."
When: April 21-25, 2018
Where: Chicago, IL, USA
The Web Conference 2018
"The Conference aims to provide the world with a premier forum for discussion and debate about the evolution of the Web, the standardization of its associated technologies, and the impact of those technologies on society and culture. The conference brings together researchers, developers, users and commercial ventures indeed all those who are passionate about the Web and what it has to offer."
When: April 23-27, 2018
Where: Lyon, France
GIDS 2018
"GIDS has established itself as the gold standard conference and expo for the software practitioner ecosystem. Over 45,000 attendees have benefited from the platform since its founding in 2008. Several hundreds have testified to the success they owe to GIDS - from individuals who turned entrepreneurs, to garage start-ups who metamorphosed into full-fledged global operations, to several thousands who have reported super positive career upgrades and shifts. Join the 2018 edition of the gold standard for India's software developer ecosystem."
When: April 24-28, 2018
Where: Bangalore, India
GOTO Chicago 2018
"GOTO Chicago 2018 highlights the technologies, methodologies and skills you need to know today to build systems of the future. Learn about new trends, connect with industry experts, share your passion, and grow your skills."
When: April 25-26, 2018
Where: Chicago, IL, USA
Generate Conf New York 2018
"Generate is bigger and better and back in NYC! A 3 day event consisting of a day of workshops followed by a two-day, single track conference, it's guaranteed to be packed with insight, inspiration and practical take-aways."
When: April 25-27, 2018
Where: New York, NY, USA
Uphill Conf 2018
"Catch up with the latest trends in frontend development and get inspired by our amazing talks. Uphill conference offers the right mix between current and upcoming technologies, always lending a peek into the future. Uphill conference hosts world class speakers from famous companies like Netflix, Google and Microsoft. Our international speakers are experts in their fields and are also experienced speakers. Only the best is good enough for you."
When: April 26-27, 2018
Where: Bern, Switzerland
May 2018
beyond tellerrand // DÜSSELDORF 2018
"Eight years in Düsseldorf. We are happy to be back. Mark the dates May 7th to 9th (plus Side Events before) and join us for a few days of inspiration and networking."
When: May 5-9, 2018
Where: Düsseldorf, Germany
99U
"The 99U Conference is a one-of-a-kind live experience that inspires creative professionals to bring their ideas to life and shape the future of the industry. Learn from the world's top thinkers and doers in a series of main stage talks over two days. 99U speakers offer pragmatic, real-world insights that transcend creative sectors. From our pre-conference kickoff to our killer closing party, 99U provides you with endless opportunities to network with fellow attendees and get exposed to new ideas."
When: May 9-11, 2018
Where: New York, NY, USA
Awwwards Conference in San Francisco 2018
"Awwwards lands in the motherland of innovation and tech - San Francisco! 2 days of inspiring talks from the masters and thought leaders in digital, held in the beautiful Palace of the Arts followed by a water font after party - attended by an impressive who's who of the design world."
When: May 10-11, 2018
Where: San Francisco, CA, USA
The Italian PHP Conference 2018
"We'll show new development traits, best-practices and success cases related to quality, revision control, test-driven development, continuous integration and so on. There are also talks about design, project management, agile and various php-related technologies like Zend Framework, Symfony, Laravel, Drupal, WordPress and more."
When: May 11-12, 2018
Where: Verona, Italy
ReactEurope 2018
"At this conference, you will learn how new projects such as ReasonML will bring web and mobile React Native apps to the next level and how projects such as React Native Web, React Primitive and Expo make it easy to write, deploy and share code on all platforms quickly. The conference aims to give talks that inspire and explore new futuristic ideas dealing with all the techs we enjoy from the React ecosystem such as React.js, React Native, GraphQL, Relay, Universal apps, ReasonML, Webpack, inline CSS and more."
When: May 15-18, 2018
Where: Paris, France
WeAreDevelopers 2018
"What is WeAreDevelopers all about? We are united tech professionals, empowered through code and as diverse as the languages we yield. In one of the leading startup capitals of Europe, the WeAreDevelopers World Congress brings together over 8,000 brightest minds in tech for an exciting event."
When: May 16-18, 2018
Where: Vienna, Austria
TYPO 2018
"TYPO Berlin will be about the practise of change, about scenarios, about heroes and evaluation. It will be about big data and personal data. And the digital home. Do we really want one? The transparent consumer has long since become a reality. But some consumers have already begun covering their digital tracks. Trigger! Triggering is everywhere, whether driven by human or artificial intelligence. It can come with deception (fake news) and with revelations (fact checking). It can trigger a personal recommendation or automated purchasing suggestion. A trigger is a key stimulus, a filter, and an impulse."
When: May 17-19, 2018
Where: Berlin, Germany
Deconstruct 2018
"Deconstruct is a language- and technology-agnostic conference focused on the act of programming as a whole: what are the problems and how can we solve them? Many other conferences focus on specific tools or technologies. Those are valuable events, but they are very different from Deconstruct. Deconstruct is independent: it's both unsponsored and unaffiliated with any technology company. Speakers have been selected based on presentation skill (the ability to engage an audience) and depth (the ability to view programming problems from many directions at once, relating them all)."
When: May 21-22, 2018
Where: Seattle, WA, USA
User Experience Lisbon 2018
"UXLx is a premier User Experience Conference, and our speaker lineup is really the cream of the crop in the industry worldwide. You'll not only be inspired by their 10 thought provoking talks but you'll have the opportunity to learn one on one in their 20 practical workshops. Having attendees from around 40 different countries, it's also a great way to meet like-minded peeps from all over the world! We host meetups and social events every day so you can make new connections and further advance your career."
When: May 22-25, 2018
Where: Lisbon, Portugal
UX London 2018
"UX London brings together the world's leading design experts and practitioners. Join us for a programme of inspirational talks and hands-on workshops. Spend the mornings gaining unique insights from influential speakers. In the afternoon, roll up your sleeves and participate in the workshop of your choice. You'll head home with new ideas and practical skills that you can apply straight away. And, if that's not enough, this year we're turning ten - so come and join us for some extra special celebrations."
When: May 23-25, 2018
Where: London, UK
Front-Trends 2018
"Front-Trends 2018 is the 8th annual web development and design conference, dedicated to upcoming front-end technologies, ideas and practices. Developers from all experience levels should join us on May 24-25 in Warsaw, for a special gathering of quality front-end content and conversation."
When: May 24-25, 2018
Where: Warsaw, Poland
UX & Product Management Case Study Conference 2018
"Join us this Spring, in Salt Lake City, for two full days of dedicated time away from your desk, learning better ways to work together with your team and be inspired to grow your career in UX or Product Management. Together with over 1,000 other professionals, you'll learn from extremely talented people influencing the organizations they work for and changing the way our industry looks at digital products and the way people use them."
When: May 31 - June 1, 2018
Where: Salt Lake City, UT, USA
June 2018
TYPO3camp Berlin 2018
"Exciting sessions and great social events await you in one of the hippest cities in the world. This is your chance to exchange and network with other TYPO3 enthusiasts."
When: June 1-3, 2018
Where: Berlin, Germany
webinale the holistic web conference 2018
"webinale is the conference for digital professionals, trendsetters and makers in the World Wide Web it's the optimal crossover platform for knowledge transfer, inspiration and exchange of experience across all industries."
When: June 4-8, 2018
Where: Berlin, Germany
Innovfest Unbound Singapore 2018
"innovfest unbound is the anchor event of Smart Nation Innovations, a week-long series of events that showcase Asia's most innovative developments. We will see over 12,000 entrepreneurs, brands, corporates, investors and tech start-ups from 100+ countries meet and share new ideas, build partnerships and celebrate digital disruption."
When: June 5-6, 2018
Where: Marina Bay Sands, Singapore
Kerning 2018
"Kerning features two days of workshops (June 7th and 8th) and a Conference day full of talks (June 9th). Kerning offers a very interesting chance to meet developers, gurus, managers and innovators from all over the world. On June 7th and 8th (only workshops) and 9th (conference day) 2018 we will gather in Faenza, in the very heart of Italy, top notch speakers from the whole world of digital and web typography to create an unique event."
When: June 6-8, 2018
Where: Faenza, Italy
M-Enabling Summit 2018
"The M-Enabling Summit has established itself as the leading global conference and showcase covering the fast-moving technology innovations that enable seniors and persons with disabilities to access digital content and services in new ways. The M-Enabling Summit offers a unique gathering of leading executives and accessibility professionals from Government, Industry, and Advocacy Organizations from around the world to network and participate in plenary and specialized breakout sessions, as well as other special featured events."
When: June 11-13, 2018
Where: Washington, DC, USA

London Tech Week 2018
"London Tech Week is a festival of live events across the city, showcasing and celebrating the best of tech whilst providing networking, social, learning and business opportunities. KNect365 joins forces with London & Partners and Tech London Advocates to bring you a mega-tech festival; connecting science and creative minds, corporates and grass roots, startups and scale ups. London Tech Week fuels innovation and strengthens London's status as a global powerhouse of tech."
When: June 11-17, 2018
Where: London, UK
UX Scotland 2018
"Returning for its 6th year, UX Scotland 2018 will be a hands-on, practical UX & design conference that allows participants to connect and learn from their peers and leaders in the industry. Participants will leave with new ideas and skills to improve their user experiences, an increased professional network, and memories of many useful conversations."
When: June 13-15, 2018
Where: Edinburgh, UK

Enterprise UX 2018
"Enterprise UX offers a variety of learning opportunities. These include two keynotes, twelve presentations, four workshops and eight raucous short-storytelling sessions. Plus a range of topic tables, parties and social activities designed to foster meaningful discussion with other enterprise professionals."
When: June 13-15, 2018
Where: San Francisco, CA, USA
CSS Day 2018
"On Thursday 14th and Friday 15th of June, 2018, CSS Day is returning with two conference days: a UX Special on Thursday, and a regular CSS Day on Friday. We'll also host two workshops on Wednesday 13th by Vitaly Friedman and Sara Soueidan, and there are three side events planned."
When: June 14-15, 2018
Where: Amsterdam, Netherlands
GOTO Amsterdam 2018
"We believe that learning is a life-long process that's why we create conferences for developers by developers. That's what drives us to produce the best meeting place for innovators and thought leaders. In 2018 GOTO Amsterdam returns for its eighth edition. The conference topics are Digital Transformation, Privacy & Security, topics that couldn't be more relevant."
When: June 18-20, 2018
Where: Amsterdam, Netherlands
enterJS 2018
"JavaScript is still the only language that enables consistent and end-to-end full-stack development, from UI/UX and single-page applications through REST-APIs, business logic, and Web real-time to databases, message queues, and other services. This increases efficiency in the Dev and DevOps areas. However, the necessary experience in dealing professionally with the appropriate technologies is often missing in companies. enterJS addresses the resulting company-wide challenges in lectures and workshops."
When: June 19-21, 2018
Where: Darmstadt, Germany
An Event Apart Boston 2018
"An Event Apart Boston is two days of sessions from 12 speakers with intense focus on digital design, UX, content, code, and more. Following the two-day conference comes a full day, A Day Apart, with a single speaker diving deeply into one important topic."
When: June 25-27, 2018
Where: Boston, MA, USA
QCon New York 2018
QCon New York offers "15 editorial tracks across 3 days, 140+ practitioner speakers from places like Uber, Google, Dropbox, Slack, Twitter, and more ..., 11 to 1 attendee to speaker ratio, No hidden paid sessions/marketing!, Video recording for most sessions included, Optional workshops following the conference, Focus on healthy food, including gluten-free & vegan."
When: June 27-29, 2018
Where: New York, NY, USA
Where Are You Going?
If you're planning to attend any of these events, we'd love to hear your thoughts in the comments section below. What are you most excited about? What are you looking forward to learning and experiencing?
By the way, the Smashing team is constantly organizing a series of conferences and workshops! We'd love to welcome you there!
(jc, ms, il)