Winter is coming. Dreaming of a snowy childhood? Winter is the greatest time to walk, ski, play snowballs and have fun with friends. Winter wallpaper are white and icy. Download something cold for your desktop for the chilly time of the year. And get prepared to freeze.
These pictures are the best winter wallpapers from Smashing Magazine's monthly contest1 – running from 2008 until 2016 and still counting. Please note: The images here do not contain any calendars. If you spot one, there is none. Spread the word: Winter is fun! A season to cuddle up in the warmth inside, light some candles and hang out with family while avoiding the bitter cold and snow outside. [Content Care Dec/16/2016]
Further Reading

on SmashingMag:
Fun in the Snow
A girl and her friend, The Snowman, being silly in the first snow. Designed by Anca Varsandan5 from Romania.
Winter Church
Designed by Pietje Precies6814 from The Netherlands.
Icy Life
Designed by Rajeesh from India.
Snow queen
Designed by Helena Lunding29 from Sweden.
Catch Your Perfect Snowflake
This time of year people tend to dream big and expect miracles. Let your dreams come true! Designed by Igor Izhik35 from Canada.
The Greatest Gift of All
The most important thing is to have someone to share time with. That's what this wallpaper is all about. The two birds – Milo and Pipita – are a wallpaper series and usually they argue about things men and women argue about. Designed by Nicole Bauer56 from Germany.
Winter Magic
Designed by Pietje Precies6814 from The Netherlands.
Silver Winter Wallpaper
Designed by Violeta Dabija76 from Moldova.
Foxy Winter
Designed by Imagine Forest83 from the United Kingdom.
Winter Garphee
Garphee's flufiness glowing in the snow. Designed by Razvan Garofeanu106 from Romania.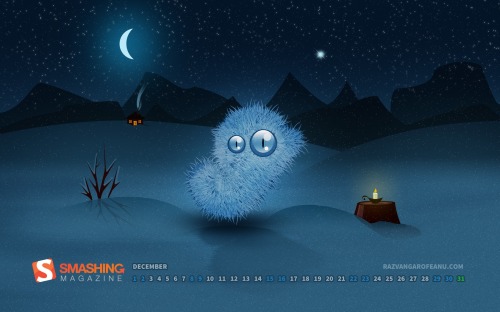 Winter Fun
Designed by cheloveche.ru538118 from Russia.
Tongue Stuck On Lamppost
Designed by Josh Cleland124 from USA.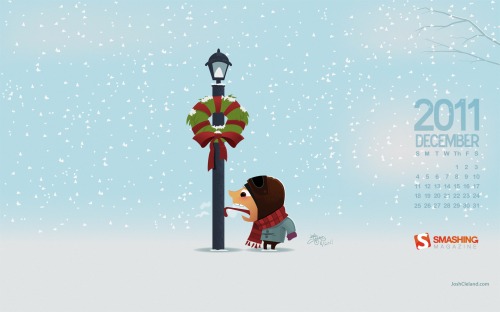 Winter Fun
Snow boys and snow dog enjoying a winter day. Designed by Anne Alexander132 from USA.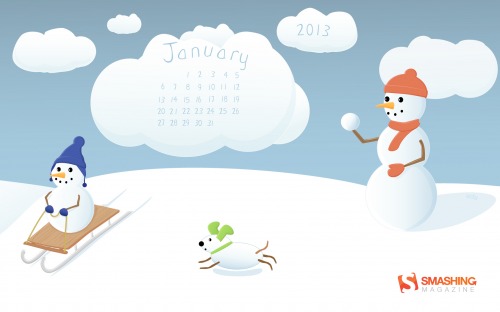 Snowman
I wanted to convey something wintery, but still joyful, to keep me upbeat when I start up my laptop every chilly morning. Designed by Steph Struthers from USA.
Yeti weekends
The winter sports season has arrived, beware with the deadly Yeti. Designed by joaomalveiro from Portugal.
Online Snowball Fight
It's wintertime here at thunder::tech, and we're gearing up for a snowball fight! You've been in snowball fights before, but never like this—you can throw snowballs at your friends but you'll never touch a flake of snow or go outside in the freezing cold! Enjoy this little piece of wonderland, complete with winter-themed animals and abominable snowmen! Designed by tech154 from USA.
Winter Forest
Designed by Oxana Kostromina162 from Poland/Russia.
Mountain Island
Designed by Monia Gabhi174 from Canada.
Cool Winter
Wanted to abstractly sum up January. Showcase the cool, crisp colors and give an overall feeling of winter. Designed by Matt Noa194 from United States.
Abstract Winter
Winter is a cold and dark up here in the north. Designed by Terese Brännström217 from Sweden.
Winter Flakes
A slightly different take on the traditional green and red of the holidays with delicate snowflakes and a touch of mistletoe. Designed by Soochie236 from USA.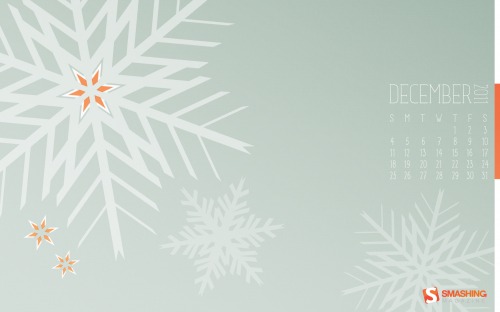 Robin Bird
I have chosen this little bird in honor of my grandfather, who passed away three years ago. He was fascinated by nature, especially birds. Because of him, I also have a fascination with birds. When I think of winter, I think of the birds, flying around searching for food. And why a robin? Because it is a cute little bird, who is also very recognizable. — Designed by Engin Seline from Belgium.
Winter Is Better Together
I live in a place where it never snows however I love snow. I used to live in a snowy place and the winter was wonderful time with my friends. Designed by Maria Keller257 from Mexico.
Icy
In this wallpaper I have shown the penguins (representing all creatures on earth) enjoying winter. Designed by Abhijit Sarkar281 from India.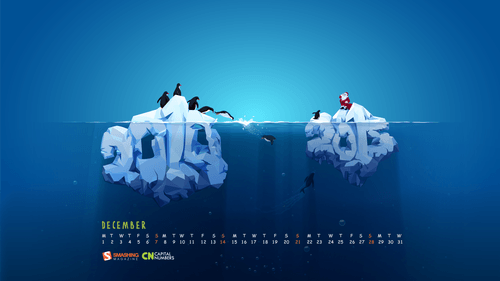 Crayon's Snowy Sailing
When I was a little girl, I was greatly fascinated about the magic of crayons. I still am. This illustration pays homage to the humble crayon. A life shared with children (and grown-ups who refuse to grow old). A small but a colorful, textured life. This winter season, I want to portray "Crayosa" as she peacefully sails through the snowy sea, carried by the stack of crayons in different shades of blue and purple. Designed by Jessette Dayate – Catral from Singapore.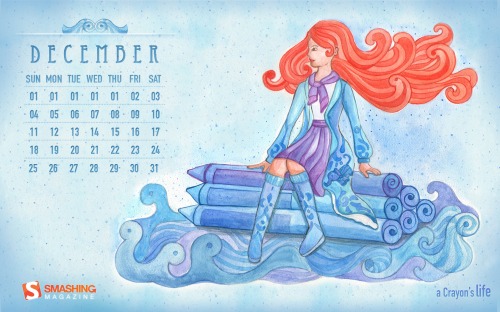 Blue Frost
Blue frost is reminiscent of a scene from a classic stop motion film. Designed by Colin Whitehurst308 from Philippines.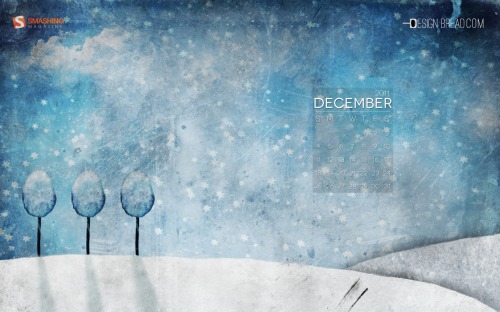 Lost Wiseman
I Decided to make a little joke with the 3 wiseman, so I made them lost,so insted they're in the desert they're in a snow region. Designed by Rui Madeira from Portugal.
All That Belongs To The Past
Sometimes new beginnings make us revisit our favourite places or people from the past. We don't visit them often because they remind us of the past but enjoy the brief reunion. Cheers to new beginnings in the new year! Designed by Dorvan Davoudi324 from Canada.
Winter Wallpaper: It's Snow
Winter is a time of long nights, childhood stories, hot tea, cozy fireplaces and cookies with milk. I'd like to share this spirit in my image. Designed by Inna Ogando from Portugal.
Frosted Glass
An illustration of someone who wiped a frosted window and is looking down on a town and lake below. Designed by Shawn Rinkenbaugh351 from United States.
Pow Time
I've created this wallpaper in hope that december brings us many inches of bright white snow. There's plenty of fun outside with this frozen water anyway! Designed by Marek Chrenko361 from Slovakia.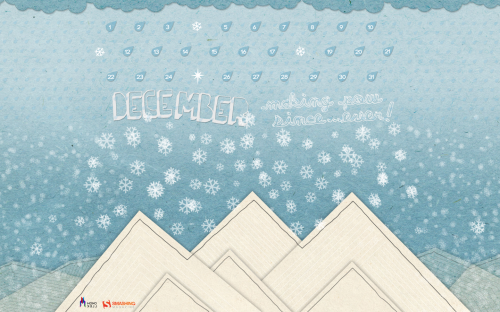 Delicate Frost
Don't let Jack Frost nip too much at your nose but do let him decorate your windows! Designed by Tirelessweaver from Canada.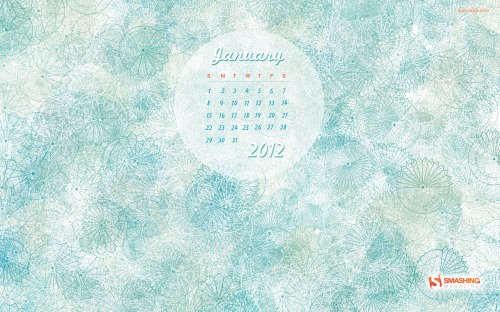 The Three Owls
My inspiration from this wallpaper is from both the love of owls, and attempting to incorporate humor for a theme. Designed by Briana Williams387 from the United States.
Hungry Owl
"February, just one more cold month.. :)." Designed by Katerina Bobkova401 from Ukraine.
Happiness In Winter
Designed by Mancar409 from Turkey.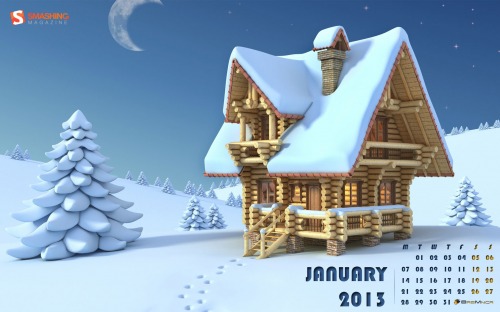 The Season To Snowboard
Time to hit the slopes because it's snowboarding season! Designed by Marina Zhukov432 from USA.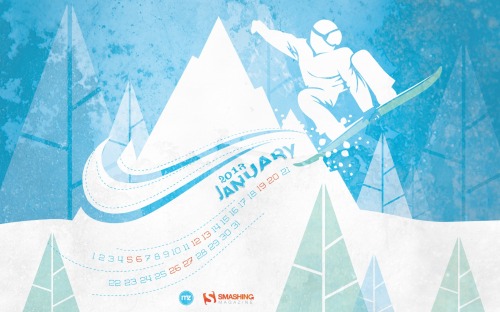 Happy Family Time
Sheep are really cute, so we decided to picture them as a merry family where each one has their own interests and hobbies, but in spite of this they are together and happy — Designed by MotoPress team438 from Ukraine.
Cool bulbs
We wish you a lot of cool ideas in 2010. 3D Modeling rendered with Cinema 4D. Designed by Hansjoerg Schneider451 from Switzerland.
Electricity
Designed by Giada Degli Agostini from Italy.
Frosty Globe
Designed by Adrian Limbasan468 from Romania.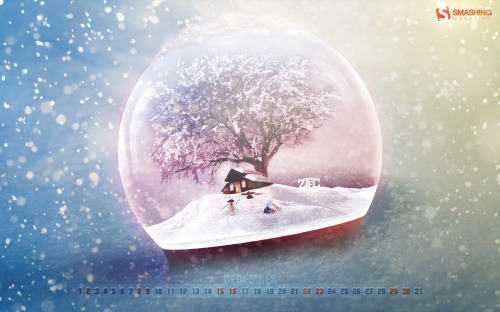 Snowforest
"For those who love snowy days." Designed by Bas Fellerhoff478 from Netherlands.
Ice Flowers
I took some photos during a very frosty and cold week before Christmas. Designed by Anca Varsandan487 from Romania.
Winter Peace
December is a month of peace due to the holiday but because of all the presents and decorations people forget the tranquility that this holiday brings. That's why I desided to create a very simple wallpaper that shows the 'winter peace'. Designed by Sebastian Navas494 from Belgium.
Snow Angel
Winter makes me think of all the fun times we had as kids playing in the snow! Designed by Rob Rijken504 from Belgium.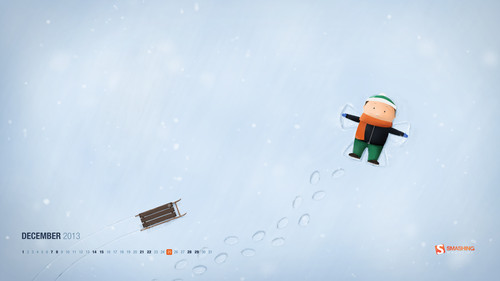 Snowman
He's a smashing snowman, isn't he? Designed by Megan Burleson from USA.
Snow Bird
Designed by Kenneth Meert from Belgium.
Fairy Wood
There is a strong fairy-tale feeling in a winter forest. Designed by cheloveche.ru538118 from Russia.
Penguin Winter Hockey
No coward plays hockey! Designed by Cheloveche.ru553545 from Russia.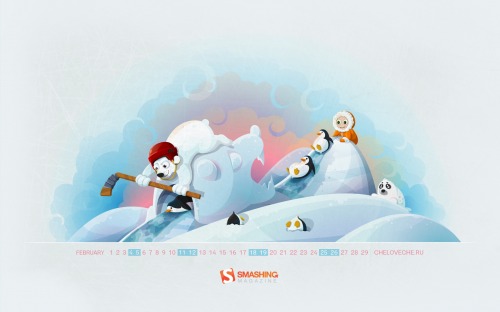 Father Frost
Designed by Cheloveche.ru553545 from Russia.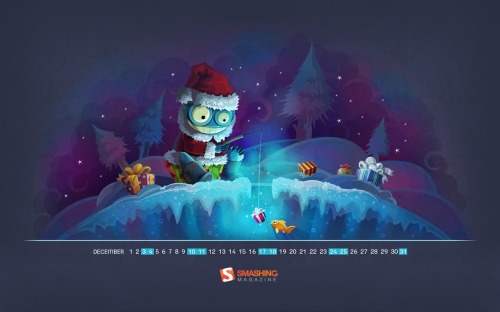 Footnotes
6 https://www.smashingmagazine.com/wp-content/uploads/uploader/wallpapers/december10/december-10-fun_in_the_snow__19-nocal-1024x1024.jpg
7 https://www.smashingmagazine.com/wp-content/uploads/uploader/wallpapers/december10/december-10-fun_in_the_snow__19-nocal-1280x800.jpg
8 https://www.smashingmagazine.com/wp-content/uploads/uploader/wallpapers/december10/december-10-fun_in_the_snow__19-nocal-1280x1024.jpg
9 https://www.smashingmagazine.com/wp-content/uploads/uploader/wallpapers/december10/december-10-fun_in_the_snow__19-nocal-1440x900.jpg
10 https://www.smashingmagazine.com/wp-content/uploads/uploader/wallpapers/december10/december-10-fun_in_the_snow__19-nocal-1680x1050.jpg
11 https://www.smashingmagazine.com/wp-content/uploads/uploader/wallpapers/december10/december-10-fun_in_the_snow__19-nocal-1680x1200.jpg
12 https://www.smashingmagazine.com/wp-content/uploads/uploader/wallpapers/december10/december-10-fun_in_the_snow__19-nocal-1920x1080.jpg
13 https://www.smashingmagazine.com/wp-content/uploads/uploader/wallpapers/december10/december-10-fun_in_the_snow__19-nocal-1920x1200.jpg
15 http://files.smashingmagazine.com/wallpapers/february-12/february-12-winter_church__23-nocal-320x480.jpg
16 http://files.smashingmagazine.com/wallpapers/february-12/february-12-winter_church__23-nocal-1024x768.jpg
17 http://files.smashingmagazine.com/wallpapers/february-12/february-12-winter_church__23-nocal-1280x800.jpg
18 http://files.smashingmagazine.com/wallpapers/february-12/february-12-winter_church__23-nocal-1280x1024.jpg
19 http://files.smashingmagazine.com/wallpapers/february-12/february-12-winter_church__23-nocal-1440x900.jpg
20 http://files.smashingmagazine.com/wallpapers/february-12/february-12-winter_church__23-nocal-1680x1050.jpg
21 http://files.smashingmagazine.com/wallpapers/february-12/february-12-winter_church__23-nocal-1920x1200.jpg
22 https://www.smashingmagazine.com/wp-content/uploads/uploader/wallpapers/february10/february-10-colorful-life-nocal-320x480.jpg
23 https://www.smashingmagazine.com/wp-content/uploads/uploader/wallpapers/february10/february-10-colorful-life-nocal-1024x768.jpg
24 https://www.smashingmagazine.com/wp-content/uploads/uploader/wallpapers/february10/february-10-colorful-life-nocal-1280x800.jpg
25 https://www.smashingmagazine.com/wp-content/uploads/uploader/wallpapers/february10/february-10-colorful-life-nocal-1280x1024.jpg
26 https://www.smashingmagazine.com/wp-content/uploads/uploader/wallpapers/february10/february-10-colorful-life-nocal-1440x900.jpg
27 https://www.smashingmagazine.com/wp-content/uploads/uploader/wallpapers/february10/february-10-colorful-life-nocal-1680x1050.jpg
28 https://www.smashingmagazine.com/wp-content/uploads/uploader/wallpapers/february10/february-10-colorful-life-nocal-1920x1200.jpg
30 https://www.smashingmagazine.com/wp-content/uploads/wallpapers/december09/december-09-snowqueen-nocal-320x480.jpg
31 https://www.smashingmagazine.com/wp-content/uploads/wallpapers/december09/december-09-snowqueen-nocal-1280x1024.jpg
32 https://www.smashingmagazine.com/wp-content/uploads/wallpapers/december09/december-09-snowqueen-nocal-1600x1200.jpg
33 https://www.smashingmagazine.com/wp-content/uploads/wallpapers/december09/december-09-snowqueen-nocal-1680x1050.jpg
34 https://www.smashingmagazine.com/wp-content/uploads/wallpapers/december09/december-09-snowqueen-nocal-1680x1200.jpg
36 http://files.smashingmagazine.com/wallpapers/dec-15/catch-your-perfect-snowflake/dec-15-catch-your-perfect-snowflake-full.jpg
37 http://files.smashingmagazine.com/wallpapers/dec-15/catch-your-perfect-snowflake/nocal/dec-15-catch-your-perfect-snowflake-nocal-800x480.jpg
38 http://files.smashingmagazine.com/wallpapers/dec-15/catch-your-perfect-snowflake/nocal/dec-15-catch-your-perfect-snowflake-nocal-800x600.jpg
39 http://files.smashingmagazine.com/wallpapers/dec-15/catch-your-perfect-snowflake/nocal/dec-15-catch-your-perfect-snowflake-nocal-1024x768.jpg
40 http://files.smashingmagazine.com/wallpapers/dec-15/catch-your-perfect-snowflake/nocal/dec-15-catch-your-perfect-snowflake-nocal-1024x1024.jpg
41 http://files.smashingmagazine.com/wallpapers/dec-15/catch-your-perfect-snowflake/nocal/dec-15-catch-your-perfect-snowflake-nocal-1152x864.jpg
42 http://files.smashingmagazine.com/wallpapers/dec-15/catch-your-perfect-snowflake/nocal/dec-15-catch-your-perfect-snowflake-nocal-1280x720.jpg
43 http://files.smashingmagazine.com/wallpapers/dec-15/catch-your-perfect-snowflake/nocal/dec-15-catch-your-perfect-snowflake-nocal-1280x800.jpg
44 http://files.smashingmagazine.com/wallpapers/dec-15/catch-your-perfect-snowflake/nocal/dec-15-catch-your-perfect-snowflake-nocal-1280x960.jpg
45 http://files.smashingmagazine.com/wallpapers/dec-15/catch-your-perfect-snowflake/nocal/dec-15-catch-your-perfect-snowflake-nocal-1280x1024.jpg
46 http://files.smashingmagazine.com/wallpapers/dec-15/catch-your-perfect-snowflake/nocal/dec-15-catch-your-perfect-snowflake-nocal-1400x1050.jpg
47 http://files.smashingmagazine.com/wallpapers/dec-15/catch-your-perfect-snowflake/nocal/dec-15-catch-your-perfect-snowflake-nocal-1440x900.jpg
48 http://files.smashingmagazine.com/wallpapers/dec-15/catch-your-perfect-snowflake/nocal/dec-15-catch-your-perfect-snowflake-nocal-1600x1200.jpg
49 http://files.smashingmagazine.com/wallpapers/dec-15/catch-your-perfect-snowflake/nocal/dec-15-catch-your-perfect-snowflake-nocal-1680x1050.jpg
50 http://files.smashingmagazine.com/wallpapers/dec-15/catch-your-perfect-snowflake/nocal/dec-15-catch-your-perfect-snowflake-nocal-1680x1200.jpg
51 http://files.smashingmagazine.com/wallpapers/dec-15/catch-your-perfect-snowflake/nocal/dec-15-catch-your-perfect-snowflake-nocal-1920x1080.jpg
52 http://files.smashingmagazine.com/wallpapers/dec-15/catch-your-perfect-snowflake/nocal/dec-15-catch-your-perfect-snowflake-nocal-1920x1200.jpg
53 http://files.smashingmagazine.com/wallpapers/dec-15/catch-your-perfect-snowflake/nocal/dec-15-catch-your-perfect-snowflake-nocal-1920x1440.jpg
54 http://files.smashingmagazine.com/wallpapers/dec-15/catch-your-perfect-snowflake/nocal/dec-15-catch-your-perfect-snowflake-nocal-2560x1440.jpg
55 http://files.smashingmagazine.com/wallpapers/dec-15/catch-your-perfect-snowflake/nocal/dec-15-catch-your-perfect-snowflake-nocal-2560x1600.jpg
57 https://www.smashingmagazine.com/wp-content/uploads/uploader/wallpapers/december10/december-10-greatest_love__69-nocal-320x480.jpg
58 https://www.smashingmagazine.com/wp-content/uploads/uploader/wallpapers/december10/december-10-greatest_love__69-nocal-1024x768.jpg
59 https://www.smashingmagazine.com/wp-content/uploads/uploader/wallpapers/december10/december-10-greatest_love__69-nocal-1024x1024.jpg
60 https://www.smashingmagazine.com/wp-content/uploads/uploader/wallpapers/december10/december-10-greatest_love__69-nocal-1280x800.jpg
61 https://www.smashingmagazine.com/wp-content/uploads/uploader/wallpapers/december10/december-10-greatest_love__69-nocal-1280x960.jpg
62 https://www.smashingmagazine.com/wp-content/uploads/uploader/wallpapers/december10/december-10-greatest_love__69-nocal-1280x1024.jpg
63 https://www.smashingmagazine.com/wp-content/uploads/uploader/wallpapers/december10/december-10-greatest_love__69-nocal-1440x900.jpg
64 https://www.smashingmagazine.com/wp-content/uploads/uploader/wallpapers/december10/december-10-greatest_love__69-nocal-1600x1200.jpg
65 https://www.smashingmagazine.com/wp-content/uploads/uploader/wallpapers/december10/december-10-greatest_love__69-nocal-1680x1050.jpg
66 https://www.smashingmagazine.com/wp-content/uploads/uploader/wallpapers/december10/december-10-greatest_love__69-nocal-1920x1200.jpg
67 https://www.smashingmagazine.com/wp-content/uploads/uploader/wallpapers/december10/december-10-greatest_love__69-nocal-2560x1440.jpg
69 https://www.smashingmagazine.com/wp-content/uploads/wallpapers/december09/december-09-wintermagic-nocal-320x480.jpg
70 https://www.smashingmagazine.com/wp-content/uploads/wallpapers/december09/december-09-wintermagic-nocal-1024x768.jpg
71 https://www.smashingmagazine.com/wp-content/uploads/wallpapers/december09/december-09-wintermagic-nocal-1280x800.jpg
72 https://www.smashingmagazine.com/wp-content/uploads/wallpapers/december09/december-09-wintermagic-nocal-1280x1024.jpg
73 https://www.smashingmagazine.com/wp-content/uploads/wallpapers/december09/december-09-wintermagic-nocal-1440x900.jpg
74 https://www.smashingmagazine.com/wp-content/uploads/wallpapers/december09/december-09-wintermagic-nocal-1680x1050.jpg
75 https://www.smashingmagazine.com/wp-content/uploads/wallpapers/december09/december-09-wintermagic-nocal-1920x1200.jpg
77 https://www.smashingmagazine.com/wp-content/uploads/uploader/wallpapers/january11/january-11-silver_winter__52-nocal-1024x768.jpg
78 https://www.smashingmagazine.com/wp-content/uploads/uploader/wallpapers/january11/january-11-silver_winter__52-nocal-1280x800.jpg
79 https://www.smashingmagazine.com/wp-content/uploads/uploader/wallpapers/january11/january-11-silver_winter__52-nocal-1440x900.jpg
80 https://www.smashingmagazine.com/wp-content/uploads/uploader/wallpapers/january11/january-11-silver_winter__52-nocal-1680x1050.jpg
81 https://www.smashingmagazine.com/wp-content/uploads/uploader/wallpapers/january11/january-11-silver_winter__52-nocal-1920x1200.jpg
82 https://www.smashingmagazine.com/wp-content/uploads/uploader/wallpapers/january11/january-11-silver_winter__52-nocal-2560x1440.jpg
85 http://files.smashingmagazine.com/wallpapers/dec-15/foxy-winter/nocal/dec-15-foxy-winter-nocal-320x480.jpg
86 http://files.smashingmagazine.com/wallpapers/dec-15/foxy-winter/nocal/dec-15-foxy-winter-nocal-640x480.jpg
87 http://files.smashingmagazine.com/wallpapers/dec-15/foxy-winter/nocal/dec-15-foxy-winter-nocal-800x480.jpg
88 http://files.smashingmagazine.com/wallpapers/dec-15/foxy-winter/nocal/dec-15-foxy-winter-nocal-800x600.jpg
89 http://files.smashingmagazine.com/wallpapers/dec-15/foxy-winter/nocal/dec-15-foxy-winter-nocal-1024x768.jpg
90 http://files.smashingmagazine.com/wallpapers/dec-15/foxy-winter/nocal/dec-15-foxy-winter-nocal-1024x1024.jpg
91 http://files.smashingmagazine.com/wallpapers/dec-15/foxy-winter/nocal/dec-15-foxy-winter-nocal-1152x864.jpg
92 http://files.smashingmagazine.com/wallpapers/dec-15/foxy-winter/nocal/dec-15-foxy-winter-nocal-1280x720.jpg
93 http://files.smashingmagazine.com/wallpapers/dec-15/foxy-winter/nocal/dec-15-foxy-winter-nocal-1280x800.jpg
94 http://files.smashingmagazine.com/wallpapers/dec-15/foxy-winter/nocal/dec-15-foxy-winter-nocal-1280x960.jpg
95 http://files.smashingmagazine.com/wallpapers/dec-15/foxy-winter/nocal/dec-15-foxy-winter-nocal-1280x1024.jpg
96 http://files.smashingmagazine.com/wallpapers/dec-15/foxy-winter/nocal/dec-15-foxy-winter-nocal-1366x768.jpg
97 http://files.smashingmagazine.com/wallpapers/dec-15/foxy-winter/nocal/dec-15-foxy-winter-nocal-1400x1050.jpg
98 http://files.smashingmagazine.com/wallpapers/dec-15/foxy-winter/nocal/dec-15-foxy-winter-nocal-1440x900.jpg
99 http://files.smashingmagazine.com/wallpapers/dec-15/foxy-winter/nocal/dec-15-foxy-winter-nocal-1600x1200.jpg
100 http://files.smashingmagazine.com/wallpapers/dec-15/foxy-winter/nocal/dec-15-foxy-winter-nocal-1680x1050.jpg
101 http://files.smashingmagazine.com/wallpapers/dec-15/foxy-winter/nocal/dec-15-foxy-winter-nocal-1680x1200.jpg
102 http://files.smashingmagazine.com/wallpapers/dec-15/foxy-winter/nocal/dec-15-foxy-winter-nocal-1920x1080.jpg
103 http://files.smashingmagazine.com/wallpapers/dec-15/foxy-winter/nocal/dec-15-foxy-winter-nocal-1920x1200.jpg
104 http://files.smashingmagazine.com/wallpapers/dec-15/foxy-winter/nocal/dec-15-foxy-winter-nocal-1920x1440.jpg
105 http://files.smashingmagazine.com/wallpapers/dec-15/foxy-winter/nocal/dec-15-foxy-winter-nocal-2560x1440.jpg
107 http://files.smashingmagazine.com/wallpapers/december-12/december-12-winter_garphee__81-nocal-320x480.jpg
108 http://files.smashingmagazine.com/wallpapers/december-12/december-12-winter_garphee__81-nocal-1024x768.jpg
109 http://files.smashingmagazine.com/wallpapers/december-12/december-12-winter_garphee__81-nocal-1024x1024.jpg
110 http://files.smashingmagazine.com/wallpapers/december-12/december-12-winter_garphee__81-nocal-1280x800.jpg
111 http://files.smashingmagazine.com/wallpapers/december-12/december-12-winter_garphee__81-nocal-1280x1024.jpg
112 http://files.smashingmagazine.com/wallpapers/december-12/december-12-winter_garphee__81-nocal-1366x768.jpg
113 http://files.smashingmagazine.com/wallpapers/december-12/december-12-winter_garphee__81-nocal-1440x900.jpg
114 http://files.smashingmagazine.com/wallpapers/december-12/december-12-winter_garphee__81-nocal-1680x1050.jpg
115 http://files.smashingmagazine.com/wallpapers/december-12/december-12-winter_garphee__81-nocal-1920x1080.jpg
116 http://files.smashingmagazine.com/wallpapers/december-12/december-12-winter_garphee__81-nocal-1920x1200.jpg
117 http://files.smashingmagazine.com/wallpapers/december-12/december-12-winter_garphee__81-nocal-2560x1440.jpg
119 https://www.smashingmagazine.com/wp-content/uploads/uploader/wallpapers/january11/january-11-winter_fun__11-nocal-1024x768.jpg
120 https://www.smashingmagazine.com/wp-content/uploads/uploader/wallpapers/january11/january-11-winter_fun__11-nocal-1280x800.jpg
121 https://www.smashingmagazine.com/wp-content/uploads/uploader/wallpapers/january11/january-11-winter_fun__11-nocal-1440x900.jpg
122 https://www.smashingmagazine.com/wp-content/uploads/uploader/wallpapers/january11/january-11-winter_fun__11-nocal-1680x1050.jpg
123 https://www.smashingmagazine.com/wp-content/uploads/uploader/wallpapers/january11/january-11-winter_fun__11-nocal-1920x1200.jpg
125 http://files.smashingmagazine.com/wallpapers/december-11/december-11-tongue_stuck_on_lamppost__20-nocal-320x480.jpg
126 http://files.smashingmagazine.com/wallpapers/december-11/december-11-tongue_stuck_on_lamppost__20-nocal-1024x1024.jpg
127 http://files.smashingmagazine.com/wallpapers/december-11/december-11-tongue_stuck_on_lamppost__20-nocal-1280x800.jpg
128 http://files.smashingmagazine.com/wallpapers/december-11/december-11-tongue_stuck_on_lamppost__20-nocal-1440x900.jpg
129 http://files.smashingmagazine.com/wallpapers/december-11/december-11-tongue_stuck_on_lamppost__20-nocal-1680x1200.jpg
130 http://files.smashingmagazine.com/wallpapers/december-11/december-11-tongue_stuck_on_lamppost__20-nocal-1920x1200.jpg
131 http://files.smashingmagazine.com/wallpapers/december-11/december-11-tongue_stuck_on_lamppost__20-nocal-2560x1440.jpg
133 http://files.smashingmagazine.com/wallpapers/january-13/january-13-winter_fun__56-nocal-320x480.jpg
134 http://files.smashingmagazine.com/wallpapers/january-13/january-13-winter_fun__56-nocal-800x600.jpg
135 http://files.smashingmagazine.com/wallpapers/january-13/january-13-winter_fun__56-nocal-1024x768.jpg
136 http://files.smashingmagazine.com/wallpapers/january-13/january-13-winter_fun__56-nocal-1024x1024.jpg
137 http://files.smashingmagazine.com/wallpapers/january-13/january-13-winter_fun__56-nocal-1280x800.jpg
138 http://files.smashingmagazine.com/wallpapers/january-13/january-13-winter_fun__56-nocal-1280x1024.jpg
139 http://files.smashingmagazine.com/wallpapers/january-13/january-13-winter_fun__56-nocal-1440x900.jpg
140 http://files.smashingmagazine.com/wallpapers/january-13/january-13-winter_fun__56-nocal-1680x1050.jpg
141 http://files.smashingmagazine.com/wallpapers/january-13/january-13-winter_fun__56-nocal-1920x1080.jpg
142 http://files.smashingmagazine.com/wallpapers/january-13/january-13-winter_fun__56-nocal-1920x1200.jpg
143 http://files.smashingmagazine.com/wallpapers/january-13/january-13-winter_fun__56-nocal-2560x1440.jpg
144 https://www.smashingmagazine.com/wp-content/uploads/uploader/wallpapers/january11/january-11-snowman__8-nocal-1024x768.jpg
145 https://www.smashingmagazine.com/wp-content/uploads/uploader/wallpapers/january11/january-11-snowman__8-nocal-1280x800.jpg
146 https://www.smashingmagazine.com/wp-content/uploads/uploader/wallpapers/january11/january-11-snowman__8-nocal-1440x900.jpg
147 https://www.smashingmagazine.com/wp-content/uploads/uploader/wallpapers/january11/january-11-snowman__8-nocal-1680x1050.jpg
148 https://www.smashingmagazine.com/wp-content/uploads/uploader/wallpapers/january11/january-11-snowman__8-nocal-1920x1200.jpg
149 https://www.smashingmagazine.com/wp-content/uploads/uploader/wallpapers/january11/january-11-yeti_weekends__45-nocal-1024x768.png
150 https://www.smashingmagazine.com/wp-content/uploads/uploader/wallpapers/january11/january-11-yeti_weekends__45-nocal-1280x800.png
151 https://www.smashingmagazine.com/wp-content/uploads/uploader/wallpapers/january11/january-11-yeti_weekends__45-nocal-1440x900.png
152 https://www.smashingmagazine.com/wp-content/uploads/uploader/wallpapers/january11/january-11-yeti_weekends__45-nocal-1680x1050.png
153 https://www.smashingmagazine.com/wp-content/uploads/uploader/wallpapers/january11/january-11-yeti_weekends__45-nocal-1920x1200.png
155 https://www.smashingmagazine.com/wp-content/uploads/images/wallpaper-calendar-january-10/full/online-snowball-fight.jpg
156 https://www.smashingmagazine.com/wp-content/uploads/wallpapers/january10/january-10-online-snowball-fight-nocal-320x480.jpg
157 https://www.smashingmagazine.com/wp-content/uploads/wallpapers/january10/january-10-online-snowball-fight-nocal-1280x800.jpg
158 https://www.smashingmagazine.com/wp-content/uploads/wallpapers/january10/january-10-online-snowball-fight-nocal-1280x1024.jpg
159 https://www.smashingmagazine.com/wp-content/uploads/wallpapers/january10/january-10-online-snowball-fight-nocal-1440x900.jpg
160 https://www.smashingmagazine.com/wp-content/uploads/wallpapers/january10/january-10-online-snowball-fight-nocal-1680x1050.jpg
161 https://www.smashingmagazine.com/wp-content/uploads/wallpapers/january10/january-10-online-snowball-fight-nocal-1920x1200.jpg
163 https://www.smashingmagazine.com/wp-content/uploads/uploader/images/wallpaper-calendar-january-11/full/winter_forest__33.png
164 https://www.smashingmagazine.com/wp-content/uploads/uploader/wallpapers/january11/january-11-winter_forest__33-nocal-320x480.png
165 https://www.smashingmagazine.com/wp-content/uploads/uploader/wallpapers/january11/january-11-winter_forest__33-nocal-1024x768.png
166 https://www.smashingmagazine.com/wp-content/uploads/uploader/wallpapers/january11/january-11-winter_forest__33-nocal-1024x1024.png
167 https://www.smashingmagazine.com/wp-content/uploads/uploader/wallpapers/january11/january-11-winter_forest__33-nocal-1280x800.png
168 https://www.smashingmagazine.com/wp-content/uploads/uploader/wallpapers/january11/january-11-winter_forest__33-nocal-1280x1024.png
169 https://www.smashingmagazine.com/wp-content/uploads/uploader/wallpapers/january11/january-11-winter_forest__33-nocal-1440x900.png
170 https://www.smashingmagazine.com/wp-content/uploads/uploader/wallpapers/january11/january-11-winter_forest__33-nocal-1680x1050.png
171 https://www.smashingmagazine.com/wp-content/uploads/uploader/wallpapers/january11/january-11-winter_forest__33-nocal-1920x1080.png
172 https://www.smashingmagazine.com/wp-content/uploads/uploader/wallpapers/january11/january-11-winter_forest__33-nocal-1920x1200.png
173 https://www.smashingmagazine.com/wp-content/uploads/uploader/wallpapers/january11/january-11-winter_forest__33-nocal-2560x1440.png
175 http://files.smashingmagazine.com/wallpapers/jan-16/mountain-island/jan-16-mountain-island-full.jpg
176 http://files.smashingmagazine.com/wallpapers/jan-16/mountain-island/nocal/jan-16-mountain-island-nocal-640x480.jpg
177 http://files.smashingmagazine.com/wallpapers/jan-16/mountain-island/nocal/jan-16-mountain-island-nocal-800x480.jpg
178 http://files.smashingmagazine.com/wallpapers/jan-16/mountain-island/nocal/jan-16-mountain-island-nocal-800x600.jpg
179 http://files.smashingmagazine.com/wallpapers/jan-16/mountain-island/nocal/jan-16-mountain-island-nocal-1024x768.jpg
180 http://files.smashingmagazine.com/wallpapers/jan-16/mountain-island/nocal/jan-16-mountain-island-nocal-1024x1024.jpg
181 http://files.smashingmagazine.com/wallpapers/jan-16/mountain-island/nocal/jan-16-mountain-island-nocal-1152x864.jpg
182 http://files.smashingmagazine.com/wallpapers/jan-16/mountain-island/nocal/jan-16-mountain-island-nocal-1280x720.jpg
183 http://files.smashingmagazine.com/wallpapers/jan-16/mountain-island/nocal/jan-16-mountain-island-nocal-1280x800.jpg
184 http://files.smashingmagazine.com/wallpapers/jan-16/mountain-island/nocal/jan-16-mountain-island-nocal-1280x960.jpg
185 http://files.smashingmagazine.com/wallpapers/jan-16/mountain-island/nocal/jan-16-mountain-island-nocal-1280x1024.jpg
186 http://files.smashingmagazine.com/wallpapers/jan-16/mountain-island/nocal/jan-16-mountain-island-nocal-1400x1050.jpg
187 http://files.smashingmagazine.com/wallpapers/jan-16/mountain-island/nocal/jan-16-mountain-island-nocal-1440x900.jpg
188 http://files.smashingmagazine.com/wallpapers/jan-16/mountain-island/nocal/jan-16-mountain-island-nocal-1600x1200.jpg
189 http://files.smashingmagazine.com/wallpapers/jan-16/mountain-island/nocal/jan-16-mountain-island-nocal-1680x1200.jpg
190 http://files.smashingmagazine.com/wallpapers/jan-16/mountain-island/nocal/jan-16-mountain-island-nocal-1920x1080.jpg
191 http://files.smashingmagazine.com/wallpapers/jan-16/mountain-island/nocal/jan-16-mountain-island-nocal-1920x1200.jpg
192 http://files.smashingmagazine.com/wallpapers/jan-16/mountain-island/nocal/jan-16-mountain-island-nocal-1920x1440.jpg
193 http://files.smashingmagazine.com/wallpapers/jan-16/mountain-island/nocal/jan-16-mountain-island-nocal-2560x1440.jpg
196 http://files.smashingmagazine.com/wallpapers/jan-14/cool-winter/nocal/jan-14-cool-winter-nocal-320x480.jpg
197 http://files.smashingmagazine.com/wallpapers/jan-14/cool-winter/nocal/jan-14-cool-winter-nocal-640x480.jpg
198 http://files.smashingmagazine.com/wallpapers/jan-14/cool-winter/nocal/jan-14-cool-winter-nocal-800x480.jpg
199 http://files.smashingmagazine.com/wallpapers/jan-14/cool-winter/nocal/jan-14-cool-winter-nocal-800x600.jpg
200 http://files.smashingmagazine.com/wallpapers/jan-14/cool-winter/nocal/jan-14-cool-winter-nocal-1024x768.jpg
201 http://files.smashingmagazine.com/wallpapers/jan-14/cool-winter/nocal/jan-14-cool-winter-nocal-1024x1024.jpg
202 http://files.smashingmagazine.com/wallpapers/jan-14/cool-winter/nocal/jan-14-cool-winter-nocal-1152x864.jpg
203 http://files.smashingmagazine.com/wallpapers/jan-14/cool-winter/nocal/jan-14-cool-winter-nocal-1280x720.jpg
204 http://files.smashingmagazine.com/wallpapers/jan-14/cool-winter/nocal/jan-14-cool-winter-nocal-1280x800.jpg
205 http://files.smashingmagazine.com/wallpapers/jan-14/cool-winter/nocal/jan-14-cool-winter-nocal-1280x960.jpg
206 http://files.smashingmagazine.com/wallpapers/jan-14/cool-winter/nocal/jan-14-cool-winter-nocal-1280x1024.jpg
207 http://files.smashingmagazine.com/wallpapers/jan-14/cool-winter/nocal/jan-14-cool-winter-nocal-1400x1050.jpg
208 http://files.smashingmagazine.com/wallpapers/jan-14/cool-winter/nocal/jan-14-cool-winter-nocal-1440x900.jpg
209 http://files.smashingmagazine.com/wallpapers/jan-14/cool-winter/nocal/jan-14-cool-winter-nocal-1600x1200.jpg
210 http://files.smashingmagazine.com/wallpapers/jan-14/cool-winter/nocal/jan-14-cool-winter-nocal-1680x1050.jpg
211 http://files.smashingmagazine.com/wallpapers/jan-14/cool-winter/nocal/jan-14-cool-winter-nocal-1680x1200.jpg
212 http://files.smashingmagazine.com/wallpapers/jan-14/cool-winter/nocal/jan-14-cool-winter-nocal-1920x1080.jpg
213 http://files.smashingmagazine.com/wallpapers/jan-14/cool-winter/nocal/jan-14-cool-winter-nocal-1920x1200.jpg
214 http://files.smashingmagazine.com/wallpapers/jan-14/cool-winter/nocal/jan-14-cool-winter-nocal-1920x1440.jpg
215 http://files.smashingmagazine.com/wallpapers/jan-14/cool-winter/nocal/jan-14-cool-winter-nocal-2560x1440.jpg
216 http://files.smashingmagazine.com/wallpapers/jan-14/cool-winter/nocal/jan-14-cool-winter-nocal-2880x1800.jpg
218 http://files.smashingmagazine.com/wallpapers/jan-14/abstract-winter/jan-14-abstract-winter-full.png
219 http://files.smashingmagazine.com/wallpapers/jan-14/abstract-winter/nocal/jan-14-abstract-winter-nocal-800x600.png
220 http://files.smashingmagazine.com/wallpapers/jan-14/abstract-winter/nocal/jan-14-abstract-winter-nocal-1024x768.png
221 http://files.smashingmagazine.com/wallpapers/jan-14/abstract-winter/nocal/jan-14-abstract-winter-nocal-1024x1024.png
222 http://files.smashingmagazine.com/wallpapers/jan-14/abstract-winter/nocal/jan-14-abstract-winter-nocal-1152x864.png
223 http://files.smashingmagazine.com/wallpapers/jan-14/abstract-winter/nocal/jan-14-abstract-winter-nocal-1280x720.png
224 http://files.smashingmagazine.com/wallpapers/jan-14/abstract-winter/nocal/jan-14-abstract-winter-nocal-1280x800.png
225 http://files.smashingmagazine.com/wallpapers/jan-14/abstract-winter/nocal/jan-14-abstract-winter-nocal-1280x960.png
226 http://files.smashingmagazine.com/wallpapers/jan-14/abstract-winter/nocal/jan-14-abstract-winter-nocal-1280x1024.png
227 http://files.smashingmagazine.com/wallpapers/jan-14/abstract-winter/nocal/jan-14-abstract-winter-nocal-1400x1050.png
228 http://files.smashingmagazine.com/wallpapers/jan-14/abstract-winter/nocal/jan-14-abstract-winter-nocal-1440x900.png
229 http://files.smashingmagazine.com/wallpapers/jan-14/abstract-winter/nocal/jan-14-abstract-winter-nocal-1600x1200.png
230 http://files.smashingmagazine.com/wallpapers/jan-14/abstract-winter/nocal/jan-14-abstract-winter-nocal-1680x1050.png
231 http://files.smashingmagazine.com/wallpapers/jan-14/abstract-winter/nocal/jan-14-abstract-winter-nocal-1680x1200.png
232 http://files.smashingmagazine.com/wallpapers/jan-14/abstract-winter/nocal/jan-14-abstract-winter-nocal-1920x1080.png
233 http://files.smashingmagazine.com/wallpapers/jan-14/abstract-winter/nocal/jan-14-abstract-winter-nocal-1920x1200.png
234 http://files.smashingmagazine.com/wallpapers/jan-14/abstract-winter/nocal/jan-14-abstract-winter-nocal-1920x1440.png
235 http://files.smashingmagazine.com/wallpapers/jan-14/abstract-winter/nocal/jan-14-abstract-winter-nocal-2560x1440.png
237 http://files.smashingmagazine.com/wallpapers/december-11/december-11-winter_flakes__22-nocal-1280x800.jpg
238 http://files.smashingmagazine.com/wallpapers/december-11/december-11-winter_flakes__22-nocal-1280x1024.jpg
239 http://files.smashingmagazine.com/wallpapers/december-11/december-11-winter_flakes__22-nocal-1440x900.jpg
240 http://files.smashingmagazine.com/wallpapers/december-11/december-11-winter_flakes__22-nocal-1680x1050.jpg
241 http://files.smashingmagazine.com/wallpapers/december-11/december-11-winter_flakes__22-nocal-1920x1200.jpg
243 http://files.smashingmagazine.com/wallpapers/jan-16/robin-bird/nocal/jan-16-robin-bird-nocal-1024x768.png
244 http://files.smashingmagazine.com/wallpapers/jan-16/robin-bird/nocal/jan-16-robin-bird-nocal-1024x1024.png
245 http://files.smashingmagazine.com/wallpapers/jan-16/robin-bird/nocal/jan-16-robin-bird-nocal-1152x864.png
246 http://files.smashingmagazine.com/wallpapers/jan-16/robin-bird/nocal/jan-16-robin-bird-nocal-1280x720.png
247 http://files.smashingmagazine.com/wallpapers/jan-16/robin-bird/nocal/jan-16-robin-bird-nocal-1280x800.png
248 http://files.smashingmagazine.com/wallpapers/jan-16/robin-bird/nocal/jan-16-robin-bird-nocal-1280x960.png
249 http://files.smashingmagazine.com/wallpapers/jan-16/robin-bird/nocal/jan-16-robin-bird-nocal-1280x1024.png
250 http://files.smashingmagazine.com/wallpapers/jan-16/robin-bird/nocal/jan-16-robin-bird-nocal-1366x768.png
251 http://files.smashingmagazine.com/wallpapers/jan-16/robin-bird/nocal/jan-16-robin-bird-nocal-1400x1050.png
252 http://files.smashingmagazine.com/wallpapers/jan-16/robin-bird/nocal/jan-16-robin-bird-nocal-1440x900.png
253 http://files.smashingmagazine.com/wallpapers/jan-16/robin-bird/nocal/jan-16-robin-bird-nocal-1680x1050.png
254 http://files.smashingmagazine.com/wallpapers/jan-16/robin-bird/nocal/jan-16-robin-bird-nocal-1680x1200.png
255 http://files.smashingmagazine.com/wallpapers/jan-16/robin-bird/nocal/jan-16-robin-bird-nocal-1920x1080.png
256 http://files.smashingmagazine.com/wallpapers/jan-16/robin-bird/nocal/jan-16-robin-bird-nocal-1920x1200.png
258 http://files.smashingmagazine.com/wallpapers/dec-14/winter-is-better-together/dec-14-winter-is-better-together-full.png
259 http://files.smashingmagazine.com/wallpapers/dec-14/winter-is-better-together/nocal/dec-14-winter-is-better-together-nocal-320x480.png
260 http://files.smashingmagazine.com/wallpapers/dec-14/winter-is-better-together/nocal/dec-14-winter-is-better-together-nocal-600x480.png
261 http://files.smashingmagazine.com/wallpapers/dec-14/winter-is-better-together/nocal/dec-14-winter-is-better-together-nocal-800x480.png
262 http://files.smashingmagazine.com/wallpapers/dec-14/winter-is-better-together/nocal/dec-14-winter-is-better-together-nocal-800x600.png
263 http://files.smashingmagazine.com/wallpapers/dec-14/winter-is-better-together/nocal/dec-14-winter-is-better-together-nocal-1024x768.png
264 http://files.smashingmagazine.com/wallpapers/dec-14/winter-is-better-together/nocal/dec-14-winter-is-better-together-nocal-1024x1024.png
265 http://files.smashingmagazine.com/wallpapers/dec-14/winter-is-better-together/nocal/dec-14-winter-is-better-together-nocal-1152x864.png
266 http://files.smashingmagazine.com/wallpapers/dec-14/winter-is-better-together/nocal/dec-14-winter-is-better-together-nocal-1280x720.png
267 http://files.smashingmagazine.com/wallpapers/dec-14/winter-is-better-together/nocal/dec-14-winter-is-better-together-nocal-1280x800.png
268 http://files.smashingmagazine.com/wallpapers/dec-14/winter-is-better-together/nocal/dec-14-winter-is-better-together-nocal-1280x960.png
269 http://files.smashingmagazine.com/wallpapers/dec-14/winter-is-better-together/nocal/dec-14-winter-is-better-together-nocal-1280x1024.png
270 http://files.smashingmagazine.com/wallpapers/dec-14/winter-is-better-together/nocal/dec-14-winter-is-better-together-nocal-1400x1050.png
271 http://files.smashingmagazine.com/wallpapers/dec-14/winter-is-better-together/nocal/dec-14-winter-is-better-together-nocal-1440x900.png
272 http://files.smashingmagazine.com/wallpapers/dec-14/winter-is-better-together/nocal/dec-14-winter-is-better-together-nocal-1600x1200.png
273 http://files.smashingmagazine.com/wallpapers/dec-14/winter-is-better-together/nocal/dec-14-winter-is-better-together-nocal-1680x1050.png
274 http://files.smashingmagazine.com/wallpapers/dec-14/winter-is-better-together/nocal/dec-14-winter-is-better-together-nocal-1680x1200.png
275 http://files.smashingmagazine.com/wallpapers/dec-14/winter-is-better-together/nocal/dec-14-winter-is-better-together-nocal-1920x1080.png
276 http://files.smashingmagazine.com/wallpapers/dec-14/winter-is-better-together/nocal/dec-14-winter-is-better-together-nocal-1920x1200.png
277 http://files.smashingmagazine.com/wallpapers/dec-14/winter-is-better-together/nocal/dec-14-winter-is-better-together-nocal-1920x1440.png
278 http://files.smashingmagazine.com/wallpapers/dec-14/winter-is-better-together/nocal/dec-14-winter-is-better-together-nocal-2560x1440.png
279 http://files.smashingmagazine.com/wallpapers/dec-14/winter-is-better-together/nocal/dec-14-winter-is-better-together-nocal-1366x768.png
280 http://files.smashingmagazine.com/wallpapers/dec-14/winter-is-better-together/nocal/dec-14-winter-is-better-together-nocal-2880x1800.png
282 http://files.smashingmagazine.com/wallpapers/dec-14/icy-december2014/dec-14-icy-december2014-full.png
283 http://files.smashingmagazine.com/wallpapers/dec-14/icy-december2014/nocal/dec-14-icy-december2014-nocal-320x480.png
284 http://files.smashingmagazine.com/wallpapers/dec-14/icy-december2014/nocal/dec-14-icy-december2014-nocal-640x480.png
285 http://files.smashingmagazine.com/wallpapers/dec-14/icy-december2014/nocal/dec-14-icy-december2014-nocal-800x480.png
286 http://files.smashingmagazine.com/wallpapers/dec-14/icy-december2014/nocal/dec-14-icy-december2014-nocal-800x600.png
287 http://files.smashingmagazine.com/wallpapers/dec-14/icy-december2014/nocal/dec-14-icy-december2014-nocal-1024x768.png
288 http://files.smashingmagazine.com/wallpapers/dec-14/icy-december2014/nocal/dec-14-icy-december2014-nocal-1024x1024.png
289 http://files.smashingmagazine.com/wallpapers/dec-14/icy-december2014/nocal/dec-14-icy-december2014-nocal-1152x864.png
290 http://files.smashingmagazine.com/wallpapers/dec-14/icy-december2014/nocal/dec-14-icy-december2014-nocal-1280x720.png
291 http://files.smashingmagazine.com/wallpapers/dec-14/icy-december2014/nocal/dec-14-icy-december2014-nocal-1280x800.png
292 http://files.smashingmagazine.com/wallpapers/dec-14/icy-december2014/nocal/dec-14-icy-december2014-nocal-1280x960.png
293 http://files.smashingmagazine.com/wallpapers/dec-14/icy-december2014/nocal/dec-14-icy-december2014-nocal-1280x1024.png
294 http://files.smashingmagazine.com/wallpapers/dec-14/icy-december2014/nocal/dec-14-icy-december2014-nocal-1400x1050.png
295 http://files.smashingmagazine.com/wallpapers/dec-14/icy-december2014/nocal/dec-14-icy-december2014-nocal-1440x900.png
296 http://files.smashingmagazine.com/wallpapers/dec-14/icy-december2014/nocal/dec-14-icy-december2014-nocal-1600x1200.png
297 http://files.smashingmagazine.com/wallpapers/dec-14/icy-december2014/nocal/dec-14-icy-december2014-nocal-1680x1050.png
298 http://files.smashingmagazine.com/wallpapers/dec-14/icy-december2014/nocal/dec-14-icy-december2014-nocal-1680x1200.png
299 http://files.smashingmagazine.com/wallpapers/dec-14/icy-december2014/nocal/dec-14-icy-december2014-nocal-1920x1080.png
300 http://files.smashingmagazine.com/wallpapers/dec-14/icy-december2014/nocal/dec-14-icy-december2014-nocal-1920x1200.png
301 http://files.smashingmagazine.com/wallpapers/dec-14/icy-december2014/nocal/dec-14-icy-december2014-nocal-1920x1440.png
302 http://files.smashingmagazine.com/wallpapers/dec-14/icy-december2014/nocal/dec-14-icy-december2014-nocal-2560x1440.png
303 http://files.smashingmagazine.com/wallpapers/december-11/december-11-crayons_snowy_sailing__13-nocal-1024x640.jpg
304 http://files.smashingmagazine.com/wallpapers/december-11/december-11-crayons_snowy_sailing__13-nocal-1280x800.jpg
305 http://files.smashingmagazine.com/wallpapers/december-11/december-11-crayons_snowy_sailing__13-nocal-1440x900.jpg
306 http://files.smashingmagazine.com/wallpapers/december-11/december-11-crayons_snowy_sailing__13-nocal-1680x1050.jpg
307 http://files.smashingmagazine.com/wallpapers/december-11/december-11-crayons_snowy_sailing__13-nocal-1920x1200.jpg
309 http://files.smashingmagazine.com/wallpapers/december-11/december-11-blue_december__83-nocal-320x480.jpg
310 http://files.smashingmagazine.com/wallpapers/december-11/december-11-blue_december__83-nocal-1024x768.jpg
311 http://files.smashingmagazine.com/wallpapers/december-11/december-11-blue_december__83-nocal-1024x1024.jpg
312 http://files.smashingmagazine.com/wallpapers/december-11/december-11-blue_december__83-nocal-1280x800.jpg
313 http://files.smashingmagazine.com/wallpapers/december-11/december-11-blue_december__83-nocal-1280x1024.jpg
314 http://files.smashingmagazine.com/wallpapers/december-11/december-11-blue_december__83-nocal-1440x900.jpg
315 http://files.smashingmagazine.com/wallpapers/december-11/december-11-blue_december__83-nocal-1680x1050.jpg
316 http://files.smashingmagazine.com/wallpapers/december-11/december-11-blue_december__83-nocal-1920x1080.jpg
317 http://files.smashingmagazine.com/wallpapers/december-11/december-11-blue_december__83-nocal-1920x1200.jpg
318 http://files.smashingmagazine.com/wallpapers/december-11/december-11-blue_december__83-nocal-2560x1440.jpg
319 https://www.smashingmagazine.com/wp-content/uploads/uploader/wallpapers/january11/january-11-lost_wiseman__90-nocal-1024x768.jpg
320 https://www.smashingmagazine.com/wp-content/uploads/uploader/wallpapers/january11/january-11-lost_wiseman__90-nocal-1280x800.jpg
321 https://www.smashingmagazine.com/wp-content/uploads/uploader/wallpapers/january11/january-11-lost_wiseman__90-nocal-1440x900.jpg
322 https://www.smashingmagazine.com/wp-content/uploads/uploader/wallpapers/january11/january-11-lost_wiseman__90-nocal-1680x1050.jpg
323 https://www.smashingmagazine.com/wp-content/uploads/uploader/wallpapers/january11/january-11-lost_wiseman__90-nocal-1920x1200.jpg
325 http://files.smashingmagazine.com/wallpapers/jan-16/all-that-belongs-to-the-past/jan-16-all-that-belongs-to-the-past-full.jpg
326 http://files.smashingmagazine.com/wallpapers/jan-16/all-that-belongs-to-the-past/nocal/jan-16-all-that-belongs-to-the-past-nocal-800x480.jpg
327 http://files.smashingmagazine.com/wallpapers/jan-16/all-that-belongs-to-the-past/nocal/jan-16-all-that-belongs-to-the-past-nocal-800x600.jpg
328 http://files.smashingmagazine.com/wallpapers/jan-16/all-that-belongs-to-the-past/nocal/jan-16-all-that-belongs-to-the-past-nocal-1024x1024.jpg
329 http://files.smashingmagazine.com/wallpapers/jan-16/all-that-belongs-to-the-past/nocal/jan-16-all-that-belongs-to-the-past-nocal-1152x864.jpg
330 http://files.smashingmagazine.com/wallpapers/jan-16/all-that-belongs-to-the-past/nocal/jan-16-all-that-belongs-to-the-past-nocal-1280x720.jpg
331 http://files.smashingmagazine.com/wallpapers/jan-16/all-that-belongs-to-the-past/nocal/jan-16-all-that-belongs-to-the-past-nocal-1280x800.jpg
332 http://files.smashingmagazine.com/wallpapers/jan-16/all-that-belongs-to-the-past/nocal/jan-16-all-that-belongs-to-the-past-nocal-1280x960.jpg
333 http://files.smashingmagazine.com/wallpapers/jan-16/all-that-belongs-to-the-past/nocal/jan-16-all-that-belongs-to-the-past-nocal-1280x1024.jpg
334 http://files.smashingmagazine.com/wallpapers/jan-16/all-that-belongs-to-the-past/nocal/jan-16-all-that-belongs-to-the-past-nocal-1366x768.jpg
335 http://files.smashingmagazine.com/wallpapers/jan-16/all-that-belongs-to-the-past/nocal/jan-16-all-that-belongs-to-the-past-nocal-1400x1050.jpg
336 http://files.smashingmagazine.com/wallpapers/jan-16/all-that-belongs-to-the-past/nocal/jan-16-all-that-belongs-to-the-past-nocal-1440x900.jpg
337 http://files.smashingmagazine.com/wallpapers/jan-16/all-that-belongs-to-the-past/nocal/jan-16-all-that-belongs-to-the-past-nocal-1600x1200.jpg
338 http://files.smashingmagazine.com/wallpapers/jan-16/all-that-belongs-to-the-past/nocal/jan-16-all-that-belongs-to-the-past-nocal-1680x1050.jpg
339 http://files.smashingmagazine.com/wallpapers/jan-16/all-that-belongs-to-the-past/nocal/jan-16-all-that-belongs-to-the-past-nocal-1680x1200.jpg
340 http://files.smashingmagazine.com/wallpapers/jan-16/all-that-belongs-to-the-past/nocal/jan-16-all-that-belongs-to-the-past-nocal-1920x1080.jpg
341 http://files.smashingmagazine.com/wallpapers/jan-16/all-that-belongs-to-the-past/nocal/jan-16-all-that-belongs-to-the-past-nocal-1920x1200.jpg
342 http://files.smashingmagazine.com/wallpapers/jan-16/all-that-belongs-to-the-past/nocal/jan-16-all-that-belongs-to-the-past-nocal-1920x1440.jpg
343 http://files.smashingmagazine.com/wallpapers/jan-16/all-that-belongs-to-the-past/nocal/jan-16-all-that-belongs-to-the-past-nocal-2560x1440.jpg
344 https://www.smashingmagazine.com/wp-content/uploads/wallpapers/january10/january-10-yaskii-snow-nocal-320x480.jpg
345 https://www.smashingmagazine.com/wp-content/uploads/wallpapers/january10/january-10-yaskii-snow-nocal-1024x768.jpg
346 https://www.smashingmagazine.com/wp-content/uploads/wallpapers/january10/january-10-yaskii-snow-nocal-1280x800.jpg
347 https://www.smashingmagazine.com/wp-content/uploads/wallpapers/january10/january-10-yaskii-snow-nocal-1280x1024.jpg
348 https://www.smashingmagazine.com/wp-content/uploads/wallpapers/january10/january-10-yaskii-snow-nocal-1440x900.jpg
349 https://www.smashingmagazine.com/wp-content/uploads/wallpapers/january10/january-10-yaskii-snow-nocal-1680x1050.jpg
350 https://www.smashingmagazine.com/wp-content/uploads/wallpapers/january10/january-10-yaskii-snow-nocal-1920x1200.jpg
352 https://www.smashingmagazine.com/wp-content/uploads/uploader/wallpapers/december10/december-10-frosted_glass__83-nocal-320x480.jpg
353 https://www.smashingmagazine.com/wp-content/uploads/uploader/wallpapers/december10/december-10-frosted_glass__83-nocal-1024x768.jpg
354 https://www.smashingmagazine.com/wp-content/uploads/uploader/wallpapers/december10/december-10-frosted_glass__83-nocal-1024x1024.jpg
355 https://www.smashingmagazine.com/wp-content/uploads/uploader/wallpapers/december10/december-10-frosted_glass__83-nocal-1280x800.jpg
356 https://www.smashingmagazine.com/wp-content/uploads/uploader/wallpapers/december10/december-10-frosted_glass__83-nocal-1280x1024.jpg
357 https://www.smashingmagazine.com/wp-content/uploads/uploader/wallpapers/december10/december-10-frosted_glass__83-nocal-1440x900.jpg
358 https://www.smashingmagazine.com/wp-content/uploads/uploader/wallpapers/december10/december-10-frosted_glass__83-nocal-1680x1050.jpg
359 https://www.smashingmagazine.com/wp-content/uploads/uploader/wallpapers/december10/december-10-frosted_glass__83-nocal-1920x1080.jpg
360 https://www.smashingmagazine.com/wp-content/uploads/uploader/wallpapers/december10/december-10-frosted_glass__83-nocal-1920x1200.jpg
362 http://files.smashingmagazine.com/wallpapers/december-11/december-11-pow_time__11-nocal-1024x768.png
363 http://files.smashingmagazine.com/wallpapers/december-11/december-11-pow_time__11-nocal-1280x800.png
364 http://files.smashingmagazine.com/wallpapers/december-11/december-11-pow_time__11-nocal-1280x1024.png
365 http://files.smashingmagazine.com/wallpapers/december-11/december-11-pow_time__11-nocal-1440x900.png
366 http://files.smashingmagazine.com/wallpapers/december-11/december-11-pow_time__11-nocal-1920x1080.png
367 http://files.smashingmagazine.com/wallpapers/january-12/january-12-delicate_frost__91-nocal-320x480.jpg
368 http://files.smashingmagazine.com/wallpapers/january-12/january-12-delicate_frost__91-nocal-640x480.jpg
369 http://files.smashingmagazine.com/wallpapers/january-12/january-12-delicate_frost__91-nocal-800x480.jpg
370 http://files.smashingmagazine.com/wallpapers/january-12/january-12-delicate_frost__91-nocal-800x600.jpg
371 http://files.smashingmagazine.com/wallpapers/january-12/january-12-delicate_frost__91-nocal-1024x768.jpg
372 http://files.smashingmagazine.com/wallpapers/january-12/january-12-delicate_frost__91-nocal-1024x1024.jpg
373 http://files.smashingmagazine.com/wallpapers/january-12/january-12-delicate_frost__91-nocal-1152x864.jpg
374 http://files.smashingmagazine.com/wallpapers/january-12/january-12-delicate_frost__91-nocal-1280x720.jpg
375 http://files.smashingmagazine.com/wallpapers/january-12/january-12-delicate_frost__91-nocal-1280x800.jpg
376 http://files.smashingmagazine.com/wallpapers/january-12/january-12-delicate_frost__91-nocal-1280x960.jpg
377 http://files.smashingmagazine.com/wallpapers/january-12/january-12-delicate_frost__91-nocal-1280x1024.jpg
378 http://files.smashingmagazine.com/wallpapers/january-12/january-12-delicate_frost__91-nocal-1440x900.jpg
379 http://files.smashingmagazine.com/wallpapers/january-12/january-12-delicate_frost__91-nocal-1440x1050.jpg
380 http://files.smashingmagazine.com/wallpapers/january-12/january-12-delicate_frost__91-nocal-1600x1200.jpg
381 http://files.smashingmagazine.com/wallpapers/january-12/january-12-delicate_frost__91-nocal-1680x1050.jpg
382 http://files.smashingmagazine.com/wallpapers/january-12/january-12-delicate_frost__91-nocal-1680x1200.jpg
383 http://files.smashingmagazine.com/wallpapers/january-12/january-12-delicate_frost__91-nocal-1920x1080.jpg
384 http://files.smashingmagazine.com/wallpapers/january-12/january-12-delicate_frost__91-nocal-1920x1200.jpg
385 http://files.smashingmagazine.com/wallpapers/january-12/january-12-delicate_frost__91-nocal-1920x1440.jpg
386 http://files.smashingmagazine.com/wallpapers/january-12/january-12-delicate_frost__91-nocal-2560x1440.jpg
388 http://files.smashingmagazine.com/wallpapers/dec-14/the-three-owls/dec-14-the-three-owls-full.png
389 http://files.smashingmagazine.com/wallpapers/dec-14/the-three-owls/nocal/dec-14-the-three-owls-nocal-1280x720.png
390 http://files.smashingmagazine.com/wallpapers/dec-14/the-three-owls/nocal/dec-14-the-three-owls-nocal-1280x800.png
391 http://files.smashingmagazine.com/wallpapers/dec-14/the-three-owls/nocal/dec-14-the-three-owls-nocal-1280x960.png
392 http://files.smashingmagazine.com/wallpapers/dec-14/the-three-owls/nocal/dec-14-the-three-owls-nocal-1400x1050.png
393 http://files.smashingmagazine.com/wallpapers/dec-14/the-three-owls/nocal/dec-14-the-three-owls-nocal-1440x900.png
394 http://files.smashingmagazine.com/wallpapers/dec-14/the-three-owls/nocal/dec-14-the-three-owls-nocal-1600x1200.png
395 http://files.smashingmagazine.com/wallpapers/dec-14/the-three-owls/nocal/dec-14-the-three-owls-nocal-1680x1050.png
396 http://files.smashingmagazine.com/wallpapers/dec-14/the-three-owls/nocal/dec-14-the-three-owls-nocal-1680x1200.png
397 http://files.smashingmagazine.com/wallpapers/dec-14/the-three-owls/nocal/dec-14-the-three-owls-nocal-1920x1080.png
398 http://files.smashingmagazine.com/wallpapers/dec-14/the-three-owls/nocal/dec-14-the-three-owls-nocal-1920x1200.png
399 http://files.smashingmagazine.com/wallpapers/dec-14/the-three-owls/nocal/dec-14-the-three-owls-nocal-1920x1440.png
400 http://files.smashingmagazine.com/wallpapers/dec-14/the-three-owls/nocal/dec-14-the-three-owls-nocal-2560x1440.png
402 http://files.smashingmagazine.com/wallpapers/february-12/february-12-hungry_owl__82-nocal-320x480.jpg
403 http://files.smashingmagazine.com/wallpapers/february-12/february-12-hungry_owl__82-nocal-1024x768.jpg
404 http://files.smashingmagazine.com/wallpapers/february-12/february-12-hungry_owl__82-nocal-1024x1024.jpg
405 http://files.smashingmagazine.com/wallpapers/february-12/february-12-hungry_owl__82-nocal-1280x800.jpg
406 http://files.smashingmagazine.com/wallpapers/february-12/february-12-hungry_owl__82-nocal-1440x900.jpg
407 http://files.smashingmagazine.com/wallpapers/february-12/february-12-hungry_owl__82-nocal-1680x1050.jpg
408 http://files.smashingmagazine.com/wallpapers/february-12/february-12-hungry_owl__82-nocal-1920x1080.jpg
411 http://files.smashingmagazine.com/wallpapers/january-13/january-13-happiness_in_winter__1-nocal-320x480.jpg
412 http://files.smashingmagazine.com/wallpapers/january-13/january-13-happiness_in_winter__1-nocal-640x480.jpg
413 http://files.smashingmagazine.com/wallpapers/january-13/january-13-happiness_in_winter__1-nocal-800x480.jpg
414 http://files.smashingmagazine.com/wallpapers/january-13/january-13-happiness_in_winter__1-nocal-800x600.jpg
415 http://files.smashingmagazine.com/wallpapers/january-13/january-13-happiness_in_winter__1-nocal-1024x768.jpg
416 http://files.smashingmagazine.com/wallpapers/january-13/january-13-happiness_in_winter__1-nocal-1024x1024.jpg
417 http://files.smashingmagazine.com/wallpapers/january-13/january-13-happiness_in_winter__1-nocal-1152x864.jpg
418 http://files.smashingmagazine.com/wallpapers/january-13/january-13-happiness_in_winter__1-nocal-1280x720.jpg
419 http://files.smashingmagazine.com/wallpapers/january-13/january-13-happiness_in_winter__1-nocal-1280x800.jpg
420 http://files.smashingmagazine.com/wallpapers/january-13/january-13-happiness_in_winter__1-nocal-1280x960.jpg
421 http://files.smashingmagazine.com/wallpapers/january-13/january-13-happiness_in_winter__1-nocal-1280x1024.jpg
422 http://files.smashingmagazine.com/wallpapers/january-13/january-13-happiness_in_winter__1-nocal-1366x768.jpg
423 http://files.smashingmagazine.com/wallpapers/january-13/january-13-happiness_in_winter__1-nocal-1400x1050.jpg
424 http://files.smashingmagazine.com/wallpapers/january-13/january-13-happiness_in_winter__1-nocal-1440x900.jpg
425 http://files.smashingmagazine.com/wallpapers/january-13/january-13-happiness_in_winter__1-nocal-1600x1200.jpg
426 http://files.smashingmagazine.com/wallpapers/january-13/january-13-happiness_in_winter__1-nocal-1680x1050.jpg
427 http://files.smashingmagazine.com/wallpapers/january-13/january-13-happiness_in_winter__1-nocal-1680x1200.jpg
428 http://files.smashingmagazine.com/wallpapers/january-13/january-13-happiness_in_winter__1-nocal-1920x1080.jpg
429 http://files.smashingmagazine.com/wallpapers/january-13/january-13-happiness_in_winter__1-nocal-1920x1200.jpg
430 http://files.smashingmagazine.com/wallpapers/january-13/january-13-happiness_in_winter__1-nocal-1920x1440.jpg
431 http://files.smashingmagazine.com/wallpapers/january-13/january-13-happiness_in_winter__1-nocal-2560x1440.jpg
433 http://files.smashingmagazine.com/wallpapers/january-13/january-13-snowboarding__94-nocal-1024x768.jpg
434 http://files.smashingmagazine.com/wallpapers/january-13/january-13-snowboarding__94-nocal-1280x1024.jpg
435 http://files.smashingmagazine.com/wallpapers/january-13/january-13-snowboarding__94-nocal-1680x1050.jpg
436 http://files.smashingmagazine.com/wallpapers/january-13/january-13-snowboarding__94-nocal-1680x1200.jpg
437 http://files.smashingmagazine.com/wallpapers/january-13/january-13-snowboarding__94-nocal-1920x1080.jpg
439 http://files.smashingmagazine.com/wallpapers/jan-15/happy-family-time/jan-15-happy-family-time-full.jpg
440 http://files.smashingmagazine.com/wallpapers/jan-15/happy-family-time/nocal/jan-15-happy-family-time-nocal-480x320.png
441 http://files.smashingmagazine.com/wallpapers/jan-15/happy-family-time/nocal/jan-15-happy-family-time-nocal-640x480.png
442 http://files.smashingmagazine.com/wallpapers/jan-15/happy-family-time/nocal/jan-15-happy-family-time-nocal-800x600.png
443 http://files.smashingmagazine.com/wallpapers/jan-15/happy-family-time/nocal/jan-15-happy-family-time-nocal-1280x800.png
444 http://files.smashingmagazine.com/wallpapers/jan-15/happy-family-time/nocal/jan-15-happy-family-time-nocal-1280x960.png
445 http://files.smashingmagazine.com/wallpapers/jan-15/happy-family-time/nocal/jan-15-happy-family-time-nocal-1440x900.png
446 http://files.smashingmagazine.com/wallpapers/jan-15/happy-family-time/nocal/jan-15-happy-family-time-nocal-1680x1200.png
447 http://files.smashingmagazine.com/wallpapers/jan-15/happy-family-time/nocal/jan-15-happy-family-time-nocal-1920x1080.png
448 http://files.smashingmagazine.com/wallpapers/jan-15/happy-family-time/nocal/jan-15-happy-family-time-nocal-2560x1440.png
449 http://files.smashingmagazine.com/wallpapers/jan-15/happy-family-time/nocal/jan-15-happy-family-time-nocal-2560x1800.png
450 http://files.smashingmagazine.com/wallpapers/jan-15/happy-family-time/nocal/jan-15-happy-family-time-nocal-2560x2560.png
452 https://www.smashingmagazine.com/wp-content/uploads/wallpapers/january10/january-10-cool-bulb-nocal-1280x800.jpg
453 https://www.smashingmagazine.com/wp-content/uploads/wallpapers/january10/january-10-cool-bulb-nocal-1280x960.jpg
454 https://www.smashingmagazine.com/wp-content/uploads/wallpapers/january10/january-10-cool-bulb-nocal-1280x1024.jpg
455 https://www.smashingmagazine.com/wp-content/uploads/wallpapers/january10/january-10-cool-bulb-nocal-1440x900.jpg
456 https://www.smashingmagazine.com/wp-content/uploads/wallpapers/january10/january-10-cool-bulb-nocal-1440x1080.jpg
457 https://www.smashingmagazine.com/wp-content/uploads/wallpapers/january10/january-10-cool-bulb-nocal-1680x1050.jpg
458 https://www.smashingmagazine.com/wp-content/uploads/wallpapers/january10/january-10-cool-bulb-nocal-1920x1200.jpg
459 https://www.smashingmagazine.com/wp-content/uploads/images/wallpaper-calendar-december-09/full/electricity.jpg
460 https://www.smashingmagazine.com/wp-content/uploads/wallpapers/december09/december-09-electricity-nocal-320x480.jpg
461 https://www.smashingmagazine.com/wp-content/uploads/wallpapers/december09/december-09-electricity-nocal-800x600.jpg
462 https://www.smashingmagazine.com/wp-content/uploads/wallpapers/december09/december-09-electricity-nocal-1024x768.jpg
463 https://www.smashingmagazine.com/wp-content/uploads/wallpapers/december09/december-09-electricity-nocal-1280x960.jpg
464 https://www.smashingmagazine.com/wp-content/uploads/wallpapers/december09/december-09-electricity-nocal-1440x900.jpg
465 https://www.smashingmagazine.com/wp-content/uploads/wallpapers/december09/december-09-electricity-nocal-1600x1200.jpg
466 https://www.smashingmagazine.com/wp-content/uploads/wallpapers/december09/december-09-electricity-nocal-1680x1050.jpg
467 https://www.smashingmagazine.com/wp-content/uploads/wallpapers/december09/december-09-electricity-nocal-1920x1200.jpg
469 http://files.smashingmagazine.com/wallpapers/december-12/december-12-frosty_globe__30-nocal-1024x768.jpg
470 http://files.smashingmagazine.com/wallpapers/december-12/december-12-frosty_globe__30-nocal-1280x800.jpg
471 http://files.smashingmagazine.com/wallpapers/december-12/december-12-frosty_globe__30-nocal-1280x1024.jpg
472 http://files.smashingmagazine.com/wallpapers/december-12/december-12-frosty_globe__30-nocal-1366x768.jpg
473 http://files.smashingmagazine.com/wallpapers/december-12/december-12-frosty_globe__30-nocal-1440x900.jpg
474 http://files.smashingmagazine.com/wallpapers/december-12/december-12-frosty_globe__30-nocal-1680x1050.jpg
475 http://files.smashingmagazine.com/wallpapers/december-12/december-12-frosty_globe__30-nocal-1920x1080.jpg
476 http://files.smashingmagazine.com/wallpapers/december-12/december-12-frosty_globe__30-nocal-1980x1200.jpg
477 http://files.smashingmagazine.com/wallpapers/december-12/december-12-frosty_globe__30-nocal-2560x1440.jpg
479 http://files.smashingmagazine.com/wallpapers/december-12/december-12-snowforest__87-nocal-1024x768.jpg
480 http://files.smashingmagazine.com/wallpapers/december-12/december-12-snowforest__87-nocal-1280x800.jpg
481 http://files.smashingmagazine.com/wallpapers/december-12/december-12-snowforest__87-nocal-1366x768.jpg
482 http://files.smashingmagazine.com/wallpapers/december-12/december-12-snowforest__87-nocal-1440x900.jpg
483 http://files.smashingmagazine.com/wallpapers/december-12/december-12-snowforest__87-nocal-1680x1050.jpg
484 http://files.smashingmagazine.com/wallpapers/december-12/december-12-snowforest__87-nocal-1920x1080.jpg
485 http://files.smashingmagazine.com/wallpapers/december-12/december-12-snowforest__87-nocal-1920x1200.jpg
486 http://files.smashingmagazine.com/wallpapers/december-12/december-12-snowforest__87-nocal-2560x1440.jpg
488 https://www.smashingmagazine.com/wp-content/uploads/images/wallpaper-calendar-january-10/full/ice-flowers.jpg
489 https://www.smashingmagazine.com/wp-content/uploads/wallpapers/january10/january-10-ice-flowers-nocal-1024x768.jpg
490 https://www.smashingmagazine.com/wp-content/uploads/wallpapers/january10/january-10-ice-flowers-nocal-1280x800.jpg
491 https://www.smashingmagazine.com/wp-content/uploads/wallpapers/january10/january-10-ice-flowers-nocal-1440x900.jpg
492 https://www.smashingmagazine.com/wp-content/uploads/wallpapers/january10/january-10-ice-flowers-nocal-1680x1050.jpg
493 https://www.smashingmagazine.com/wp-content/uploads/wallpapers/january10/january-10-ice-flowers-nocal-1920x1200.jpg
495 http://files.smashingmagazine.com/wallpapers/dec-13/dec-winter-peace/nocal/dec-13-dec-winter-peace-nocal-320x480.jpg
496 http://files.smashingmagazine.com/wallpapers/dec-13/dec-winter-peace/nocal/dec-13-dec-winter-peace-nocal-800x480.jpg
497 http://files.smashingmagazine.com/wallpapers/dec-13/dec-winter-peace/nocal/dec-13-dec-winter-peace-nocal-1024x768.jpg
498 http://files.smashingmagazine.com/wallpapers/dec-13/dec-winter-peace/nocal/dec-13-dec-winter-peace-nocal-1152x864.jpg
499 http://files.smashingmagazine.com/wallpapers/dec-13/dec-winter-peace/nocal/dec-13-dec-winter-peace-nocal-1280x800.jpg
500 http://files.smashingmagazine.com/wallpapers/dec-13/dec-winter-peace/nocal/dec-13-dec-winter-peace-nocal-1280x1024.jpg
501 http://files.smashingmagazine.com/wallpapers/dec-13/dec-winter-peace/nocal/dec-13-dec-winter-peace-nocal-1440x900.jpg
502 http://files.smashingmagazine.com/wallpapers/dec-13/dec-winter-peace/nocal/dec-13-dec-winter-peace-nocal-1680x1050.jpg
503 http://files.smashingmagazine.com/wallpapers/dec-13/dec-winter-peace/nocal/dec-13-dec-winter-peace-nocal-1920x1080.jpg
505 http://files.smashingmagazine.com/wallpapers/dec-13/snow-angel/nocal/dec-13-snow-angel-nocal-320x480.jpg
506 http://files.smashingmagazine.com/wallpapers/dec-13/snow-angel/nocal/dec-13-snow-angel-nocal-800x600.jpg
507 http://files.smashingmagazine.com/wallpapers/dec-13/snow-angel/nocal/dec-13-snow-angel-nocal-1024x768.jpg
508 http://files.smashingmagazine.com/wallpapers/dec-13/snow-angel/nocal/dec-13-snow-angel-nocal-1024x1024.jpg
509 http://files.smashingmagazine.com/wallpapers/dec-13/snow-angel/nocal/dec-13-snow-angel-nocal-1280x720.jpg
510 http://files.smashingmagazine.com/wallpapers/dec-13/snow-angel/nocal/dec-13-snow-angel-nocal-1280x800.jpg
511 http://files.smashingmagazine.com/wallpapers/dec-13/snow-angel/nocal/dec-13-snow-angel-nocal-1280x960.jpg
512 http://files.smashingmagazine.com/wallpapers/dec-13/snow-angel/nocal/dec-13-snow-angel-nocal-1280x1024.jpg
513 http://files.smashingmagazine.com/wallpapers/dec-13/snow-angel/nocal/dec-13-snow-angel-nocal-1400x1050.jpg
514 http://files.smashingmagazine.com/wallpapers/dec-13/snow-angel/nocal/dec-13-snow-angel-nocal-1440x900.jpg
515 http://files.smashingmagazine.com/wallpapers/dec-13/snow-angel/nocal/dec-13-snow-angel-nocal-1600x1200.jpg
516 http://files.smashingmagazine.com/wallpapers/dec-13/snow-angel/nocal/dec-13-snow-angel-nocal-1680x1050.jpg
517 http://files.smashingmagazine.com/wallpapers/dec-13/snow-angel/nocal/dec-13-snow-angel-nocal-1680x1200.jpg
518 http://files.smashingmagazine.com/wallpapers/dec-13/snow-angel/nocal/dec-13-snow-angel-nocal-1920x1080.jpg
519 http://files.smashingmagazine.com/wallpapers/dec-13/snow-angel/nocal/dec-13-snow-angel-nocal-1920x1200.jpg
520 http://files.smashingmagazine.com/wallpapers/dec-13/snow-angel/nocal/dec-13-snow-angel-nocal-2560x1440.jpg
521 https://www.smashingmagazine.com/wp-content/uploads/uploader/wallpapers/december10/december-10-smashing_snowman__61-nocal-320x480.jpg
522 https://www.smashingmagazine.com/wp-content/uploads/uploader/wallpapers/december10/december-10-smashing_snowman__61-nocal-1024x768.jpg
523 https://www.smashingmagazine.com/wp-content/uploads/uploader/wallpapers/december10/december-10-smashing_snowman__61-nocal-1024x1024.jpg
524 https://www.smashingmagazine.com/wp-content/uploads/uploader/wallpapers/december10/december-10-smashing_snowman__61-nocal-1280x800.jpg
525 https://www.smashingmagazine.com/wp-content/uploads/uploader/wallpapers/december10/december-10-smashing_snowman__61-nocal-1280x1024.jpg
526 https://www.smashingmagazine.com/wp-content/uploads/uploader/wallpapers/december10/december-10-smashing_snowman__61-nocal-1440x900.jpg
527 https://www.smashingmagazine.com/wp-content/uploads/uploader/wallpapers/december10/december-10-smashing_snowman__61-nocal-1680x1050.jpg
528 https://www.smashingmagazine.com/wp-content/uploads/uploader/wallpapers/december10/december-10-smashing_snowman__61-nocal-1920x1080.jpg
529 https://www.smashingmagazine.com/wp-content/uploads/uploader/wallpapers/december10/december-10-smashing_snowman__61-nocal-1920x1200.jpg
530 https://www.smashingmagazine.com/wp-content/uploads/uploader/wallpapers/december10/december-10-smashing_snowman__61-nocal-2560x1440.jpg
531 https://www.smashingmagazine.com/wp-content/uploads/uploader/wallpapers/february10/february-10-bird-nocal-320x480.jpg
532 https://www.smashingmagazine.com/wp-content/uploads/uploader/wallpapers/february10/february-10-bird-nocal-1024x768.jpg
533 https://www.smashingmagazine.com/wp-content/uploads/uploader/wallpapers/february10/february-10-bird-nocal-1280x800.jpg
534 https://www.smashingmagazine.com/wp-content/uploads/uploader/wallpapers/february10/february-10-bird-nocal-1280x1024.jpg
535 https://www.smashingmagazine.com/wp-content/uploads/uploader/wallpapers/february10/february-10-bird-nocal-1440x900.jpg
536 https://www.smashingmagazine.com/wp-content/uploads/uploader/wallpapers/february10/february-10-bird-nocal-1680x1050.jpg
537 https://www.smashingmagazine.com/wp-content/uploads/uploader/wallpapers/february10/february-10-bird-nocal-1920x1200.jpg
539 https://www.smashingmagazine.com/wp-content/uploads/uploader/wallpapers/february11/february-11-fairy_wood__1-nocal-1024x768.jpg
540 https://www.smashingmagazine.com/wp-content/uploads/uploader/wallpapers/february11/february-11-fairy_wood__1-nocal-1280x800.jpg
541 https://www.smashingmagazine.com/wp-content/uploads/uploader/wallpapers/february11/february-11-fairy_wood__1-nocal-1280x1024.jpg
542 https://www.smashingmagazine.com/wp-content/uploads/uploader/wallpapers/february11/february-11-fairy_wood__1-nocal-1440x900.jpg
543 https://www.smashingmagazine.com/wp-content/uploads/uploader/wallpapers/february11/february-11-fairy_wood__1-nocal-1680x1050.jpg
544 https://www.smashingmagazine.com/wp-content/uploads/uploader/wallpapers/february11/february-11-fairy_wood__1-nocal-1920x1200.jpg
547 http://files.smashingmagazine.com/wallpapers/february-12/february-12-penguin_hockey__73-nocal-1024x768.jpg
548 http://files.smashingmagazine.com/wallpapers/february-12/february-12-penguin_hockey__73-nocal-1280x800.jpg
549 http://files.smashingmagazine.com/wallpapers/february-12/february-12-penguin_hockey__73-nocal-1280x1024.jpg
550 http://files.smashingmagazine.com/wallpapers/february-12/february-12-penguin_hockey__73-nocal-1440x900.jpg
551 http://files.smashingmagazine.com/wallpapers/february-12/february-12-penguin_hockey__73-nocal-1680x1050.jpg
552 http://files.smashingmagazine.com/wallpapers/february-12/february-12-penguin_hockey__73-nocal-1920x1200.jpg
554 http://files.smashingmagazine.com/wallpapers/december-11/december-11-father_frost__93-nocal-1024x768.jpg
555 http://files.smashingmagazine.com/wallpapers/december-11/december-11-father_frost__93-nocal-1280x800.jpg
556 http://files.smashingmagazine.com/wallpapers/december-11/december-11-father_frost__93-nocal-1280x1024.jpg
557 http://files.smashingmagazine.com/wallpapers/december-11/december-11-father_frost__93-nocal-1440x900.jpg
558 http://files.smashingmagazine.com/wallpapers/december-11/december-11-father_frost__93-nocal-1680x1050.jpg